Laundry
How to wash and maintain waterproof shoes and clothing
If you don't maintain your waterproof gear, you'll wind up soaked
Credit: Getty Images / RyanJLane
What You Need:
Dirty waterproof gear
Microfiber cloth
Waterproof garment cleaner
DWR-refreshing spray
Tarp
Moving paper or newsprint (optional, for shoes and boots)
Vinegar (optional, for shoes and boots)
Boot brush (optional, for shoes and boots)
Prep Time Needed:
5 minutes
Total Time Needed:
60–90 minutes
Difficulty:
Medium
While waterproof boots, shoes, and apparel can often be seen as tougher and more durable than other articles of clothing, they need special care to maintain their rugged, outdoorsy quality. This is partially due to their dependence on durable water repellant, or DWR. DWR has become popular in recent years because more traditional waterproofing methods don't allow a fabric to maintain its breathability. The downside: DWR breaks down easily with normal wear and use.
In order to maintain your apparel's hydrophobic properties, you need to treat them with special care and routinely refresh their coat of DWR. To keep your waterproof gear from taking on water, follow these easy steps.
Step 1: Brush off your gear after each use—without soap or detergent
Since DWR technology depends on the surface of the fabric maintaining a certain shape to repel water, its effectiveness can be reduced by any dirt, grime, or grease on your apparel. Furthermore, any time the fabric moves, stretches, or rubs against itself, any grit on the surface of the fabric will slowly abrade the coat of DWR.
After you come in from the rain, it's best to give your garments a once-over wipe-down. Just a cloth or soft brush and water will do the trick. It's very important to never use soaps or detergents when cleaning your waterproof gear, as those will pretty much obliterate your garment's DWR coating.
Step 2: Remove the laces and insoles (boots and shoes only)
Before you clean your waterproof footwear, make sure to remove the laces and insole. One weak spot in the DWR coat can let water soak into the entirety of the fabric, and it's a lot easier to get a thorough coat onto an unlaced boot. The insole tends to retain water, either in its fabric or by trapping water between it and the bottom of your shoe: removing it should help your boots dry faster.
Step 3: Use a specialized cleaner
If your gear needs a thorough clean, it's going to require special care. When choosing a cleaner, keep in mind that DWR-friendly cleaners are different from products labeled as a DWR "wash-in" (we'll get to that later).
Two of the more popular cleaners for waterproof clothing are Nikwax Tech Wash and Granger's Performance Wash. Whichever cleaner you choose, make sure to follow the directions. Typically you'll be directed you use a cold water wash cycle and a low-speed spin-dry, to help prevent damage to the existing DWR coat.
For waterproof shoes and boots, you'll want a boot brush to help reach into thin folds and crevices. For the initial clean, you could either use a specialized cleaner like Nikwax Footwear Cleaning Gel or a solution that's half vinegar and half water. Scrub the entire surface of the boot and you're ready to move on.
Step 3: Re-apply the DWR coat if necessary
Due to the nature of the technology, your DWR coating will need to be refreshed every so often to keep that water beading up instead of soaking through your boots and apparel.
In most cases, we'd recommend spray-on DWR waterproofing, like the popular 303 Fabric Guard or Star Brite Waterproofing Spray, both of which have ratings above 4 out of 5 stars and about 1,000 user reviews on Amazon. We'd recommend spraying your garments outside, or on a tarp in a well-ventilated room.
The same spray-on DWR coating will work for the fabrics on your shoes and boots too, though you'll want to apply the waterproofing while they're still wet. If your footwear has leather, consider a separate treatment to help prevent it from drying out and cracking prematurely. While oils can help soften leather, they also reduces its breathability and can inhibit their ability to maintain their shape. We'd recommend trying a wax-based conditioner, like Nikwax Waterproofing Wax or Atsko Sno-Seal Original Beeswax Waterproofing Leather Protector, which has an impressive 4.7 out of 5 rating and over 1,500 user reviews on Amazon.
Step 4: Air dry (unless directions state otherwise)
It's important to follow the cleaning instructions listed on your waterproof gear as well as those on the cleaners and DWR-refreshers you're using. In our research we found vastly different sets of instructions. For the vast majority of products we researched, you'll need to air dry your garments and shoes after they're washed and DWR-refreshed. However, a few products do require heat to activate, requesting a tumble dry.
For shoes and boots, stuff the toe area with moving paper or newsprint to help them retain their shape and accelerate the drying process. Just make sure to change the paper daily to avoid mildew.
Why it's important to clean your waterproof gear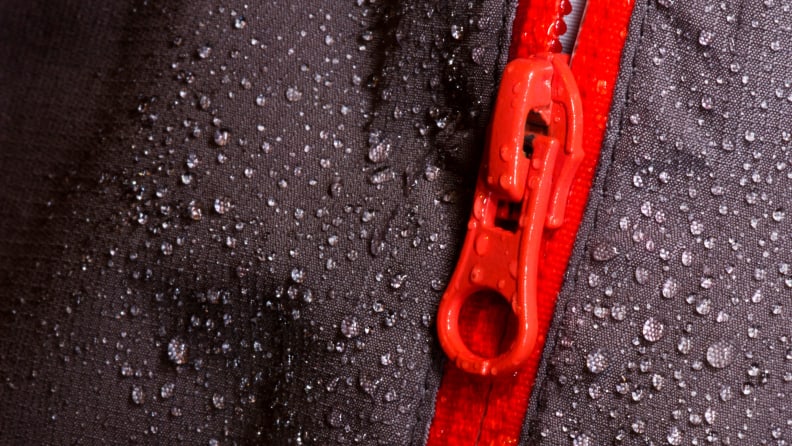 DWR primarily works by giving fabric a rough surface at the molecular level, making it hydrophobic: instead of soaking through, water beads up and runs off. Basically, it makes fabrics too spiky for water to seep in, due to water's high surface tension. Since DWR technology depends on the surface of the fabric maintaining a certain shape to repel water, its effectiveness can be reduced by any dirt, grime, or grease on your apparel. Furthermore, any time the fabric moves, stretches, or rubs against itself, any grit on the surface of the fabric will slowly abrade the coat of DWR.
How often should you refresh your gear's DWR coating?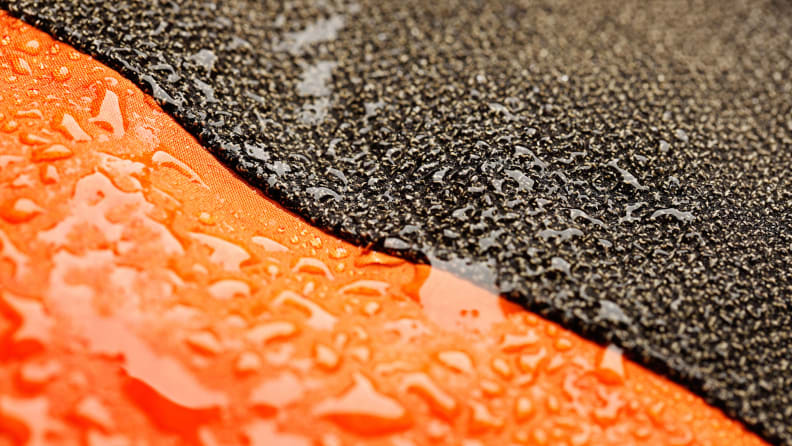 This depends entirely how how you're using the waterproof garment or footwear. It's best to just perform a simple test: sprinkle on some water and watch what happens. If the water beads up and runs off without wetting the fabric, you're in good shape. If you notice a dark trail behind the water as it runs off, or if it outright soaks into the fabric, it's time to renew your DWR coating.
What's a DWR wash-in?
Products labeled as "wash-in" are alternatives to spray-on applications of DWR. The problem with wash-in products is they're a bit niche: they're most effective on single-layer garments. They're significantly less effective on garments with multiple layers and can outright ruin jackets with down or faux feathers.
Keep your gear clean, keep yourself dry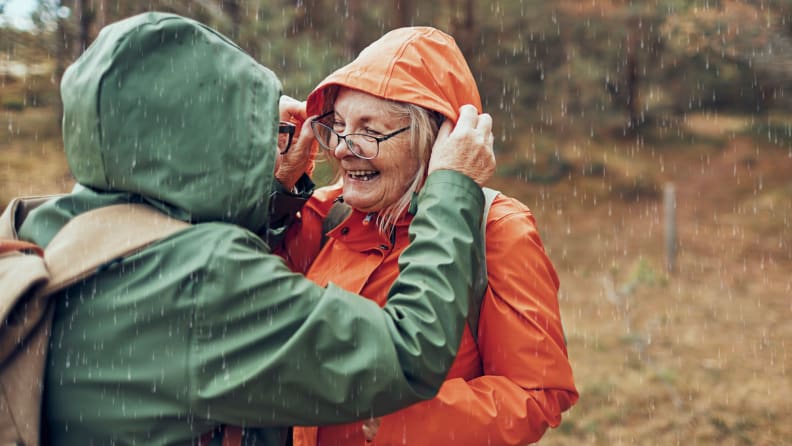 If you've shopped for waterproof boots or clothing, you know how challenging it can be to find items that meet your specific needs and comfort requirements. That's why, once you've found the gear that works for you, it's important to maintain it to dramatically increase its overall lifespan. By following these simple steps for DWR maintenance and care, you'll be able to stay comfortable, active and drier for longer.