Laundry
Laundry Delivery by Bike: Just Crazy Enough to Work?
Yet another reason to never leave the house.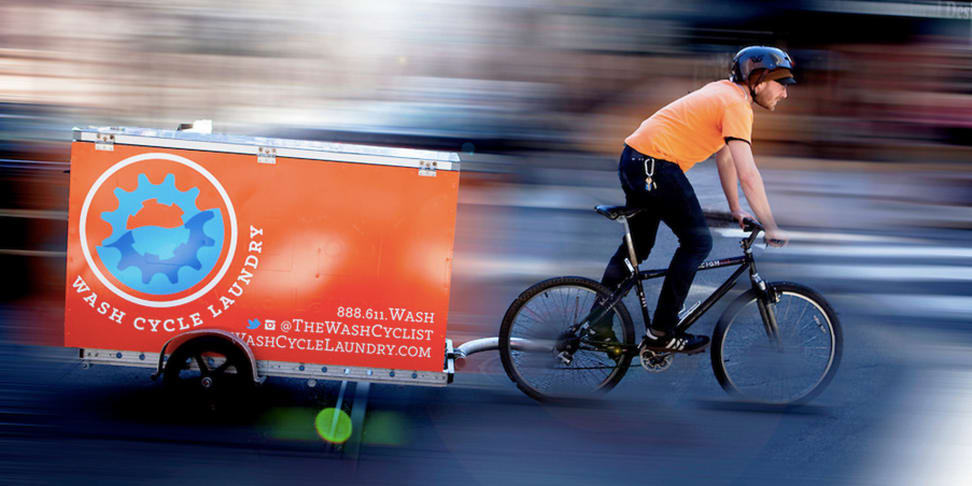 Credit: Wash Cycle Laundry
Let's face it: Many of us probably aren't thrilled by the idea of pedaling a bike to wash our clothes. For those who'd rather not break a sweat to clean their sweatpants, there's another spin on the definition of bike-powered laundry.
The cleverly-named Wash Cycle Laundry is a service that takes your dirty laundry and bikes it to and from a nearby cleaning facility. In the few cities where WCL has a presence (namely, Austin, Philly, and D.C.), it offers next-day and even same-day delivery for laundry, dry-cleaning, and linen rental services—all transported by fleets of cargo tricycles.
After all, if we can get burritos delivered by bike, why not our laundry?
According to its website, WCL has hauled over 3 million pounds of laundry and saved over 1 million gallons of water using high-efficiency washing machines. Now, just five years after its founding, the company is expanding its services by partnering with George Washington University and Aramark, a uniform and foodservice provider.
Wash Cycle Laundry has hauled over 3 million pounds of laundry and saved over 1 million gallons of water.
Bikes have become one of the most reliable ways to move around major cities in the U.S., where automobile traffic can become gridlocked due to rush hour, lunch hour, or road work and construction. Many commuters have turned to bicycles to get to and from work, and likewise, it's not uncommon to see bicyclists delivering packages from FedEx or groceries from Whole Foods.
While Wash Cycle Laundry's reach is still relatively small, it at least proves that a green, bike-powered laundry delivery service is a sustainable business model. Between this, Amazon, Postmates, Netflix, and Foodler, everyone can finally fulfill the American Dream of never leaving the house.
Related Video