Laundry
This Is the Bed James Bond Would Buy
Fusing a bookcase, entertainment center, and bed, this marvel can make a loft feel like a home.
Credit:
Milano wants you to start living smarter. The furniture company, based in Italy but with a branch in New York City, specializes in products that adhere to minimalist principles, with stylish results.
Probably the most striking of its creations is a series of ingenious Murphy beds, all imported from Italy. If you thought fold-out beds were only for sleazy apartments, think again.
The Jolly Matrimoniale stands out even among these as the most useful of the series. Most Murphy beds simply fold up into a wall to save space. The Jolly, on the other hand, is a bookcase, home entertainment center, bed in one—like something out of James Bond's bachelor pad.
But don't worry, it's not as complicated as it sounds. The transformation from bookcase to bed can be accomplished with just one hand. Just check this out:
With a shelf that can hold a television and a small personal library's worth of books on one side, and a full-size bed on the other, this setup is perfect for the kind of lofts and small studios you'd find in a place like New York. In effect, it turns one space into many rooms.
But you don't live in Manhattan or Tokyo, so why should you care?
Well, the world population increase shows no signs of slowing, trends indicate more and more Americans are moving back to cities, and real estate is booming—and bringing higher housing prices. Put those together and it's easy to see that, even if you live in the suburbs now, you might not be there forever. That's why making more out of less space is a growing trend among interior designers. And who doesn't want to get more out of their living space, anyway?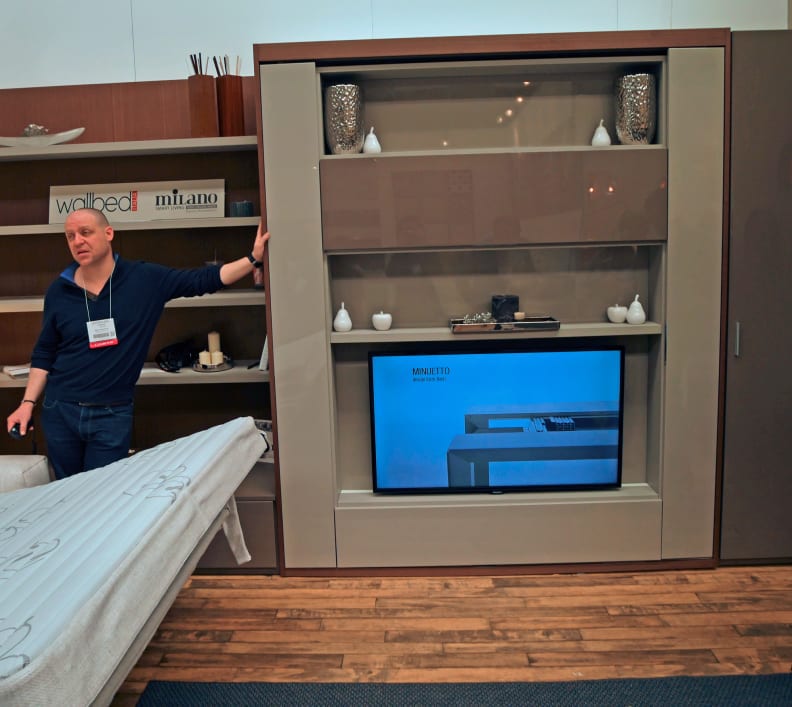 ×
Wall Bed