Laundry
Ever heard of performance fabric? Here's why you want it in your home
Say goodbye to stress cleaning your couch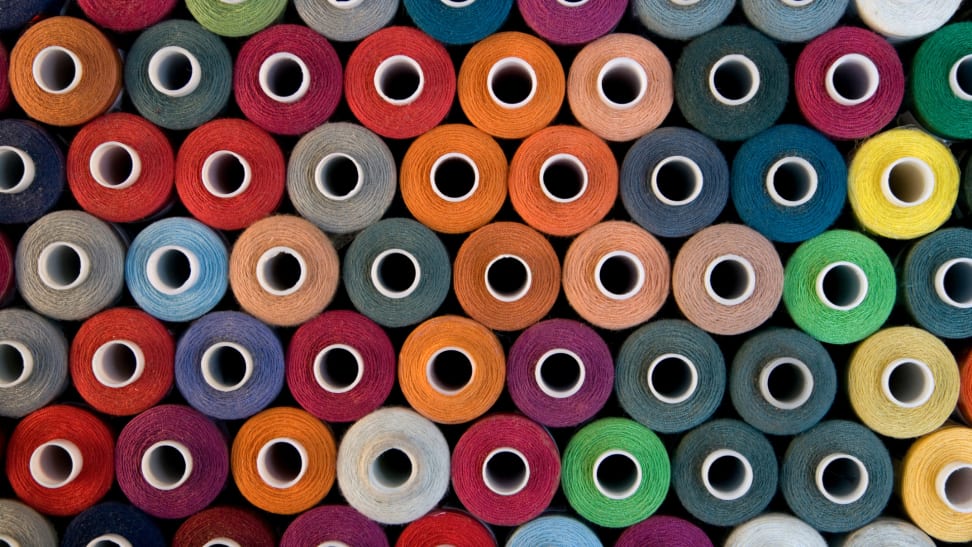 Credit: Getty Images / hroe
Nice furniture can be a sizable financial investment, and buying your first piece is a true welcome to the adult world. If you've got teens, little ones, or pets, and you've decided to buy a couch you want to survive snack time or a college semester, you're likely familiar with the commensurate dread of ruining said couch, whether by scratching, staining, or denting.
For upholstered furniture this is especially true, with its easy-to-rip and stain-absorbent pillows and cushions. Fortunately, for those who would rather not have their blood pressure skyrocket every time their dog jumps on the couch or toddler spills a cup, performance fabric can save the day.
So, what is performance fabric?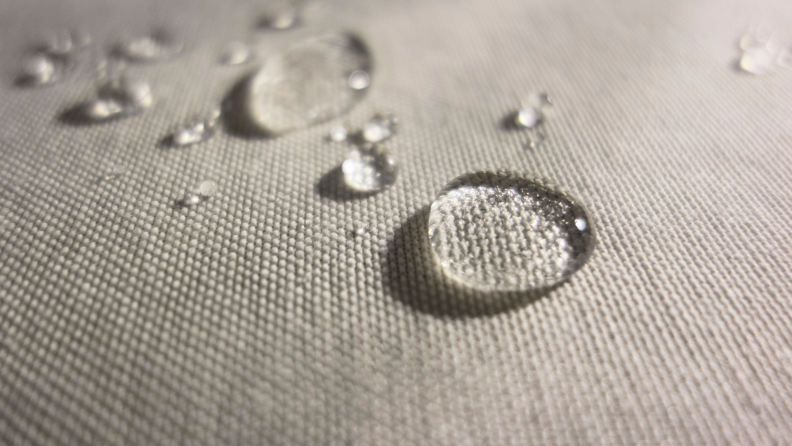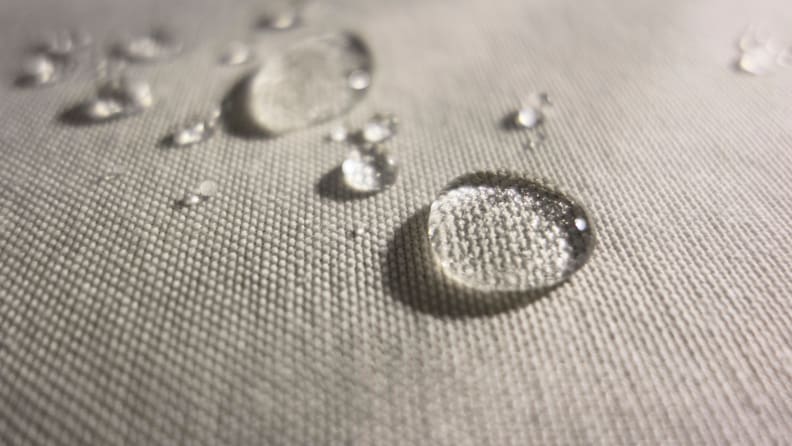 Performance fabric is any kind of durable fabric that is resistant to water, stains, ripping, tearing, and color fading. There are a variety of kinds, and they are often made of synthetic or synthetic-based products.
Performance fabric is most common in outdoor furniture, which requires a high degree of resiliency due to its constant exposure to sun, rain, dirt, and wind. Think of patio furniture that you'd find on a porch, backyard deck, or by the pool.
Fabric manufacturers are also keen to offer that same kind of durability on indoor upholstered pieces, with more and more fabric options coming out that combine high wear resistance with soft, comfortable textures.
Performance fabric for indoor furniture is typically found on couches and chairs—furniture that gets a lot of daily, repeat use. You may also find it in curtains, which are prone to color fading due to their extended exposure to sunlight.
Why you may need a performance fabric indoors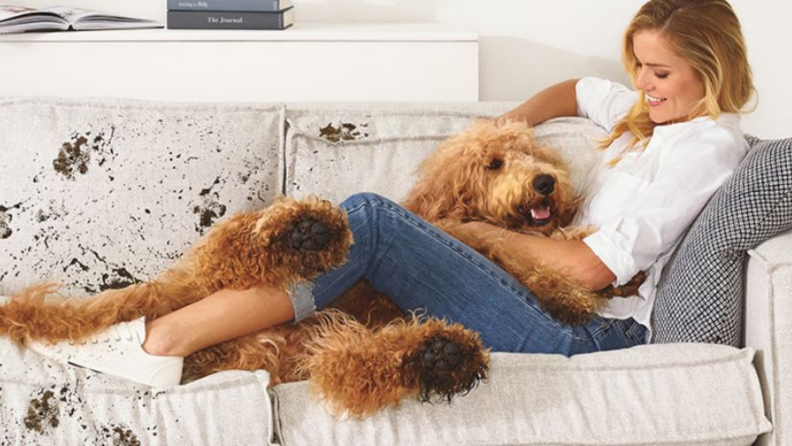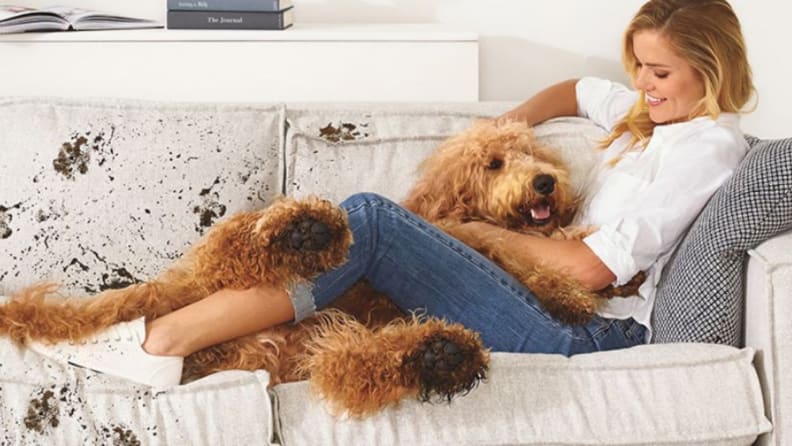 Performance fabrics are a no-brainer for outdoor furniture. But, for indoor pieces, there are a number of reasons to consider selecting this more durable material.
First off, Fido. Pet owners are quite familiar with many of the reasons to consider a performance fabric. If you're new to pet ownership, it's best to learn those reasons now rather than through experience.
Pets often track dirt and mud from outdoors into your home, and they are more than happy to clean their feet on your favorite chair. Dogs love to dig and cats like a good scratching post—sometimes they turn their claws on a furniture leg, and other times it's the cushion of your couch.
Even an excited tail has been known to knock a full glass of red wine off a side table and onto the seat of your favorite armchair.
Performance fabrics are also a good choice for people who have children in their lives. Whether you're dealing with spilt baby food, uncapped markers, or muddy soccer cleats, these fabrics offer a good line of defense, no matter the mess.
It doesn't even really matter if you have a full house or live alone: whether you're a meticulously clean person or a notoriously messy one, it's easy to see the value in having one less piece of furniture to have to continuously stress clean.
How is a performance fabric different from cotton or wool?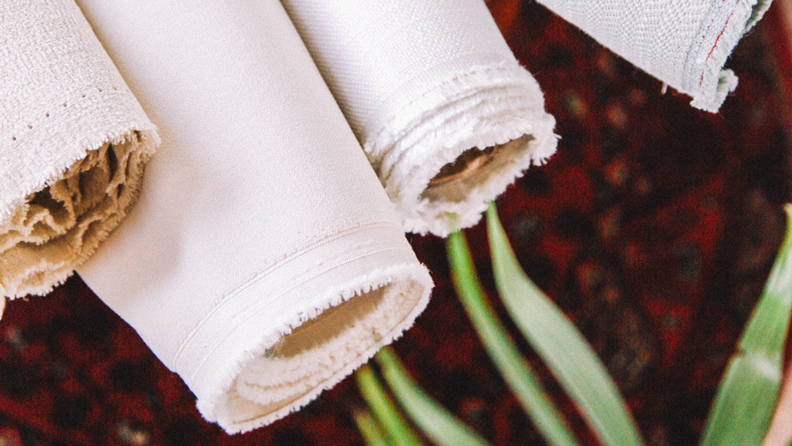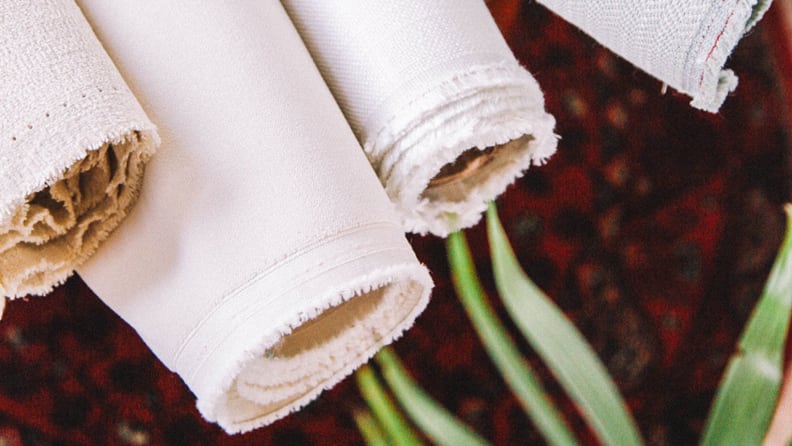 What makes a performance fabric so resilient boils down to how it is manufactured.
In general, a fabric is a material typically woven from thread that is made up of a fiber. Natural fibers come from plants or animals, such as silk (from silkworms) or wool (from sheep). These fabrics have many benefits and uses, but are also prone to staining, light and water damage, and general wear and tear. Leather, while not a fabric, is among the most durable of upholstery materials commonly used for furniture, but even it is still prone to scratches and other kinds of damage.
However, the fibers found in a performance fabric, are typically synthetic or man made. They are often a form of plastic, or coated in a plastic-like treatment that gives the fabric added water resistance.
Performance fabrics you may recognize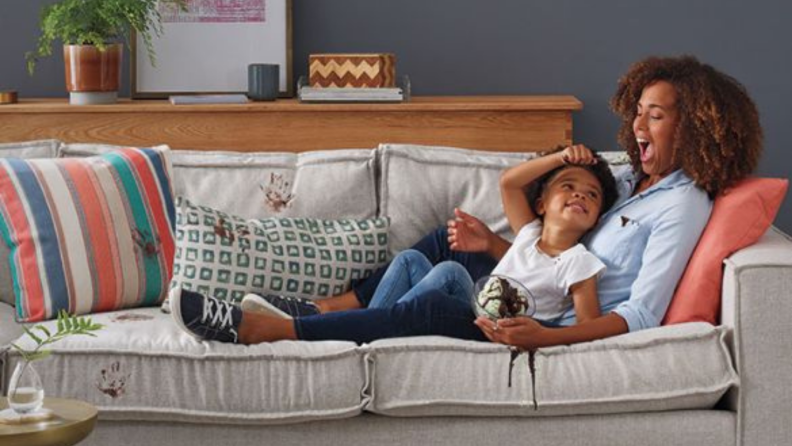 There are a variety of performance fabrics on the market, and a number of producers that make them.
Olefin, for example, is a polypropylene fiber. It is a synthetic product made from the waste byproduct of oil production. The off-gas product is polymerized into small beads, melted and dyed, and then run through a spinneret, which turns the melted olefin into long thin strands of fiber. That fiber is then spun into thread, which is then made into fabric. Since the fabric is dyed literally in its melted form, the color is fused into the fabric and less likely to bleed or fade. And, since it is an upcycled material, it is often a go-to choice for those who want a more environmentally friendly option.
You can find furniture that incorporates olefin at home décor hotspots like Crate & Barrel and Room & Board. Products include the Oakmont outdoor dining chair, the Alvarez garden square pouf, and the Polly outdoor lounge chair.
Acrylic, meanwhile, is a synthetic fabric made of plastic, polymerized into a liquid-like state—much like olefin—and similarly spun through spinnerets to make the thread. While it is more energy consumptive compared to olefin, it is a soft, lightweight and cheap fabric, and it is often blended with other natural fabrics to make them light and cost-effective.
Sunbrella, a huge manufacturer of outdoor fabrics that you likely recognize, uses exclusively acrylic products in its patio umbrellas, cushions, rugs, and shade sails. Retailers from LL Bean and Pottery Barn to The Home Depot and Target widely carry items made with Sunbrella fabrics, like the Casco Bay Adirondack chair and fringed outdoor throw pillows.
Another performance fabric, Crypton is actually made with a variety of different fabrics, such as cotton and polyester. But what makes it special is that it is treated with a protective material that creates a moisture barrier. You can find a range of indoor furniture made with Crypton fabric, including the lux Remington Swivel chair at Arhaus, or a selection of Crypton fabric at retailers like Joann so you can make something yourself.
Supreen is a new performance upholstery textile—it was just launched in 2021 by Nassimi—that boasts a similar coating over a composite material. It claims a total liquid barrier, while also remaining breathable. These products are easy to clean precisely because they don't allow moisture to be absorbed in them.
Each of these fabrics have their own benefits. Olefin is cheaper than acrylic, and considered an improvement on polyester. Acrylic is lightweight and soft, but more expensive of the two. In any case, all of these fabrics perform much better against staining and fading compared to natural fabrics.
While there are pros and cons to each of these textiles, these materials are always being improved upon to increase their resistance to the worst the elements (and your pets) have to offer.
The product experts at Reviewed have all your shopping needs covered. Follow Reviewed on Facebook, Twitter, and Instagram for the latest deals, product reviews, and more.
Prices were accurate at the time this article was published but may change over time.