Laundry
On One NYC Runway, High Tech Meets High Fashion
Can the latest high-tech clothing do more than swap sequins for LEDs?
Credit:
Last month, one New York City runway used more than just trendy textiles and towering frames to wow its audience: CE Week's FashionWare event lit up the night with a glowing array of tech couture—we're talking everything from geotags to gyroscopes.
Some of the creations dazzled from afar, but looked cheap and hare-brained up close. Only a few successfully encapsulated the kind of dreamy, futuristic vogue you'd hope to see at such an event.
For your viewing pleasure, we've collected some highlights from the show. Decide for yourself: Sci-fi success or glow-in-the-dark disaster?
Proxima Jacket
Five designers collaborated to make the Proxima, a blazer that actually blazes when two sweethearts draw near.
An RFID reader, a set of LEDs, and a WiFi dongle set off a colorful light show based purely on proximity. As the two models moved closer to one another on the runway, the lights exploded in a flurry of activity. The LEDs are also directional, so that as one model moved in a circle around the other, the lights followed suit.
This model also wore a Healbe GoBe on her wrist, which counts steps, calories (consumed and burned), sleep, stress, and more.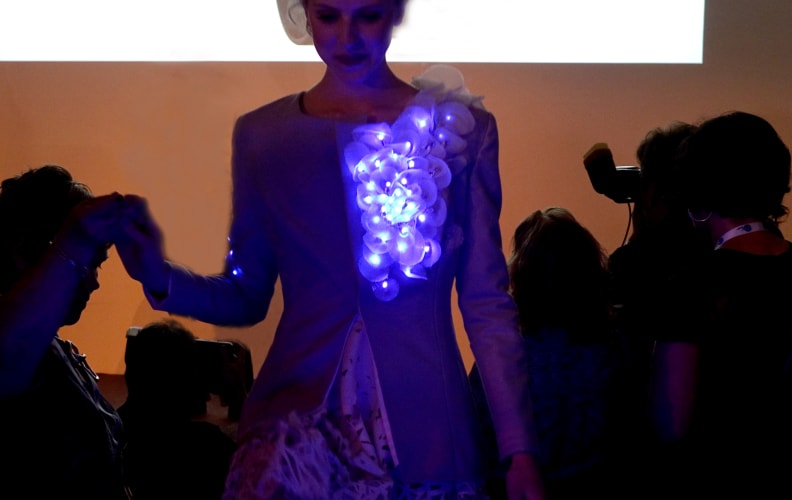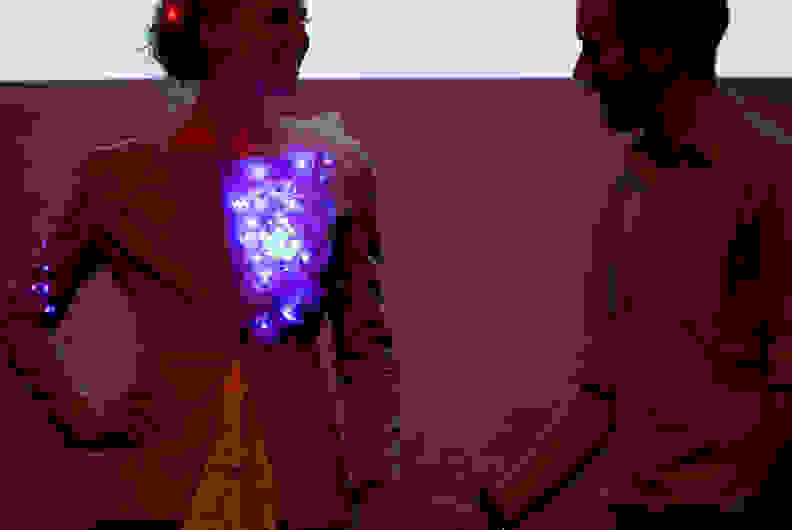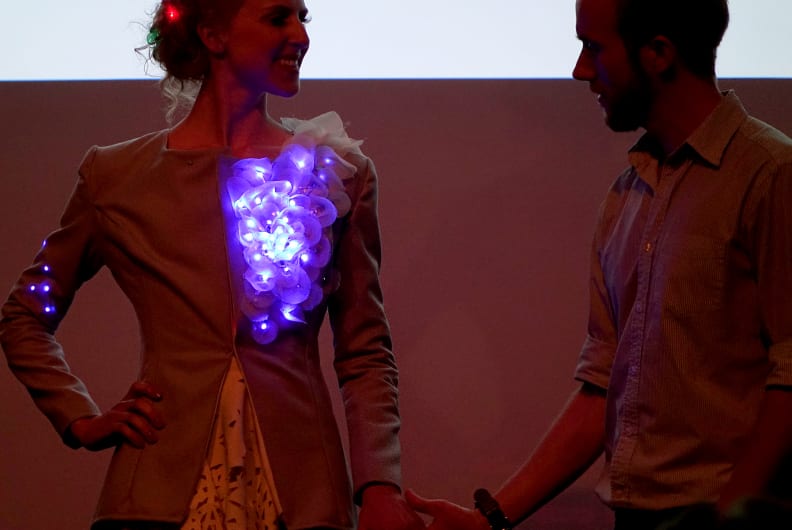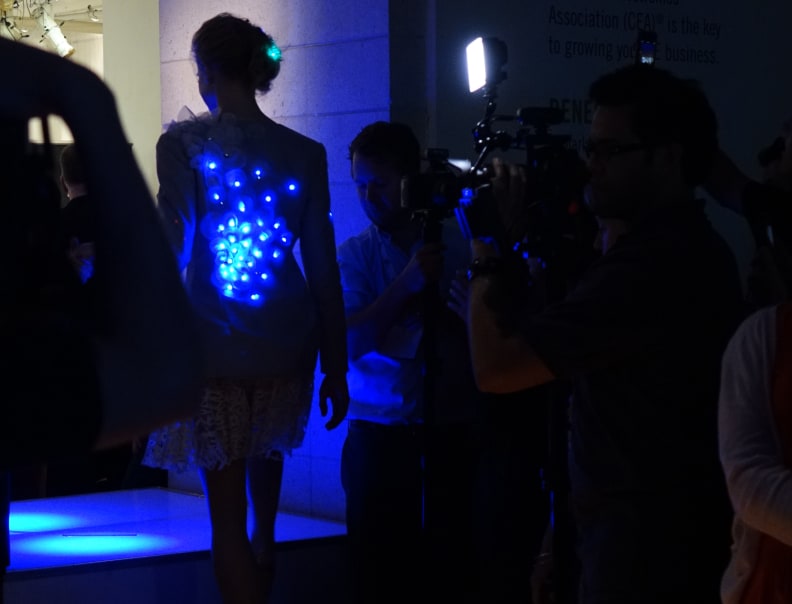 Dragon Queen Interactive
From across the room, the Dragon Queen's bizarre silhouette and villainous winged carriage easily stole every eye in the room. But as the model drew close, a mess of aluminum parts and gaudy clusters of sequins and LEDs conjured everything from grade-school science projects to that awful Paul Oakenfold concert you attended back in '99.
A mobile app controlled the movement of the costume's wings, and a pair of (terribly literal) eyeballs for the "dragon" were 3D-printed—not that anyone cares.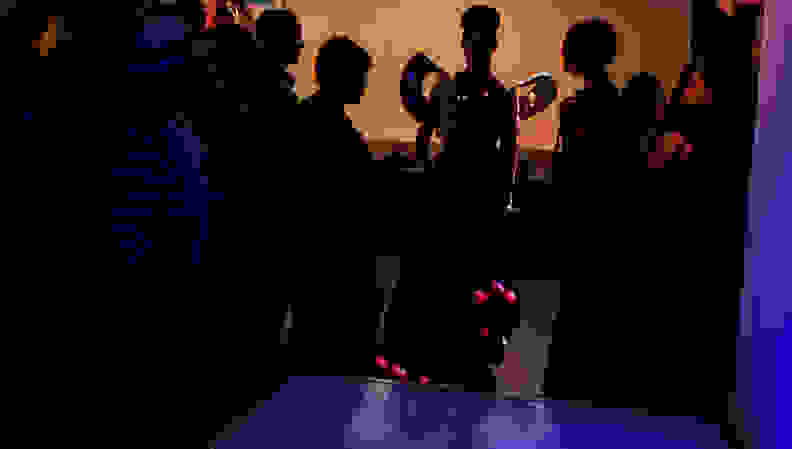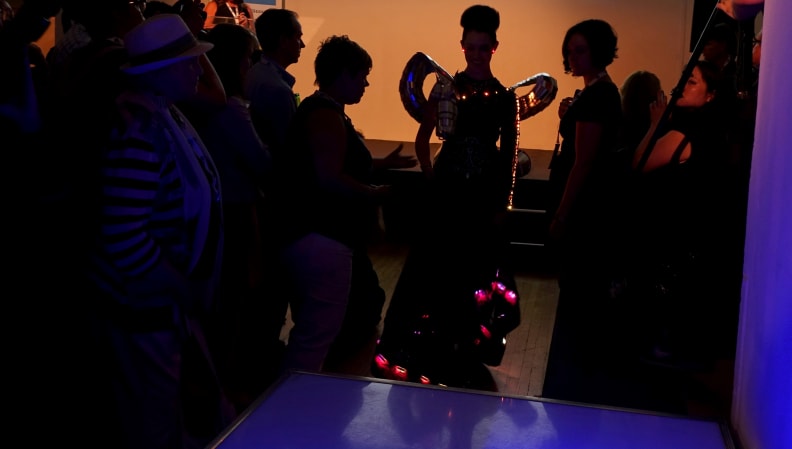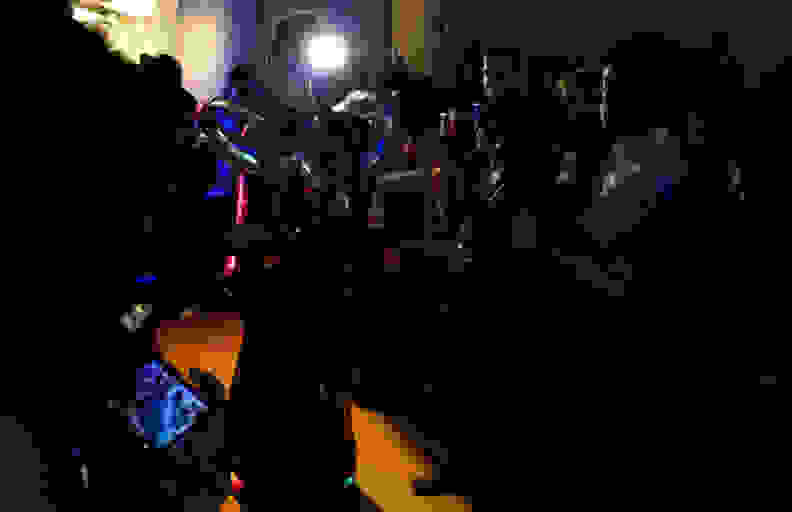 Future Matter
3lectromode's Future Matter dress would have been a lot more alluring if not for the patch of LEDs hovering right over the model's... well, her lady zone. Awkward.
That's too bad, too, because the design is an otherwise tasteful mix of hand-woven cotton, hard and soft circuitry, and digitally printed silk. LEDs and a motion sensor lit up along with the movements of her body, and the heightened collar topped the ensemble with a sophisticated silhouette.
The model also wore Zazzi smart jewelry from FashionTEQ, which can digitally alter its display or alert you to phone calls via vibration. The collection includes a ring, cuff, and necklace.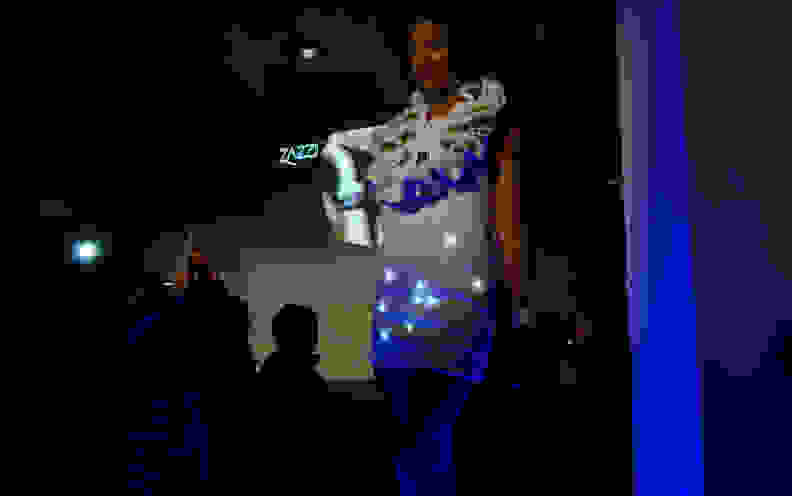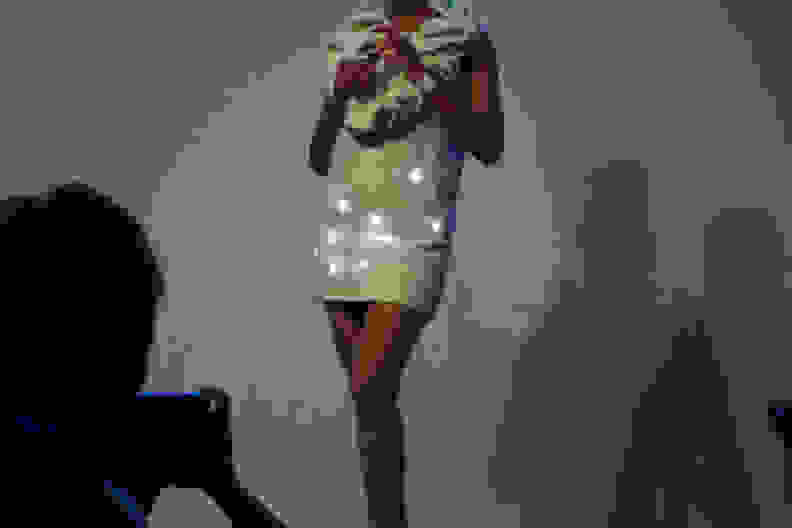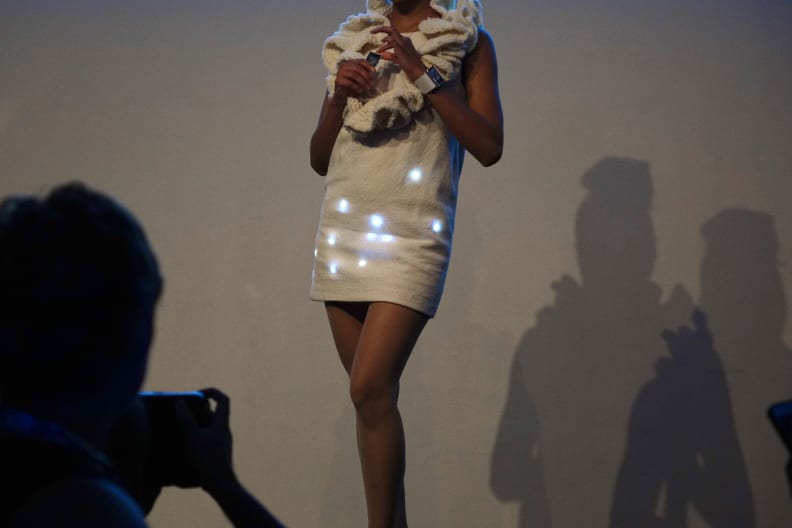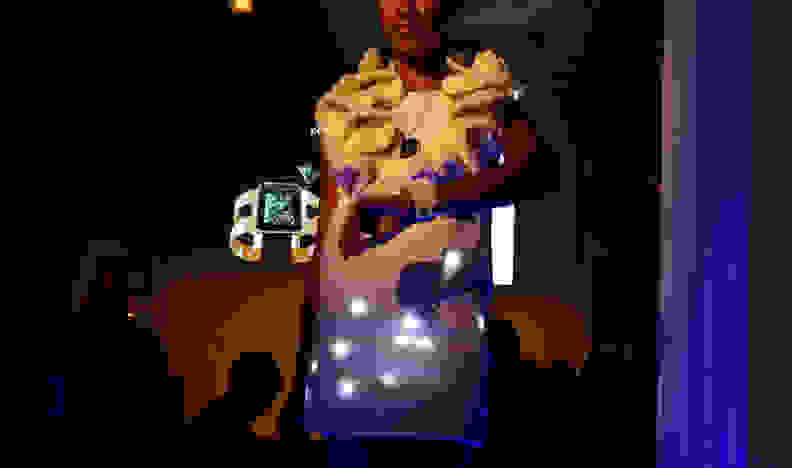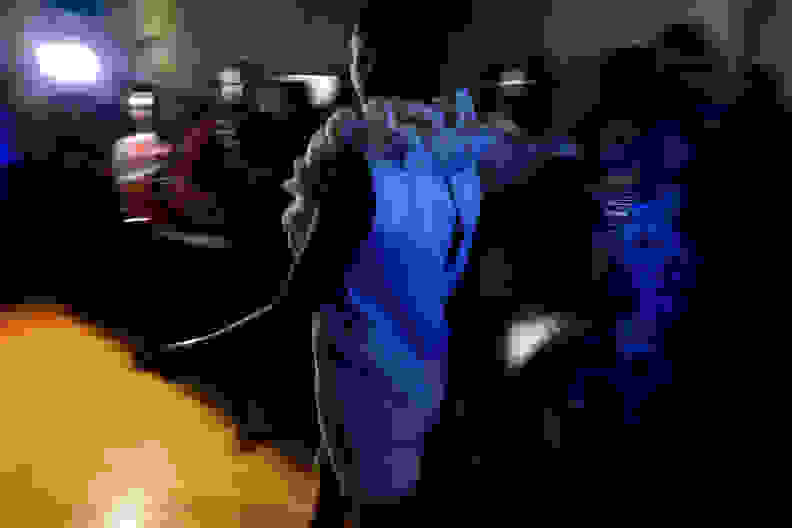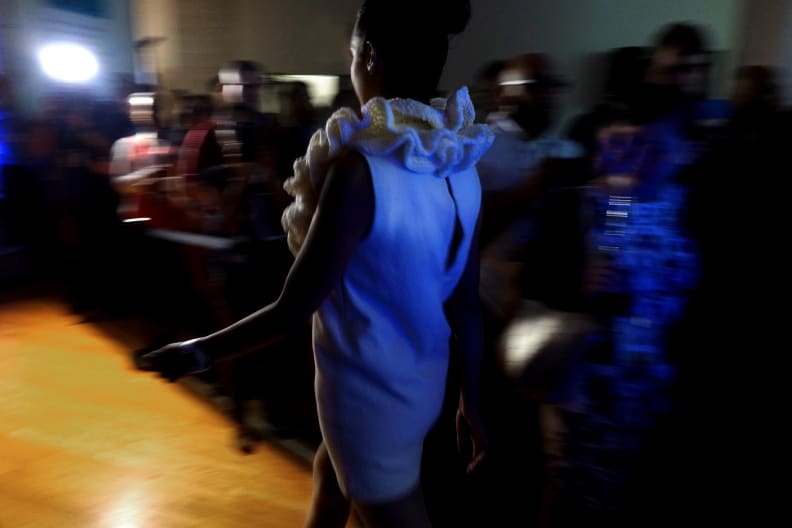 Strokes and Dots
This minimal piece for 3lectromode was one of few to take anything resembling a restrained approach to high-tech fashion.
Instead of bedazzling everything in sight with LEDs, this sheath's lovely lights are woven into the inky-dark fabric, conjuring something of a night sky. The LEDs are sound- and motion-sensitive, lighting up unexpectedly at intervals.
The model also showcased the LiNX ReSound hearing aid, made specially to work with the Apple iPhone. The sleek, innovative aid is paired with an easy-to-use smartphone app that saves settings on a GPS-driven location-by-location basis.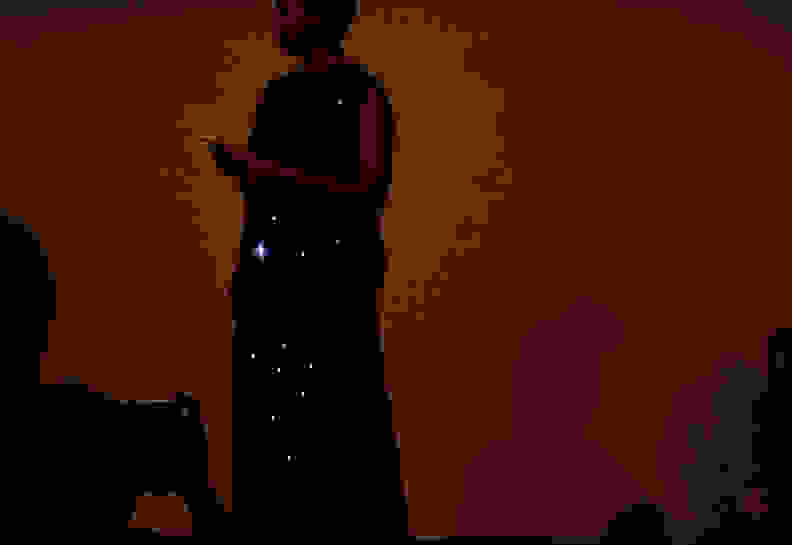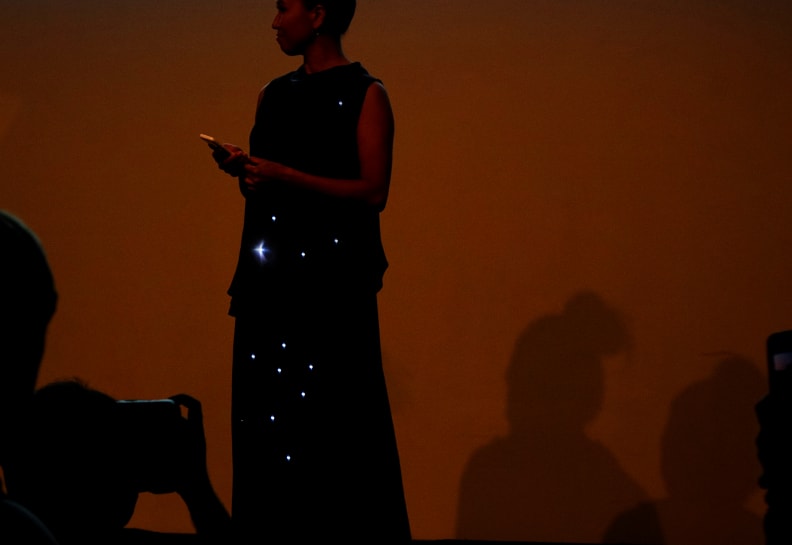 Biometric Bride
Fiber optic cables, high-powered LED strips, and pulse sensors aren't generally the words that come to mind when you think of wedding dresses, but that's what this one is all about.
MakeFashion's collaborative wedding gown sparked up in response to both movement and sound, igniting a light show at every step. Feathers, a satin corset, and insect wings completed the costume's ostentatious look.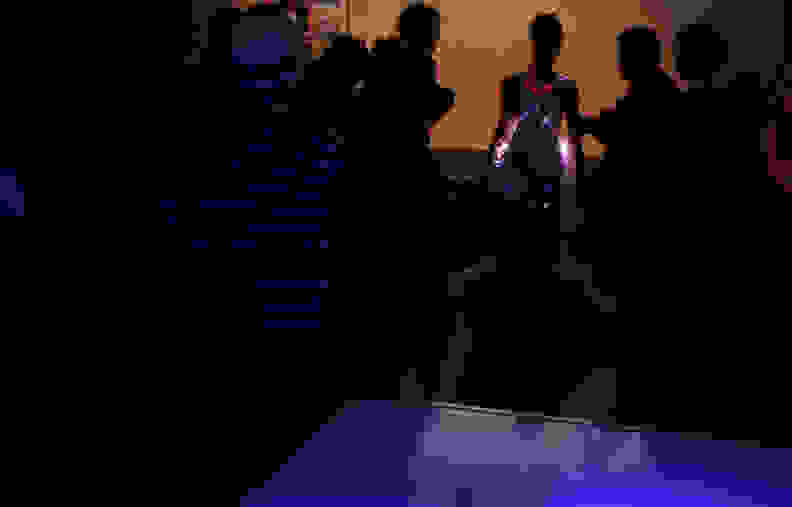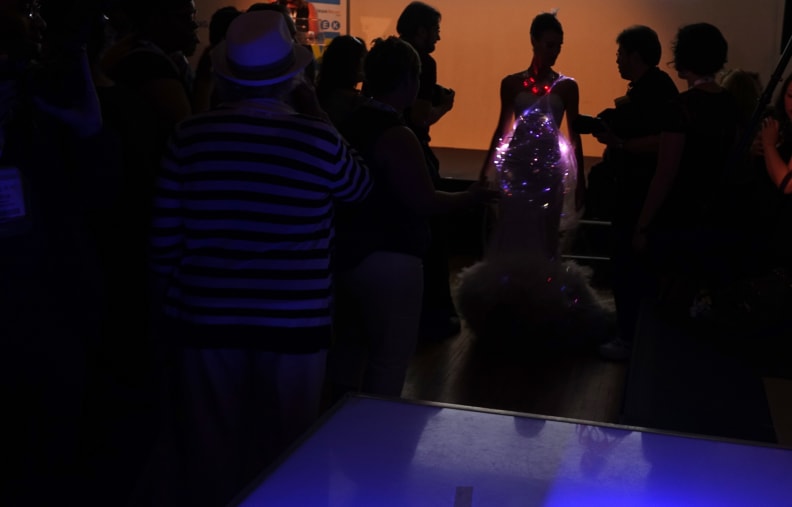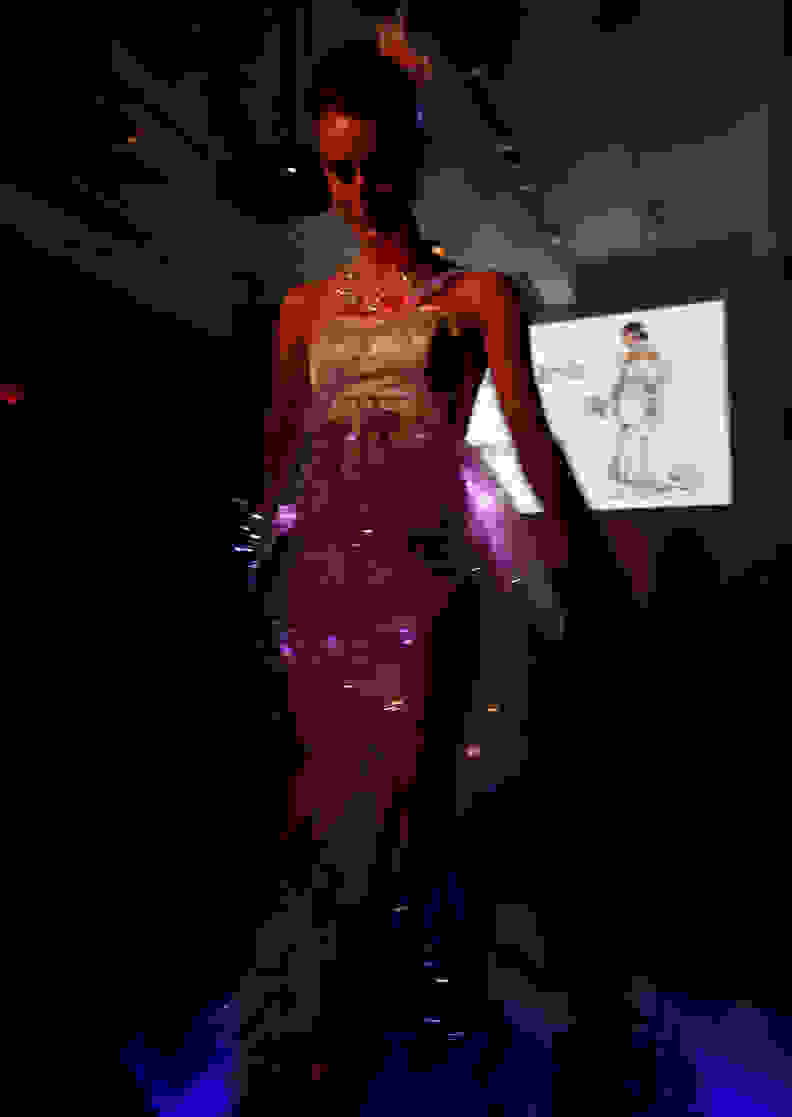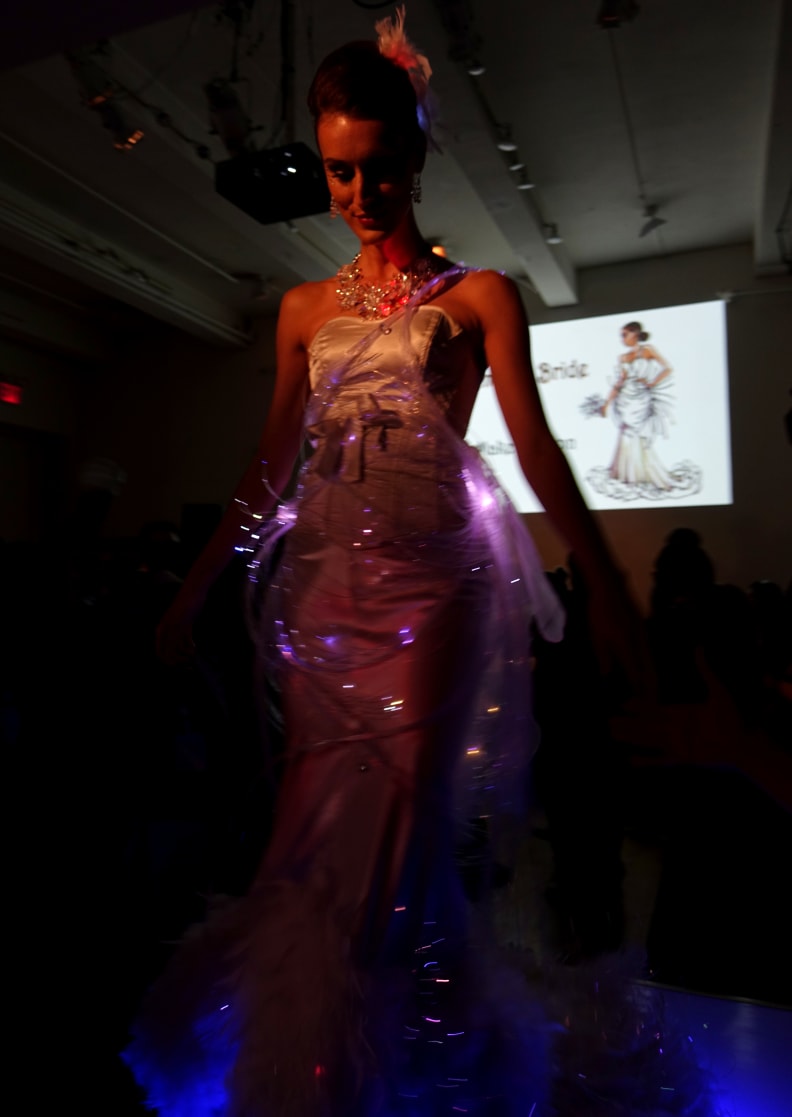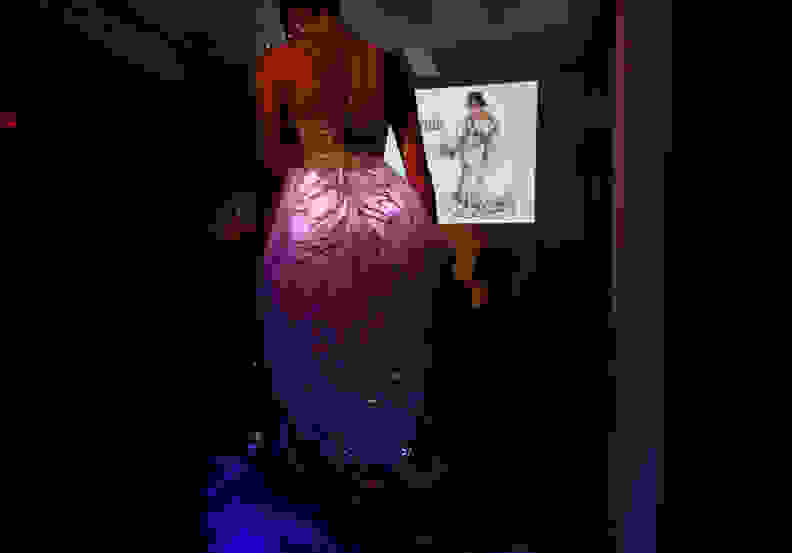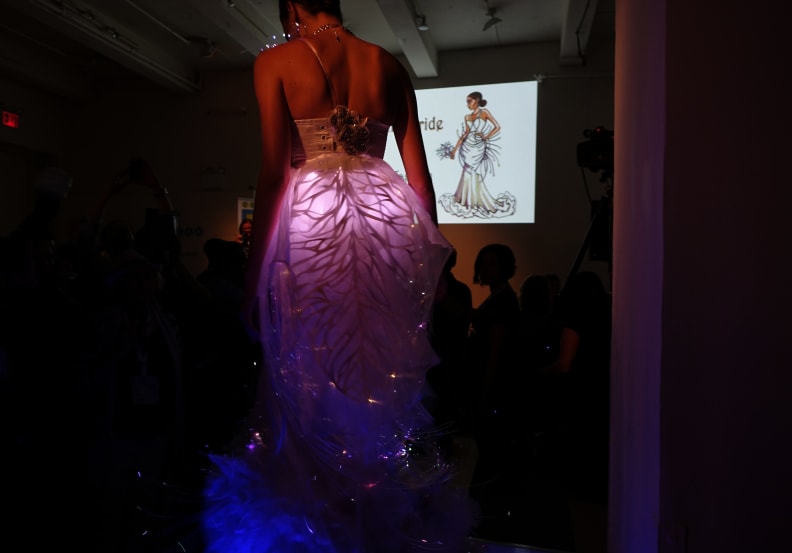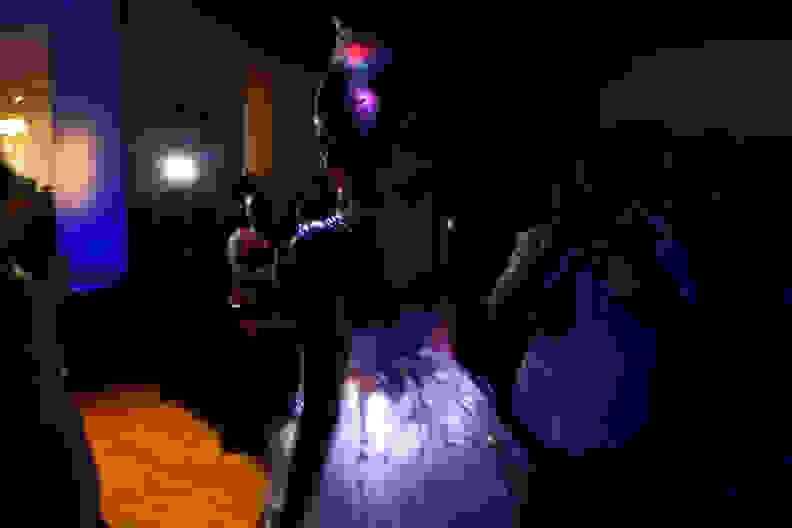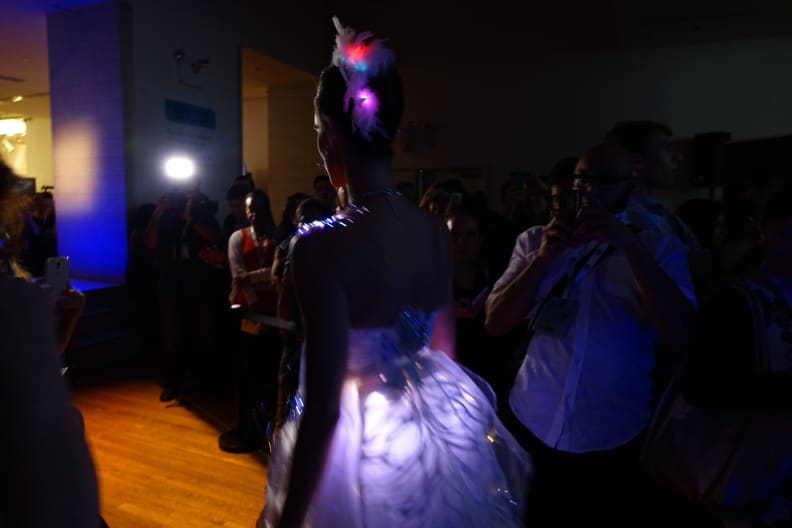 Illuminated Vintage
Another collaborative piece from MakeFashion, this sculptural beauty was perhaps the strongest of the show.
The glowing layers did more than just light up, unlike many of the pieces I saw. Not content to simply glow, the under-lighting enhanced the garment's shape, depth, and color. Audio circuitry made the odd little hat pulse with pink and purple enthusiasm, and programmable LEDs and a gyroscope illuminated the tacky feather fan.
The model topped her outfit with a tiny wearable camera that could make memory redundant. The Narrative Clip is a continuously shooting square that holds more than 4,000 photos, capturing two images every minute.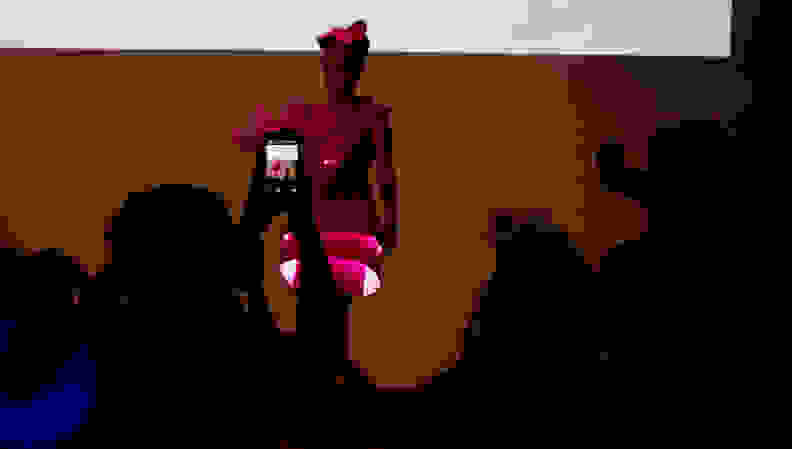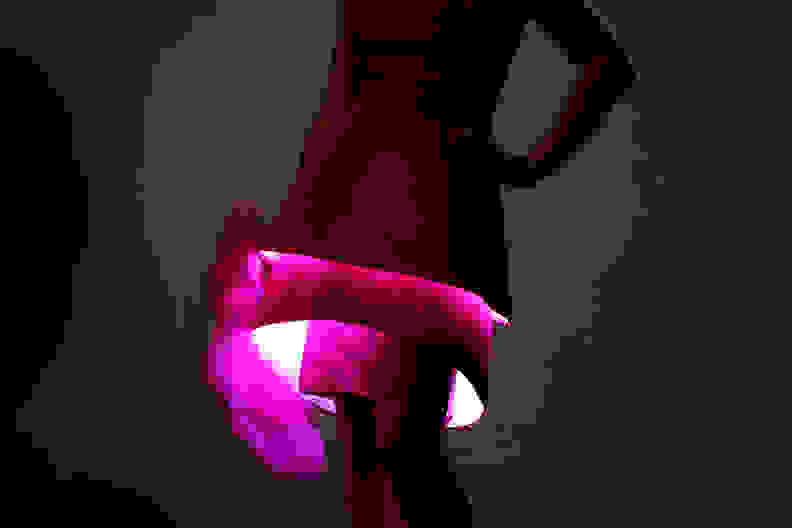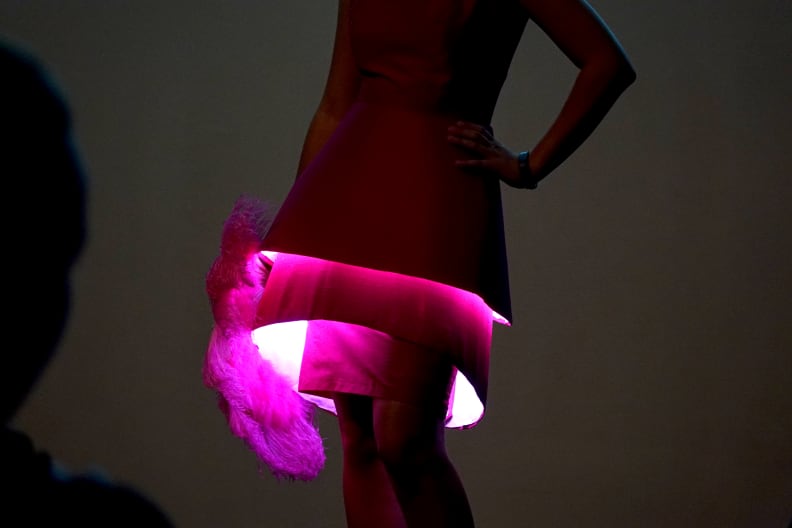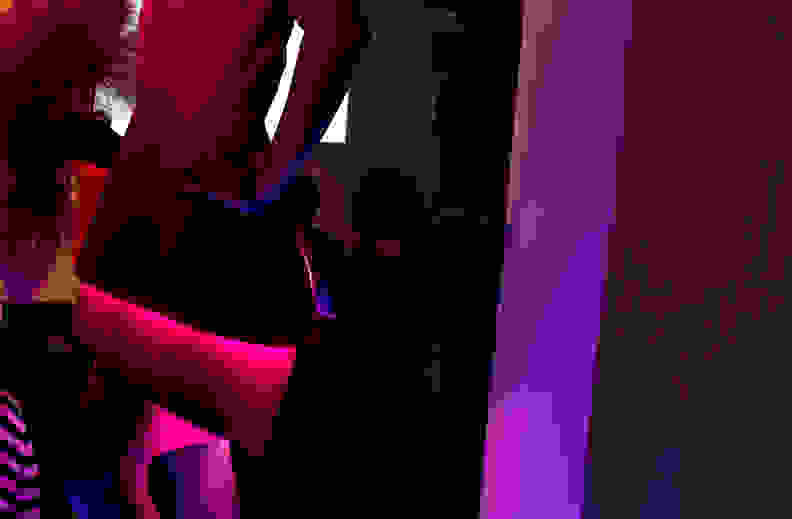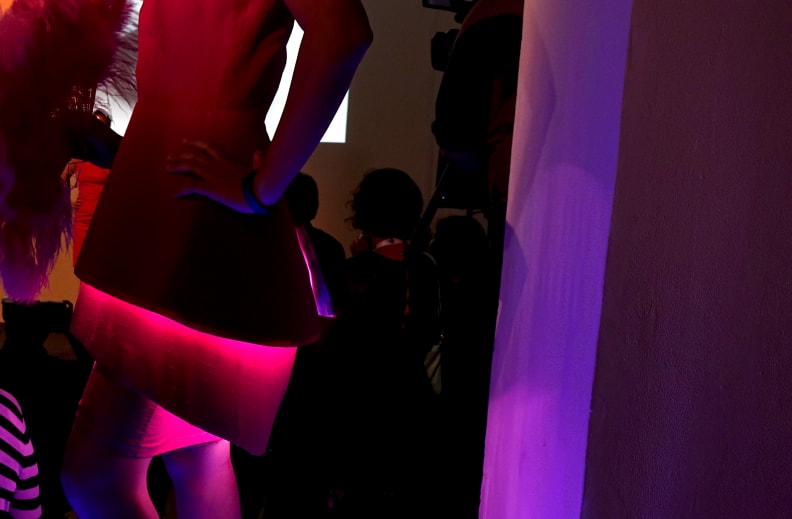 Up next