Laundry
Ready to Tumble: Battle of the Giant Washers
What happens when you pit the biggest washers against each other?
Credit:
Nothing—they're inanimate objects.
But if they were to battle, the Samsung WF56H9100AG and Kenmore Elite 41072 both have considerable speed and power to work with. These two washers represent the heaviest weight class in the washing machine market, with each boasting more than 5 cubic feet of capacity.
Of course, each of these titanic washers demands quite a purse bid, as well. The Samsung has an MSRP of $1,699 with the onyx finish and $1,599 in more mundane white. The Kenmore, on the other hand, will set you back $1,649.
But the real question is: Which one cleans clothes better? Time to find out.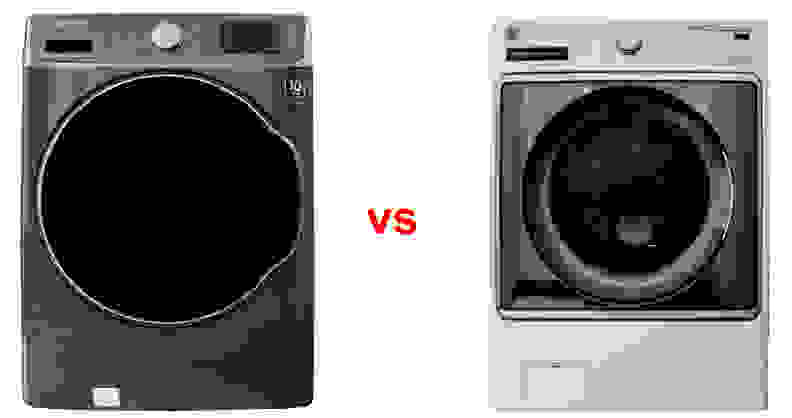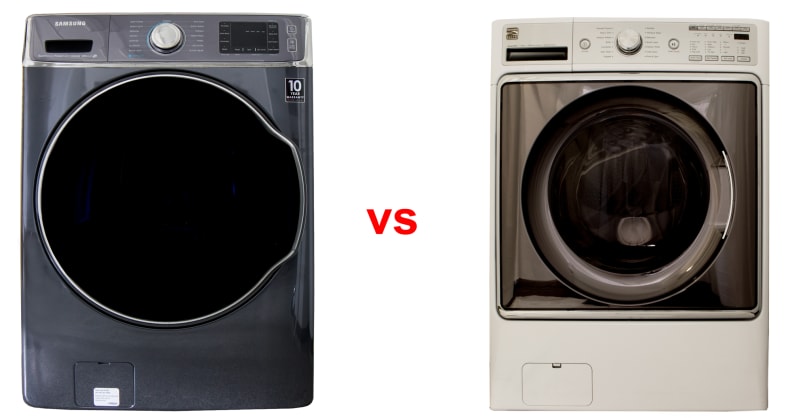 Size
Size does matter, especially when it comes to choosing appliances. Can your washer fit in your laundry room? Heck, can it fit through the door?
During our weigh-in, the Kenmore came in a little smaller than the Samsung. The WM8000HWA tipped the scales at 227 pounds, and our tape measure recorded dimensions of 29 inches wide, 40 inches tall, and 32 inches deep.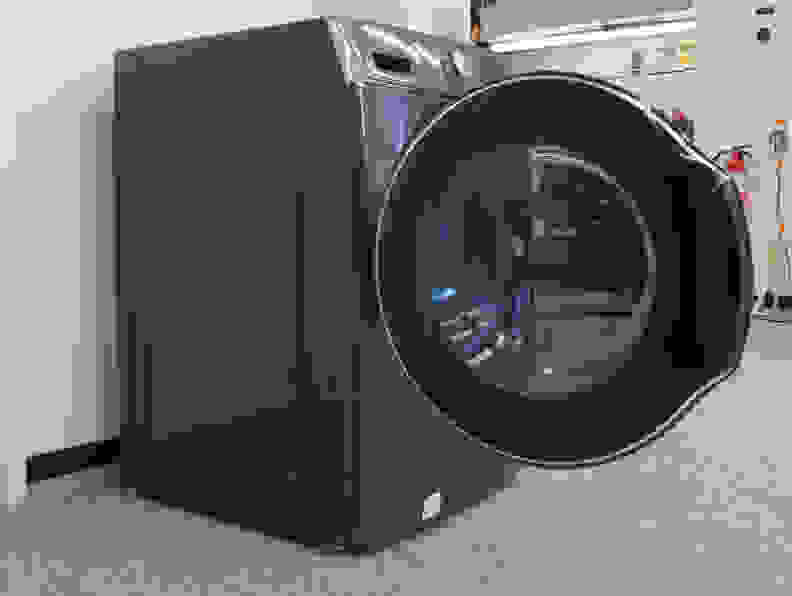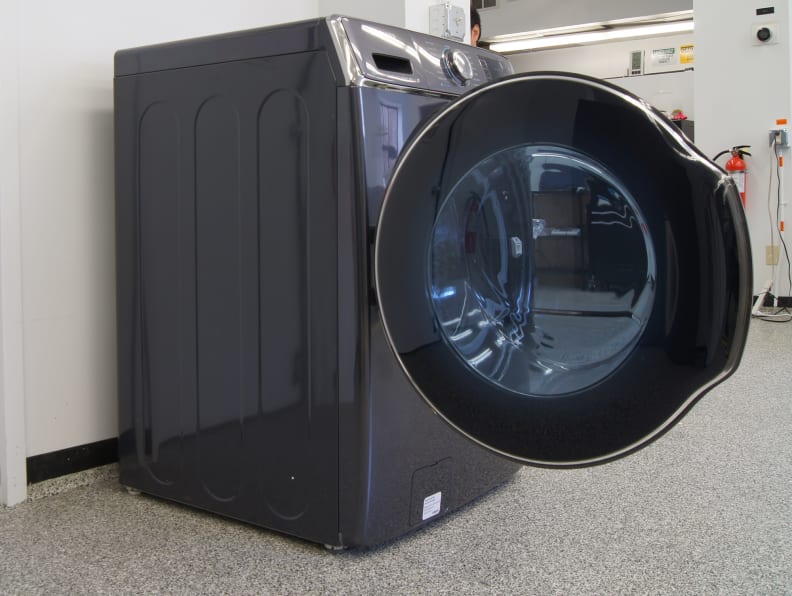 The Samsung WF56H9100AG proved to be the heaviest washer we've ever tested at 267 pounds. It was also about an inch bigger in every direction. However, both have the same reach, requiring 57 inches of room depth for full extension of its front door.
Both of these washers can squeeze through modern doors, which the ADA says must be 32 inches across, but the Samsung may have trouble fitting through older entryways. It's also worth noting that the WF56H9100AG and its companion dryer—the DV56H9100EG—measure five feet across when put side-by-side.
And what about capacity?
The Kenmore is the smaller washer at 5.2 cubic feet, compared to the Samsung's 5.6 cubic feet. That 0.4 cubic feet of difference equates to about three gallons.
Speed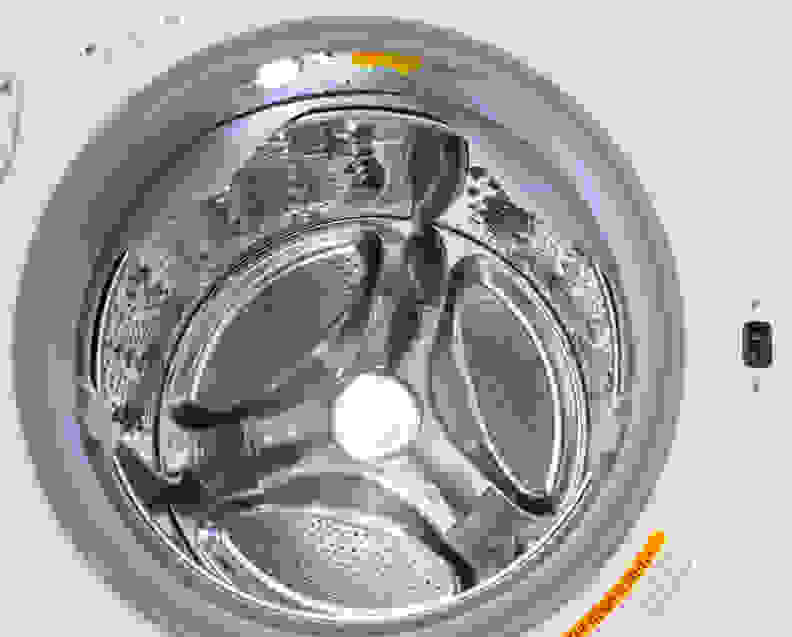 In terms of raw cleaning speed, the Samsung WF56H9100AG absolutely blazes past the Kenmore 41072.
With Samsung's Super Speed feature activated, Normal cycles took only 30 minutes. That knocked a whopping 15 minutes off of the non-Super Speed cycles. The Kenmore 41072's Accelawash did a load in 37 minutes, also fifteen minutes faster than the standard cycle.
The rest of Kenmore's cycle roster bests the Samsung's. On average, Whites, Delicates, and Heavy Duty finished 10 minutes faster on the 41072.
Strength
Washing machines need to pack a punch to knock out stains.
Over a hundred washing machines have passed through our labs, and the Kenmore Elite 41072 sits at number two in our ranking, bested only by its slightly more elite cousin, the 41472.
The Samsung WF96H9100AG ranks fifth overall. Both underwent the same rigorous testing, powering through a battery of standardized lab tests. In the end, the Kenmore simply showed us that it has better stain-fighting ability. It bested the Samsung in every stain category, but especially in dirt and cocoa.


So, who wins?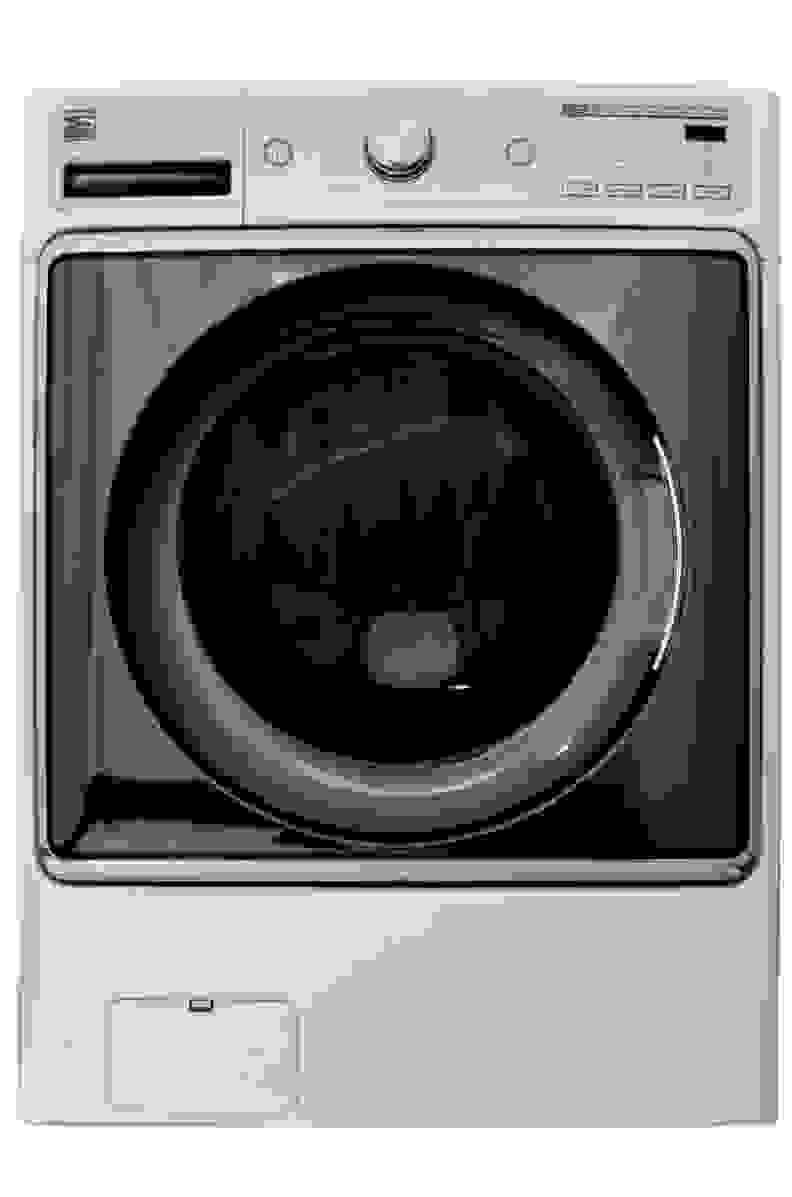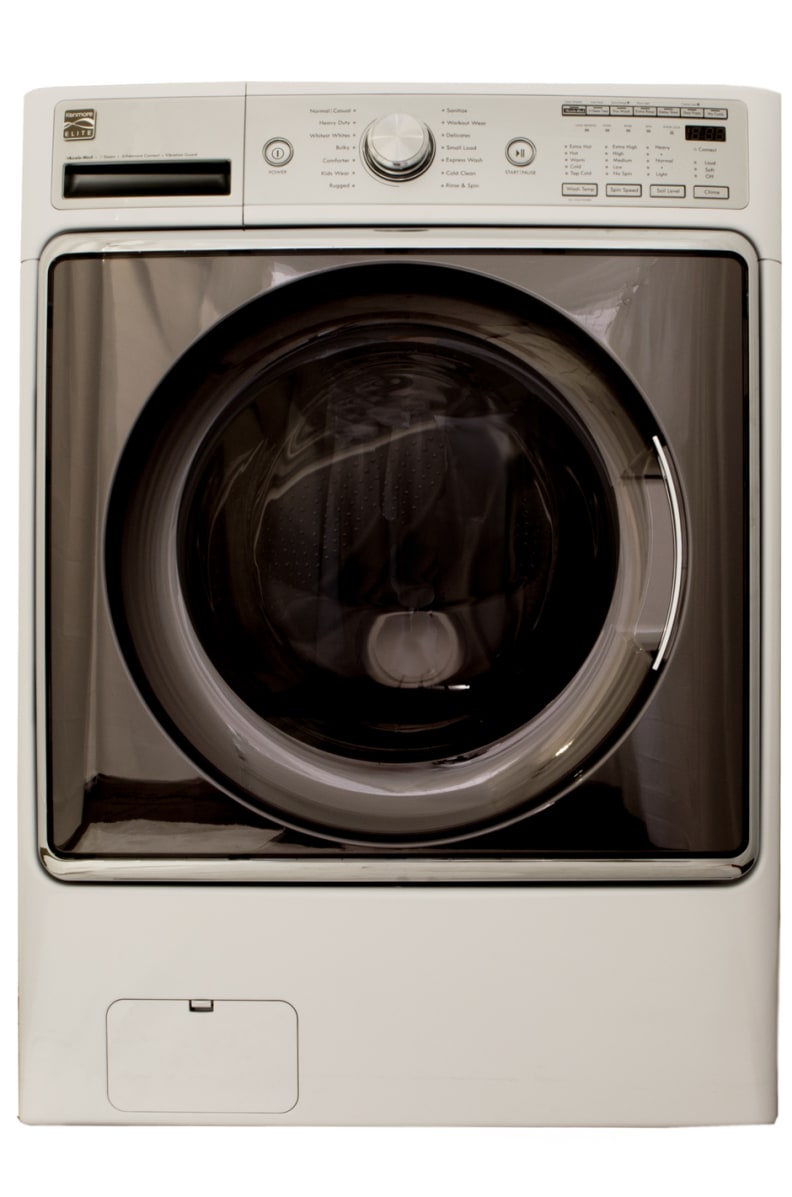 When it comes right down to it, the better washer wins.
In this case, the Kenmore 41072 trumps the Samsung WF56H9100AG in a split decision. It's a little slower and a little smaller, but it packs a stain-busting haymaker that Samsung can't quite match. Still, this isn't a knockout punch.
The Samsung WF56H9100AG has three gallons of extra space. That pretty much equates to one average family member's laundry. Its Super Speed setting also proved to be quicker than Kenmore's AccelaWash.
That being said, washing machines are supposed to, you know, wash clothes. So if you're ready to spend in the ballpark of $1,600 for a world-class washer, our advice is to pick the Kenmore 41072 over the Samsung WF56H9100AG.
---
Hero Image: Flickr user "worldseriesboxing" (CC BY-ND 2.0)