Laundry
Say 'Aloha' Again: Hawaiian Shirts Are Back in Style
The tide is turning back toward Aloha Shirts, and we're on board.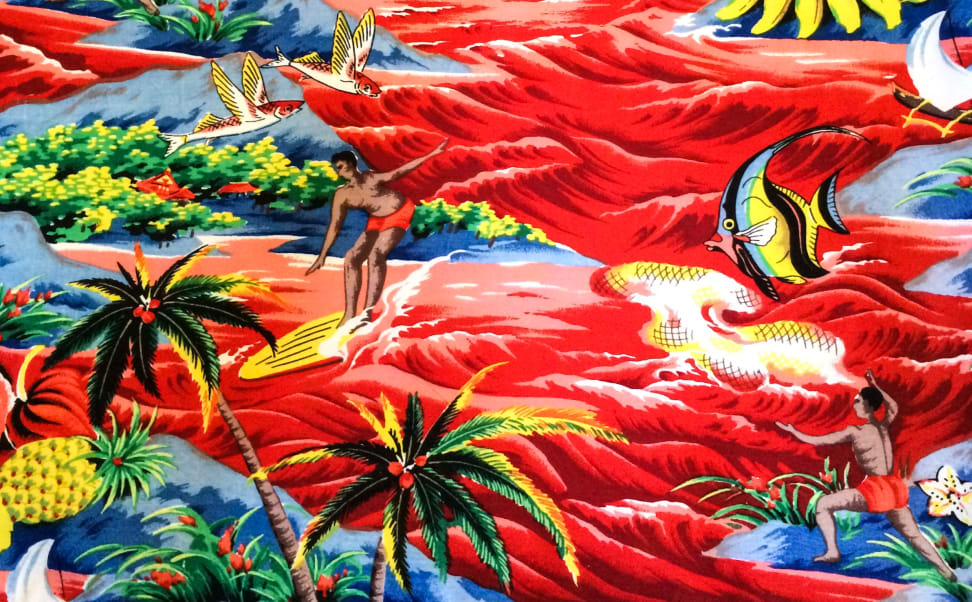 Credit: Werner Werwie
Wear a true, vintage Aloha Shirt to a graduation ceremony, a cocktail party, or even a wedding and you can't help but make a statement:
The weather's fine, wish you were here.
Collared, short-sleeved, boxy, and always worn un-tucked, vintage Aloha Shirts are printed with colorful tropical iconography or laid-back island scenes. They're casual yet elegant, contemporary yet classic, and multicultural yet proudly American.
They're casual yet elegant, contemporary yet classic, and multicultural yet proudly American.
And whether they're called Aloha Shirts, surf wear, island apparel, or Hawaiian shirts, they're highly collectable. The best examples of these classic threads can fetch thousands of dollars.
"Our record sale is $5,500 for a shirt Jimmy Buffett bought and then wore when he played for a crowd at Fenway Park," said David Bailey, owner of Bailey's Antiques and Aloha Shirts in Honolulu, Oahu. "When I opened my store in 1980, I would have sold that same shirt for 50 bucks."
The aloha aesthetic has ebbed and flowed with the tide of public opinion through the years, toeing the line between cool and kitsch. But recently, island wear has jumped on board the fashion lines of menswear designers like Saint Laurent, Tommy Hilfiger, and Prada. Are Aloha Shirts set to invade the fashionable cocktail hour once again?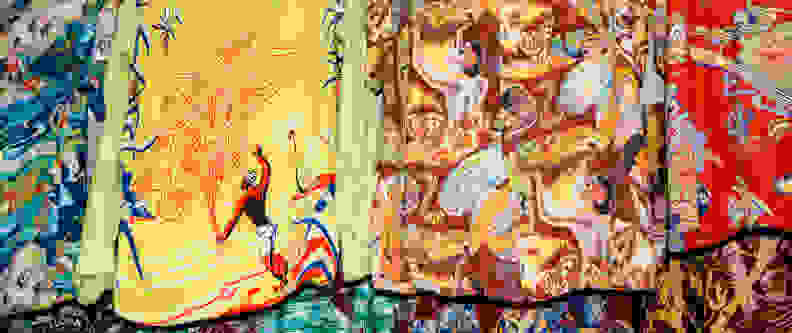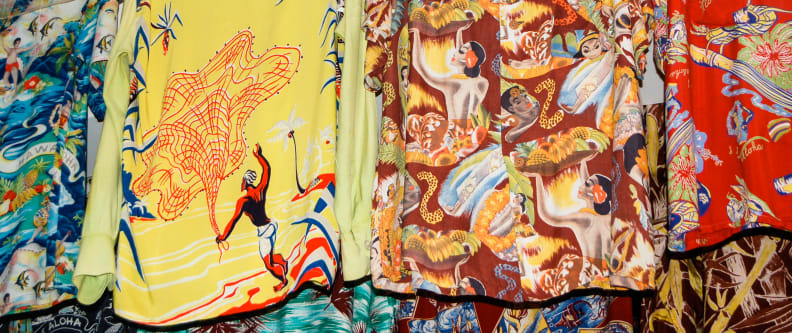 The exact origins and creators of the first Aloha Shirt are uncertain, but there are some things we know. In the 1920s, Japanese and Chinese merchants based in Hawaii imported rayon kimono fabrics printed with scenes of rice paddies and Mt. Fuji. Island clothing factories used them to produce simple uniforms that could be used by plantation workers. The loose, colorful garments soon caught on with beach boys.
"High school kids were going to dry goods and tailors' shops in downtown Honolulu to buy fabric that they could get their mothers to make shirts for them to wear," said Dale Hope, longtime surfer and former creative director of Kahala Sportswear. He's also the author of a coffee-table book on Hawaii's clothing industry: The Aloha Shirt: Spirit of the Islands.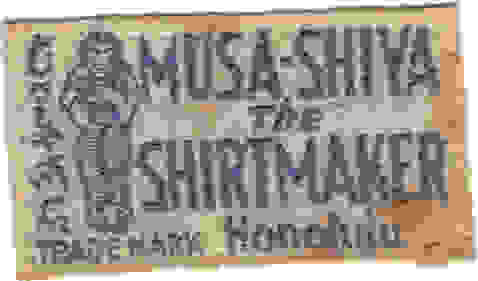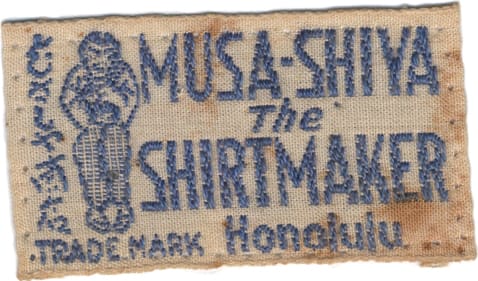 The first commercial shirts were informally produced by tailors like Musa-Shiya Shoten and Ellery Chun. In 1935, Musa-Shiya the Shirtmaker ran a newspaper ad—perhaps the first ever—introducing the "Aloha Shirt." Soon, the Japanese started supplying prints with Hawaiian themes.
"They said, instead of Mt. Fuji we'll use Diamond Head, and instead of guys fishing on reed boats we'll use outrigger canoes," explained Hope.
Buttons were made from wood, oyster shell, and bamboo, but Hope said that today, none are more cherished than the original coconut shell buttons produced in the islands.
---
Hawaii's Accidental Marketing Campaign
Hawaii's tourist appeal was only just beginning to blossom in the 1930s, and until Pan Am's China Clippers started air service, the only way to access the islands was a six-day water crossing from California. "People came by steamship and arrived in suits," explained Hope. "But they became enamored with the lifestyle, and what better way to capture the experience than a shirt made in a Hawaii that looked like a postcard?"

By 1936, Honolulu—population 160,000—boasted some 275 tailors, according to Hope. While production dipped as supplies dwindled during WWII, shirt-making entered what Hope calls the "golden era" in the late 1940s, when some of the most respected pieces were produced.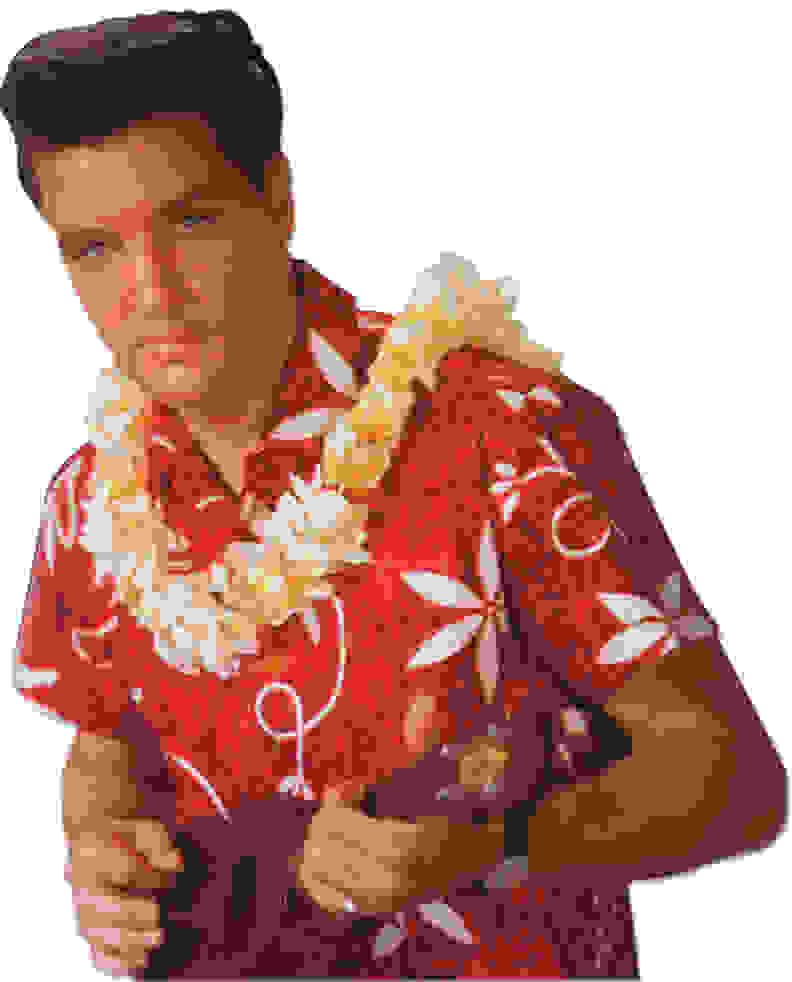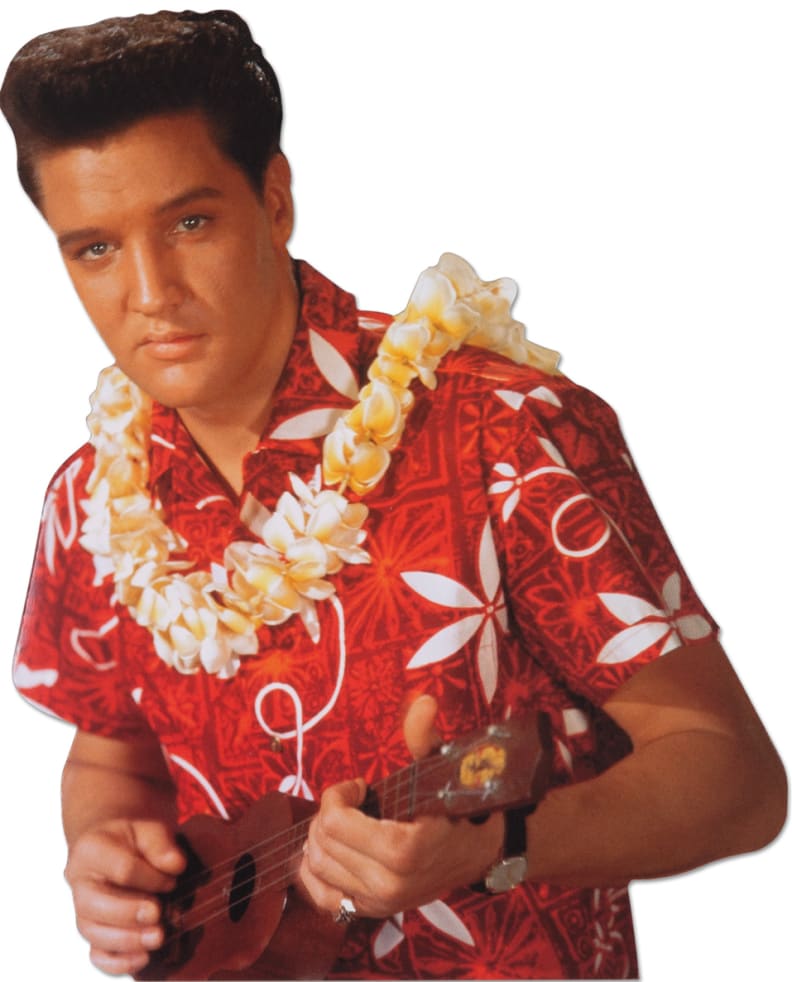 "You had great manufacturers like Alfred Shaheen, who did everything but grow the cotton and spin and weave it," said Hope.
In 1948, at the age of 26, Shaheen opened his business with just four seamstresses, all trained by his mother. Soon, he hired full-time artists and printed his own fabrics in silkscreen, eventually growing his company to employ more than 300 workers. Though Shaheen didn't invent the Aloha shirt, he had a lot to do with turning surf attire into something that transcended the clichés.
As the shirts began to invade the mainland—imported by surfers, sailors, and tourists alike—they promoted the easygoing island lifestyle, becoming an iconic brand ambassador of sorts for Hawaii tourism.
---
Enter the Celebrities
Hollywood has also been a strong proponent of the Hawaiian shirt. Shirley Temple and John Barrymore are said to have ordered shirts while visiting Hawaii in the 1930s. Bob Hope and Bing Crosby wore the shirts in the Road movies, and when they golfed together.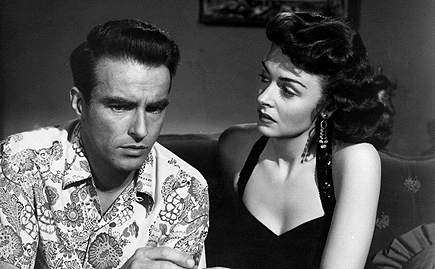 Since WWII, U.S. presidents have donned Aloha shirts (except, notably, Hawaii native Barack Obama). Frank Sinatra and Montgomery Clift wore tropical prints to great effect in the 1953 From Here to Eternity. And Elvis Presley famously rocked a Tiare Tapa design by Shaheen for the 1961 movie and accompanying soundtrack album Blue Hawaii. Now a collector's item, the shirt has been widely reproduced.
Television helped make Oahu cool through the original Hawaii Five-O, though star Jack Lord stuck to black suits and ties (the show's nod to conformity). But when Magnum P.I. emerged in 1980 and Tom Selleck embraced tropical prints, middle America followed suit. Just like that, what had been fresh and offbeat for so many decades became played out.
It only took a few years, but public opinion flipped again with the emergence of the Seattle-based Tommy Bahama label in 1993; the company resurrected some of the classic old Aloha Shirt prints with quality reproductions. Then the wave turned yet again.
"Kids didn't want to look like big fat guys in Reeboks and ankle socks, and so the Aloha Shirt skipped a whole generation."
"Low-end, bottom feeder companies came in around 2000, making shirts on similar fabrics and selling them for 20 bucks at big box stores," said Hope. "Kids didn't want to look like big fat guys in Reeboks and ankle socks, and so the Aloha Shirt skipped a whole generation."
But with celebrities like Pharrell and Jared Leto embracing Aloha Shirts today—albeit of the Prada variety—would I be wrong to predict that another revival is headed ashore?
---
Why Not?
Most of us can't afford a contemporary $1,420 Prada tribute to Hawaiiana. Although the most coveted vintage shirts have sold at auction for as much as $15,000, wonderful pieces can be had for a few hundred dollars. Those who really know how to work the thrift shops can find treasures for far less. (And don't forget to investigate granddad's closet!)
"Some of these prints were magnificent, inspired paintings of life in Hawaii and the South Pacific," explained Hope. "If you wear a Shaheen shirt from the late 1940s or 1950s today, there's nowhere you'll go where people won't say, 'wow, what a gorgeous shirt.'"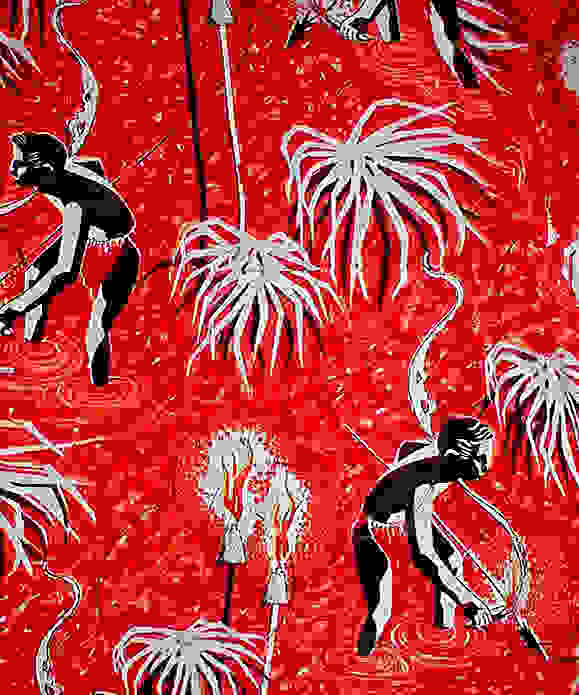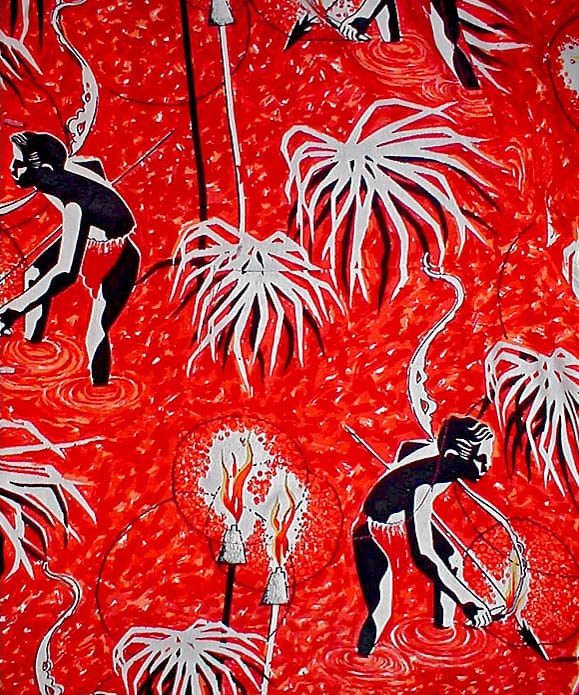 "The market in vintage shirts peaked about 6 years ago—there was a bubble," explained Werner Werwie. He's a dealer who runs Retro City Fashions, a collection of second-hand stores in San Francisco. "But now is a good time to buy because they're about 40 to 50 percent less."
"Floral prints are always around, but obscure things like angels or menehune are special."
Condition, age, rarity, size (small is least desirable), coconut buttons, label (an embroidered fabric tag is a signpost for age), stitching, matched pockets, collar, print, and fabrication are all factors to be considered when assessing a vintage shirt. "A shirt found as 'dead stock'—never worn, possibly with its original hang tag—is the most desirable," said Hope.
For Werwie, among the most collectable shirts are those with dark backgrounds. "Dark blue is probably the most popular, but also black," noted Werwie. "White shirts are also very desirable because people go to Hawaii and get married in them." The dealer said shirts with the large pointed collar from the 1940s are sought-after, and rare prints with unusual subjects are also highly prized.
"Floral and botanical prints are always around, but obscure things like angels or menehune are special," Werwie added.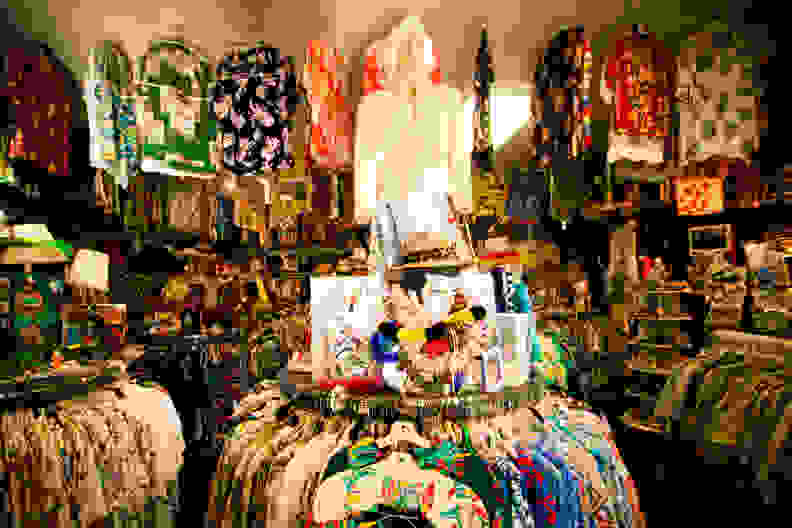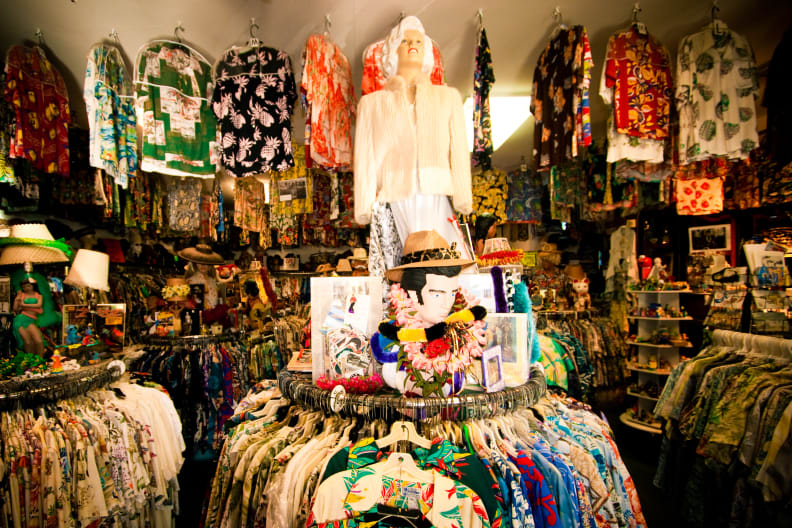 When Baily arrived in Honolulu in the late 1970s, he would buy Aloha Shirts at swap meets for two or three bucks apiece, eventually building enough inventory to open his store in 1980.
He said serious collectors entered the market around 1984, following the publication of H. Thomas Steele's The Hawaiian Shirt: Its Art and History. Since then, Baily said he's sold "at least 300,000 shirts," with customers ranging from Peter Fonda to Nicholas Cage and Anthony Bourdain.
"It's been better than investing in most stocks."
"It's been better than investing in most stocks," he added.
Of course, such valuable goods deserve care, but Hope said you shouldn't send them to a dry cleaner. "They tend to beat stuff up pretty good, and the original rayon shirts are fragile," he cautioned. "The real collectors and aficionados hand wash and air dry their shirts. They steam them, but not with an iron—they're precious and dear, so you don't want high heat."
Explore the gallery of photos by Ric Noyle of some of Dale Hope's favorite vintage specimens below. Mai Tais are optional.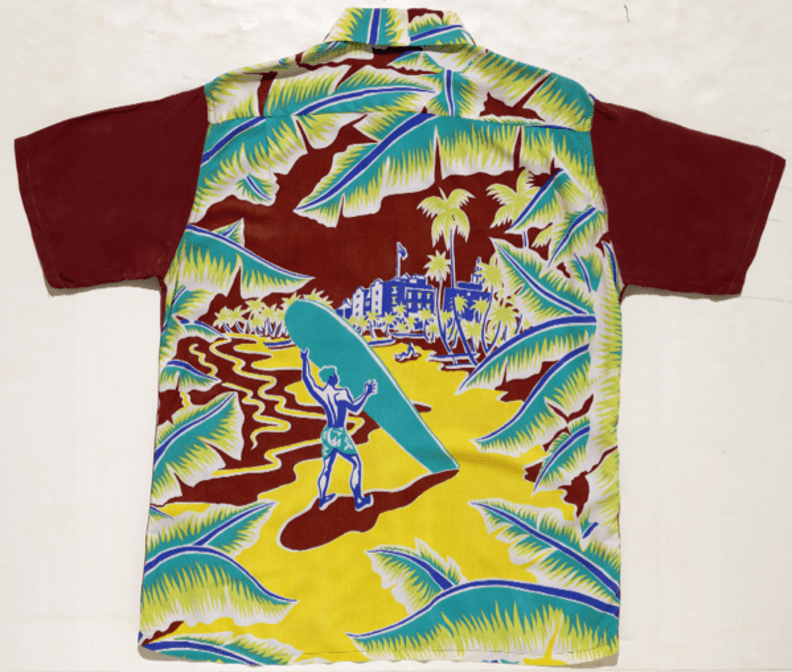 ×
Aloha shirt gallery
Related Video