Do men really need their own laundry detergent? A couple of Maryland-based entrepreneurs seem to think so.
The product is called Real, and it's a detergent that promises to be tough on stains and odors while simultaneously promoting gender equality in the laundry room. How does it do that, you may be justifiably asking? With scents inspired by top men's colognes and a classy bottle, of course.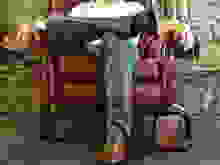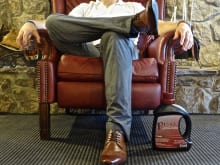 The Frey brothers are trying to make Real a reality with a Kickstarter funding campaign. Of course, since there's no demonstration of Real's cleaning power, funding it only makes sense if you agree with the Freys' theory that men need a detergent all their own.
To their credit, the siblings rightly point out that laundry-related consumer goods are primarily marketed to women—a finding we've previously covered at some length. Their project was born from frustration that there is no detergent that speaks to the millions of males that wash their own clothes. (A frustration this writer has never personally felt, but to each his own.)
Real is designed to address that need by including all the things men (apparently) want in a laundry detergent. For one thing, its packaging makes heavy use of black and red, eschewing the pastels normally associated with detergent bottles. At a glance, you might mistake it for a bottle of motor oil or some other manly car fluid.
Then there's its scent, derived from a mixture of sandalwood, oak, frankincense, bergamot, and leather—like something you might find in Ron Burgundy's library.
At a glance, you might mistake Real for a bottle of motor oil or some other manly car fluid.
Bottles of the finished product already exist, created as samples for potential vendors. Kickstarter backers will get some of that limited supply, while the rest of us will have to wait until the stuff goes into commercial production.
But at the end of the day, do laundry needs between the sexes really differ that much? Not all men lead active lifestyles that call for a stronger detergent. And while challenging established gender roles is a noble endeavor, Real's message gets diluted when it implies that "real" men should be "adventurers, athletes, professionals, and rebels."
Via: Reddit
Hero image: Flickr user "n1ct4yl0r" (CC BY-NC-ND 2.0)
Our editors review and recommend products to help you buy the stuff you need. If you make a purchase by clicking one of our links, we may earn a small share of the revenue. Our picks and opinions are independent from any business incentives.