Laundry
Denim Disasters: 7 Reasons Why Jeans Should Stay on Your Legs
Jeans look great on your legs. Let's keep them there.

Credit:
If you're reading this, there's a pretty good chance that you're wearing jeans. And if you are, congratulations: A great pair of jeans is always a solid fashion move. Just remember to never wash them, okay?
If we had our way, denim would stay on your legs. Its use anywhere else tends to be a travesty. Do an image search for "Canadian tuxedo" if you need proof.
We've compiled a comprehensive list of the worst crimes ever committed in the name of denim. Remember: Friends don't let friends buy denim toilet seat covers. Or cars with denim upholstery.
1. the Denim Bathrobe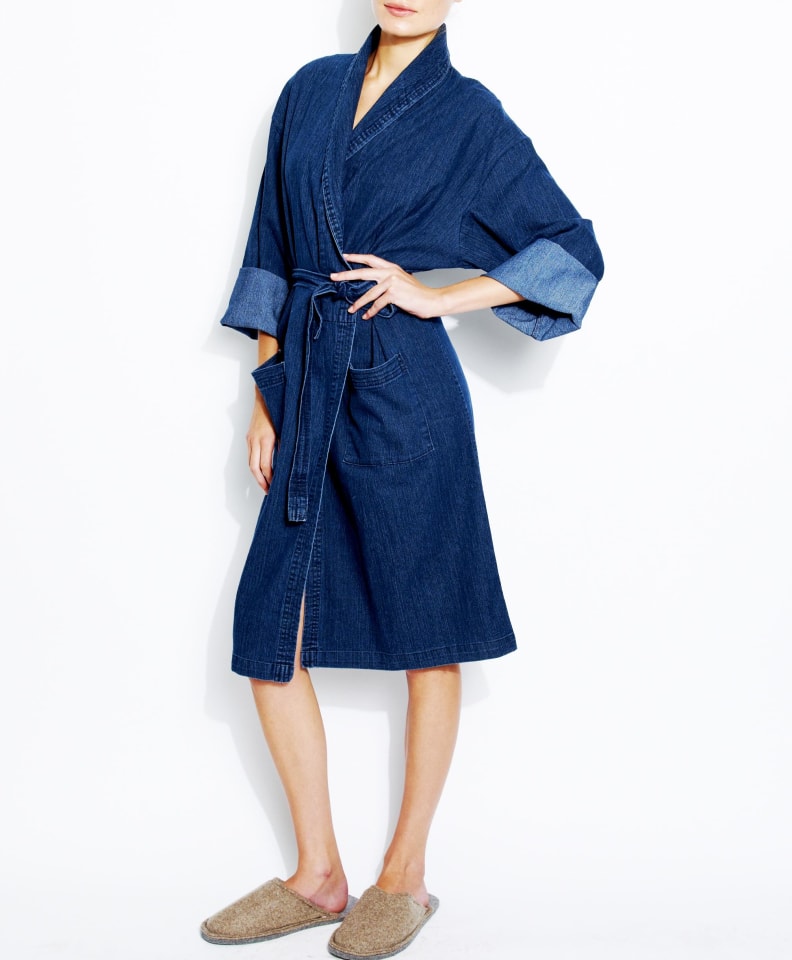 What's the first thing you want after stepping out of a shower? A towel. And what's the last thing you want after stepping out of a shower? A denim bathrobe.
If you've ever tried putting on a pair of jeans when your legs are still slightly damp, you know what an uncomfortable feeling it is. Imagine covering your body in Hotel Americano's premium denim robe (just $125!) before allowing yourself time to air-dry—actually, scratch that. We'll be the first to admit that this item doesn't look half bad, but no one wears bathrobes as a fashion statement. Fleece and French terry will do just fine, thank you.
2. the Denim Hat
These days, Justin Timberlake is a certified style icon. Unfortunately, he was also a style icon in the 90s. We've clearly come a long way as a society.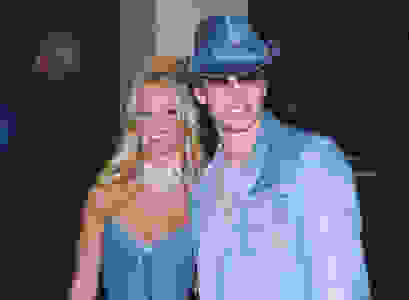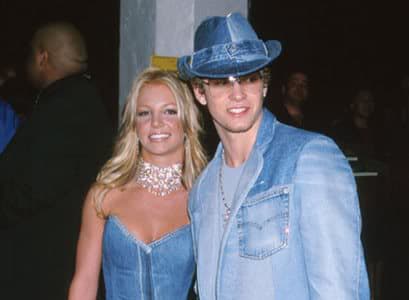 Proper credit must be given to Mr. Timberlake, who wore this ensemble to the 2001 American Music Awards. In addition to his perfect Canadian (or Texas) tuxedo, he accessorized with a denim cowboy hat and a denim-clad Britney Spears, whose middle name is Jean. Justin probably deserves an Xbox achievement for that one.
3. the Denim World Cup Jersey
What's more American than pickup trucks and capitalism? Denim-patterned soccer jerseys. Oh, and mullets.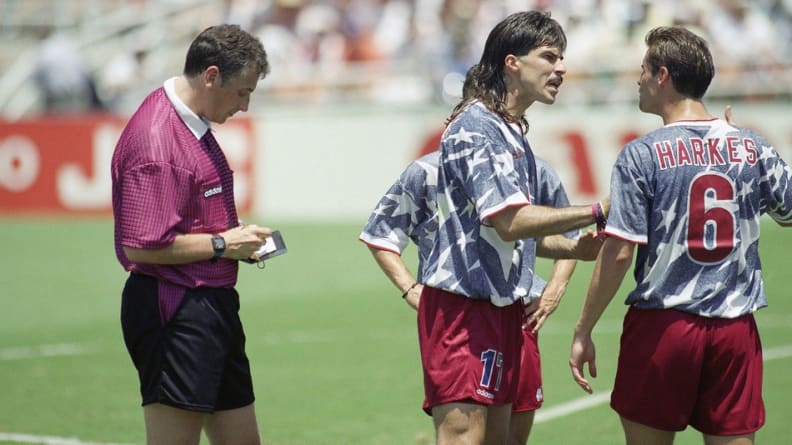 Mashable uncovered pictures from the 1994 World Cup, where Team America wore away jerseys designed to look like denim. While the team did not manage to dodge the bad-fashion bullet, the jerseys were not made of actual denim material. Soccer is one of the most physically demanding sports, and that means players are going to sweat—a lot. Actual denim jerseys would likely have required burning rather than washing after the game.
Bonus fun fact: The product manager at Adidas who helped create this denim masterpiece said that the US team almost wore tie-dye. Thank goodness he came to his senses and chose denim.
4. the Denim T-Shirt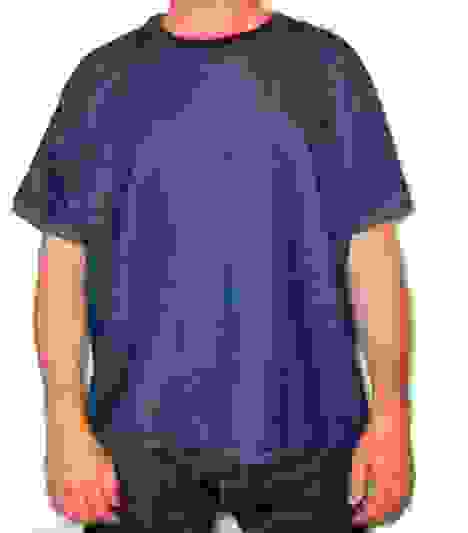 Who said athletes and pop stars are the only ones misguided enough to wear jeans on their torsos? If you have $20 burning a hole in your pocket, you can easily trade that Jackson for a denim t-shirt.
We found a website that sells these authentic creations for the low, low price of $19.95, plus shipping. The company, BuyEShirts.com, says these denim tees don't just look like a pair of jeans (à la chambray)—they're the real deal:
"This is not a regular cotton shirt simply dyed denim blue. It is made of the real denim. A ribbed collar was added for comfort."
We'll take their word for it.
5. Denim Car Seats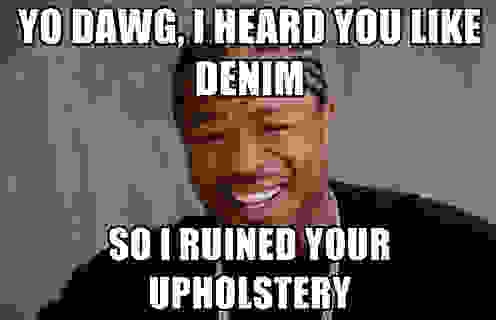 Levi Strauss jeans are a staple of American fashion, so we can forgive the misguided souls at American Motors who made the 1970 Gremlin "Levi" Edition.
According to this classic ad, the designers didn't just dye the seats blue. The upholstery features orange stitching, buttons, and even the red Levi's tab on the front seats. If Justin Timberlake showed up to the 2001 American Music Awards in this car, the show would have shut down.
As history has taught us, the AMC Gremlin wasn't the most stylish car ever made, and adding a layer of denim probably wasn't the best idea. At least former president George H. W. Bush didn't mind driving this "classic."
6. Denim Gloves
Imagine cracking open a Bud Light with these authentic denim gloves. The national anthem must surely start playing somewhere.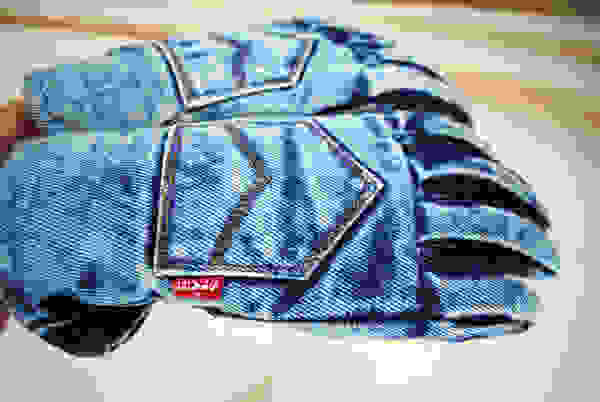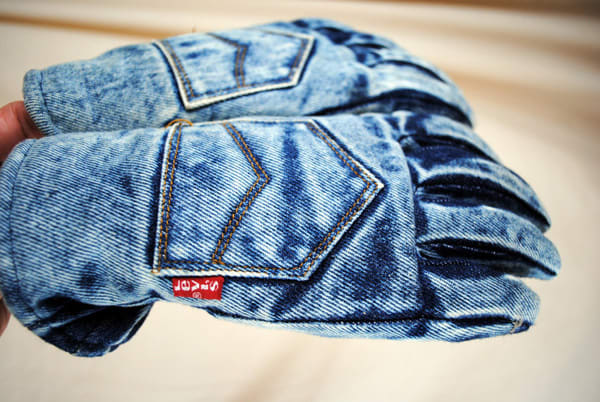 These gloves aren't officially sanctioned by Levi's. Instead, they were made by an ambitious Etsy user. While they're certainly original, the "wet denim is terrible" argument still stands. I'm sure the designer didn't plan on customers shoveling snow while wearing these gloves, but in areas like New England, that's the uncomfortable reality.
7. the Denim Toilet Seat Cover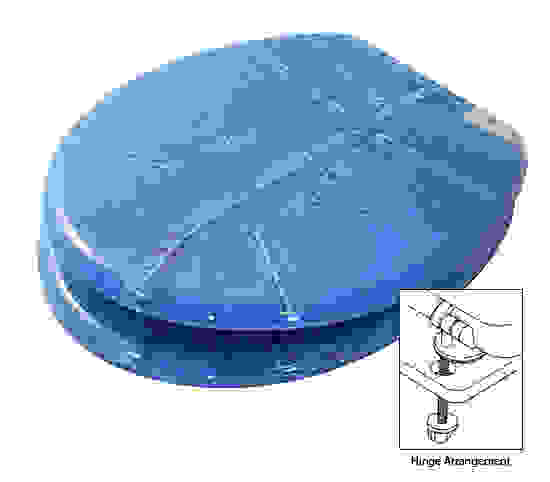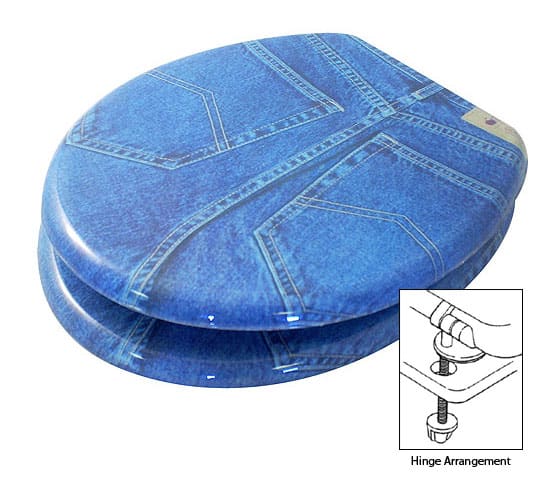 Okay, this isn't real denim, but... no.
---
Know of any other denim atrocities? Let us know in the comments.