Laundry
The World Thinks Men Are Too Dumb for Laundry
Gender politics in the laundry room
Credit:
We men are simple creatures. We love fast cars and TVs, we're enthralled by ten-gallon cowboy hats and bacon double cheeseburgers, and of course we're a little dense.
Too dense, it turns out, to properly operate a household washing machine. That's according to this Daily Mail article, which mentions—but conspicuously never links to—a study concluding that half of UK men can't figure out washing machines.
So, ignoring for a moment that Reviewed.com employs six men as home appliance experts, if you want your man to step up and do his part in the laundry room, you'll apparently need to appeal to his childlike mind.
If you'd like to participate in the proliferation of this blatant sexism, these three washers should help you do just that. Together, we'll defy the stereotypes of the 20th century, and replace them with those of... the early-21st century?
Stereotype #1: Men Like Gadgets
Men are fixated on the new, the flashy, and the expensive. We've got no time for boring junk like washing machines, and we won't bother with them until complex tech of questionable utility is finally tacked on.
Enter Berg, a London-based firm that helps companies connect their products to the cloud. They partnered with Zanussi, an Italian manufacturer, to create a prototype smart washer. In fact we've written about it already.
Berg showed wise restraint by simplifying Zanussi's washer down to three cycles... then they promptly added complex smartphone interactivity, a customizable cycle editor, an online detergent ordering system, an "eInk" display à la Amazon's Kindle, and a secondary digital display made of an LED grid.
Of course, you can't buy the Berg / Zanussi prototype just yet, so for now we'll have to dream of men approaching washer technology with the same enthusiasm as they do their PlayStations.
Stereotype #2: Size Matters
Guys love big things. I mean, how else do you explain Monster Truck rallies?
When shopping for your new washer, it's practically un-American to go with anything other than the largest you can fit in your house. So cut to the chase and opt for Samsung's forthcoming WF56H9100A, a front-loader characterized by its ludicrous 5.6-cubic-foot wash drum. Does your man need to wash the comforter for the king-sized bed? Now he can do it at home. Better still, you can wait four weeks before you do laundry, then cram it all into a single machine. When that's done, be sure to dry it all in Samsung's matching 9.5-cubic-foot dryer!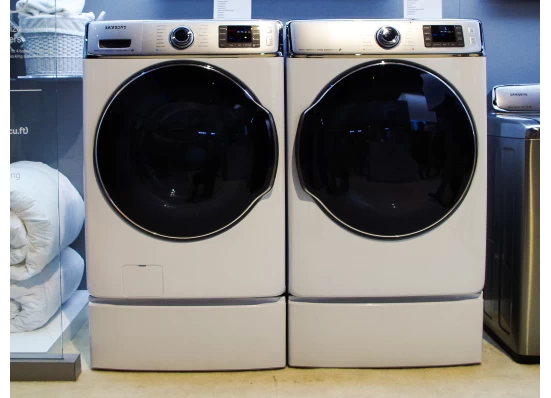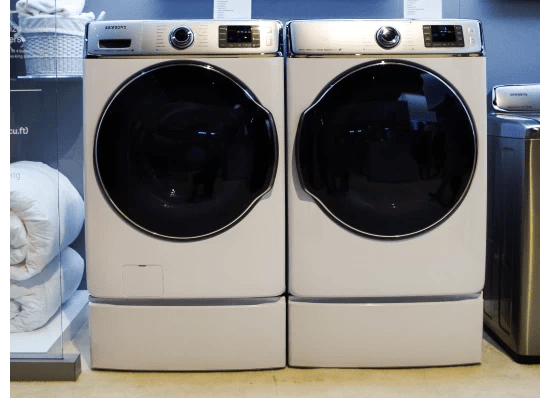 Stereotype #3: Men Are Stupid
Thanks to a single study of dubious credibility and unknown sample size, we now have incontrovertible proof that most men don't know how to operate a washing machine.
The simplest explanation is that they were never taught, while a more likely explanation is widespread, willful ignorance perpetrated in order to avoid laundry duty.
No matter which of these categories the man in your life falls into, the GE GFWR4805FRR will surely ruin it for him. It's equipped with an intuitive "Stain Removal Guide" that allows men to choose exactly which type of stains the washer should attack. No worrying about cycles, spins, rinses, or any of that.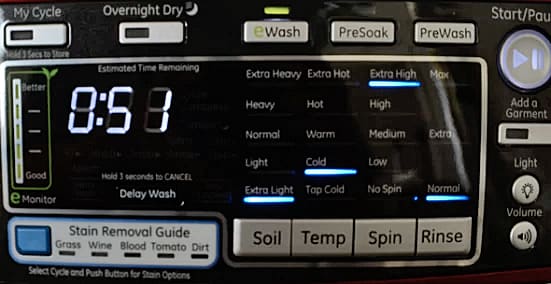 Sure, our testing ultimately showed that this guide only makes minor temperature changes based on your stain choice, and it's more effective to simply pour detergent directly onto the stain... but you don't have to tell him that! Stereotypes tell us that men need help. And stereotypes are always true.
---
Hero images: Berg, Flickr user "gagilas" (CC BY-SA 2.0)