I don't know if you've heard, but Mad Men is back, baby. And while the characters remain absolutely despicable human beings, the period-specific costumes are as breathtaking as ever.
Spylight's listening feature analyzes audio to find what you're watching and provide matching fashions.
Well, if you want to help bring that early '70s look back in style, the Spylight app for iOS was tailor-made for you.
Spylight aims to provide fashion-conscious couch potatoes with all the resources they need to source and purchase the clothes used in popular shows and films. Suppose you're watching the new Mission: Impossible and Ethan Hunt's leather motorcycle jacket catches your eye. A quick Spylight search could match the actual jacket and provide links to sites were you can purchase it—no Googling required.
And if the act of typing Mission: Impossible–Rogue Nation on a phone keyboard is just too much work, the app also offers a listening feature that's kind of like Shazam. It analyzes audio to determine what movie or TV episode you're watching and feed you available fashions.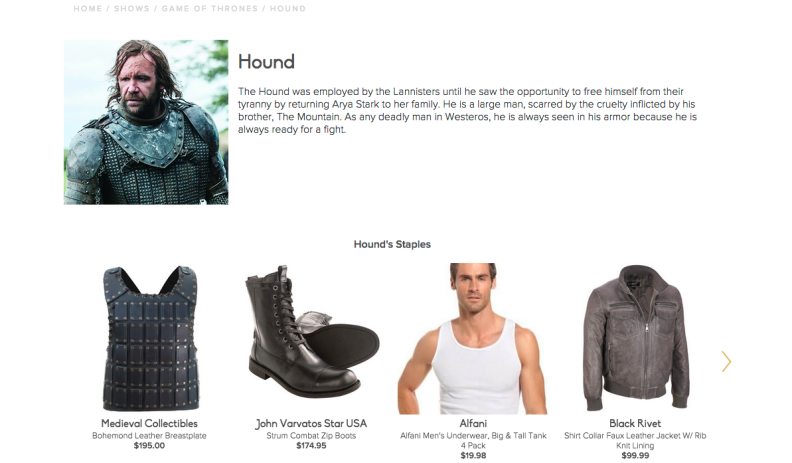 Unfortunately, this feature works way better in theory than in practice. The app failed to recognize most shows and films I threw at it, with the exception of The Mindy Project, which it identified every time without fail. (Go figure.) Of course, the app is still in beta, so hiccups like this are to be expected.
Minor issues aside, Spylight seems like a legitimate boon for cosplayers, as well as anyone interested in keeping up with the latest fashion trends. The app's developers work closely with studios to provide the most accurate clothing matches possible, and when an item is exceptionally high-end or one-of-a-kind, the app can provide close approximations priced within the budgets of mere mortals.
Sure, this is just another form of marketing. But when you consider the time, talent, and money that goes into costume design for our favorite shows and films, it's no surprise that the entertainment industry plays a big role in driving fashion. Any service that allows us couch potatoes to draw on that resource is probably worth a look.
Related Video
Up next