Whirlpool announced that it's the first appliance manufacturer to offer an Energy Star certified clothes dryer.
The Whirlpool Duet WED87HED became the first to receive certification after the EPA finally announced a new Energy Star label for dryers last month.
While plenty of high-efficiency washers are already Energy Star certified, a variety of reasons have kept dryers from getting that coveted blue Energy Star sticker, even though they're typically the second-largest electricity drain on an American household after the refrigerator.
The most commonly-cited reason why dryers have been kept out of the Energy Star program is that the majority of them have such similar energy use it would be difficult to differentiate between models.
But new technologies like smart grid connectivity and heat pump dryers proved that dryers can get more efficient and prompted the EPA to change its tune. Manufacturers have been working to meet the standard, and it's expected that other models will get certification after the WED87HED.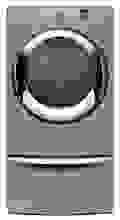 To achieve Energy Star certification, a dryer must exceed the minimum efficiency standards imposed on American appliances by 20 percent or more. Such dryers will squeeze efficiency out of cycles using moisture sensors that can prevent wasteful "overdrying" and reduce drying temperatures when appropriate.
Low energy costs in the U.S. mean Americans consumers are less sensitive of appliance efficiency than folks in other countries.
But in an age when every penny counts and energy use has consequences outside of your electric bill, we're happy that one of the home's biggest energy users is facing some accountability.
Stay tuned for reviews of condenser, heat-pump, and Energy Star certified vented dryers, coming soon.
Our editors review and recommend products to help you buy the stuff you need. If you make a purchase by clicking one of our links, we may earn a small share of the revenue. Our picks and opinions are independent from any business incentives.