Laundry
This Apple Alum Wants to Kill the Clothes Dryer
Marathon's new washer-dryer combo simplifies laundry day.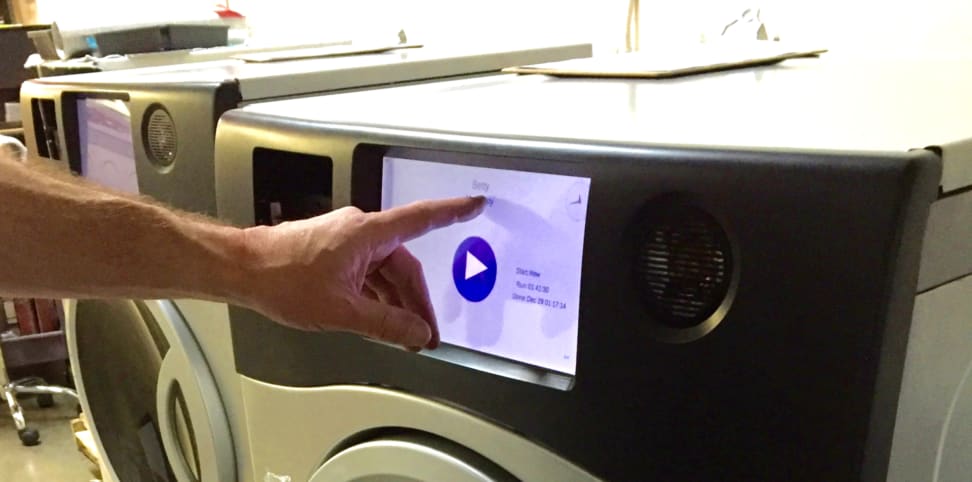 Credit:
Glenn Reid's ambition in life is pretty straightforward: He wants to fundamentally change the way Americans do laundry.
From cars to clothes shopping, few industries have been left untouched by entrepreneurs looking to disrupt an existing business model. But, for the past 100 years, the world of home appliances has remained pretty much stagnant.
Reid, an executive and engineer who worked alongside Steve Jobs at NeXT and Apple and was behind both iMovie and iPhoto, wants to change that. He founded Marathon Laundry, a startup that's trying to unseat the established players in the home appliance market with a new machine that combines the functions of washer and dryer, complete with an intuitive user interface.
Having worked in the fast-paced world of software at Apple, Reid was frustrated by the glacial progress of the home appliance sector—especially in the laundry room, where users still have to swap wet clothes from the washer to the dryer. "It's the only tool I know where you need two machines to do one job."
"My goal in all of this is to have my own Wikipedia page someday, and have it say that I'm the guy who got rid of the dryer."
Though companies like Bendix, Westinghouse, and GE introduced full-sized, vented machines back in the 1950s, they disappeared from the market by the early 1970s. Ventless washer-dryer combinations still exist—and are quite popular in Europe—but they tend to be small and slow.
So Reid imported a full-size washing machine from a manufacturer in China, and began adding the mechanics necessary to turn it into a conventional dryer, as well.
"We started to realize that there were other things that needed improvement," Reid said. So he got to work on the controller and display, adding a touchscreen that's large enough for a virtual keyboard, and programming that can customize wash cycles based on loads and even detergents. Residents of multi-family homes will appreciate the flexible scheduling options. "People fight over the washing machine even in a single-family home," he said.
The resulting machine promises performance equal to a separate washer and dryer, without the extra step of switching the load.
Though Reid hopes to eventually add a gas model and start building Marathon machines in the U.S., he notes that his current strategy of modifying an existing product is the same one Elon Musk used to get his original Tesla Roadster electric car to market.
"The first [Tesla] was based on a Lotus chassis," Reid said. "We're starting with a preexisting, OEM machine, and we're retrofitting it with our components."
Since it's expected to retail for just $1,199—roughly the cost of a high-end washing machine alone—Reid says many customers could buy two. "If you were planning to buy a washer and dryer pair, you could get the same laundry throughput with a quarter of the trips to the laundry room."
Reid is taking the wraps off his new machine at next week's CES 2016 in Las Vegas, an electronics industry show that has historically been home to laptops and TVs, not washers and dryers.
For Reid, however, it's an ideal opportunity to show off his new machine to like-minded people.
"My goal in all of this is to have my own Wikipedia page someday, and have it say that I'm the guy who got rid of the dryer."
Related Video