Laundry
GE Is Building the Great American Washer
At Appliance Park, GE is building the washer America deserves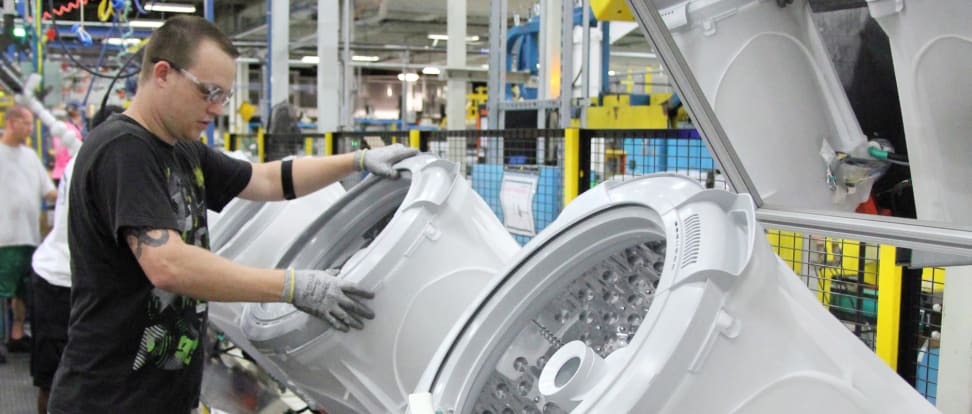 Credit: GE Appliance
GE Appliances says it knows exactly what Americans want in a washing machine, and just spent over $100 million to build it.
This morning, the appliance behemoth announced a host of new washers and dryers that, according to GE, marks the biggest change to its laundry lineup in 20 years.
Although the massive investment in laundry technology led to big changes at the company's Appliance Park factory in Louisville, KY, the resulting products look a lot like the washers and dryers you grew up with.
That's the point, says GE's Julie Muennich, director of marketing for laundry products. "The traditional top-load washer remains the most popular style of washer in the U.S. today," she said. That makes the U.S. an outlier in the world of home appliances, as its one of the only countries where top-load washers with agitators are still on sale—let alone beloved by consumers.
After a brief flirtation with front-load machines, which tend to use less water and do a better job removing stains, Americans have returned to their top-loading roots once early front-load models proved disappointing in terms of reliability.
American consumers are even suspicious of high-efficiency top loaders, which lack the tall, pole-style agitator found in many of GE's newest models. Still, the old-school top loader might have been an endangered species, as most current models struggled to meet current Energy Star guidelines, and had much smaller capacities than their comparatively gargantuan high-efficiency competitors.
That's why GE set about to build a better washer—one that puts the features Americans demand in a washer they'll actually want to buy.
For instance, the new lineup is big. Interiors that measure 4.2 cu. ft. make the GE GTW460ASJ (MSRP $599) and GTW485ASJ (MSRP $649) the largest top-load washers with agitators on the market. They also let users choose to fill them with lots and lots of water—Deep Fill, in particular, is ideal for washing out residue from fabric softener. But, using normal cycles, the washers are the only agitator models to achieve Energy Star certification.
The new washers are also highly customizable, with a combination of pre-set cycles and options to modify a wash to fit the user's needs. The wide variety of choices includes everything from an extra spin cycle to a pre-treat option specifically designed for grass stains.
"Like racecar drivers want precision control of their cars, our research shows that consumers who prefer top-load washers want that same command over their washers," Muennich said.
Customization even extends to the factory, which has been retooled to better meet customer demands. For instance, a more flexible assembly line can now build multiple models at once, as opposed to large batches of one model at a time.
That factory investment has implications for the potential sale of GE Appliances to Electrolux, a company that currently manufactures an extremely small lineup of top-load machines. A new top-load laundry factory in Louisville would be another reason why Electrolux, who also owns the Frigidaire brand, would be interested in adding GE to its portfolio of brands.
We don't yet know how well the new washers will perform, but any advancement in a stale format is welcome. The washers—and their matching gas and electric dryers—will go on sale this fall.
Related Video