Laundry
New "Green" Laundry Detergent Wears a Familiar Label
Tide PurClean targets eco-friendly consumers—and competitors.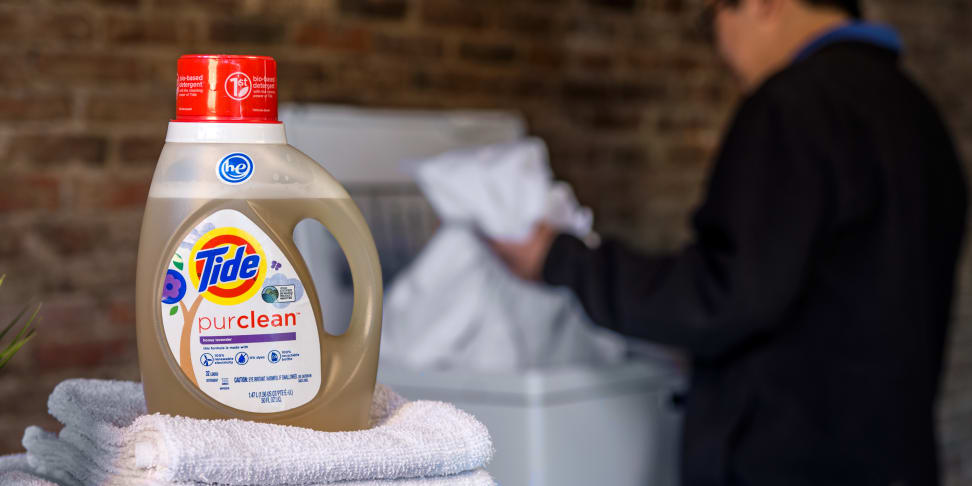 Credit: Reviewed.com / Chris Thomas
The folks at Procter & Gamble are hoping the promise of whiter shirts can convince consumers to switch to a greener detergent.
At least, that's the strategy behind Tide PurClean, a new laundry detergent that should hit store shelves in May. It claims to get clothes as clean as regular Tide, but with less environmental impact.
Like other eco-friendly detergents, PurClean removes all dyes, optical brighteners, and bluing agents, and replaces most petroleum-based cleaning agents with plant-derived substitutes. PurClean comes in a recyclable bottle, and the factory where it's manufactured runs entirely on wind power.
Unlike other eco-friendly detergents, P&G claims PurClean promises cleaner clothes. In part, that's because the formula is highly concentrated, but also because it includes some of the key petroleum-based cleaning agents of standard Tide. Like a hybrid car, it blends both conventional and eco-friendly technology in a package that P&G thinks customers are more likely to accept.
"It isn't an extra step, it isn't something new and different."
(Reviewed.com is currently testing Tide PurClean in our laundry labs, and will publish a full comparison between Tide PurClean and its eco-friendly and conventional competitors as soon as the product goes on sale.)
"It isn't an extra step, it isn't something new and different. You don't have to buy into the promise of a new brand," said Sundar Raman, vice president of fabric care in North America for P&G.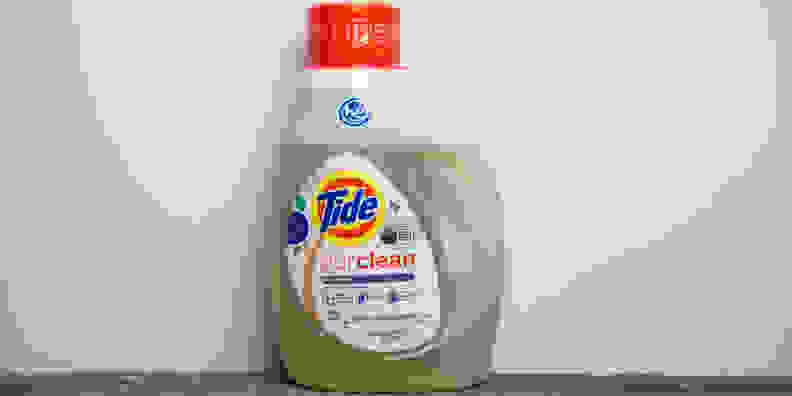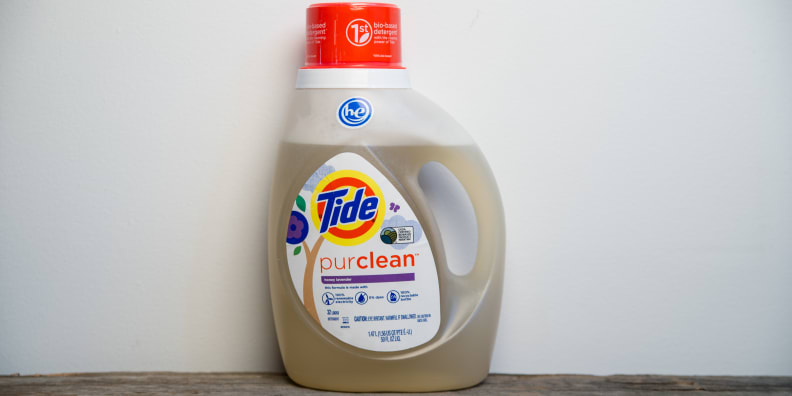 Currently, eco-friendly formulas from the likes of Ecover, Seventh Generation, and Sun & Earth account for just under three percent of overall laundry detergent sales. But Raman hopes the addition of the Tide brand won't just move PurClean—it will move the market. "If you think back to many of the products in green categories, they all went through this adoption curve," he said.
PurClean is designed to appeal to mainstream consumers with environmental concerns—the sort of people who drive fuel-efficient cars, but aren't quite ready to switch to composting toilets. Everything about it is meant to feel more "natural" than traditional Tide. For instance, the recyclable bottle is clear to reveal the translucent liquid within. It will come in both scented and unscented varieties.
Whether consumers will buy a first bottle and be satisfied enough with it to choose a second remains to be seen. While chemists routinely tweak synthetic formulas to target popular stains, plant-derived detergents require significant research and development to find the right fit.
"If you're making the molecule, you can make it however you want. If you get it from mother nature, you get it from mother nature the way it is," said Peter Hauser, a chemistry professor who heads the Textile Engineering program at North Carolina State University.
There's also the question of whether it can get clothes clean. Hauser hasn't had a chance to check out PurClean, but said that all plant-derived detergents have tradeoffs. "That's not to say you can't clean well with it, but natural resources are probably going to be more expensive than the synthetic ones," he said.
Indeed, Tide PurClean is only 65-percent derived from plants, and a bottle of PurClean is expected to sell for a little bit more than standard Tide. Generally speaking, the process of creating a plant-based detergent may end up using more energy than a synthetic alternative, which explains why P&G touts its renewable energy cred on the outside of the bottle.
It's currently targeted as a premium laundry detergent, but Raman says that the supply chain built for PurClean will eventually lead to increased adoption of plant-derived cleaning agents across all P&G products.
"Hopefully,​ the future is a lot more bio-based ingredients across all the brands," he said.
Related Video