Laundry
Panasonic Doubles Down on Home Appliances in Europe
In the U.S., Panasonic might be best known for TVs, cameras, and microwaves. But in Europe, it's all about appliances.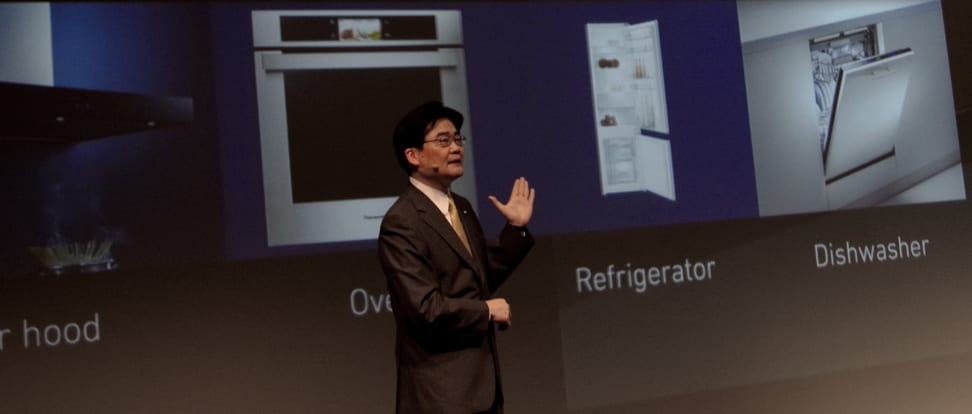 Credit:
OK—a new 4K camcorder and the relaunch of the Technics brand is a big deal for Panasonic. But we're appliance nerds, too, so we're excited to hear that the Japanese company is expanding its lineup of built-in kitchen appliances, including dishwashers, refrigerators, and induction cooktops.
According to Tetsuro Homma, Senior Vice President of Panasonic home appliances, the company's newest built-in products will debut in 2015, and include aspirational designs that "reflect Japan's attention to craftsmanship and detail." Small appliance has a new do-everything microwave, in addition to juicers, toasters, and coffee makers.
Panasonic is also expanding its partnership with Slovenian appliance manufacturer Gorenje, with new washing machines that take advantage of Panasonic's inverter motors and Gorenje's expertise in laundry care.
In addition to load-sensing automatic programs, the new Panasonic Auto Care washing machines include optical sensors to detect stains.
The new products are all part of Panasonic's play to double its European home appliance sales by 2017.
Panasonic also showed off the kitchen of the near future, including a cooling tray and 3D grill. A freestyle induction cooktop can even act as a power source for kitchen appliances. We also saw a new bathroom mirror that uses digital imaging technology to detect the state of your skin, and then tells you what makeup you should use.
We're excited to get some hands-on time with both the upcoming lineup and the concept products on the show floor.