Laundry
WasherDryerInfo.com 2011 Select Awards
Our official picks for the very best washers and dryers of 2011.
Credit:
Washer Of The Year
GE GFWN1100LWW
(MSRP $749)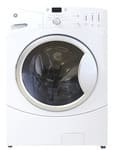 The GE GFWN1100LWW is a front-loading washer with a sub-$750 price tag that delivers high-end performance. In under an hour, it'll get your everyday clothes cleaner than washers costing hundreds more, removing any grime and dirt left behind. The GE GFWN1100LWW's strong suit, however, is its heavy duty Stain Wash cycle. In our lab tests, it lifted stains better than any cycle we've tested on any washer. As washers get more complicated, it's also refreshing to test one that has straightforward, user-friendly controls.
---
Dryer Of The Year
Maytag MEDE200XW
(MSRP $699)
The Maytag MEDE200XW isn't fancy or particularly expensive, but it does a great job getting clothes dry quickly. In our tests, the normal cycle ran only 57 minutes and got clothes almost bone dry. On the tricky delicates cycle, it got clothes dry without damaging them with harsh heat. That's a balancing act that many dryers can't handle very well. Running late? Even the MEDE200XW's quick cycle managed to get clothes mostly dry in just 23 minutes.
---
Best Washer Value
Frigidaire FRFW3700LW
(MSRP $599)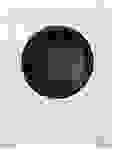 The Frigidaire FRFW3700LW is that rarest of washers: an inexpensive front-loader. While it's far from fancy, it doesn't skimp on performance, and that's what matters more than LCD screens or customized preset cycles. For just a few hundred more than the cheapest washers on sale, the FRFW3700LW easily saves clothes from stain oblivion with performance on par with washer that cost twice as much. You'll also save money thanks to its low water use. From our tests, we estimated that even the intense heavy duty cycle would only cost 11 cents per wash.
---
Best Dryer Value
GE GFDN110ELWW
(MSRP $749)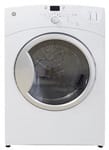 If time is money, the GE GFDN110ELWW delivers good values on both accounts, with quick, effective drying cycles. Even its bulky cycle, meant for towels and comforters, takes just about an hour to get clothes bone dry. Washing delicate clothes that may be easily damaged by heat, it manages to get fragile fabrics dry while getting no warmer than a summer day in southern California.
---
Best High-End Washer
Samsung WF431ABP
(MSRP $1,299)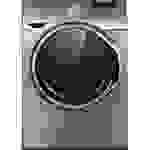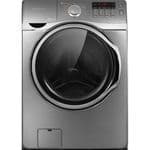 Samsung's highly customizable WF431ABP is a great washer for laundry perfectionists. In addition to its 13 preset cycles, the washer offers an additional 625 different potential combinations of water temperatures, agitator intensities and extra rinses and spin cycles. It also features more foam and steam options than an espresso maker. Even without all the custom programs, the WF431ABP had some of the best stain removal and delicates handling of any of the washers we've tested.
---
Best High-End Dryer
LG DLEX5101V
(MSRP $1,159)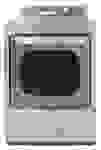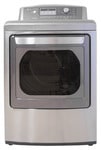 It's a shame that most people will hide the LG DLEX5101V behind a closet door or in a laundry room, because its stainless-accented exterior and smoked glass door are quite handsome. Still, this LG is more than just a pretty face. Drying a test load of clothes on the normal cycle, we found the DLEX5101V delivered dry clothes faster than any other dryer we've tested. If you're looking for custom options, this dryer has more than a luxury car including a steam function that's designed to reduce static in dry weather.