Laundry
Whirlpool Innovates With New Fridges and Washers
Your laundry room and kitchen may need some new tech.

Credit: Reviewed.com / Johnny Yu
At the 2015 Consumer Electronics Show, appliance manufacturer Whirlpool exhibited washers and refrigerators at a venue that's better known for massive televisions, 3D printers and self-driving cars. But aside from a few unique concepts—like a touchscreen cooktop that connects with social media—most of Whirlpool's debuts could be in your home as soon as this year.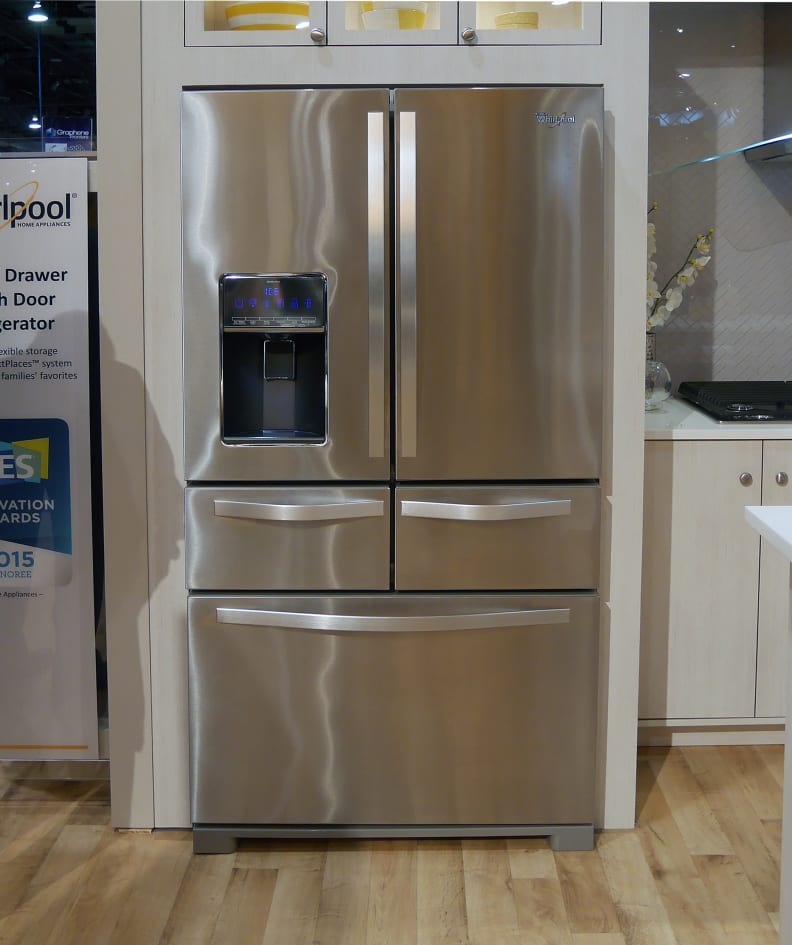 For instance, there's a new French door fridge that splits a center drawer into two compartments, and a smart washer and dryer pair that knows enough to stay quiet when you're sleeping.
The double-drawer french door fridge will be available in Spring of 2015. One of the extra drawers has five different settings that optimize the temperature for snacks, drinks, cheese, deli meat, or for thawing meats. Whirlpool has equipped the other drawer with its FreshFlow technology, which is meant to be ideal for storing fruits and vegetables.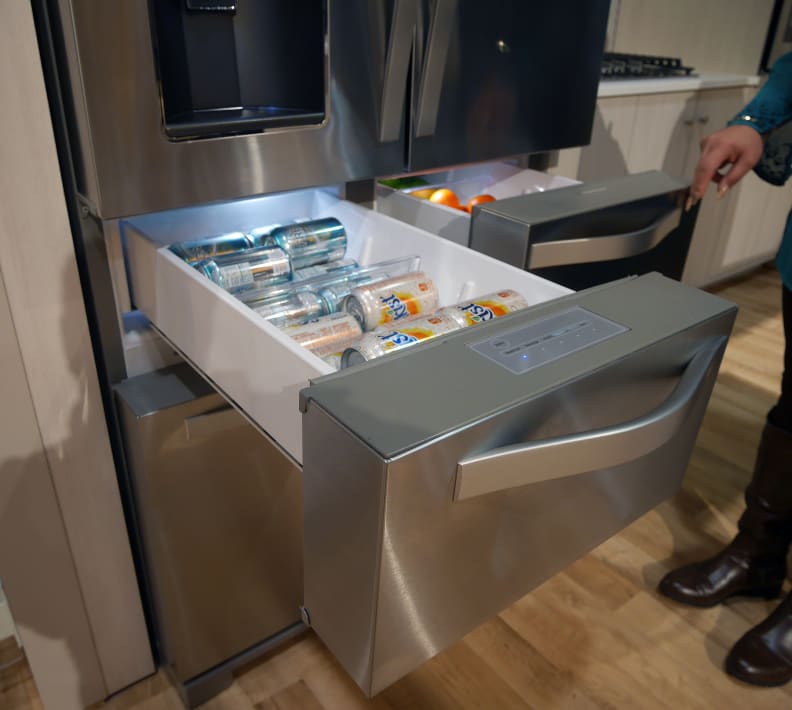 ×
Fridge
Reducing waste is the name of the game for all these customization options. An estimated $165 billion worth of food is thrown out by Americans every year. A sizable chunk of that can be attributed to food spoiling in your fridge. Whirlpool says these customization options just might reduce that number a little bit.
On top of all that, the fridge will also incorporate the PerfectPlace system, which should help keep your food organized. There will be a spot for a gallon jug, a frozen pizza caddie, and a bin for small items. Whirlpool says its easier to keep track of your groceries when you know where they should be stored.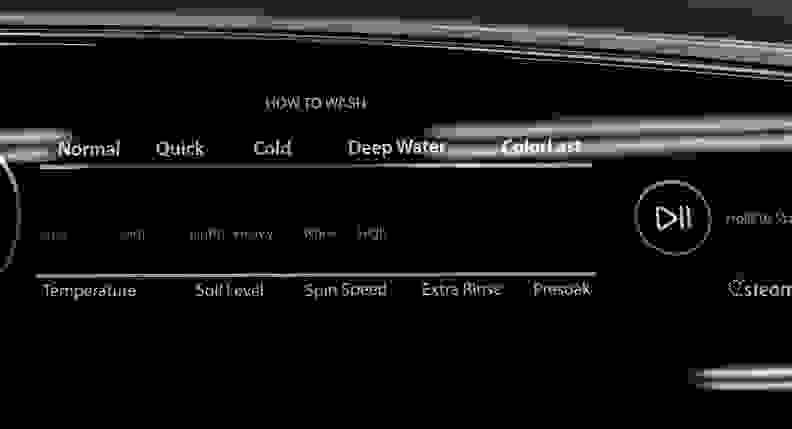 Whirlpool will also be bringing new ideas to your laundry room. The WTW8500DC washer and the WED8500DC dryer ditch the dial controls and divide the control panel into "What to Wash" and "How to Wash". This categorization should lessen any confusion over which cycle to select. The washer and dryer retail for between $1,800-$2000.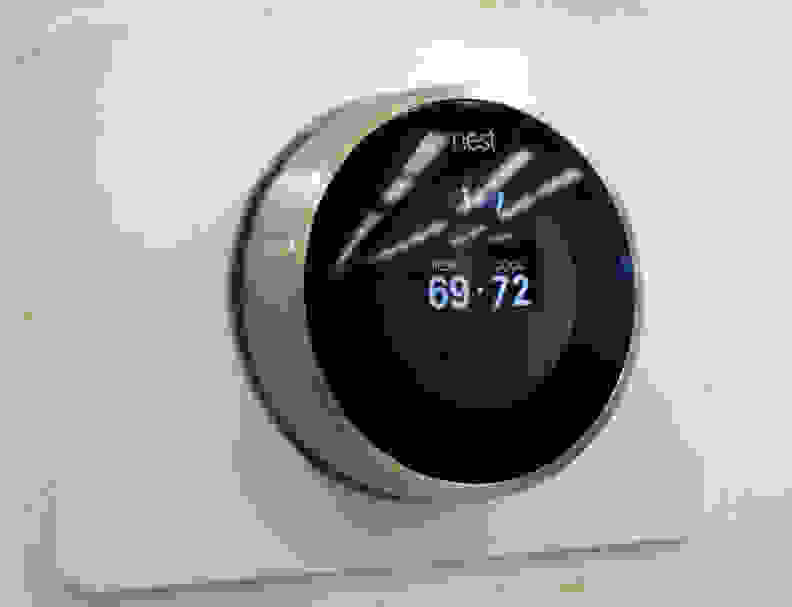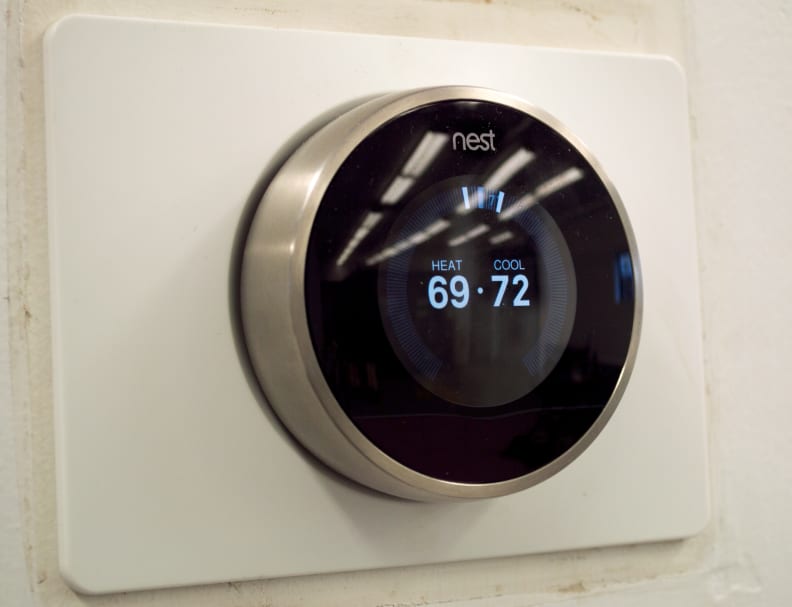 And what's a smart appliance without an app? The Whirlpool Mobile App will give consumers access to dozens of downloadable custom cycles such as Baby Wear and Comforters. The app will also allow users to enable a quiet mode, making it possible to sleep while a cycle runs.
The app incorporates Works with Nest integration which–unsurprisingly–allows the 8500 laundry set communicate with your home's Nest smart technology. Having access to a Nest thermostat gives the app useful temperature data that may help prevent wrinkled clothes.
Finally, the app gives you the option to do good while you do your laundry. The app has a section called Connect to Care. There, you'll be able to send a donation to Habitat for Humanity every time you clean your clothes. (Whirlpool has a longstanding relationship with the organization, donating a range and fridge for every Habitat for Humanity home built in North America.)
In addition to the fridge, washer/dryer, and app, Whirlpool will also showcase a few heat pump dryers and Swashes at CES.

Big TVs, flashy electronics, and tech trends tend to steal the show at CES. However, we shouldn't overlook innovations in appliances. Whirlpool's new appliance innovations are worth keeping an eye on.