Laundry
Amana Tandem NFW7300WW 3.5 cu. ft. Front Loading Washer
At $699 from Amana, the NFW7300WW is a spartan washer that does a good job getting clothes clean. If you don't mind that it has only three cycles and no customizable options to speak of aside from temperature, it may be a good fit for you. Just remember that better washers with more features sell for less.
Introduction
Some of the most legendary sitcoms of the 1970s were the humorous social commentaries produced by Norman Lear and Bud Yorkin's Tandem productions. The Amana Tandem Washer may not bring as many didactically-induced laughs as a Very Special Episode of Maude, but with solid stain removal and good energy numbers it sure isn't a piece of junk destined for Sanford and Son's scrapyard.
One things for sure -- like Lear's harvest gold tinged sitcoms and Archie Bunker's political views, this Amana is a relic from another time. The Tandem features the simple clean lines and big buttons that have all but disappeared from newer washers in favor of LED displays and even color LCD screens. More importantly, it only has three preset cycles, while most modern washers have at least five.
If you only need a basic, cheap washer and prefer a front loader, though, it's still a good deal -- as long as you can find it on sale. As of May 2012, numerous online retailers list the Tandem series as discontinued. We called Amana, who told us the washer and dryer are still in production -- as they have been since 2010. Amana's own store sells the NFW7300WW for $699, which is pretty high for a washer with so few features.
Front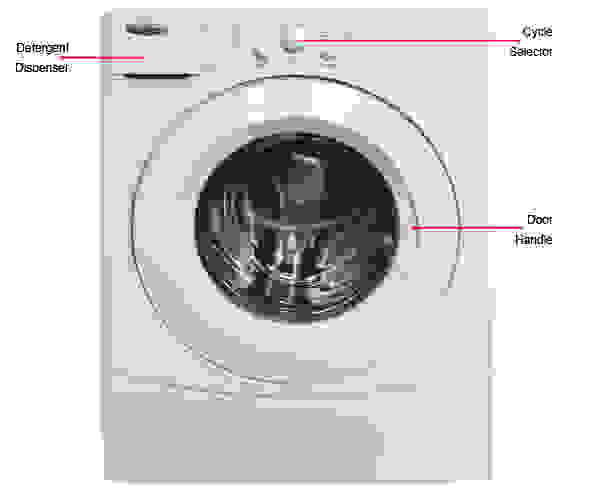 Controls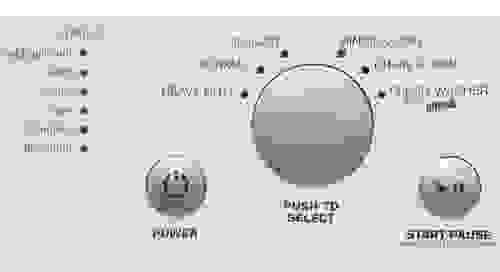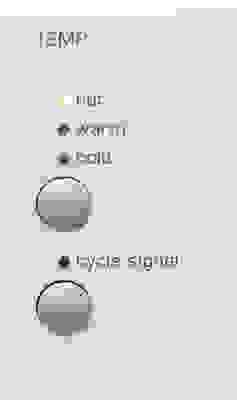 Drawer
Interior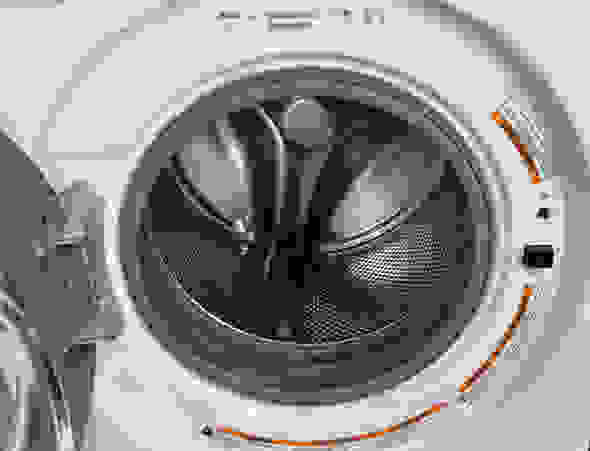 Sides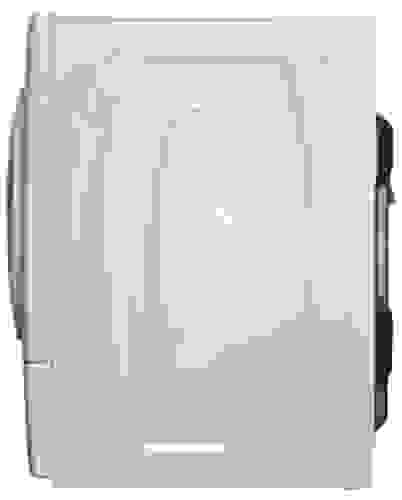 Back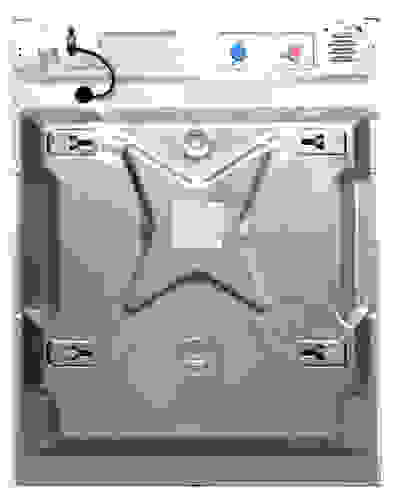 Electricity Use
Most washers don't use very much electricity, and the Amana Tandem NFW7300WW is no exception. It doesn't heat most cycles up past 101 degrees F, so it doesn't have the same intense electrical draw of some washers with sanitizing cycles.
Water Use
This Amana uses between about ten and fifteen gallons of water per wash, which is about average for a front loader. There aren't any "small load" or quick wash options -- so every wash will use about the same amount.
Cost Per Wash
Of the three preset cycles we tested (and the one we customized with a warmer temperature), costs per wash ranged between 6.3 and 10.1 cents each. That's not surprising, since the specialty washes offered by some machines tend to be the ones that cost more to run.
Yearly Running Cost
A year with the Amana Tandem NFW7300WW should run you about $34.02, assuming that your water and energy costs are on par with national averages. That's a few dollars more than the most efficient front loaders we've tested, but between $20 and $30 less than many of the midrange top loading washers we've seen. If you own this washer for ten years, that's a $200-$300 savings.
Washing Speed
Washing Cycles
We've never tested a washer with so few cycles. There are only three wash cycles on offer: Normal, Delicate and Heavy Duty. There's no Quick cycle, and certainly no Sanitize cycle. Normal and Heavy Duty actually ended up producing similar end results. If you're the sort of person who only uses the Normal cycle anyway, this Amana may make your life a little easier.
Additionally, there are two non-washing cycles that merely rinse or spin clothes, and a washer cleaning cycle meant to be used with a cleaner known as Affresh. That's how Amana can call this a six-cycle machine.
Customization
There is exactly one way to customize this washer: change the temperature. Even there, your only options are hot, warm and cold.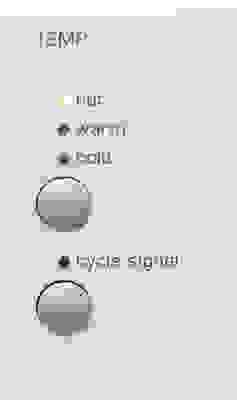 Additional Wash Options
Aside from the cycles-that-aren't-cycles, there are no additional wash options. Zero. None. Nada. Maybe you could hack the Amana's control board to add an extra rinse or longer soak, but that would most definitely void the warranty.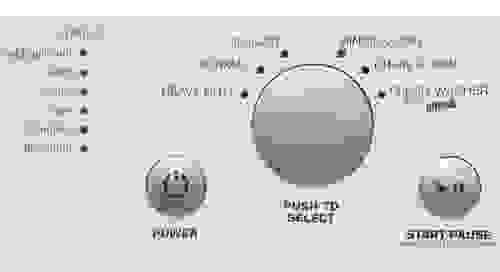 Washing Options
Detergent Dispenser
A detergent dispenser slides out from the top left corner of the washer.
Washer Door
The large, round door is easy to open, and reveals an opening that's big enough to get clothes in and out of.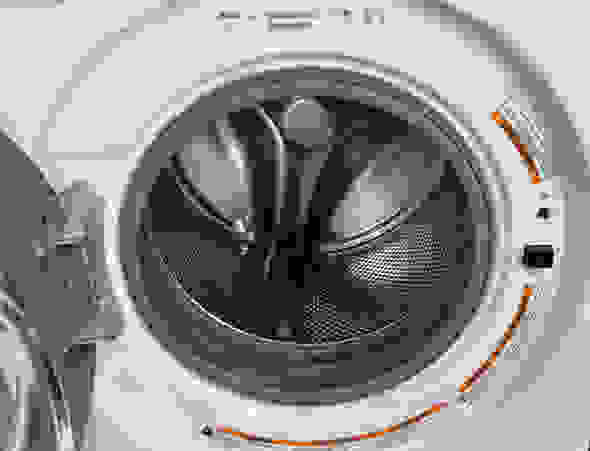 Ease of Use
You couldn't dream up an easier to use washer than this one. Even if you hired someone else to do your laundry for you, you'd probably have to interact with that person more than you do the Amana Tandem NFW7300WW .
Controls
Three main buttons control this washer: A power on/off button, a large button you push (not a knob that you turn) to select a cycle and a start/pause button to begin or interrupt a wash. That's all. There's no LCD screen or countdown timer.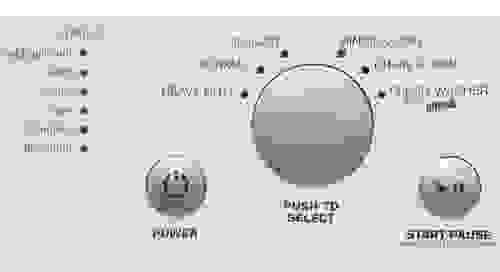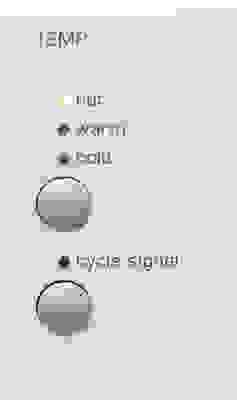 Comparison
Easily found on sale for under $600, the GE GFWN1100LWW is another bare-bones washer, but it still manages to be fancier than the Amana. Both washers have good overall cleaning performance, though the GE edges out the Amana on dirt retention. With the GE on offer, there's no reason to buy the Amana. The GE features a quick wash, an LED display that counts down each cycle's remaining time, and the ability to customize spin speed -- not to mention a lower price.
Normal Stain Performance
Comparison
The Maytag MHWE200XW does as good a job as the Amana at cleaning clothes. However, it costs about $125 less on sale and has many, many more features -- including more wash cycles and a better display with a countdown timer.
Normal Stain Performance
Comparison
The top-loading GE sells for a little less than the Amana and offers more cycles, but it also costs more to operate and doesn't offer as good performance.
Normal Stain Performance
Efficiency
This Amana offers up average energy efficiency. A year of clothes washing should run a little more than $34, which is similar to many front loaders and much less than most top loaders.
Performance
The Amana Tandem NFW7300WW does a very good job getting out stubborn stains, though it could be gentler on fabrics and do a better job spinning excess water out of laundry loads. Still, its performance is on par with washers that cost many hundreds of dollars more. Our only reservation is the lack of a quick cycle. Since most of the Amana's washes take a fair amount of time (upwards of an hour each) a "quick wash" or "small load" would be much appreciated.
Features
If you want features, look elsewhere. If you want a washer with only five buttons and three cycles, you've found it.