Laundry
Blomberg DV17540 Review
Despite its tiny stature, the Blomberg DV17540 tested well.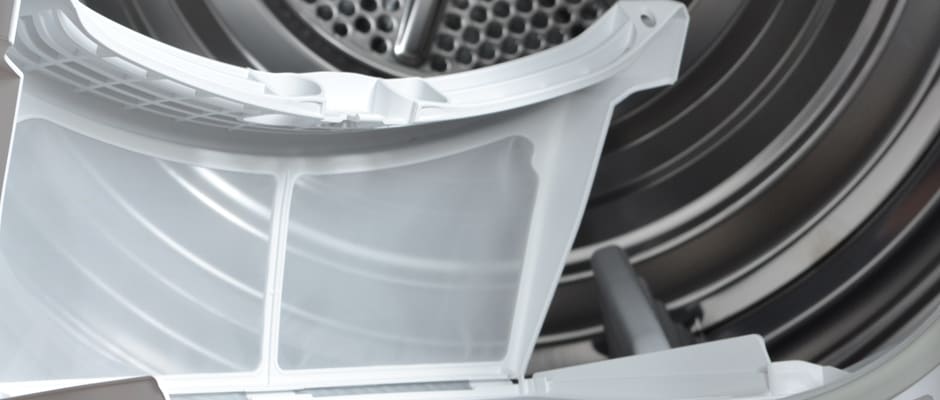 Credit:
Introduction
While the demand for compact washers and dryers may not be terribly high in the standard American market, it does exist. With that in mind, we tested the , a compact dryer that retails for about $690.
Despite its tiny stature, we still tested it using full standardized loads; to our surprise, it actually did pretty well. Normal cycles turned out perfectly, and while the Delicate and Bulky tests didn't produce outstanding results, the Blomberg DV17540 actually scored higher than many full-sized models. It lacks any real extra features, and has no cycle customization; what it lacks in versatility, though, it more than makes up for with spatial economy.
Design & Usability
A simple layout with a high-end touch or two
This white, compact little dryer looks like a standard machine that's been squashed down several sizes.
There's no timer to indicate how much time is left in a cycle.
Cycles are selected using a plain knob that clicks easily into place, and while it looks like perhaps there are glowing indicator lights alongside, they are actually just dark painted dots. Drying status is monitored using a series of indicator lights that notify users as to how damp the clothes are, but there's no timer to indicate how much time is left in a cycle. There are three additional buttons: the On/Off power switch, the Start button, and the Signal button. By holding the Start and Signal buttons simultaneously for three seconds, one may activate the child lock.
The inside of this unassuming little machine is actually coated with stainless steel, a high-end touch that will keep the drum from rusting or discoloring after prolonged use. The little paddles, however, are made of white plastic, so you may want to keep an eye on how well they hold up. You'll notice too the small outlet found on the side of this machine, located near the back—that's for the matching compact washer, which must either be stacked, or else sit immediately next to the dryer (nearest the outlet).
The door is the 's most contradictory component. It's surprisingly lightweight, yet doesn't swing on its hinge. While easy to close, it can be quite stubborn when it comes to opening, requiring a fairly forceful pull. This lint trap has two screens that close to form a small compartment. It's easy to access and shouldn't prove any difficulty to clean, with one caveat: the small portion that makes up the hinge also collects lint, and this tiny bit of screen may be a bit of a pain to get to for large fingers.
Performance & Features
A compact machine that packs a hefty little punch
This has an adequate set of automatic cycles, but the lack of drying features means users must place complete trust in the manufacturer's settings.
Despite being a compact dryer, this machine boasts a full set of available cycles. It covers most of the basics, with Cottons and Permanent Press options coming with different selectable dryness levels. A Delicates setting is also found here, though bulky or heavy duty options are noticeably absent; Cottons Extra Dry is the closest cycle option available that could be considered comparable. Four other specialized options are provided, in addition to a Refresh setting that doesn't use any heat, and Timed Programs available for 15, 30, or 75 minutes.
There's no temperature adjustment option whatsoever.
This machine lacks any customizable setting in the traditional sense. Timed Dry is limited to three preset durations, and only Permanent Press and Cotton cycles offer different dryness settings. Other cycles are completely preprogrammed, and there's no temperature adjustment option whatsoever.
With the exception of our Quick Dry test, results were much better than we expected. Even though the is a compact dryer, we still used full standardized loads of about eight pounds for Normal, Delicate, and Bulky tests—Quick Dry tests require a four pound load. Despite taking on proportionally larger amounts of clothes compared to a full-sized model, this little machine managed to get perfect results on the Normal setting. Delicate and Bulky tests also managed to deliver very respectable percentages of moisture removal. Our Quick Dry test, however, exposed this machine's weakness: it definitely needs time to heat up. On another high note, drying times were never noticeably longer than average. All and all, this compact machine packs a nice little punch.
Conclusion
The little dryer that could?
Every type of appliance can be broken down into tiers, and compact dryers are no exception. The proved itself to be a decent mid-range compact appliance, offering respectable—albeit imperfect—performance for a price tag that's quite reasonable compared to higher end compact models.
Online sale prices were scarce, but we did manage to find one that reduced the $690 MSRP down to $549. The issues we had with it, specifically its lack of features and its inability to customize cycles, are common with compacts. The big draw with this type of model isn't function as much as it is spatial economy, though, and in that respect, this tiny little thing should keep you quite happy.
Science Introduction
Though testing on this machine yielded positive results on the whole, and surprisingly so, considering what a little machine this is, the trials also revealed some areas for improvement. Outlined below are details about this Blomberg's water retention percentages, temperatures, and cycle durations.
Performance Tests: Normal and Delicate Cycles
We ran tests to see how these two go-to cycles would do
While an hour and a half for a Normal cycle is definitely on the long side, it's by no means unacceptable or unheard of. Perfect drying at just 128ºF, however, is rather notable. Nonetheless, that's what the managed to produce. Apartment dwellers who need a compact machine won't have to worry about getting standard loads dry with this product, because it evaporates every drop.
The Delicates setting was perhaps the most surprising. It took about an hour and a half—standard even for full-sized machines—and had a peak temperature of just 94ºF. The fact that our materials were only 84 percent dry may mean that 94ºF is a bit too cool to produce perfect results, but consumers won't have to worry one bit about over drying sensitive fabrics. It's also worth noting that 84 percent is a better result than what we've seen on some full sized models, though it's far from the best out there. The fact that it reached that point in no more time than on a larger dryer, and with such cool temperatures, is what we found impressive. Remember too that we used full-sized loads on this compact machine.
Performance Tests: Bulky and Quick Cycles
We ran tests to investigate this dryer's ability to handle quick and bulky loads
A 30 minute Timed Dry was the closest we could come to a Quick Dry setting. It peaked at just 83ºF, which seems to mean that the requires more time than just 30 minutes to reach an adequate heat level in order to dry small loads that are still too large for the Mini cycle. Removing just 53 percent of moisture from our test fabrics, this was the worst test result we got for this particular model.
With temperatures reaching 133ºF and our test comforter getting 72 percent dry, this little proves that it can hold its own against even larger dryers. Like the Delicate test results, it's still not perfect, but it's comparable to common results produced by an average, full-sized, mid-range product.