Laundry
Blomberg WM 87120 NBL00 Washing Machine Review
The Blomberg WM 87120 NBL00 is perfect for small spaces.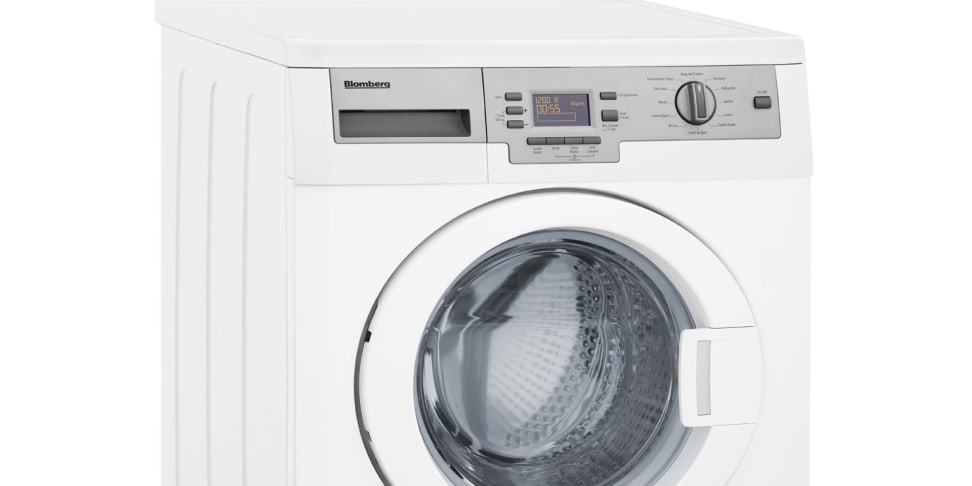 Credit:
Introduction
The Blomberg WM87120 (MSRP $940) is a stackable compact washer that's only 24 inches wide, with only 2.15 cubic feet of capacity. It's made by Arçelik, a very large Turkish company with a growing presence here in the US. With strong washing performance and a Sanitize cycle that gets really, really hot, this little machine put up a quite a fight against stains. When all the testing was said and done, the 87120 managed to topple the cleaning scores of some washers twice its size. On sale for around $850, it should definitely be on your list of washers to consider if you can't fit a full-size machine into your home.
Science Introduction
We were impressed with the 's ability to remove stains, but this came at the cost of energy and water efficiency.
Design & Usability
Good things come in small packages. Small things also come in good packages.
The WM87120 was generally easy to use. Its quirks are mostly due to its size, and a visitor from Europe would find it exceptionally simple and straightforward.
If you're used to washing large loads of laundry at once, however, you may have a few issues with the door and display screen. Placing in a standard eight pound load proved to be a testament to our laundry maneuvering skills. After the door clicked closed, the display still gave us an error message until we manually rebalanced a load. Almost every cycle required us to give our laundry an extra shove to get the whole thing going. Also, the display screen doesn't turn off on its own. After a load is done, it will say END, forlornly and forever, until you open the door.
Setting up the WM87120 requires you to own a matching dryer
Setting up the WM87120 requires you to own a matching dryer. That's because the washer draws its power from a 220 volt, 30 amp outlet that's built into a matching Blomberg dryer. Since this set has the ability to be stacked, this can be a real space saver. However, it should be noted should the dryer suddenly not be there, you won't have a working washer either.
Cleaning
How well does the clean?
To determine a washer's cleaning performance, we use strips of cloth stained with the common enemies of cleanliness. Each strip is divided up into sebum (sweat), oil, blood, red wine, and cocoa. After select wash cycles, strips are taken out and scanned by a light spectrometer.
These readings are compared to control samples to determine how much of the stain has been lifted. The actually had its strongest showing against the red wine. Protein based stains lingered in slightly greater amounts. However, utilizing the Super Wash feature washed 'em right off.
Efficiency
It's still cheaper than a laundromat.
We go through every single cycle that a washer has to offer, keeping an eye on the water and electric meters each time. There's a theory that there's only one electron in the Universe that travels forward and backward through time. To operate the , this single electron will need to make few appearances. At about 404 watt-hours, the Sanitary cycle consumed the most power. The Regular cycle used about 101 watt-hours. If we wanted to add the Super Wash feature for a heavily soiled load, the meter jumped to 239 watt-hours.
The oceans are the graveyard of rivers and the birthplace of storms. There are plenty of stops along the way, but every drop of water will make the journey to and from the deep blue. Relatively large numbers of drops will make a stop inside your and eat at the buffet of your food stained shirts.
Performance & Features
A compact, stain-fighting powerhouse
We were impressed with the WM87120's ability to remove stains. While it had a gift for dealing with red wine, other stains such as blood, sebum and anything else with a protein base proved to be staunch foes for this washer. Adding the Super Wash feature to the Regular/Cotton cycle pushed cleaning performance ahead of full size competitors.
Features are also exceptional for a washer in this price range. You've got a super-hot Sanitize cycle, plus a 1200 RPM wash for spinning out excess water. That means less work for a dryer. The WM87120 comes with two additional wash options of note. The big one is the Super Wash. Essentially, it turns selected cycles into Heavy-Duty ones. On the other end, there is the Anti-Crease option. This increases the washer's use of water and drum movement. It essentially floats your laundry and laps it with gentle waves.
Conclusion
This Blomberg stood tall amongst compact washers
The is a stackable compact washer that has the cleaning performance of machines twice its size. Nasty stains proved no match its cleaning power, and features like a fast spin and Sanitize cycle were nice touches. Everything worked as advertised, and loads smaller than eight pounds won't be beyond its abilities. However, its greatest asset is also a liability. Being so small, you'll probably have to do multiple loads in order to get all your clothes clean. This washer would suit a small family living in an even smaller apartment.
Water Retention & Clothes Wear
Wash enough clothes and your washing machine will give you presents.
After a wash cycle is complete, you'll still have to deal with wet laundry and the damage done to your clothing. If we had to describe the clothes wear of the as an animal, we'd compare it to a dog, and a Yorkshire terrier at that. Adding the Super Wash feature to the Regular/Cotton cycle absolutely tore through our mechanical action strips. Other cycles did not fare much better in this regard. If you are looking to protect your favorite shirt, we'd suggest the Permanent Press cycle, which did fairly well. This little washer has teeth, and boy, does it use them.
People often ask us the importance of testing water retention. OK—that's a lie. At parties, when we say that we test washing machines for a living, eyes glaze over. However, water retention is important. The amount of water that a washer spins out decreases the amount of water a dryer needs to remove. In this regard, the did okay, but it wasn't spectacular. In an imperfect world, we like to see our laundry retain 50 percent or less of its weight in water. Amongst the core cycles, only the Regular/Cotton managed to achieve this. On average, test loads that came out of the retained about 61 percent of their weight in water. You'll need every little drop spun out if you buy Blomberg's comparatively lackluster matching dryer.