Laundry
Bosch Axxis WAS24460US Review
The Bosch Axxis WAS24460US washer is a high-priced premium compact.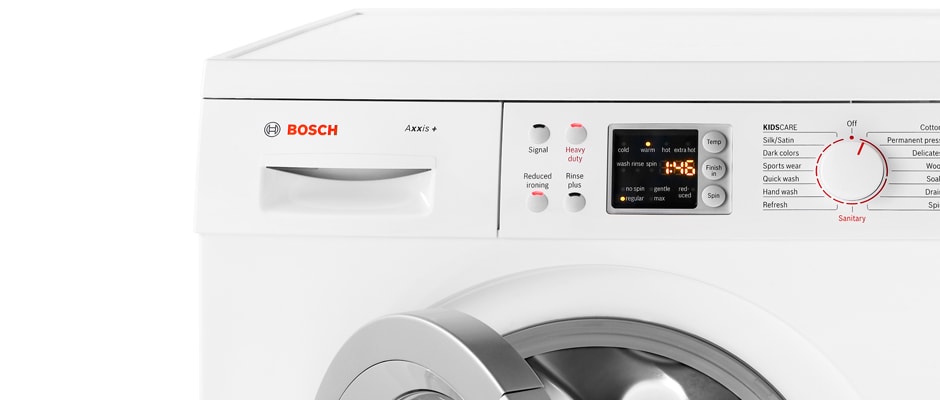 Credit:
Introduction
In our scientific tests, the Axxis impressed with good stain removal—plus one of the lowest costs of operation we've ever witnessed.
But despite a plethora of cycles and an impressive build quality, this little Bosch still can't compete with less expensive full-sized units. If space dictates that you're in the market for a compact washer, though, this Axxis is about the best you can buy.
Design & Usability
The is stackable and compact.
When a spin cycle is active, it whirs like a jet engine on takeoff.
An important feature to note is that this little appliance runs on 220V current and has a special plug that only fits into a receptacle on a matching Bosch dryer. It definitely wouldn't be a good choice as a standalone unit unless you thoroughly research your electrical options. The fact that it's built to European Union Standards becomes more apparent when you look at the control panel.
European laundry culture is different from that of the US, and this Bosch proudly displays its German heritage. On the continent, washers tend to sit in kitchens, since they are used for smaller loads. Hence, the Axxis can't handle a large load, but has a very attractive exterior. When a spin cycle is active, it whirs like a jet engine on takeoff.
Performance & Features
This machine proves that full-size performance in a compact package is possible.
The will get stains out, and does a good job at removing debris, too. Performance is on-par with a full-size machine; that said, a larger model will likely have a much smaller price tag. Furthermore, though the Axxis is rather deafening when its spin cycle is in full force, it still had trouble getting water out of clothes during a wash cycle. That means more work for an energy-hungry dryer, and a greater chance that clothes will start to smell musty if they're not dried right away.
If your lifestyle involves violent cocktail parties and very little hard work, this may be the perfect washer for you.
If your lifestyle involves violent cocktail parties and very little hard work, this may be the perfect washer for you. While it didn't do very well on oil-based stains like sweat and grease, the had no problem removing blood, chocolate, and wine. However, the most exceptional stain removal came when we ran a cotton cycle on extra hot with the Heavy Duty wash option selected. This machine achieves greater stain removal when you adjust it properly.
Amongst its features, there is only one thing of note, aside from its compact size. It has a delay wash that comes with a twist: Instead of postponing the machine's start time, it allows you to dictate when the wash will end.
Conclusion
Fairly solid performance, small package, high price
The little Bosch does a good job removing stains and has an extremely low cost of ownership. That doesn't mean it's without drawbacks, however: It's pricey, often selling for above $1100, and it's completely full with just an eight-pound load.
Sometimes, only medium things come in small packages.
As we've said, though, the Bosch Axxis won't cost a lot to run. A small drum and an on-board water heater mean the average wash costs between a nickel and a dime, bringing to mind the old adage that big things—in this case, quality levels of efficiency—can come in small packages. Though it had strong stain removal abilities on the right settings, this washer just isn't that in tune with the US market. So for the , we'd change the phrase to, "sometimes, only medium things come in small packages."
Science Introduction
In order to understand the , keep in mind that Permanent Press equals Normal. The next thing to learn is that this machine is designed to be displayed out in the open, probably in the kitchen. As far as performance, this washer has issues with grease stains, but not with substances like cocoa, wine, and blood.
Performance Tests: Cleaning
The little washing machine that could.
For cleaning performance, we use standardized strips stained in patches with common household substances like red wine and cocoa. These strips are placed in an eight pound test load of laundry and a proportional amount of industry-approved detergent for each cycle. After a cycle is complete, we take the strips out and scan them with a light spectrometer to determine how much of the various stains have been lifted.
The Permanent Press cycle had some trouble with greasy stains. However, when we turned on the Heavy Duty option and increased the temperature to hot, the barreled through everything. Then we tested the Quick Wash cycle, and we were amazed when the Bosch announced that clothes were ready after just 20 minutes. That said, we weren't surprised to find that our test stain strips were still pretty filthy.
Performance Tests: Efficiency
Small footprint, small carbon footprint
When we set up the , we attached it to water and watt meters. With every cycle we ran, we recorded how much hot water, cold water, and electricity was consumed.
Despite on-board water heating, the Bosch Axxis WAS24460US uses very little electricity—under a dollar's worth a year. This is a small front loader, so it's not surprising how little water it uses, either. With an on-board water heater, it can also take advantage of cold water instead of draining your hot water heater for warm washes, so on the whole, this is a very efficient little machine.