Laundry
Electrolux EIFLS55IIW Review
This front-loader is well priced and offers strong cleaning performance.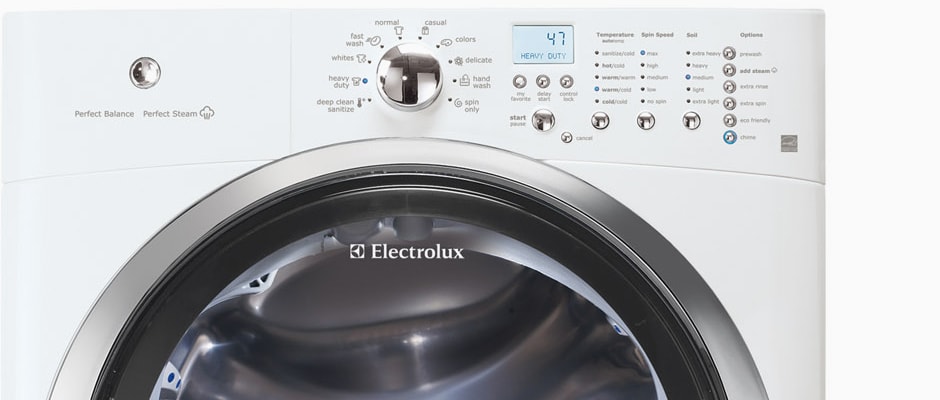 Credit:
Introduction
We found that the different cycles of the had performance ranging from poor to good, but without ever excelling. It did a decent job of spinning out excess water. The two greatest aspects that Electrolux endowed this machine are great controls and good efficiency. However, straying from its core mechanic of cleaning leaves us reluctant to recommend this washer. It may be a good buy if it can be found for under its MSRP of $1,284.29.
Design & Usability
The has a logical, easy to use control system.
One very nice touch is the inclusion of a small light inside the door.
The is pretty easy to use overall: the controls are straightforward and the detergent dispenser and main door both open at the touch of a button. Both are a little harder to close, though, requiring a fair amount of force, which could be an issue for some users. The detergent dispenser also doesn't always close properly: the latch mechanism often didn't quite catch when we used it, making the dispenser pop out again. One very nice touch is the inclusion of a small light inside the door which comes on when the door is opened, making it much easier to find your socks in a hurry.
Performance & Features
A scant cleaning performance
The 's cleaning performance is not as good as it gets. Electrolux makes some solid machines, but the company seemed to stumble with this one. Most cycles took less than an hour. A large amount of customization is also available with these cycles: you can set the temperature, spin speed and soil level to tweak any of the cycles.
Electrolux makes some solid machines, but the company seemed to stumble with this one.
The range of customization depends on the chosen cycle: the Heavy Duty wash allows you to set the temperature to cold, warm (with cold or warm rinse) or hot, but the Delicate cycle only gives options for cold or warm wash. The Soil option changes the wash time: the Extra Heavy option adds about 12 minutes to the cycle time.
Conclusion
The can be found for as low as $740, and offers strong cleaning performance.
We found decent, but not great washing performance from this clothes washer. It made a significant impact on the stains in our test strips in most of the wash cycles, with the Heavy Duty cycle being the most effective. However, all of the wash cycles that we tested were less effective than those on other washers, meaning it did not do as well at removing the stains. The offers a good, but not outstanding set of features, with a decent range of wash cycles and options to customize the wash. It does not, however, offer the additional features of some other washes, such as steam washes and cold cycles. Most users won't miss these features, though, and this washer is cheaper than most.
Science Introduction
The had a weak cleaning performance. In our tests, it had trouble with red wine and cocoa stains. During its cycles, this washer's water usage was on par with other higher end machines.
Cleaning Performance
It performs better than beating laundry on rocks.
Many people will swear by their anecdotal evidence. The fish was that big, it was that cheap, the washing machine cleans this well. To avoid the awkward moments when your friends one-up you with their sea tales, we use scientific testing to produce objective results.
For cleaning performance, we use stain strips. These standardized pieces of cloth have patches stained with common household substances like red wine and cocoa. These strips are placed with an eight pound test load of laundry and a proportional amount of industry approved detergent when a cycle is run. After a cycle is complete, we take the strips out and scan it with a light spectrometer to determine how much of the various stains have been lifted. The fared the best against the blood patch. It did the worst with red wine and cocoa.
Efficiency
How much will cost to run?
When we set up the we attached it to water and watt meters. With every cycle we ran, we recorded how much hot and cold water as well as electricity consumption. The Electrolux EIFLS55IIW used a fairly large amount of water, with the amount used per wash ranging from 10.95 gallons (for the fast wash) up to 16.42 gallons for the deep clean sanitize cycle. These numbers are on the high side: other washers use less water in their quick cycles. A year's worth of running the will cost $34.10.