Laundry
Electrolux EIFLW50LIW Washer Review
Speed, affordability, and performance all rolled into one
Credit:
Appliances generally do things cheaply, quickly, or well. But the Electrolux EIFLW50LIW (MSRP $1,099) did a little of each. With an $1,099 MSRP, it's not exactly the cheapest machine around, but it's not the priciest high end front-loader out there. In terms of quickness, the Normal cycle on this machine is about 42 minutes long, which is blazingly fast—the quickest Normal we've ever seen was 38 minutes. And best of all, this Electrolux does clean your clothes well. Of course, it lags behind the flagship EIFLS70JIW, but the 50LIW is $500 cheaper.
By the Numbers
Why should you believe any of the claims we make here at Reviewed.com? Well, we back up our claims with concrete science and objective tests. And the Science Page is where we show our work. With washing machines, it comes down to cleaning performance and efficiency. The Electrolux EIFLW50LIW did well in both categories. Here's why.
Design & Usability
Electrolux keeps it in the family
When it comes to usability, Electroluxese is quite easy to speak after you learn the basic rules. There's a unified design language amongst the company's front loaders: They all have the Touch-2-Open door and the Sure-2-Fit drum. Touch-2-Open is more like push-to-open, and if you don't push the door on the designated area, it won't close at all. Sure-2-Fit on the other hand, means that this washer possesses a large drum for all your laundry.
Usability-wise, this machine will be Sure-2-Please.
All options light up with blue LEDs, and additional information is displayed the LCD screen. Opening the door turns on a drum light. Sadly, there's no button to turn it on manually to watch the clothes go 'round and 'round. You may also notice a distinct floral odor emanating from this machine, like it's the Queen of England or something. That's because Electrolux uses a patented rubber gasket that's impregnated with a scented, antimicrobial substance to prevent nasty odors. Most of the people in the appliance lab found it pleasant, but this reviewer wasn't thrilled by the smell.
Cleaning Performance
Our cleaning performance numbers come from using standardized stain strips. Each of these strips is coated in everyday substances such as cocoa and dirt. After a wash cycle, these strips are removed and placed under a photo spectrometer, which is able to detect how much of a stain is lifted.
For the Electrolux EIFLW50LIW, the Whites cycle turned out to be the best. It especially had a good go against the dirt and cocoa particulate stains. However, this machine had issues dealing with sweat and blood stains: both protein based. In fact, during the Whites cycle we noticed that the temperature curve started high and went low. This means that the Whites setting added hot water at the beginning of the cycle, which can "cook" a stain into clothing.
Performance & Features
No sacrifices when it comes to performance or value
The Electrolux EIFLW50LIW is an adequate cleaner: The Whites cycle performed the best, followed by Normal, then Heavy-Duty. Compared to other machines, it was a bit above average. The EIFLW50LIW struggled most with sweat stains. However, it bested our dirt and cocoa tests.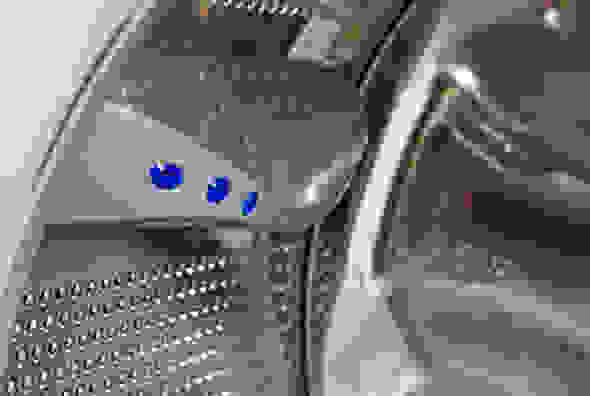 Where this washer really showed promise was with our efficiency readings. We estimate the yearly running cost at around $25. If you bought a front loader, like the similarly priced Maytag Bravos XL MVWB880BW instead, it'd cost you an additional $290 more than the Electrolux over a period of ten years.
On the features front, the EIFLW50LIW won't leave you wanting. It has all the standard features found on competitors' machines at this price point—like an energy-saving wash and Extra Rinse, just to name a few. What we liked the most was the 18 minute Fast Wash cycle, which proved great for small loads.
For in-depth performance information, please visit the Science Page.
Efficiency
Efficiency is a two-pronged approach for us. It's primarily about water consumption, electricity, and water retention. Water and electricity consumption are pretty straightforward. To test power consumption we hook the machine up to water and watt meters and run all the cycles. Based on a usage of various cycles, we estimate that the yearly running cost will be about $25—very low indeed.
The second half of the efficiency sphere is water retention. This is measured after a cycle has finished. We take out the wet laundry and weigh it. Since we know how much each load weighs before we place it in the wash, we can calculate how much water has been retained. The more water that has been retained, the more work the energy sink (otherwise known as your dryer) has to do. On average, loads retained about 54% of their weight in water. Anything that hovers around the 50% mark gets a gold star from us.
Conclusion
An attractive middle ground
The Electrolux EIFLW50LIW is designed to balance price and performance, and in our tests it managed this juggling act with grace. To get to a $1,099 MSRP, Electrolux trimmed the fat. A little gristle can be great to pad out a machine's features, but the EIFLW50LIW sticks to the essentials: Cleaning performance was slightly above average, and efficiency was superb. If you're looking for a front loader and don't want to spend $1,500 for the best ones out there, the EIFL50LIW is worth checking out.