Laundry
Electrolux EIMED60LSS Dryer Review
Strong overall drying, but there's still one out there that's even better.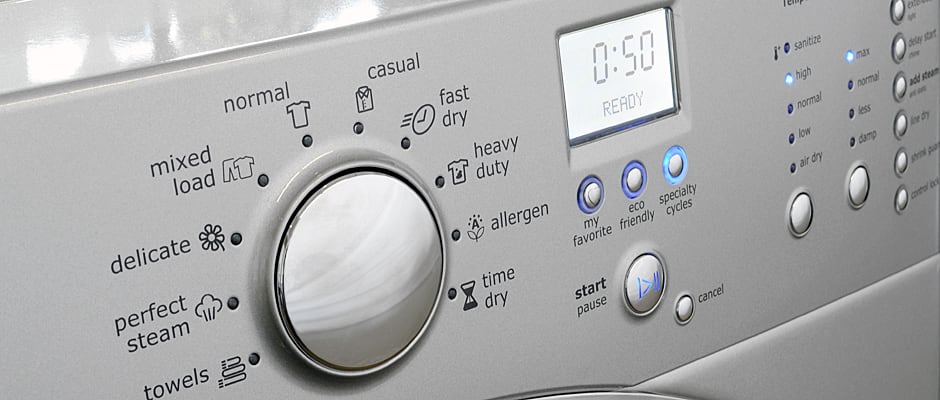 Credit:
Introduction
Last year, we crowned the Electrolux EWMED70JIW as the Best Dryer of the Year. An effective machine with an ungodly number of cycles and features, it was truly the cream of the drying crop. The EIMED60LSS (MSRP $1,399) is a slightly simpler model with almost as many cycles and extra options. Drying performance is mostly comparable, but we did notice a few minor aspects which kept the less-expensive EIMED60LSS short of drying perfection.
That said, it's still really good. Were it not for the fact that we had already tested the next step up in Electrolux's drying line, we'd probably be gushing over this one. An extra $150 in your pocket may be enough to sway you towards the cheaper machine. But if you're already going for the gold, you might as well get the platinum if you can.
Design & Usability
A more straightforward interface.
A lesson in manufacturing creativity, Electrolux markets this dryer as having what they call a "Silver Sands" finish. Gray, people. It's gray! It's shimmery, dark, and—in our opinion—fairly classy looking... but it's still gray. The squat stackable is all about curved design (on the front, at least), sporting as few protrusions as possible. To that end, Electrolux has again included their push-open door: Push on the little silver circle where a handle would have been, and it'll pop open. A few times, we bumped it with our legs, which led to accidental openings. If you've got a tight laundry room with wide hampers, expect this to happen on a fairly regular basis. Closing it wasn't usually an issue and we never had to slam it, but consumers who prefer the satisfaction of feeling a door shut may require some time to adjust. The cycle knob can also be pushed in to try and minimize collisions with your hip, though it needs to protrude in order to select a cycle.
It seems that Electrolux is never one to scrimp when it comes to bonus options.
Unlike the pricier 70JIW model, the 60LSS employs a more traditional, button-heavy console. An assortment of silver buttons control dryness levels, temperature settings, and the collection of extra features. While its more expensive big brother had a somewhat ambiguous digital display that took some trick navigation to manipulate, activating options like extra cycles or an extended tumble is much more intuitive here. It seems that Electrolux is never one to scrimp when it comes to bonus options, though, and some require you to hold down buttons for a few seconds in order to activate an alternative function. For instance, the "delay start" function is activated with single push, but if you hold the button down for a few seconds, you can toggle the chime on or off. It's not the smoothest way of dealing with this sort of thing, and it definitely requires a glance at the owner's manual.
Performance & Features
Cycles galore, and some feats of strength
This Electrolux offers up an impressive 17 assorted cycles, a laundry potpourri of sorts that includes everything from basic Normal and Delicate functions to the quirky Pet Bed and Allergen settings. You even get a 10 minute Wam Up option that gently heats clothes left in a cold laundry room over night, great for getting a toasty sweater on a cold winter morning. Timed Dry offers up manual-length drying from 15 minutes to an hour and a half... but only in five 15 minute increments. For some odd reason, the clock jumps from 30 minutes to an hour with no in-between option, a head-scratching omission for a higher-end dryer.
This Electrolux offers up an impressive 17 assorted cycles.
The substantial cycle list is bolstered by a number of extra functions and customizable settings. Five temperature settings and four dryness levels can be adjusted on most cycles, several of which take advantage of the dryer's steam hookup. A moderately traditional array of features include a delay start, extended tumble, shrink guard, and eco friendly setting for more energy efficient drying. There is also the ability to save a customized cycle for those inclined to have more control over their laundering experience. Additionally, the machine we purchased came with a hose attachment for hooking the dryer up to a water source, as well as a stationary drying rack for items that you don't want to have tumbled.
Fast Dry and Heavy Duty were a little less uniformly effective.
As impressive as the features and cycle list may be, our tests focus on four basic settings: Normal, Delicate, Quick Dry, and Bulky. The Normal cycle was nearly perfect, drying our standard eight-pound full load completely in just under an hour. The only thing that would have made it better would have been a slightly cooler peak temperature, which would reduce the small risk of overdrying. The Delicate option performed even better, drying just as well as Normal and nailing the temperature. Fast Dry and Heavy Duty, the cycles we chose for our other two tests, were a little less uniformly effective. Fast Dry took an astoundingly short 14 minutes, but it only removed two thirds of the added moisture from our standard four-pound "light" load. If you've got more than a single shirt, you may be better off just running a timed cycle for 30 minutes instead. Heavy Duty also failed to completely dry our test comforter, despite running for just under an hour and getting pretty warm. Despite the drum's size, it still wasn't large enough to effectively tumble a giant, bulky comforter, which means you may need to pause the dryer mid cycle and shift things around to get even drying.
Conclusion
A great dryer that's only outdone by its corporate cousin
Objectively speaking, the Electrolux EIMED60LSS is an exceptional dryer. The cycle list is the next-to-largest we've seen, and the design—despite the silliness of the finish label—is quite sleek.
With that said, its big brother, the EWMED70JIW, takes all of that and does it better. If the price gap between the two were more substantial, we might have been inclined to recommend the 60LSS to the thrifty consumer. However, its $1,399 MSRP is just $150 less than that of the 70JIW. Comparing sale prices at online retailers, that gap closes even further; one site had the price difference down to $120. When you're talking about buying a dryer that costs over one thousand dollars, a difference of little more than an extra hundred probably isn't going to be a decision maker, and you might as well treat yourself to the added cycle options, superior performance, and more high-tech design.
Mathematical Laundering
A lot of personally subjective factors can go into the process of buying a dryer, or any large appliance for that matter. With that in mind, we want to help you make that decision by providing some objective facts. When it comes right down to it, the Electrolux EIMED60LSS is objectively an exceptional dryer.
Normal & Delicate
Typically strong results for primary cycles.
Getting 100% dry clothing at the end of a Normal cycle isn't exactly an achievement. It's more or less a given that the Normal cycle is going to be the major workhorse option for most consumers, and in that respect, this Electrolux doesn't disappoint. With an average cycle time of 51 minutes, our clothes came out perfectly dry each time. It's not a flawless cycle, however: peak temperatures got up to 158.6 degrees Fahrenheit, about 10 degrees warmer than we usually like. Luckily, a further examination of the data shows that high level of heat isn't maintained for a very long period of time. As such, the risk of over drying is pretty minimal, though you may want to keep an eye on more delicate garments.
Alternatively, the Delicate cycle was virtually perfect. It, too, ran for just under an hour, averaging 55 minutes. Peak temperatures were just 127 degrees, not the coolest we've seen, but well within the acceptable temperature range for fragile clothes. In the end, the cycle got out 99% of our added moisture, but not nailing that extra one percent isn't necessarily a bad thing. Delicate garments such as dress clothes or blouses are often hung up or ironed after drying, and having just a smidgen of moisture can be helpful in both cases.
Quick Dry & Bulky
The bigger the challenge, the greater the odds of coming up short.
The Fast Dry cycle is a bit of a mixed bag. On one hand, it failed to dry our clothes. After 14 minutes, garments were only 68% dry, which is essentially so damp as to be unwearable. Take a moment, though, to reread the beginning of that last sentence: "After 14 minutes." That's an outrageously short cycle; a four pound load of towels and bedsheets may not be the best match for it, but a shirt or two and a pair of slacks could potentially get along just fine. Peak temperatures reached 128.6 degrees Fahrenheit, so kudos to the Electrolux engineers for delivering substantial heat so quickly.
Heavy Duty, the cycle chosen for our Bulky test, has fewer caveats to make up for its ineffective results. After 51 minutes (a fairly popular drying time, it seems), our test comforter came out having lost 75% of its excess moisture. That may seem like a lot, but in reality that's still too wet to be usable. This was despite the fact that peak temperatures were as high as 137.7 degrees Fahrenheit. Temperature sensors placed closer to the center of the comforter, however, failed to break 100 degrees, which means the center of our large item wasn't getting the necessary heat it needed to dry.