Laundry
Electrolux EWMGD70JIW Dryer Review
A dryer with more options than you ever thought you needed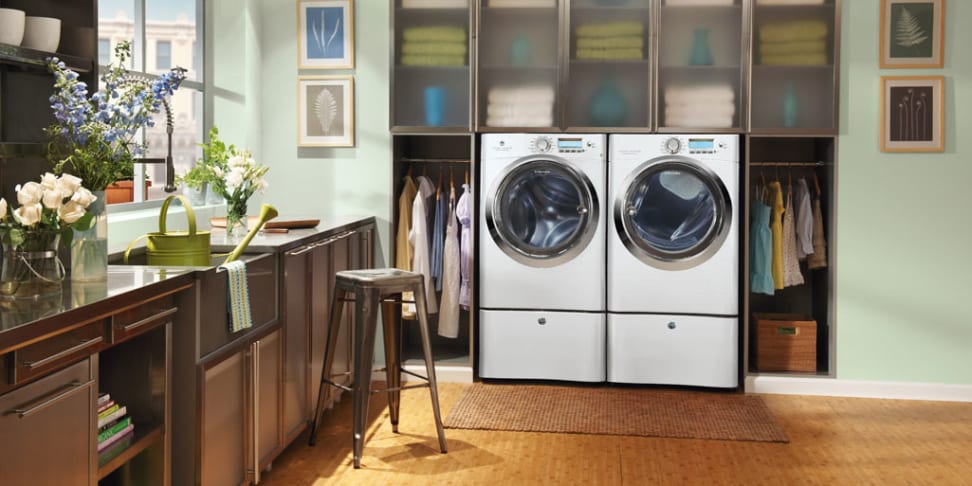 Credit: Electrolux
Editor's Note
This review covers the Electrolux EWMGD70JIW gas dryer. We conducted lab testing on its electric counterpart, the EWMED70JIW, but you can expect identical performance. For more information, read our review of the Electrolux EWMED70JIW.
After testing hundreds of dryers, we'd describe the Electrolux EWMGD70JIW (MSRP $1,549) as the pinnacle of high-end drying. Supremacy does come with a price, but since this model is due to be replaced soon, you may be able to find a deal on a floor unit or closeout.
Visually, this is a very streamlined unit: The spring-loaded door pops open without a conventional handle, while the cycle knob can be pushed in flush with the front panel to avoid bumping while folding clothes. A stainless steel drum is another high-end touch common for dryers in this price point.
But streamlined doesn't always mean simple. There are more than 20 cycle options here, many of which are accessed using a high-tech digital control panel. It's definitely an aesthetic upgrade over a series of dials, but will take some practice to navigate. The bright display hides a wealth of cycles and features so deep that you'll probably want to keep the manual handy for an occasional refresher.
If the controls are too confusing for you, check out this dryer's replacement, which should be in stores now.
Be sure to read our full review of this dryer's matching washer, the Electrolux EWFLS70JIW.
Why To Buy
As with its electric counterpart, you can expect this 8-cu.-ft. gas dryer to be consistently gentle on clothes, removing moisture at cooler temperatures than much of the competition. The tradeoff is that workhorse cycles like Normal typically run longer than average, but you're going to see less wear and tear on fabrics.
Even with such thorough moisture removal, though, it's the depth of function that is this dryer's most distinguishing feature. This is definitely not your set-it-and-forget-it kind of dryer: That whopping list of 20 cycles includes everything from go-to's like Mixed Load and Bedding, all the way to Pet Beds and Stuffed Animals. It makes this dryer ideal for large families who launder a wide variety of items and who enjoy digging into the details.
If you just like running things on Normal, the expense may not be worth it. Still, if you intend to take advantage of a wide range of drying options, this is the model to beat.
For much more information, refer to our full review of the nearly identical Electrolux EWMED70JIW.