Laundry
Fisher & Paykel EcoSmart WA42T26GW1 Review
Different doesn't always mean better, case in point with this Fisher & Paykel.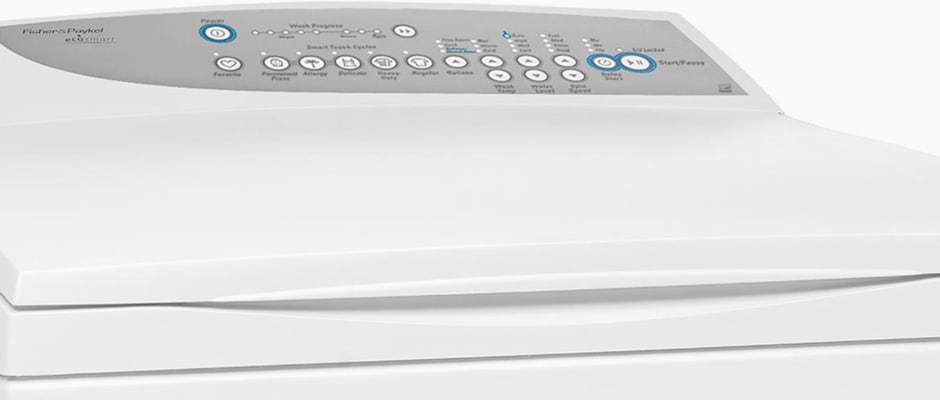 Credit:
Introduction
With an MSRP close to $1000, but easily found on sale for under $600, it is certainly different from any washer we've ever tested—it just isn't any better than most of them. Sir Woolf Fisher and Maurice Paykel started their eponymous appliance company in Auckland, New Zealand back in 1934. Originally, they assembled copies of British and United States-designed appliances, but started creating their own designs in the 1980s. These were departures from most other appliances on the market, and the EcoSmart washer is no exception.
Design & Usability
Easy to use, but no wash timer.
Controls are straightforward enough for anyone to use.
The EcoSmart has a water-resistant control panel with plastic membrane buttons for wash cycles and options. Controls are straightforward enough for anyone to use and LED indicators show how far into a wash cycle the machine is, but there's no numerical display. That leaves you guessing as to how much time is left, and precludes counting down every load of laundry like it's New Year's Eve. The door, which takes up the entire top surface of the washer, is made of sturdy but lightweight plastic. Open the door and the washer's body is sloped so clothes can easily slide into the drum.
Performance & Features
Washes are quick, but clothes end up worn and stains sometimes stick around.
Stain lifting ability was good, but not great. On all cycles, the EcoSmart really struggled with oil-based stains, and its regular wash performance didn't improve when we changed the water temperature from warm to hot. We were pleased to see how quickly the EcoSmart finished washing our test loads on the normal cycle. We weren't so pleased, however, to see that other washers that took just a little more time also did a better job removing stains.
On all cycles, the EcoSmart really struggled with oil-based stains.
Cycles can be customized for temperature, water level, spin speed and soak cycles. The EcoSmart also dedicates a preset button for one "favorite" custom cycle. Washes can be delayed by either one hour, three hours or nine hours. While the "Time Saver" option significantly reduces how long you'll be waiting for a wash, you won't know when the cycle ends.
Conclusion
Designed in New Zealand, the is certainly unique, though its washing performance is lacking. And, no, it doesn't drain water counter-clockwise.
The EcoSmart proved gentle on stains and tough on fabrics, which is the opposite of what we wanted to see. Cycles didn't take very long, but neither did they do an effective job removing stains or removing debris. To control this unit, an easy-to-use control panel and thoughtfully-chosen cycles are appreciated, but the lack of a countdown timer is noticeable in this price range. Also noticeable was the fact that we couldn't replicate the energy efficiency of the manufacturer's own EnergyStar tests. In fact, although the washer is named EcoSmart, it's one of the thirstiest units we've tested.
Science Introduction
The had a slightly poor cleaning performance. For its price point, that's very disappointing. The 's Regular cycle, with the temperature set to hot, achieved less stain removal than some washers achieve on their Delicates cycle. Nor, as its name implied, is it very ecologically friendly.
Performance Tests: Cleaning
The basic premise is that clothes come out of a washing machine cleaner than when they went in, assuming you turn it on.
In order to determine cleaning performance we use sets of stains strips which have standardized patches. Each patch is stained with a common household dirtying agent. They included things like sebum (sweat), blood, oil, red wine, and cocoa. These strips are placed in eight pound loads of laundry with a pre-measured amount of industry approved detergent. When the cycle is complete, these strips are scanned by a light spectrometer. These readings are compared to control samples to determine how much of the stain has been removed.
The stumbled in this regard. Only the Delicates cycle performed above par. However, even that didn't live up to the name, clothing was not protected from the water's agitation. The Heavy Duty cycle was misleading too. Its cleaning performance was no better than the Regular.
Performance Tests: Efficiency
Ecosmart or Ecodunce?
The wasn't so clever when it came to saving water. When we hooked up this washer, we also attached water and watt meters. Though it's marketed as an energy-saving washer, the EcoSmart used more water than most top-loaders. On most cycles, it guzzled around 22 gallons of water. When washing delicates, it used a whopping 42 gallons. Our calculations took into account a variety of wash cycles used each week. We found an average year with the EcoSmart would set you back $57.92 in total.
Performance Tests: Clothes Wear
Bit by bit, thread by thread
It is inevitable that whenever you place your clothes in a washing machine they are going to come out a little more worn than when they went in. How much varies widely between machines. To test this, we put in mechanical action strips which have five stamped one-inch holes in them. After the cycle is complete we take them out and count how many threads have come loose.
The being a top-loader, had a poor showing in this regard. Clothes ended up pretty worn after a few spins through the EcoSmart, though wear was uneven. This indicates that some clothes were subjected to more agitation than others.
Water Retention
Water weight
This appliance fails spin out much moisture by the end of a cycle, leaving some real heavy-lifting for your dryer. The Heavy Duty cycle fared better than others in this test.