Laundry
Frigidaire Affinity FAFS4272LA 3.8 cu. ft. Front Load Washing Machine Review
The Frigidaire Affinity FASE7073LA has some high-end features for a mid-range price, but our testing showed that sometimes you get what you pay for. Though the allergen and sanitary cycles disappointed, the washer was quick to get clothes clean and did a solid job on everyday cycles. You can find this washer online for around $600, which makes it a great value.
Introduction
Frigidaire's is a feature rich mid-level front loading washing machine that can be found at online appliance retailers for around $600. Already inexpensive for a stackable front-loader, it's one of the least expensive washers we've ever seen with a steam wash option, although its sanitary and allergen cycles fail to deliver.
Otherwise, performance is solidly average, and stain removal is on par with washers that cost a lot more. It has some of the fastest wash cycle times we've ever seen, with a normal wash taking just under 45 minutes. Plus, the control panel is covered in glitter!
Front
Inexplicably, the folks at Frigidaire decided to put glitter on the 's puffy plastic control panel, making it look like a My Little Pony Trapper Keeper. Other than that, the design is pretty straightforward.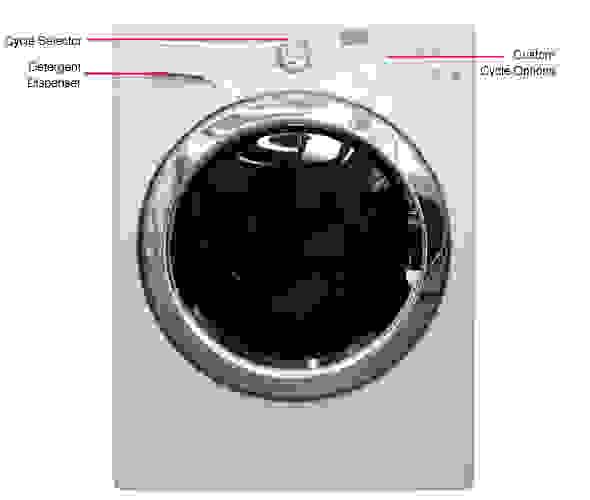 Controls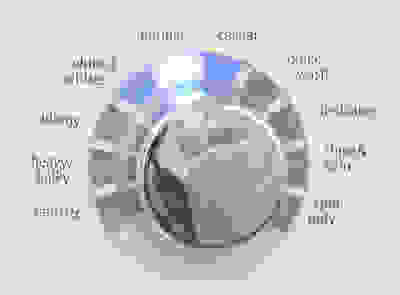 Drawer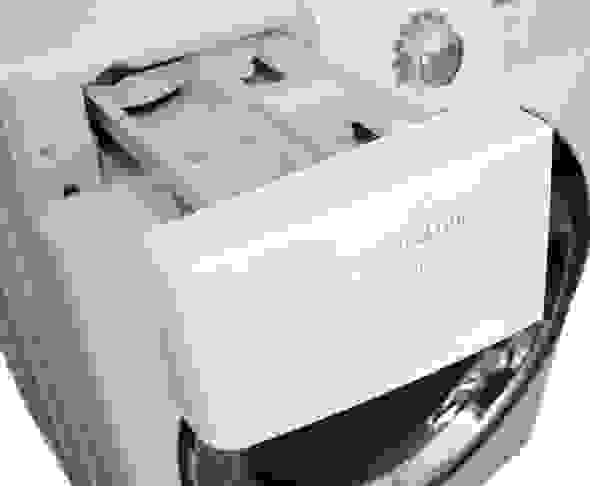 Interior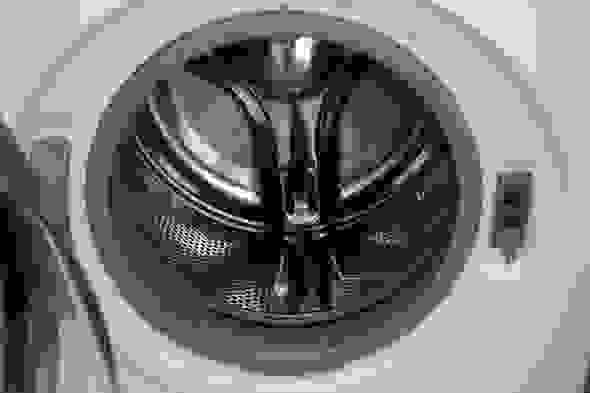 Sides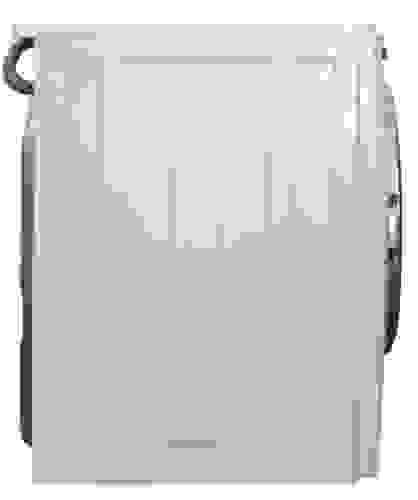 Back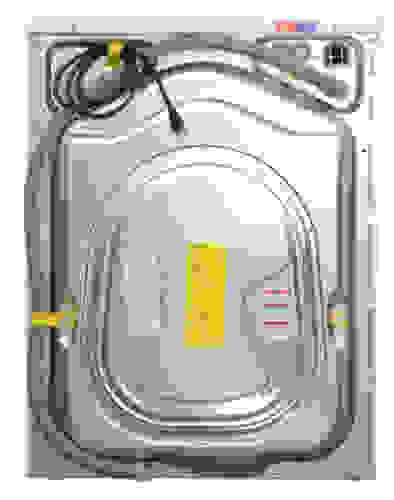 Electricity Use
Washers don't use that much electricity -- except for heating water and spinning clothes. By getting water out of a load of laundry, that spin cycle can help save a lot of energy if you put your clothes in the dryer.
Water Use
The doesn't use a lot of water, especially when comparing to older washers or most top-loaders. You'll probably see a decrease in your water bill of up to $30 yearly if you upgrade to this Frigidaire.
Cost Per Wash
Washes range from four cents to a dime per cycle, with the often-used normal cycle costing eight cents. That's relatively low compared to other washers we've tested.
Yearly Running Cost
Accounting for electricity, water and your hot water heater, the average American will pay $30.42 each year to run the .
Washing Speed
Washing Cycles
Of note is the peak temperature on the allergy cycle. In order to be certified as an allergy wash, the peak temperature must be higher than 131 degrees Fahrenheit. The only got up to 119.8 degrees in our tests, even though our hot water heater was set to the manufacturer's specifications.
Customization
Like most washers in this price range, cycles can be customized for temperature, spin speed and soil level. There is no option to preset a customized wash cycle, however.
Additional Wash Options
There are some interesting options on this Frigidaire. First is a steam wash, designed to reduce wrinkles. There's also a freshwater rinse that can be useful for those who suffer from allergies or want to make sure there's no detergent left over More pedestrian options include a prewash and delayed start.
Also on board: a "clean washer" function that should be used after particularly filthy loads, and an "energy saver" button that brings down water and electricity use for all cycles.
While we don't empirically test washer vibration, it's important to note that the does feature a vibration control system that's designed to reduce how much a washer shakes during its spin cycle. When we properly leveled the unit, it didn't appear to shake or "walk," which may be helpful for those who are putting the unit on an upper floor.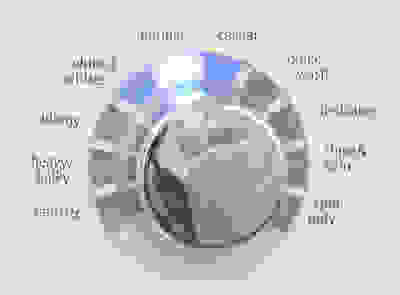 Washing Options
Detergent Dispenser
The detergent dispenser is straightforward and slides out of the top corner of the washer with ease.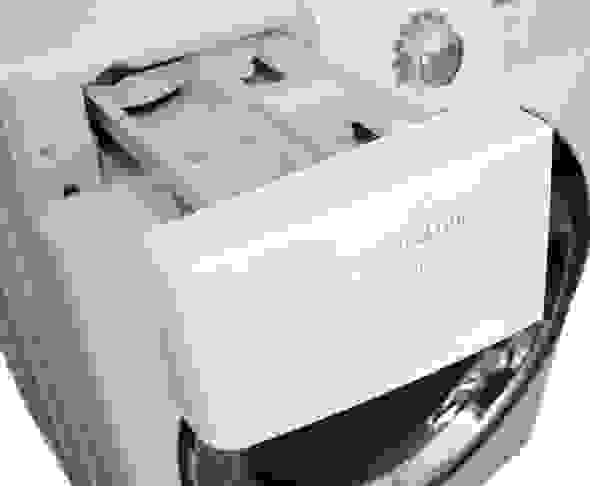 Washer Door
Solid and wide enough to fit big loads of laundry, we had no problems with the 's door.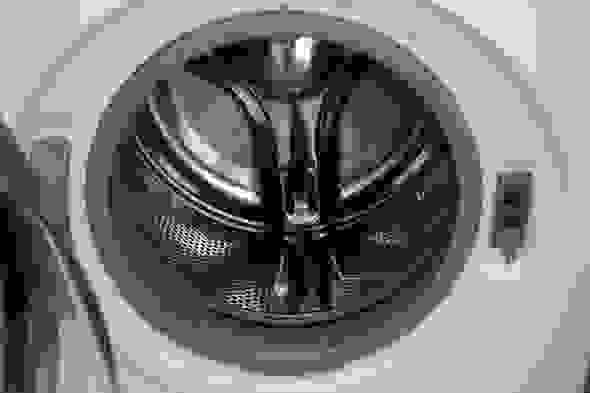 Ease of Use
If you're patient with the control panel, the is pretty easy to load and use. It would be helpful if buttons were spaced apart and larger, though.
Controls
There are two sets of controls on this unit. Wash cycles are selected by a knob located in the center of the panel.
Both control panels lay dormant until you press a button. There's no on/off or power button on this unit, so the washer "wakes" in whatever cycle was the last to be used. It's a bit aggravating, especially since there's a delay between the time you press a button and the time the washer comes to life.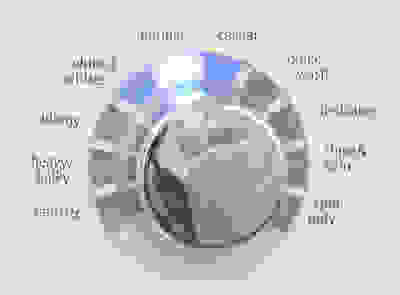 Comparison
Frigidaire's Affinity series clearly has more features than the entry-level FRFW3700LW, which is about the least expensive front-loader you can buy. For about $160 extra, the Affinity has an LCD display including a timer, steam cycles, vibration control, automatic temperature control -- plus a far more substantial fit and finish. When it comes down to performance, however, both washers are about equal.
Normal Stain Performance
Comparison
GE's GFWH2400LWW costs about $150 more than the Frigidaire. For the extra cash, it does a better job removing stains and has an adaptive vibration control that changes the washer's spin cycle to better suit different kinds of flooring. The GE is less efficient, however, and doesn't have an allergen cycle or a steam option either.
Normal Stain Performance
Comparison
On sale for about the same price, the Maytag lacks a steam cycle but offers better stain removal. On nearly all other counts, the two washers have only marginal differences in performance.
Normal Stain Performance
Efficiency
In our tests, the proved quite efficient with a total annual cost of operation at just over $30. If you're replacing a tired old top-loader, chances are you'll save at least $30 a year in operating costs alone.
Performance
The impressed us with its quick cycles. Though it didn't have the best stain removal performance we'd ever seen, this washer would be more than adequate for empty-nesters or those without particularly messy kids. It can handle dirty laundry, but you'll just need to choose a heavier-duty cycle.
Features
On paper, the is a feature-packed washer, with steam, allergen and sanitary cycles. It's disappointing that some of those features didn't deliver in our lab tests.