Laundry
GE GFDR270EHWW Dryer Review
The RightHeight might be a good fit.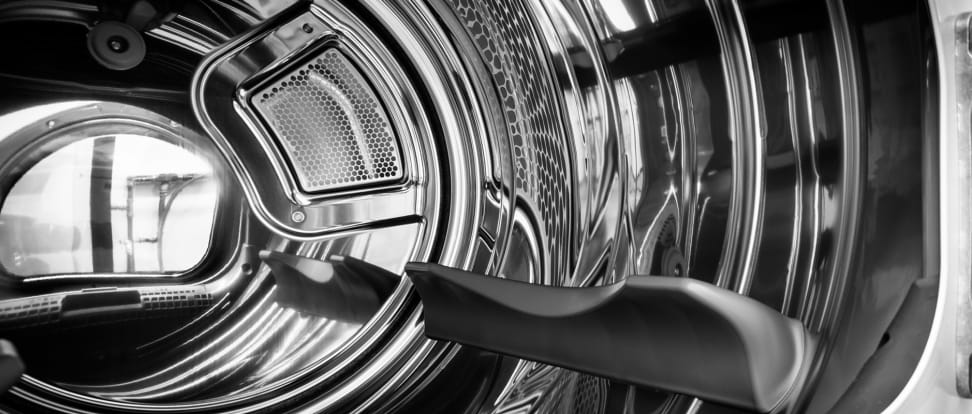 Credit:
The GE GFDR270EHWW (MSRP $1,199) stands a little taller than most laundry machines. That's because of its RightHeight design, which adds a built-in pedestal so you don't have to bend down as far when unloading laundry.
The design is not without some faults. For example, there's no room for storage underneath the dryer, and the permanent riser means it can't be stacked. But the whole setup costs less than a comparable machine with an optional pedestal.
The GFDR270EHWW is also packed with features—including the ability to connect to a matching washer to help the dryer calculate how much water is left in a load of laundry. Unfortunately, many of those features are crammed into a cluttered control panel.
But when it comes to the removal of moisture from laundry, the GFDR270EHWW has the chops. From bulky comforters to sheer delicates, this dryer could handle them all. Some people just want a dryer that dries your clothes, and the GFDR270EHWW can be that. Other people want every technological advancement in laundry of the last decade, and this dryer can be that, too.
By the Numbers
The best way to determine how well a dryer works is to collect data on temperature and water removal. Compared to the rest, the GE GFDR270EHWW came across as slow but steady.
Normal & Delicate
The Normal and Delicate cycle tests consist of 8 lb. loads made up of towels, sheets, and pillowcases. We wet these standardized loads to 1.7 times their weight, and place each in a cycle with humidity and temperature sensors.
The Normal cycle took about an hour to complete. It consistently got test loads 99% dry. The temperature sensors picked up a maximum temperature of 166°F—warm enough to wear delicate fabrics over time.
The Delicates cycle took, on average, an hour to complete, and it removed 80% of all moisture—not a bad result. We recorded a high temperature of 101°F—well within the acceptable temperature threshold for fragile fabrics.
Design & Usability
Not quite Rosie the Robot, but it's close.
Looking at the GE GFDR270EHWW, the first thing you'll notice is the built-in pedestal. Standing at 47 inches tall, the elevated drum allows for easier unloading, especially if you have trouble bending down.
The next thing you'll notice is how cluttered the control panel is. GE really decided to jam in as many features as possible, and it resulted in a confusing layout. We found the countdown timer and LCD display to be particularly hard to read due to a lack of contrast.
However, the GFDR270EHWW does have some nice touches. A drum light illuminates the interior, and its 8.1 cu. ft. of interior space is only outclassed by a select few machines–all of which are more expensive than this GE.
Features & Performance
Now featuring... Everything!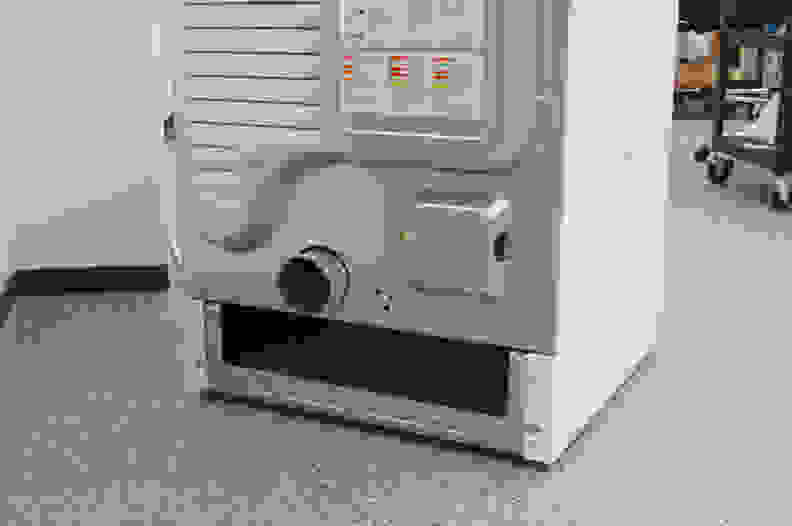 The GE GFDR270EHWW has it all: steam for tackling wrinkles, a detangle option that counter-spins the drum (especially useful for getting the middle of comforters dry), and even an Ethernet port in the back that hooks up to a companion washer. A signal travels from the washer to the dryer when the washing finishes so the dryer can automatically select the right cycle. Called CleanSpeak, it's the only feature of its kind.
If you're choosing your own cycle, this GE has twelve of them. We particularly enjoyed Sanitize and Warm Up–which would have solved all of Kramer's shirt problems. If you're looking for something simple, though, the sheer number of options could be overwhelming.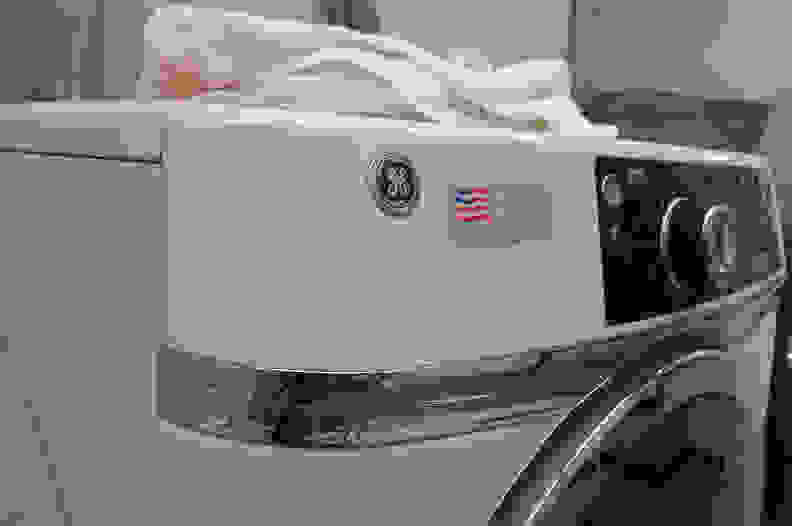 When it came to drying performance, this GE adopted the philosophy of slow and steady winning the race. The Quick Dry cycle ran over forty-five minutes, and the Normal cycle took about an hour. Still, the test laundry came out dry each time. Even wet comforters came out ready to snuggle in, which is a feat most dryers can't accomplish.
Overall, we give our thumbs up to the GFDR270EHWW's performance–all other flaws aside, this is a machine that not only gets your laundry dry, but gives you a multitude of ways to customize the process.
For in-depth performance information, please visit the Science Page.
Quick Dry & Bulky
We used a test comforter wetted to 1.5 times its weight to see how well the Bulky cycle works. It took, on average, an hour and fifteen minutes to complete. With the Detangle feature on, our test comforters came out 97% dry—an amazing feat. Most dryers can't even get past 60 percent.
The Quick Dry cycle proved to be a misnomer. Although it got 4 lb. test loads completely dry, it required 50 minutes to complete. That's as long as the Normal cycle on some machines.
Conclusion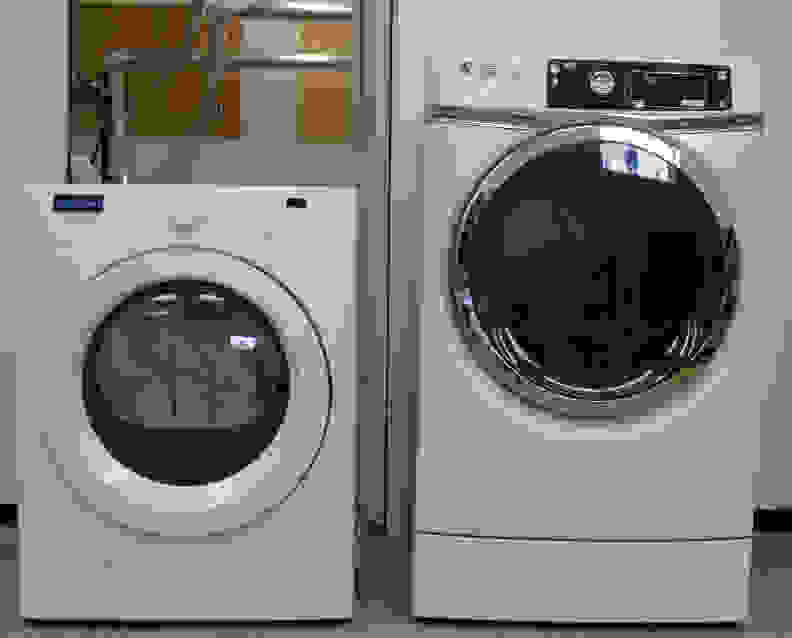 For a certain persnickety customer, it's the perfect dryer.
The high-end, American-made GE GFDR270EHWW isn't for everyone. Folks confused by options and cluttered control panels should give it a wide berth. But those who demand dry laundry and the ability to micromanage every aspect of the process will absolutely love it.
We're not fans of the confusing, hard-to-read control panel, but we love the RightHeight riser, the CleanSpeak connection, and the Detangle feature. That last one helped this washer get the middle of our test comforter dry, which is no small feat.
If you want to raise your clothes drying experience to a higher level—literally and figuratively—this GE might be the right fit for your laundry room.