Laundry
GE GFWN1100LWW Front Loading Washing Machine Review
The GE GFWN1100LWW is a simple, entry-level front loader that offers up all the performance of a higher priced model, minus some of the fancy features.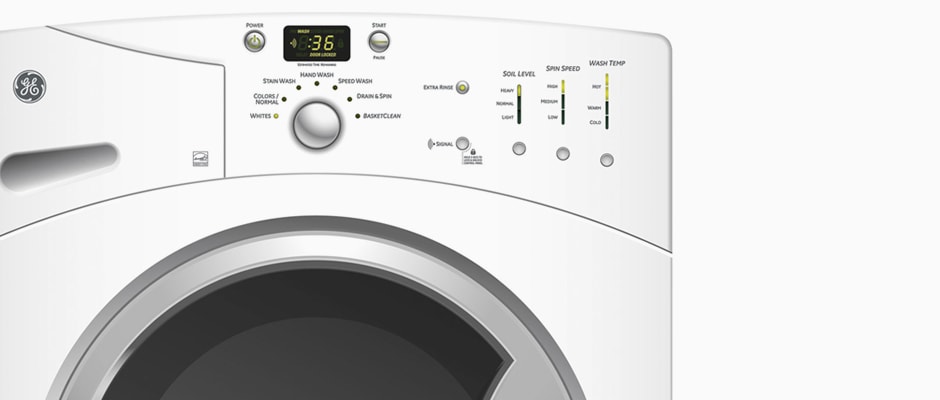 Credit:
Introduction
With an MSRP of $749, the is one of the least expensive front-loader washers on the market. For the low price, you sacrifice some features but get performance better than costlier models.
Front
Controls

Drawer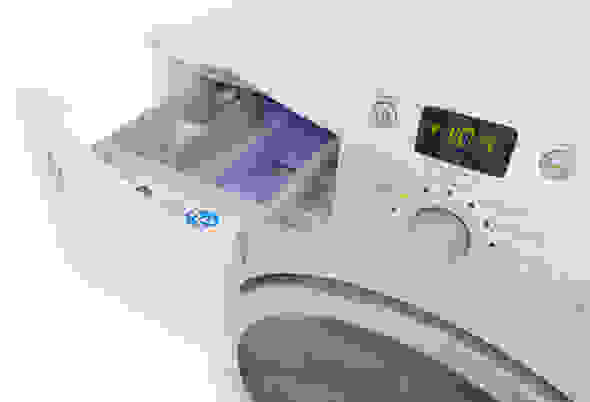 Interior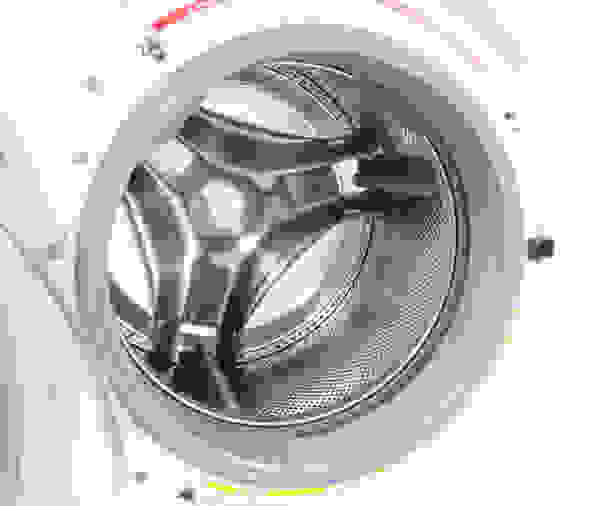 Sides
Back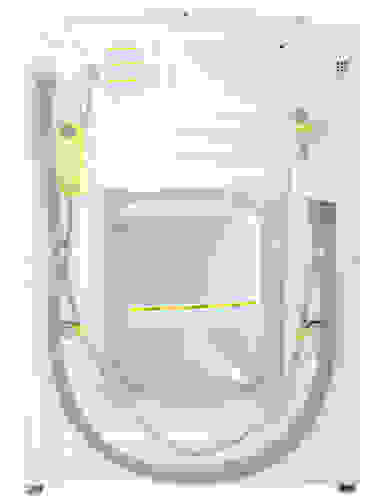 Electricity Use
Electricity use is a very small component of a washer's overall cost of ownership. The 's total average yearly electricity cost was a mere 92 cents.
Water Use
The used much more cold water than hot water, which helps to keep costs down. If you want to save even more, you can adjust the wash temperature to make each individual cycle only use cold water.
Cost Per Wash
None of the wash cycles on the are particularly expensive, ranging in cost per wash from 6 cents for a Speed Wash to 12 cents for the Stain Wash.
Yearly Running Cost
Altogether, we estimated the 's yearly cost to run at $30.49, which is around average for a front-load washer.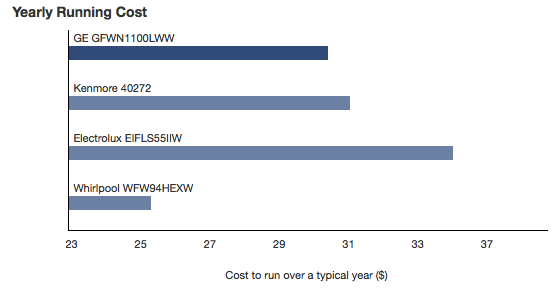 Washing Speed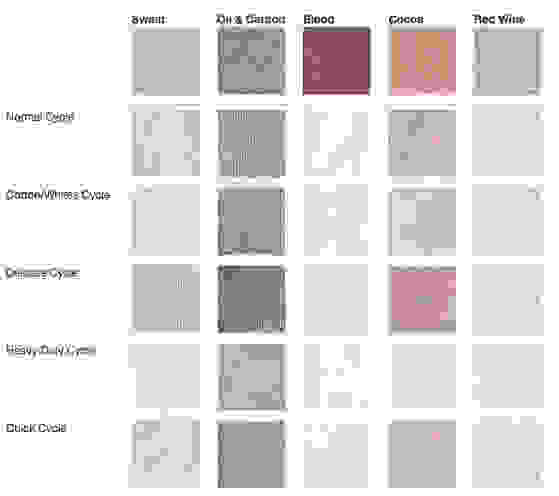 Normal/Permanent Press Cycle
The GE GFWN1100LWW's often-used Normal cycle did an admirable job getting stains out of our test fabrics, though it left behind a little more sweat and oil than some higher-end washers.

Cotton/Whites Cycle
Though it still had some trouble with sweat stains, the GE GFWN1100LWW had no problem lifting red wine, cocoa and blood from fabrics during the cotton cycle.
Delicate Cycle
Other washers did a better job cleaning delicate clothes than the GE GFWN1100LWW. That wasn't all. Clothes emerged still soapy and dripping wet, and more worn than other washers' delicate cycles.

Heavy Duty Cycle
While the Heavy Duty cycle sure took a long time to complete, it managed to wash out tough stains like cocoa and oil better than any other wash cycle we've seen on any of the washers we've tested. If you've got a stain on your favorite shirt, trust it to the GE GFWN1100LWW and it'll probably get it out.
Quick Wash Cycle
Though it's usually the weakest link among cycles, the GE GFWN1100LWW's Quick Wash actually did a pretty good job lifting stains. It also took 43 minutes, which means it wasn't all that quick after all.

Dirt Removal
Need to wash a softball uniform after sliding into second? Just finished working in the yard? Throw it in the GE GFWN1100LWW, because it will have no problems cleaning even the most heavily soiled clothes. In our tests, it removed nearly all the dirt we added to our test loads. It's the best dirt-removal performance we've ever seen.

Clothes Wear (1.11)
Even on the tough-as-nails Heavy Duty cycle, the GE GFWN1100LWW was as gentle on clothes as some of the normal cycles we've tested on other washers. We weren't impressed by its subpar delicates performance, however, as it left fabrics frayed, wet and soapy.
Water Retention (4.08)
Although the GE GFWN1100LWW's drum had no trouble spinning, it didn't always get all the water out of the wash load inside. This was especially apparent with the Delicates cycle, when clothes emerged so water-logged they weighed three times as much as they did when they went in.
Not only did the clothes that had gone through the GE GFWN1100LWW's Hand Wash cycle remain extremely wet, but they also emerged feeling soapy. If not re-rinsed, those soapy clothes would cause skin irritation and dryness.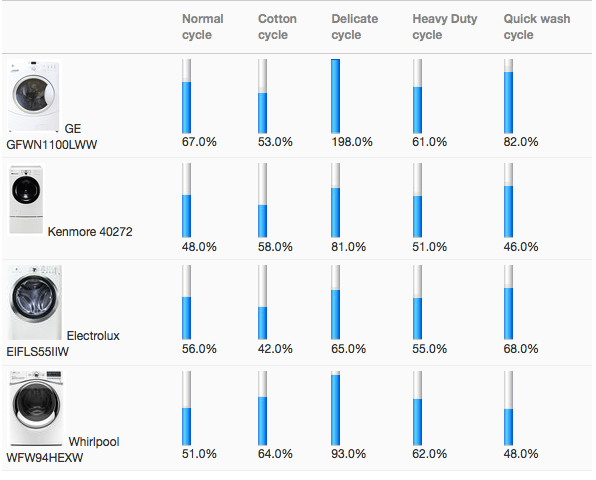 Washing Cycles
Customization
Each cycle has three levels of customization: Soil level, spin speed and wash temperature. If you want to add a rinse, there's a button for that, too.
Additional Wash Options

Washing Options

Detergent Dispenser
The detergent dispenser slides out from the front of the unit, with room for detergent, softener and bleach.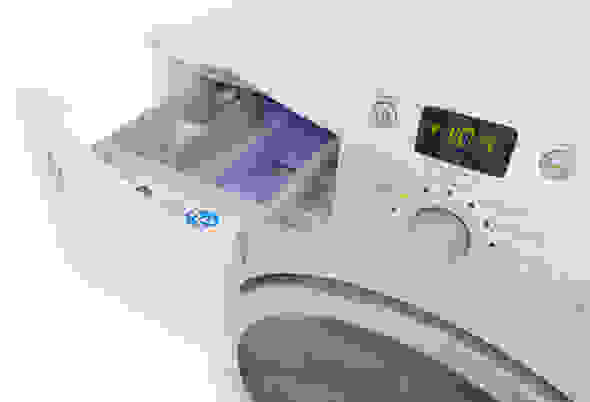 Washer Door
The 's door opens easily, from right to left.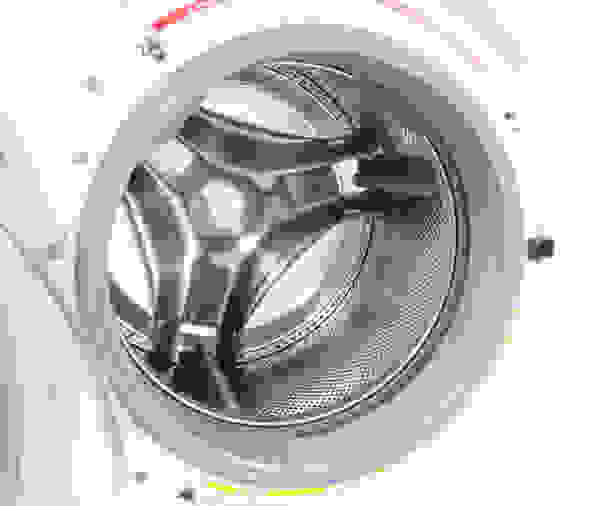 Ease of Use
All front-loaders require some bending over to load and unload clothes. Otherwise, the doesn't pose any challenges and would be a great washer for someone used to a simpler machine but in the market for an upgrade.
Controls
Unlike many modern high-end washers, whose busy control panels light up like Christmas trees, the has a well-labeled knob to select a cycle, and three selectors for soil level, spin speed and wash temperature. Other than that, there's a power button, start/pause button and selectors to add an extra rinse or silence the end-of-cycle signal.

Efficiency
The would cost on average about $30.49 annually. Its energy efficiency is helped by a lack of high-temperature, energy hogging specialty cycles -- though the thorough Stain Wash only costs about 11 cents per cycle.
Performance
Washing performance was very good. While the had some trouble with delicates, its Stain Wash cycle obliterated traces of cocoa, wine and oil better than any wash we've ever seen. It did well on the Normal and Whites cycles, too, though it had some trouble lifting sweat stains.
Features
The doesn't have too many features, and folks interested in simplicity may see that lack of specialty washes a feature in itself. Cycle speeds, temperature and intensity can be adjusted, and there's a button to add an extra rinse, but that's it. Luckily, the included cycles are well-chosen.