Laundry
GE GFWR4805FRR Washing Machine Review
Inside and out, this isn't your average washer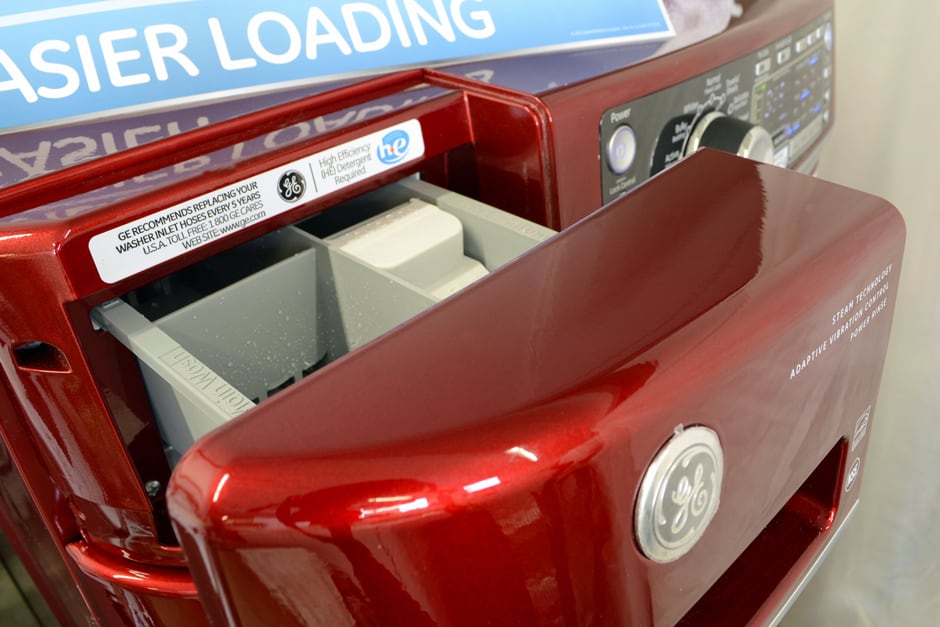 Credit:
Introduction
From the moment I saw the GE GFWR4805FRR (MSRP $ 1,499) I knew it was different. For one thing, it stands 47 inches tall thanks to a built-in riser that GE calls RightHeight. It's a design choice that has pros and cons depending on your personal situation, but we'll get to that later. For consumers who planned on paying extra for a pedestal, the built-in riser may even ease the sting of this washer's high pricetag.
As for performance, we had absolutely no complaints. It cleaned clothes well, fit a ton of laundry, didn't use a ton of water, and offered some interesting features. While our tests didn't put it at the top of the heap, the GFWR4805FRR is an above average machine. If this washer fits your budget and your laundry room, go right ahead and buy it.
Design & Usability
RightHeight, but for whom?
In theory, the RightHeight washer raises the door for easy loading and unloading, but keeps the top of the washer low enough to be an ideal work surface. I'm 5'8" and found the GE GFWR4805FRR a bit too tall to use comfortably as a work surface, but the riser did make it easier for me to load and retrieve laundry. Depending on your height, your experience may vary.
If you're planning to use the pedestal as a drawer, you're out of luck, as the riser is fixed. Likewise, a RightHeight washer and dryer set isn't stackable. If you've already decided to buy a washer with a corresponding pedestal, however, choosing the GFWR4805FRR may end up saving you a little money, as those pedestals can cost upwards of $110.
The giant door stuck a little every time we opened it, but a basket light was a nice touch. It'll likely prove helpful if you're installing this washer in a dark closet or basement. The control panel offered up a ton of options while remaining straightforward, and the rubber grip on the cycle selector was also a neat trick.
Here's a little pro tip: If you're looking to save $100 off the MSRP, choose the GFWR4800FWW. It's identical, except it lacks this model's fancy red finish.
Performance & Features
Good performance, but features make the difference here
On measures of stain removal, the GFWR4805FRR did its best on the Normal and Whites cycles, while the purportedly potent Power Clean cycle didn't particularly impress. Across the board, this GE had wash performance that proved just above average. Judging by cleaning power alone, the GFWR4805FRR is matched or marginally outclassed by others in its price range.
Features-wise, this washer has all the trappings of a high-end machine. A drum spins in two directions, supposedly to prevent clothes from tangling on one another. The Overnight Dry option spins the drum for an additional eight hours while running a fan to dry out your clothes. It's supposed to get 2.5 pounds of laundry dry in eight hours, or remove some excess water out of regular loads. We ran the Normal cycle with Overnight Dry and found that it got a standard eight pound load a full ten percent more dry than the regular Normal Cycle. Overnight Dry is only available on the Single Item, Normal, Active Wear, and Whites cycles.
There's also a stain removal guide which creates cycles for grass, wine, blood, tomato, and dirt stains. If you garden or play sports, we can imagine that you may have entire loads covered in grass and dirt stains. But unless you work on the sets of both Barefoot Contessa and Dexter, you're probably going to use the Single Item Wash here.
Conclusion
Cleaning performance that's just above average and some nifty wash features would put the GFWR4805FRR is in the middle of the pack among high-end front loaders. But a RightHeight riser makes this machine a little more user friendly than the rest. If stooping down is beneath you, the GE GFWR4805FRR might be the best choice for your laundry room. Despite the washer's extra height, that $1,499 MSRP isn't low, so we suggest you search for a sale.
Science Introduction
Every product that passes through our doors goes through a standardized battery of scientific tests. For washing machines, we're concerned with efficiency and cleaning performance.
Cleaning Performance
In order to objectively look at cleaning performance, we use standardized stain strips. Each strip is coated in things like cocoa and blood, both of which the GE GFWR4805FRR managed to plow through. Red wine also stood no chance. However, carbon and sweat put up a better fight. After placing the cleaned stain strips under a photospectrometer, we can determine that this GE got stains out better than the average washer, but no better than other machines that cost as much or even a little less.
Efficiency
To make dirty clothes wearable, they must be cleaned and dried. Cleaning clothes requires water and electricity. The GE GFWR4805FRR was a miser with both of these resources. Using an algorithm that factors in the average uses of various cycles, plus average water and energy costs, we determined that the yearly running cost to be around $30. That's half of what the least efficient machines on the market cost to run, but not surprising for a high efficiency front loader.
This GE also did well with drying. How wet laundry is when it comes out determines how long it needs to spend in the dryer. On average, test loads retained only 46 percent of their weight in water. Anything below 50 percent gets a gold star in our book.