Laundry
GE GTWN5550DWW Review
Behold the GE GTWN5550DWW in all its top loading glory.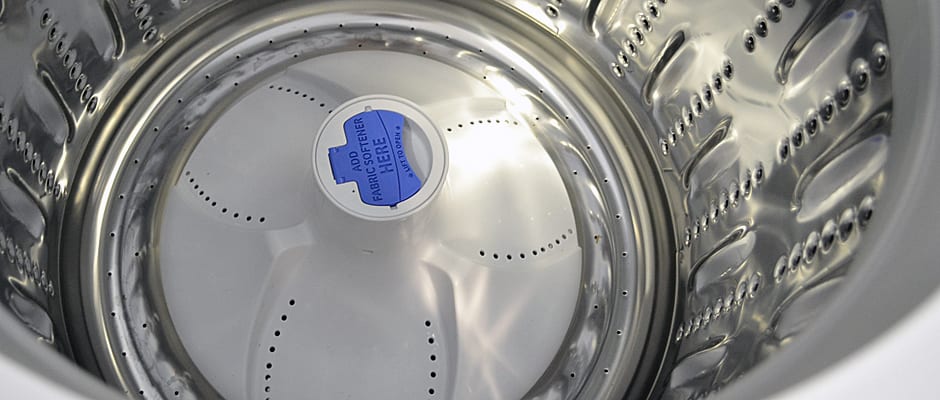 Credit:
Introduction
If you're looking for a top loader and don't want to spend a fortune, the GE GTWN5550DWW (MSRP $749) is a good pick. Most notably, it had a strong cleaning performance: red wine and oil stood little chance against the endless swish swish of this GE. The swish swish came at a price, though, and even on sale we couldn't find it for less than $620. It'll cost you to run, too, in water and energy use and premature clothes wear. Still, among washers of its kind, it's one of the best out there.
Design & Usability
Do not be concerned, the is designed to be easy to use.
Turn the knob, push the button. Even without repeating a thousand times, we knew how to operate the GE GTWN5550DWW. However, we did find that there were places on the knob for settings that didn't exist. Were they phantom cycles, or the promise of what might have been?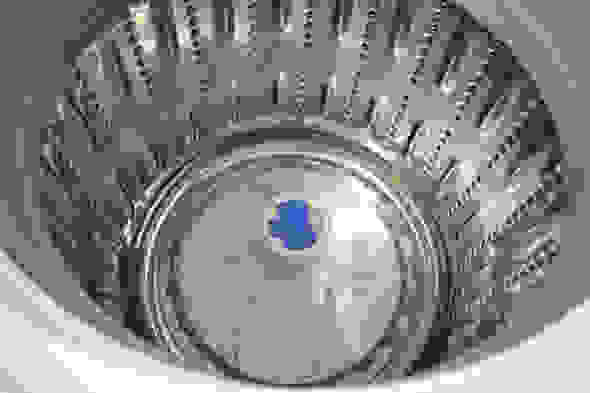 Once the washer started, we got a little nervous. Normally, we don't consider the noise of a washer to be an issue, but this one created some of the spookiest sounds we've heard from an appliance. As the drum turned left and right, it creaked and shrieked with a repetitive, high-pitched whine worthy of a Sounds of Halloween, Volume 3 CD.
It also lacks a dedicated detergent dispenser. As easy as it is to simply pour detergent on your laundry by hand, it is more effective to have water wash over detergent in order to evenly coat your clothing.
Performance & Features
The is a fair washer, and a good top-loader.
If a human being is, in essence, a great unwashing machine, this GE serves as a competent counterpoint to one's laundry dirtying. Quick and nimble, the GTWN5550DWW finished the washer race with mostly faded stains: blood, oil, and cocoa were all removed to a goodly standard. However, sweat stains didn't mind the washer's swish, swish that much and stuck around—the proverbial "ring around the collar." Fabric wear was noticeable. This was true on all of the cycles except for the Quick cycle, which didn't exist. Instead there was a detergent-free Rinse and Spin cycle, which the manual said was only for unsoiled laundry.
Conclusion
There are better washing machines out there, but amongst top loaders, this GE is one of the best.
The GE GTWN5550DWW had a strong washing performance. Red wine and carbon stains were given no quarter when dealing with this washer. Blood and sweat (but not tears) proved to be stauncher enemies, but were dealt with easily enough on the Whites and Heavy Duty cycles. That being said, on the more robust washes, the GTWN5550DWW frayed clothing more than some gentler machines. Despite its admirable performance, its $749 MSRP left us feeling that other washers offered more value.
Science Introduction
The did very well during our cleaning performance tests. Compared to more modern front-loaders it's inefficient, but amongst other top-loaders it's a miser. It doesn't come with kid gloves, but its low agitator means it's slightly more gentle on laundry than traditional top loaders.
Clothes Wear
It is inevitable that whenever you place your clothes in a washing machine they are going to come out a little more worn than when they went in.
To quantify just how much a wash cycle will damage clothing, we place mechanical action strips in the washer and begin a cycle. These pieces of cloth have five one-inch holes punched into them. After a cycle is complete we take these strips out and count how many threads are hanging one-centimeter or further from the edge.
After counting them all, we're tired... but we still analyze the numbers. The roughest cycle was the Heavy Duty with 77 threads and the gentlest was the Delicates at 24. The relative numbers are not surprising, but in absolute terms, it did pretty well. The "clothing wear" score wasn't great compared to most front-loaders, but for a top-loader it did OK.
Washing Performance
Stuff came out cleaner, but by how much?
In order to see what the could clean, we added in a few stain strips. These strips have patches containing common staining substances like red wine and cocoa. Placed in an eight pound load of laundry, we use a formula stable detergent in proportional amounts to the test loads we mass. When the finishing bell sounds, we take the test strips and place them under a light spectrometer to quantify how much of the stain is removed.
This is how we determined that the had trouble dealing with sebum on many of its cycles. The situation was rectified on the Whitest cycle which uses hotter water. Stains suffered even more under the Heavy Duty cycle. However, after an hour and ten minutes of running, your laundry will suffer plenty of collateral damage.
Other Tests