Laundry
GE GTWN5550DWW (4 Cu. Ft. / Top Loading / White ) Washing Machine Review
GE's GTWN5550DWW is a little pricey at $749, but it proved itself to be competent. It's a great choice for a top loading washing machine.
Introduction
Behold the in all its top loading glory. This washer managed to secure itself in the upper tiers of our top-loader lists. Most notably, it had a strong cleaning performance: Red wine and oil stood little chance against the endless swish swish of this GE. The swish swish came at a price, though: a $749 MSRP and $650 lowest sale price. It'll cost you to run, too -- not due to water or energy consumption, but because it prematurely wore out clothing. Even on the Delicates cycle, we would not recommend putting anything in that's irreplaceable.
Front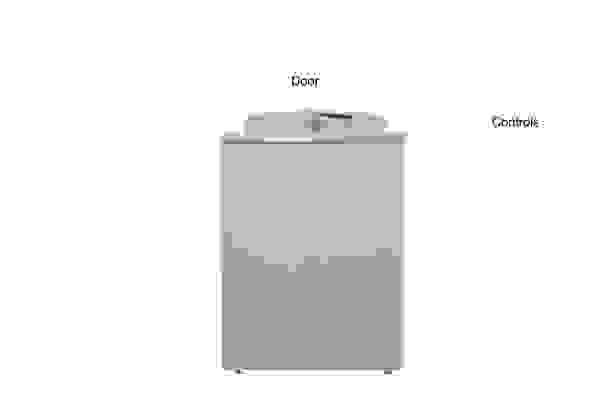 Controls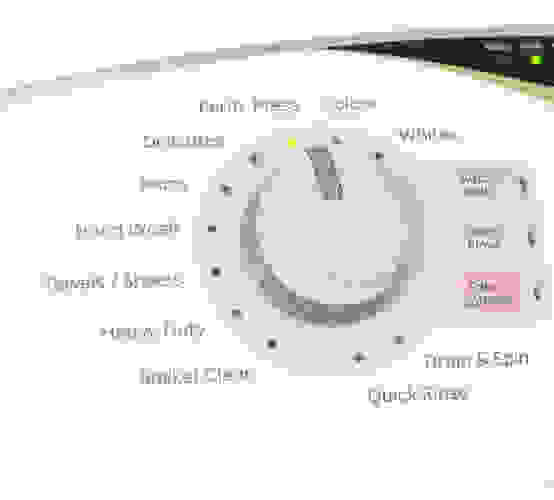 Interior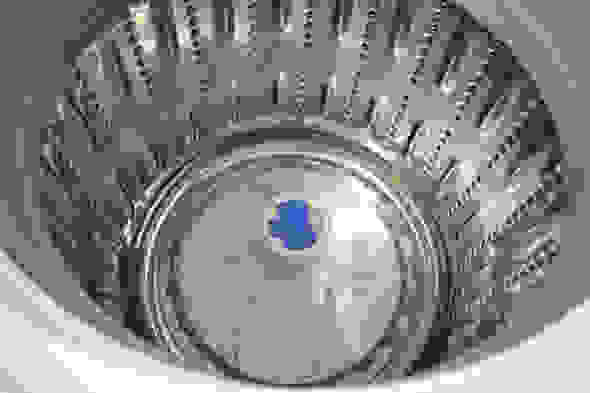 Sides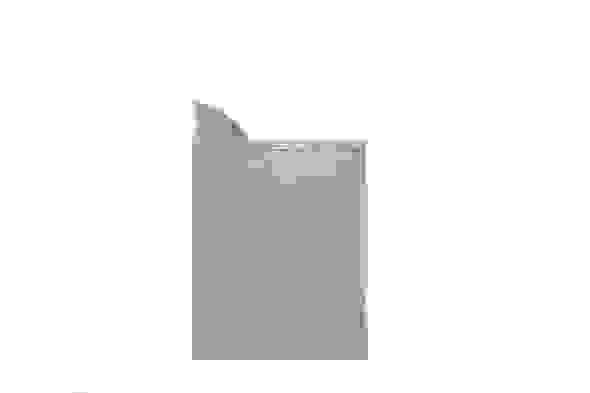 Back
Electricity Use
Michael Faraday may have created the first electrical dynamo, but it was the person who hooked a meter up to it that made the money. The tried to deny that person as much money as possible, as its Normal cycle consumed only about 122.3 watt-hours. The most power hungry cycle turned about to be the Heavy Duty cycle which consumed 160.2 watt-hours. We estimate that this washer will add about $4.55 to your yearly bill, if your costs are near the national average.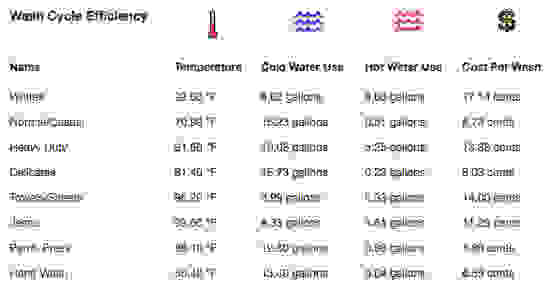 Water Use
According to the General Accounting Office there about 1.4 million miles of water pipes in the United States, enough to circle the Earth 56 times. By 2013 nearly half will have to replaced costing an upwards 1.2 trillion dollars to repair. Not to worry, the won't do a number on those pipes. It is highly efficient when compared to other top loaders.
The thirstiest cycle on this GE top loader was the Delicates cycle at 15.96 gallons. The Normal cycle used about 15.74 gallons. Using national averages, we calculate that this washer will add about $37.07 to your yearly water bill.
Cost Per Wash
The Whites cycle proved to be the most expensive to run at 17 cents. It only gets less expensive from there. Most people use the Normal cycle the most, which is a penny less than a dime per wash on average.
Yearly Running Cost
We like think of ourselves as forward thinking people. Case-in-point: We always buy green bananas. Our projections, based on national averages, peg the 's yearly operating costs at $41.62. It's higher than many front-loaders, but amongst top loaders, it ranks amongst the best.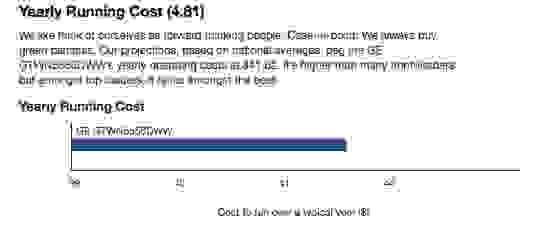 Washing Speed
Washing Performance (8.12)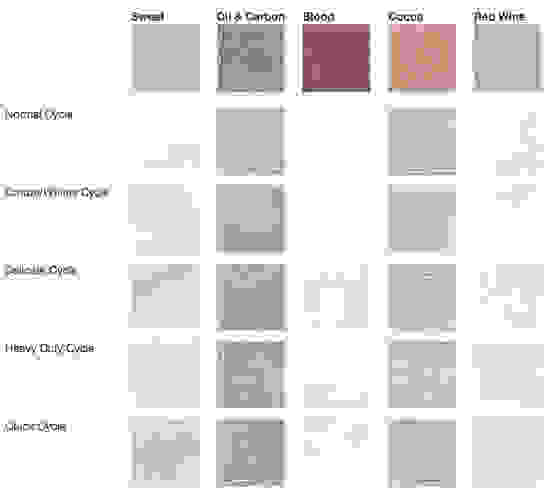 Normal/Permanent Press Cycle
All we ever wanted was to be normal. To make up for our lost dream, we used the Normal cycle -- known as Colors on this machine. Amongst the stains we presented this washer, it drove away red wine the most. Sebum didn't mind the washer that much and stuck around. Blood, oil, and cocoa were all removed to a goodly standard.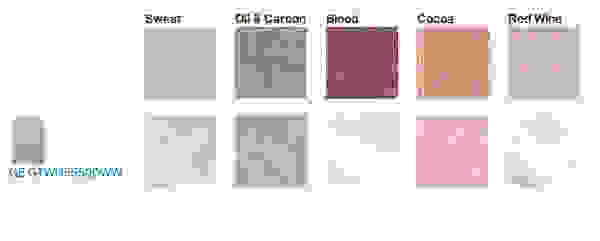 Cotton/Whites Cycle
What makes a good Cottons/Whites cycle, you ask? Heat and water. Whites cycles run at a higher temperature to work in conjunction with bleach and an extra rinse at the end to wash it away. The did not waste this extra heat and water. It matched or surpassed most washers on every stain. Don't take our word for it -- see for yourself!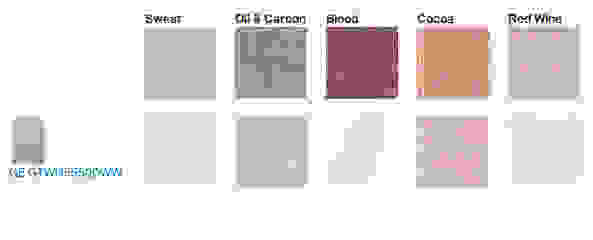 Delicate Cycle
Although this Delicates cycle released clothing less worn, its cleaning ability left much to be desired. We weren't surprised, since it takes a tough wash to make a clean load of laundry.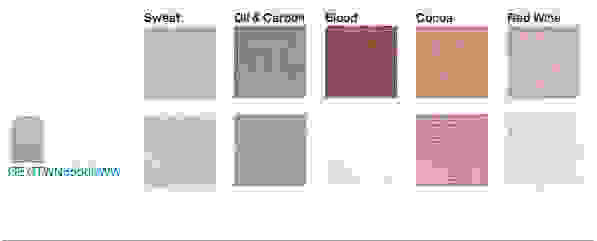 Heavy Duty Cycle
Stains will suffer if you place them in the set on Heavy Duty. Your laundry will receive collateral damage, coming out a lot worse for wear. Taking 70 minutes to complete, the Heavy Duty should be reserved for when it is really needed.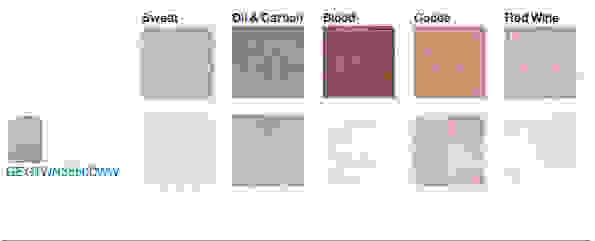 Quick Wash Cycle
The has no Quick Wash cycle. It has a Quick Rinse cycle which the manual recommends for non-soiled items. However, why would you put something that isn't dirty into the washing machine? Is it as silly as putting dirt into the washing machine? ...We just broke our brain.
Clothes Wear (4.18)
Like the difference between grizzly bears and teddy bears, the prevailing belief is that top loaders are less gentle than front loaders. This is due to their pole agitators, which physically pull the laundry around in order to get it clean. The has no pole agitator. Instead, it has a "wash plate" -- a moving disc at the bottom of the drum that swishes around the water in the drum, and by extension moves the clothing that's floating in that water. It's more gentle than other top loaders, but only middle of the road when pitted against front loaders.
Water Retention (2.90)
What goes in must come out, by one means or another. For the , any water that goes in must either be spun out to be drained or it'll be retained in the laundry load. That water then has to be evaporated by some means, usually a dryer.
In this case, less is more. The less water that's retained at the end of a washing cycle, the more time and money you'll save when running the dryer. On average, the left 70 percent of a test load's weight in water. Ideally, we'd like to see 50% or less. In this regard, this GE stumbled.
Washing Cycles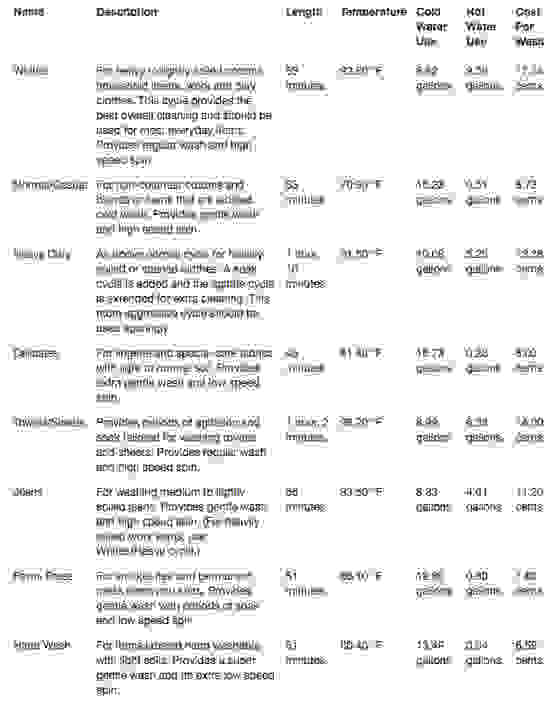 Customization
We calculated that the has a total of 20 unique wash cycle combinations accounting for temperature, spin speed any any special options. That's a fairly low number of settings. The Hotpoint HTWP1200DWW had over 108 settings. However, this works in the GE's favor. The simplicity adds to its ease of use. Also, the ability to save your favorite settings was a useful feature.
Additional Wash Options
The essentially offers three additional wash options: an "auto soak" option for before the wash, a rinse tailored to adding fabric softener during the wash, and an extra rinse for after the wash.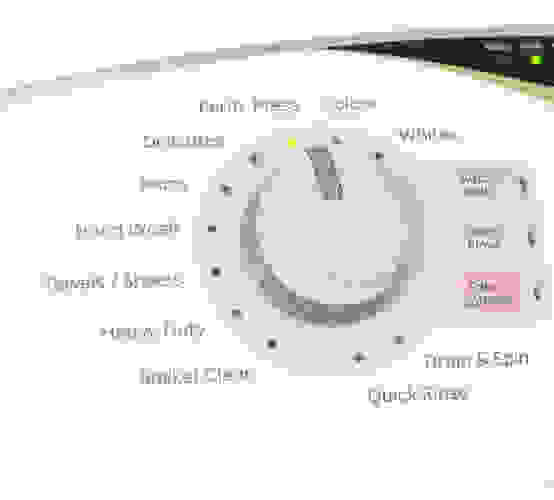 Washing Options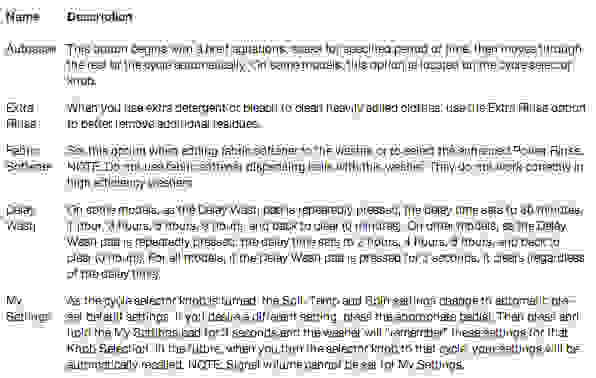 Detergent Dispenser
The has one of the best looking detergent dispensers we've ever seen, and any mirror or reflective surface will reveal it. All joking aside, this GE has a dispenser for bleach and fabric softener, but none for detergent. As easy as it is to simply pour detergent on your laundry, it is more effective to have water wash over detergent in order to evenly coat your clothing.
Washer Door
The door of the , like many other top-loaders, slams. There is no slightly ajar here. Either it is completely open or gravity will take its course.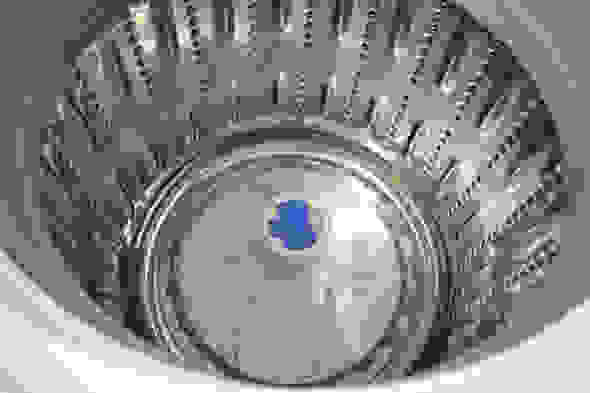 Ease of Use
The was easy to use in most cases. Being a top loader and in a well lit room, we were able to open the top and see all our laundry. We were able to put our laundry basket on the same level as the door. This made it so we didn't have to get on our knees to transfer our laundry. On the flip side, if you're in a poorly lit, cramped room and trying to get wet laundry into a dryer, we can envision a scenario were the would be a hassle to use.
Controls
Turn the knob, push the button. Even without repeating a thousand times, you will know how to operate the . However, we did find that the were places on the knob for settings that didn't exist. Are they phantom cycles, or the promise of what could be?
Normally, we don't consider the noise of a washer to be an issue, but this one emanated some of the most terrifying sounds we'd ever heard. As the drum turned left and right, it creaked and shrieked with a repetitive, high-pitched wail worthy of a Sounds of Halloween, Volume 3 CD.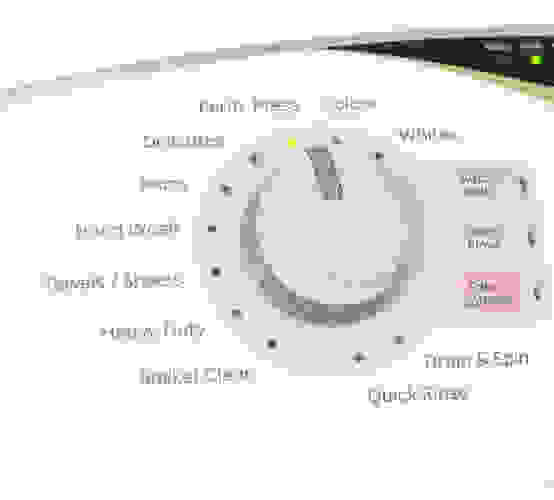 Efficiency
The physics of top loaders demands that they must put more water in their drums to "float" laundry around. The 's Normal cycle used about 15.74 gallons of water. By comparison, the front-loading Electrolux EWFLS70JIW's Normal cycle used about 11.54 gallons even though it has a .4 cubic foot advantage in capacity. In the long run, this GE top loader will probably cost a little under $42 a year to operate.
Performance
The had a strong washing performance. Red wine and oil were given no comfort when dealing with this washer. Blood and sebum proved to be stauncher enemies, but were dealt with easily enough on the Whites and Heavy Duty cycles. That being said, on the more robust cycles, the frayed clothing more than some gentler machines.
Features
The keeps features to the minimum. In this way, GE keeps frivolous options away from this cheaper machine. Auto soak, fabric softener, and extra rinse are the only real features that this washer offers. Though it does have a useful countdown timer on its display, the washer's utilitarian nature keeps confusion at bay and ease of use on the up and up.