Laundry
GE Profile Harmony PTWN8050MWW Review
GE named this high-capacity washer "Harmony," but in our tests it was slightly out of tune.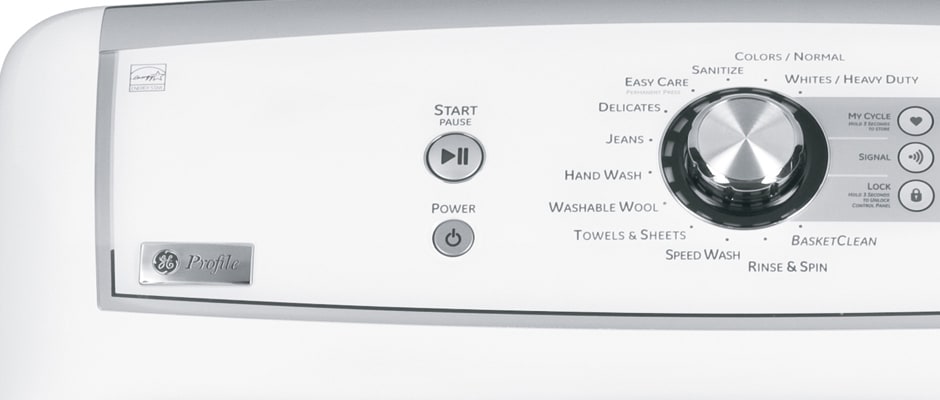 Credit:
Introduction
There's nothing fundamentally wrong with this machine; it tested with impressive efficiency and average stain and debris removal. Our issues with the PTWN8050MWW are more a quartet of quibbles than a chorus of complaints.
Still, the GE's $1199 MSRP is a Carnegie Hall price tag that's tone deaf to the market.
Design & Usability
Note for note, the control panel is especially atonal.
The control panel turned out to be a source of frustration.
To begin with, the PTWN8050MWW is a big top-loading washer manufactured by LG for GE. For $100 more, you can get it with a stainless steel exterior.
The 's control panel doesn't look foreboding, but it turned out to be a source of frustration. The "power" button has a significant delay, which means you can turn the machine on and off again accidentally if you don't wait a few seconds for it to start up. Other buttons required multiple presses, and the cycle selector did not remember the cycle we used last. It's too bad, because the GE has a very straightforward panel setup that even technophobes would find easy to understand.
Performance & Features
This is where the melody trails off. Clothes get clean, but some cycles are stronger than others.
The Heavy Duty cycle struggled with oil-based stains and even had trouble removing blood and cocoa.
The Normal cycle may be the one that's used most often, but unfortunately it was the weakest one featured on the . It especially struggled with oil-based stains. If you've got particularly dirty clothes, a more intense cycle may be a better idea, and on this washer it doesn't get more intense than the Heavy Duty cycle.
Unfortunately other washers do better with this cycle, too: it also struggled with oil-based stains, and even had trouble removing blood and cocoa.
Conclusion
Perhaps this Profile Harmony should try singing a different tune.
With its fancy design and its $1199 MSRP, we were expecting quite a show when the GE Profile Harmony came on stage in our labs. Unfortunately, though we'd paid a Las Vegas ticket price, we ended up with a Branson-level act.
Unless you absolutely need a high-capacity washer, or for some reason like to watch The Best of The Lawrence Welk Show on VHS, you can find a washer that's a better value. We just aren't impressed with this machine's inconsistent results, however lush its cycle arrangement may be.
Science Introduction
For its $1199 MSRP, we felt that the wasn't a very good value. It only had a moderate cleaning performance, and none of the cycles were really able to deal with hydrophobic substances like oil. We were befuddled by the fact that this machine combines the Whites and Heavy Duty cycle, particularly since it only seemed to inherit the worst aspects of each.
Performance Tests: Cleaning
We won't be asking this washer for an encore.
To determine a washer's cleaning performance we use strips of cloth stained with common enemies of cleanliness. Each strip is divided up into sebum (sweat), oil, blood, red wine, and cocoa. After select wash cycles, strips are taken out and scanned by a light spectrometer. These readings are compared to control samples to determine how much of the stain has been lifted.
The had trouble dealing with almost everything we threw at it. The Whites/Heavy Duty cycle was stumped by oil, cocoa, and blood stains. If you're thinking about buying this machine and want clean clothes, best avoid these substances. In fact, avoid the outside world in general.
Performance Tests: Efficiency
A top-loader that costs less to run than an SRO ticket.
The rule of thumb is that top-loaders use a lot of water. It's true that the used more than the average front-loader, but it did manage to come out with more conservative rates of consumption than many other top-loaders. The water meters that we hooked up indicated that most cycles use between 14 and 30 gallons, which is pretty good considering this washer's large capacity. Combined with its low electricity use, a year of running the PTWN8050MWW will set you back about $46. That's not bad for a top loading washer, as they usually cost more than $50 per year to operate.
Performance Tests: Clothes Wear
Things fall apart.
It is inevitable that whenever you place your clothes in a washing machine they are going to come out a little more worn than when they went in; how much varies widely between machines. To test this, we put in mechanical action strips which have five one-inch holes stamped into them. After the cycle is complete, we take the strips out and count how many threads have come loose.
We were not impressed with the numbers the produced. It was universally rough on our test strips. Even the Delicates cycle didn't lessen the agitation of the water.