Laundry
Hotpoint HTDP120EDWW Review
Perfect for those with a certain sense of nostalgia.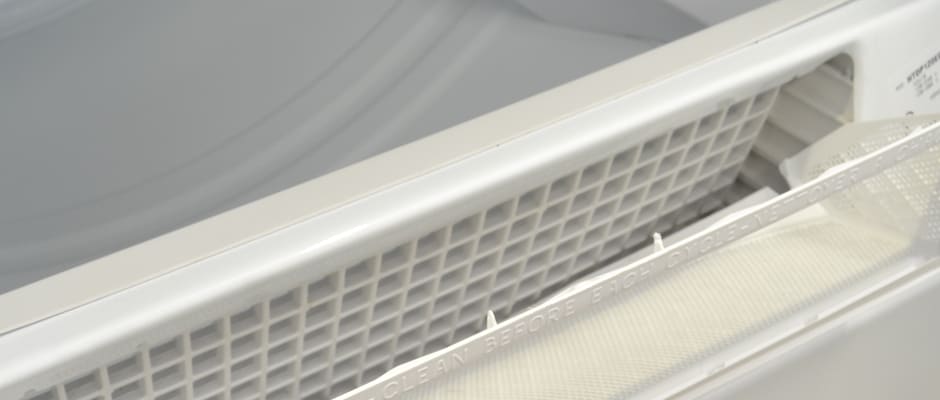 Credit:
Introduction
Find yourself thinking back on the olden days, when life was easier and chores were more straightforward? Ever catch yourself wishing that laundry was simpler, and that you didn't have to navigate through all those buttons and features that so clutter today's modern appliances? Looking to save a bucket-load of money? Well, look no further than the . This dryer looks and feels like an appliance you'd find in a home two generations ago, and works with the same over-heated approach that got clothes so warm and toasty back in the 1960's. With a crank timer, a flimsy lint trap, and virtually no extra features or superfluous cycles to over-complicate things, this dryer is perfect for consumers with that certain sense of nostalgia.
On a genuinely positive note, this dryer is a budget-conscious consumer's dream, with an MSRP of $479. With online sale prices as low as $360, that makes it one of—if not the —cheapest models we've tested that actually gets your clothes completely dry more often than not. True, temperatures peaked a bit higher than we usually like to see, but if you don't typically clean expensive clothes or delicate fabrics at home, this machine is actually a really good buy. Even though it may look like a bit of underwhelming throwback to an earlier era, you'll want to consider this one if general performance and price tags are two of your top concerns.
Design & Usability
A plain-featured, low-tech drying option for consumers on a budget
This Hotpoint offers no cycle duration estimate—only vague levels of dryness.
The controls on the are fairly simple, if somewhat vague. On modern dryers that cost more than this Hotpoint, you can time your manual cycles down to the minute, and the automated cycles have buttons that select a definite and predetermined dryness level or temperature setting. This Hotpoint offers no cycle duration estimate—only vague levels of dryness, and a crank timer that can only offer a ballpark figure for the manually timed options. Cold comfort, at least, that the knobs themselves are relatively durable and don't run the risk of popping off in your hand, and the labels are large enough to read easily.
The door is sturdy enough: a solid piece of metal that's reversible, doesn't require too much force to open, and doesn't need to be slammed shut. It feels a little flimsy, but not to the point of suspicion. Like many other design elements encountered on this , the lint trap is quite small and feels very flimsy. It's easy enough to clean, though, and its small size will ensure that you clean it often, because it fills up very quickly.
Performance & Features
This budget dryer works like a heat bomb, bringing an old-school simplicity to laundry
Simple is as simple does; there is nothing fancy going on here. There are really only three different cycle options present on the . You can choose from Cottons, Wrinkle Free, or Timed Dry. In order to accommodate different fabric types, you have to adjust the temperature (for instance, low heats are labeled "Delicate") or move the timer so as to lengthen or shorten the specific cycle. As for features, this dinosaur doesn't even have basic wrinkle prevention.
The Hotpoint's older design and lack of extra features makes it an ideal workhorse dryer...
Insofar as performance goes though, standard drying did just fine, even though some of the more specialized tests failed to deliver in certain ways. Cycles took an average length of time, and clothes got completely dry on half of the cycles tested. Temperatures were what you'd expect to see from a basic, low-end dryer like this: a bit warmer than average across the board, good enough for sturdy and durable fabrics but with the risk of causing extra damage to lighter materials over time. The Hotpoint's older design and lack of extra features makes it an ideal workhorse dryer though—a machine built to tackle standard loads, with solid results on Normal, Delicate, and Quick cycles. The only test load that came out damp was the Bulky cycle, which is more or less the normal—especially on low-end machines—since it's really hard to tumble dry a massive comforter that likes to fold in on itself.
Conclusion
Cutting edge drying technology...from two generations ago. A throwback gem or a throwaway?
The is about as low as you can get in terms of budget and visual flair for a dryer that still manages to do what it's supposed to. The crank timer, lack of extra features, and almost painfully bland design can easily put you in mind of the early seventies.
Despite its simplicity and somewhat archaic layout, though, it's actually a pretty good dryer. Cycles ran for an average amount of time, temperatures got a bit hotter than we like to see—though not as hot as on some other models—but nevertheless, clothes came out completely dry for almost every test we conducted. There aren't any specialty cycles available, and not a single extra feature to its name, but you're nevertheless getting more than you pay for. The $479 MSRP makes this machine one of the cheapest dryers we've tested, if not the cheapest, and with sale prices online as low as $360, the fact that it does so well at drying clothes makes it a truly excellent bargain.
Science Introduction
On the whole, the got the job done, though tests revealed some excessive temperatures, which tend to put lighter materials at risk over time. While standard drying did just fine, some of the more specialized cycles failed a few of our tests.
Water Retention and Cycle Duration
Buyers want dryers that can dry, but they also want timeliness.
Most of the cycles we tested did well on the most basic tests, namely water retention and cycle duration.
Since this model has no official Normal cycle, we followed the manual and used the recommended Cottons More Dry automatic setting with regular heat, and clothes got completely dry in about an hour. This is fantastic for such a low-cost machine. To perform our Delicate test, we selected the same cycle settings that we used for the Normal test but using low (or Delicate) heat. The results were great. In just under a full hour, the managed to get our materials entirely dry. Even the Quick cycle test went well, which can't be said for many of the machines we test—even some high-end models. For the Quick Dry cycle, we ran Timed Dry for 30 minutes on regular heat and clothes got 91 percent of the way down to their original bone dry weight. The only disappointment in terms of water retention was the Bulky cycle test, which worked for 45 minutes and only removed 61% of the moisture from our test load.
Temperatures
Low temperatures can mean inefficient drying, but excessively high temperatures mean unnecessary wear on clothes.
Certain cycles on this Hotpoint get too hot, which can give fabrics a tough time—especially lighter or brightly colored ones, which will wear and fade with continual exposure to high temperatures. Our tests results offer some great insight for launderers that wind up purchasing this Hotpoint.
On the Normal test—which we ran using regular heat on the Cottons More Dry automatic setting—temperatures were a bit high, peaking at 151ºF. This should be fine for materials that are tough and built to last, but softer fabrics or clothing with bright colors may start to wear and fade faster than in a gentler appliance.
The Quick cycle peaked at just 133ºF. With this cycle getting clothes nearly as dry in half the time and at temperatures that were almost 20º cooler than that of the Cottons cycle that we used for our Normal test, a quick Timed Dry load turns out to be proportionally more effective.
Finally, the Delicates test—which we ran on low heat on the Cottons More Dry automatic setting—peaked at 132º. While this was an undoubtedly gentler cycle than what we used for our Normal test, it was still warmer than the average Delicate settings on other, more advanced machines. It does a good job for a budget appliance, but it may result in increased wear and fading on more fragile materials, so use it cautiously.