Laundry
Hotpoint HTWP1200DWW 3.5 Cu. Ft. White Top Load Washing Machine Review
Hotpoint's HTWP1200DWW is a cheap washer that does as advertised.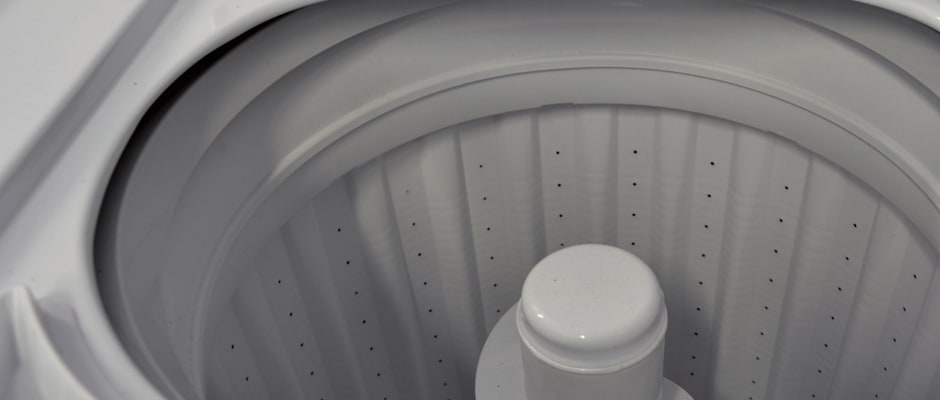 Credit:
Introduction
The is one of the cheapest washers commercially available. Originally retailing for $479, we found one for as low as $450. Everything from its price to design scheme just screams, "it just gets the job done." For the most part it did just that. It exhibited a knack for removing stains. However, it was a little heavy handed, and even during its gentlest cycles clothing was frayed. We also found that this washer has one of the highest operating costs we've encountered thus far. Costing about $73 a year to run, this machine saved little for the fishes.
Front
Controls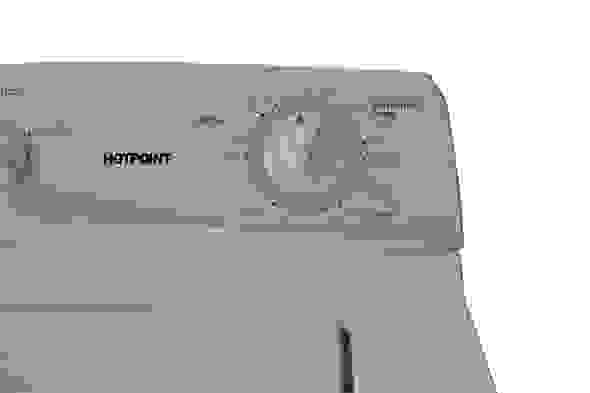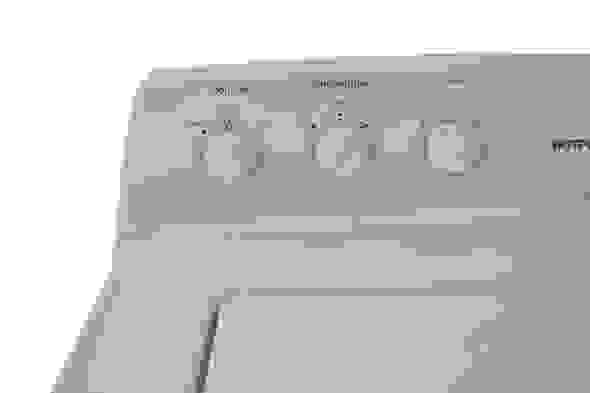 Interior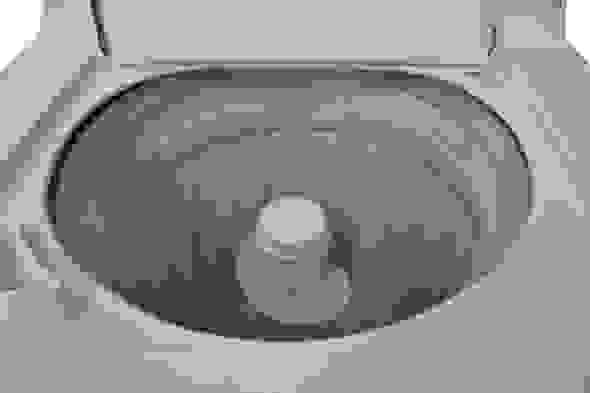 Sides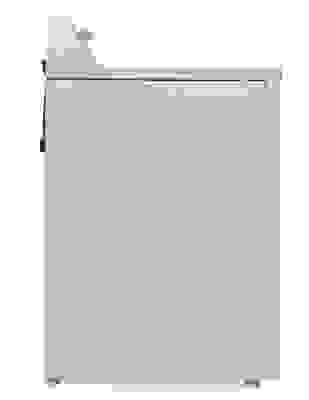 Back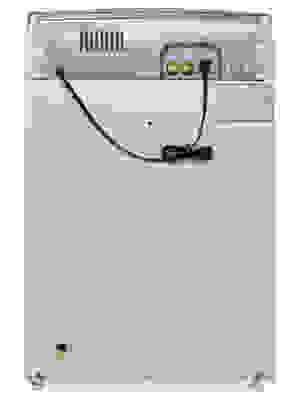 Electricity Use
Power consumption is only a small portion of most washers' operating costs. The was no exception. We calculated a yearly electricity bill of $4.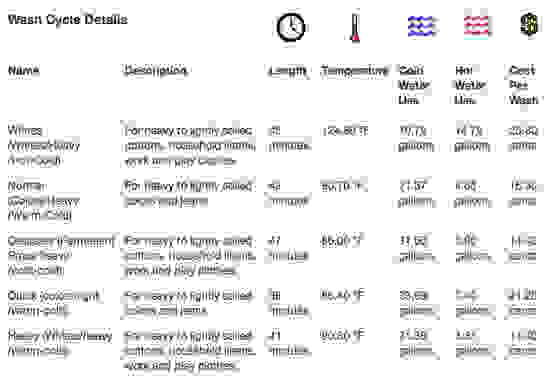 Water Use
Based their design, top loaders use more water than their front loading counterparts, since they "float" laundry to move it around the drum. The 's usage ran from 24.67 gallons on the Heavy cycle to 31.5 gallons on Permanent Press.
Cost Per Wash
We'd like our washers to be spendthrifts, but the was like a trust fund baby with a no limit credit card. Cost per wash ran from 14 to over 25 cents. As you may have guessed, that's on the high side. The whites cycle, which cost 25.8 cents to complete, was one of the most expensive laundry cycles we've encountered thus far.
Yearly Running Cost
If your energy and water costs are close the national average, the will cost about $73.03 a year to run. It surpasses most of its top-loader brethren and the most gluttonous front loaders by about $20.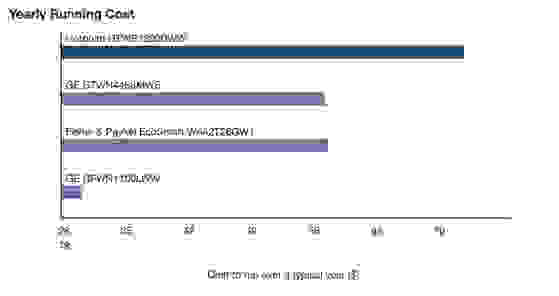 Washing Speed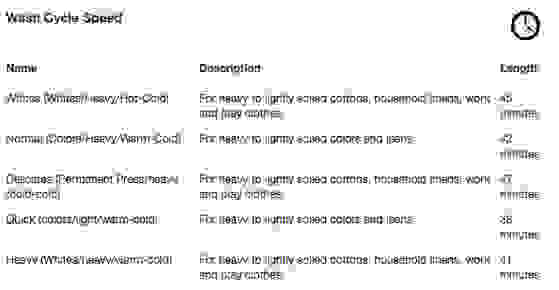 Washing Performance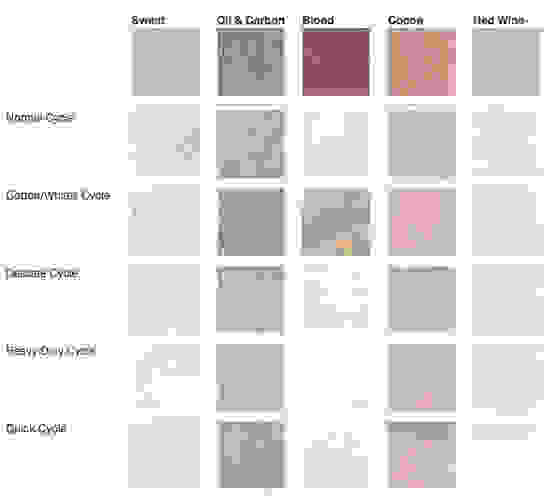 Normal/Permanent Press Cycle
As you can see, the Hotpoint HTWP1200DWW took no prisoners when it came to stains. Since this model didn't have a Normal cycle per se, we set it to a Heavy Color cycle running from cold to warm. The cycle finished in 42 minutes and wowed us with how clean the stain strips got, especially with the protein-based patches.

Cotton/Whites Cycle
The Hotpoint HTWP1200DWW didn't have a Cotton cycle so we used a Heavy White cycle on the warm-to-hot setting. After 45 minutes, we took out our test strips and were impressed by how clean they got. However, the stain on the blood patch didn't fully come out, instead becoming blotchy. We suspect that some of the rehydrated blood was pushed around rather than lifted out.

Delicate Cycle
In lieu of a Delicates cycle we chose to put the Hotpoint HTWP1200DWW on Permanent Press running a cold-to-cold wash. Permanent Press offers a more gentle wash cycle. In the case of the HTWP1200DWW, the pole agitator moved in pulses rather than in a continuous spin. This exposes clothing to less destructive kinetic energy. Overall, the stain removal was less than that of the whites or normal cycles, but still very good considering this washer's price point.
Still, we can't give this cycle our full approval. A Delicate cycle is supposed to be gentle to clothing, but when we analyzed the wear this cycle caused, the numbers didn't significantly differ from either normal or whites.
Heavy Duty Cycle
Sometimes you just need a little extra oomph in your laundry cycle, so you set it to Heavy Duty. The Hotpoint HTWP1200DWW didn't specifically have one, so the next closest thing was putting it on Heavy Whites running a cold-warm wash. The stain strips we put in got fairly clean, but no cleaner than the Whites or Normal cycles.

Quick Wash Cycle
On the other end of the spectrum from Heavy Duty, there should be a Quick Wash for the times you just want to freshen up your clothes. This Hotpoint had no such cycle, so we used a light colors wash with warm to cold water and we set the Hotpoint HTWP1200DWW on its small load setting. After 32 minutes the washer stopped, and we found our stain strips to be fairly clean. The cleanliness surpassed most other top loading washers, especially on the protein based stains.
Clothes Wear
If we had to imagine personified versions of the Hotpoint HTWP1200DWW and stain strips, we would envision the washer beating the stains into submission. It didn't matter what cycle we put it on, our mechanical action test strips – standardized pieces of delicate cloth with five holes in them – came out a little more ragged then we would have liked. Learn more about mechanical action strips and our testing methods here You should be mindful that, over the life of the washer, the Hotpoint's low price may be offset by the damage to your clothing.
Water Retention
At the end of a wash cycle the Hotpoint HTWP1200DWW was supposed to drain and spin out as much excess water as it could. Any water left over can give laundry a musty smell if left there for too long and will increase the amount of energy the dryer will need to expend. Ideally, we like to see a water retention level under 50 percent. Overall, the HTWP1200DWW did a poor job of removing excess water. This washer left an average of 65 percent of the laundry's weight in water behind. That number increased up to 71 percent for the heavy duty cycle.

Washing Cycles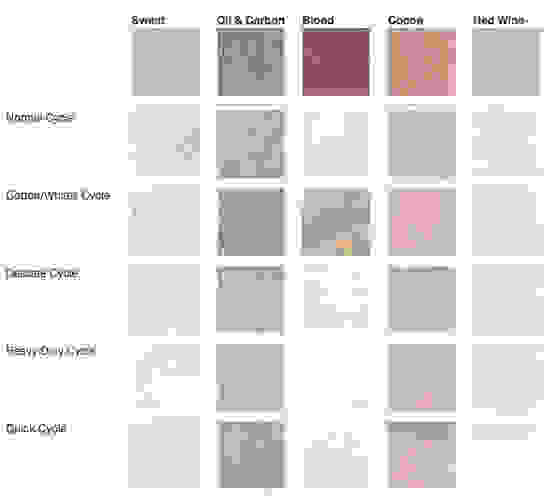 Customization
There are three different cycles: Colors, Whites, and Permanent Press. In addition, you can set each of these cycles to either a light or heavy setting. You can also set the washer for a small, large or super sized load. Temperature wise, there's cold to cold, cold to warm and warm to hot, in real terms these temperatures ranged from 85 to 124 degrees. Finally, you can turn power rise on or off which is supposed to wash away an excess fabric softener. Doing the math, there are 108 different settings. Although that's a lot of settings, it doesn't offer a lot of control. For example, spin speed and water usage will be beyond your ability to effect.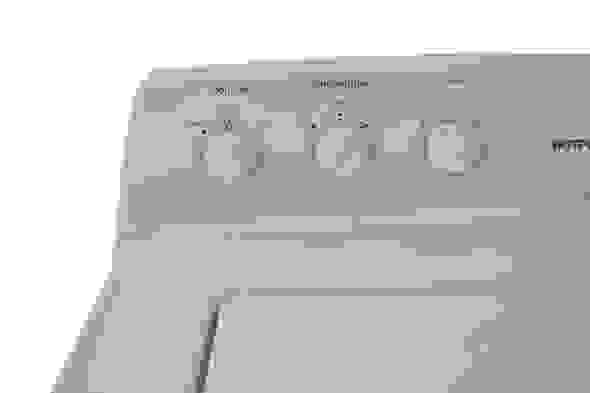 Additional Wash Options
Beyond the wash cycles, temperature, and load size, the has a power rinse feature used to wash away excess fabric softener. It would have been nice to see the option to add an extra spin at the end due to the high water retention that this washer had. We'd also like to have been able to control the spin speed in order to curtail some of the damage that this washer did.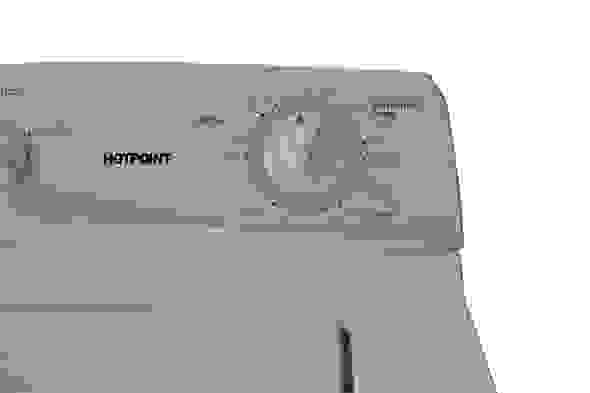 Washing Options
Detergent Dispenser
For this Hotpoint washer you are the detergent dispenser. No drawers or pans, just dump a cup of your favorite detergent directly into the and hope it gets distributed evenly.
Washer Door
The will slam shut when you let go of it. Though simple and effective, it may prove a challenge for anyone attempting to multitask.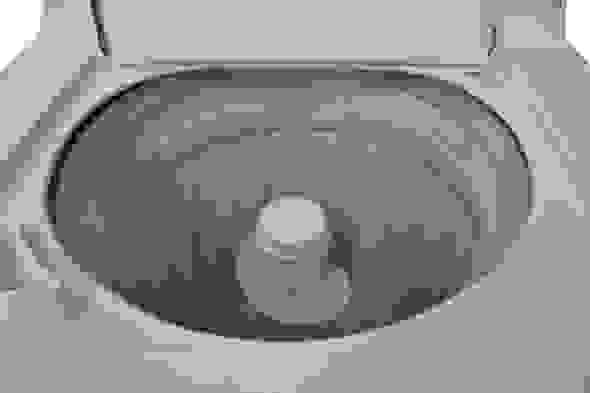 Ease of Use
The was simple to use, but it wasn't easy. For example, after setting all the dials to their desired settings, you pull the main knob and the machine rumbles to a start, but it never gives any signal that its done. Also, the four dials that control the washer are simple and straightforward, but are so simplistic that there seems to be gaps in their coverage such as a lack of a heavy-duty cycle or the ability to add an extra spin to help dry out our clothing. Finally, when all our laundry was done, we found it a tad difficult to get our load out as all the material inside clung to the sides in wet clumps. This washer would not be recommended to anyone with a back problem because they will need to do some light acrobatics to retrieve their items.
Controls
"Four knobs and a door that slams", sounds like the start of a dirty joke. However, it's the control scheme to the .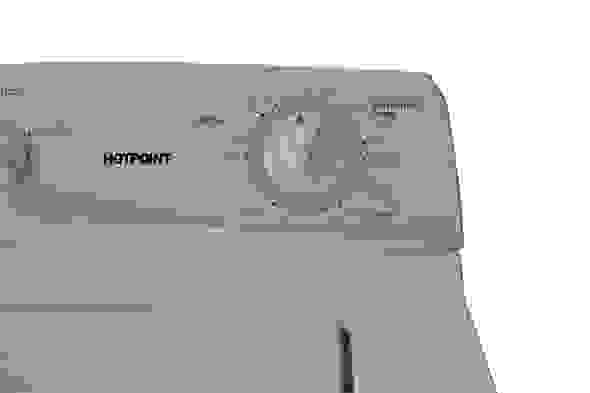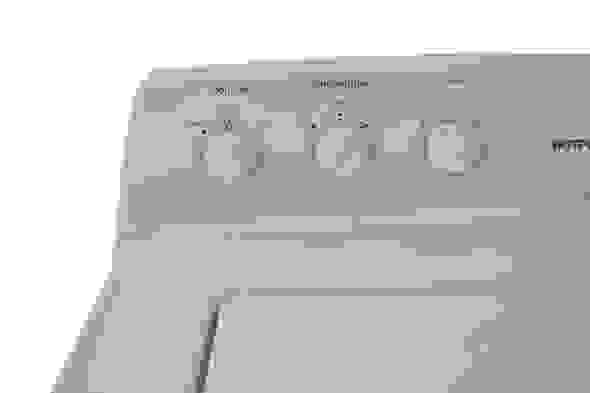 Efficiency
This machine guzzled water. We estimated the yearly operating costs to be around $73.03, one of the highest we've seen thus far. That doesn't take into account the extra time you'll have to keep your clothes in the dryer because the left our laundry water logged, weighing on average 65% heavier than when it went in.
Performance
The surprised us with its ability to get out stains, especially blood and sweat. What we weren't impressed with was how frayed our clothing got after the washer was done with it. Even the supposed gentle permanent press cycle tore at threads.
Features
The has few features. The four dials that it carries control temperature, cycle type, load type, and the extra rinse option.