Laundry
Kenmore 29133 Washing Machine Review
This top-loading washer is all business.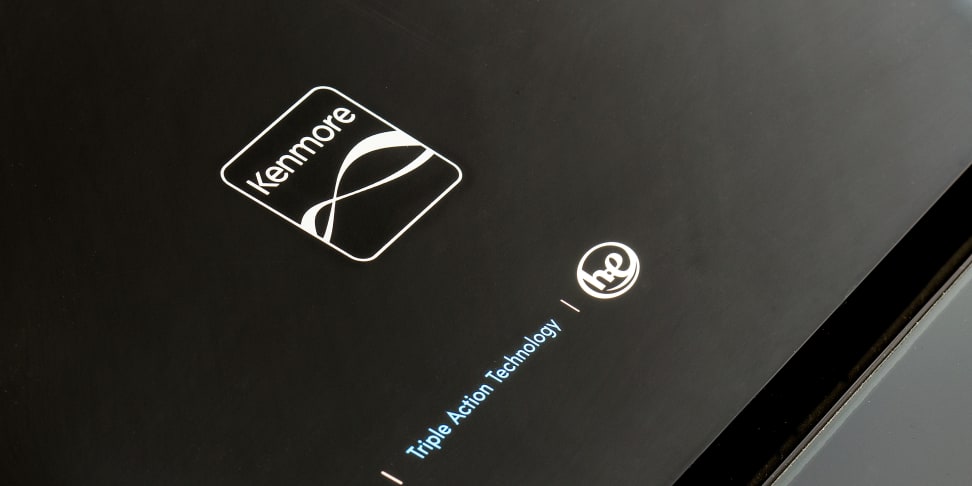 Credit: Reviewed.com / Jonathan Chan
By the Numbers
Objective testing is what separates a washing machine review from a washing machine advertisement. Kenmore claims its 29133 top-loading washer is head and shoulders above the rest. While the 29133 certainly isn't bad, it isn't spectacular. On this page, we'll explain the data that led to this conclusion. For more information on how we test, click here.
The Kenmore 29133 (MSRP $1299 in gray or $1179 in white) is a Sears-exclusive top loader with sale prices that drop as low as $899. It features a roomy 5.3-cu.-ft. drum that can fit a whole family's laundry, and it cleaned well in our performance tests.
We're fans of the nifty gray metallic exterior. If you aren't, buy the otherwise-identical Kenmore 29132—and save about a hundred bucks in exchange for a white exterior. Under the hood, you'll find the same basic design as the Whirlpool Cabrio WTW8500DC but the Kenmore swaps Whirlpool's new control panel for a more traditional look.
If you're looking for an upscale top loader that's a real workhorse, the Kenmore 29133 isn't a bad option. But, for $50 more, you can get Samsung's innovative ActiveWash machine. In this price range, that would be our top pick.
Design & Usability
A dash of elegance
The 29133's gray exterior lends it an air of distinction in your laundry room—and on the sales floor. In fact, you'd be hard pressed to find a top loader as intentionally styled as the 29133. Whirlpool's version of this machine asks users what they want to wash and how they want to wash it, and the Maytag Bravos variant has a very traditional user interface. The Kenmore, on the other hand, blends classic and contemporary.
Starting from the top, the control panel has a slight curve to it, which places the control knob a little closer to you, and gives the whole machine a modern look.
The 29133's lid has soft-close hinges, meaning it won't slam down on your fingers when you're retrieving your laundry. It's a nice touch that also makes it easier to use.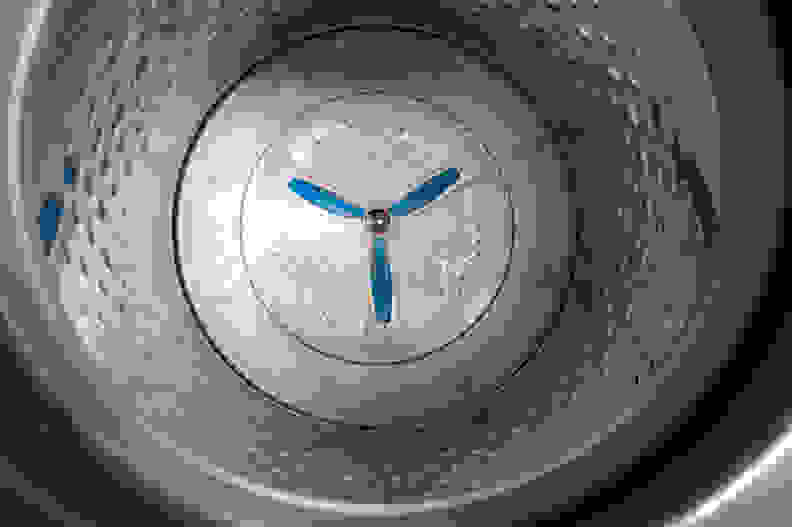 After you get that soft-close lid open, you'll find a shiny drum with a wash plate, which is easier on clothes and requires less water than a traditional pole agitator setup. Unlike other high efficiency (HE) top loaders, which occasionally have difficulty saturating a large load with water, this one uses a unique wash system that Kenmore claims does a better job wetting the top of the load.
The drum is deep—you'll need to reach 32-inches to grab that one sock that's stuck at the bottom of the washer. That's a stretch, but the trade-off is that 5.3-cu.-ft. drum. With so much capacity, you'll be able to handle a family of four's washing needs all at once.
Cleaning Performance
We measure stain removal by washing a series of mechanically coated "stain strips." These strips are covered in common household substances ranging from pig's blood (our lawyers won't let us use human blood for some reason) to a human sweat analog. We place the strips in eight-pound test loads made up of towels, bedsheets, and pillow cases.
After a wash cycle finishes, we take the stain strips and analyze them with a photospectrometer—which analyzes how close to white the stain strips are. That allows us to determine how much of each stain has been lifted.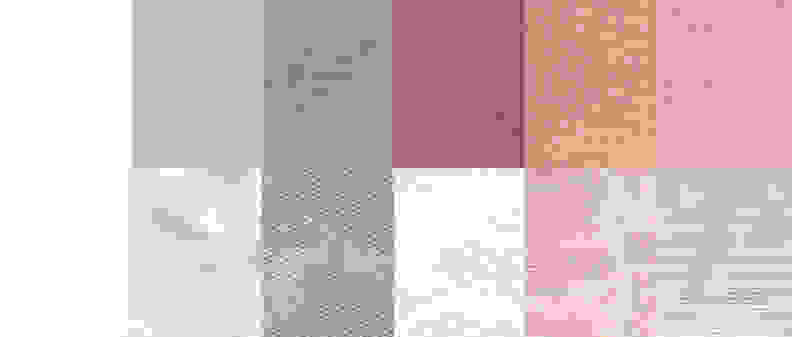 When we followed this procedure for the 29133, we found the Whites cycle was the most powerful. It was 3.5% better at removing stains overall than the Normal cycle.
The Normal cycle was actually about 1% better than the Heavy Duty cycle, which may be better suited for heavier fabrics than heavier stains. When we looked at individual stains, we found the 29133 fared best against cocoa stains. Across all cycles, the 29133 did about 30% better at removing cocoa stains—and 6% better at removing protein stains—than red wine stains. That may be due to cold water rinsing and detergent action.
Efficiency
Efficiency is not just about how much water and electricity a washer uses. It's also about how wet it leaves laundry, and Kenmore 29133 was better at the latter than the former. By hooking this washer up to water and power meters, we tracked the resources it used. Factoring in national average costs and use patterns, we estimate the 29133 will eat up $59 per year in utility costs. That's about average for most top loaders.
On the other side of the efficiency coin, there's water retention. The wetter your laundry is when it leaves the washer, the more work your dryer has to do. On average, the 29133 spun out 54% of excess water. Anything over the 50% mark is fine by us.
Performance & Features
Expect the... expected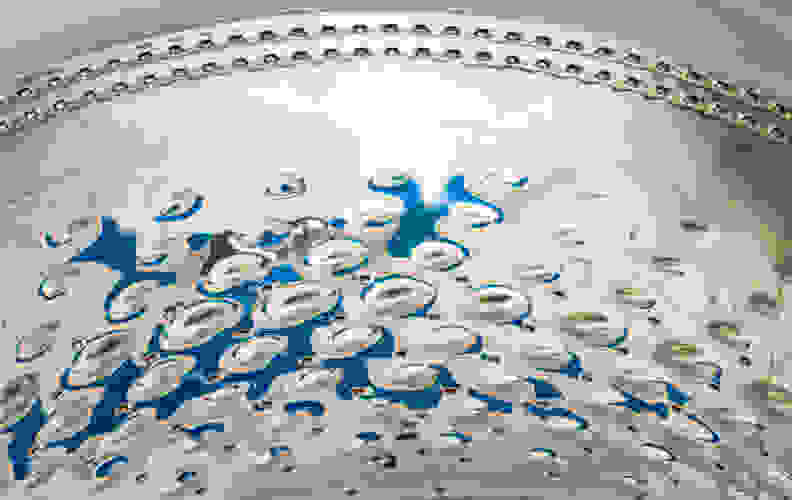 If you've owned a Whirlpool Cabrio or Maytag Bravos washing machine, you'll know what to expect. The 29133 is quite similar to the Whirlpool Cabrio WTW8500DC, and our lab tests on both machines returned nearly identical results.
On our stain removal tests, we determined the 29133 fares well against animal and plant proteins like blood and cocoa, but had the hardest time removing sweat and red wine stains. Cool temperatures might account for that: The hottest water this Kenmore used on its Normal cycle topped out around 101°F. Now, cold water washing isn't all bad, but you may need to compensate with extra detergent or a heavier cycle when washing, say, sweaty soccer uniforms.
Our tests concluded the Whites cycle removes stains best. It has a 3.5% edge over the Normal cycle, likely due to an extra 10 minutes and extra 3 gallons of hot water. Surprisingly, the Heavy Duty cycle ranked third in stain removal.
Despite the fact that it has a top spin speed of only 950 RPM—far lower than the 1400 RPM that some similarly priced machines offer—the 29133 had no problem spinning excess water out of loads.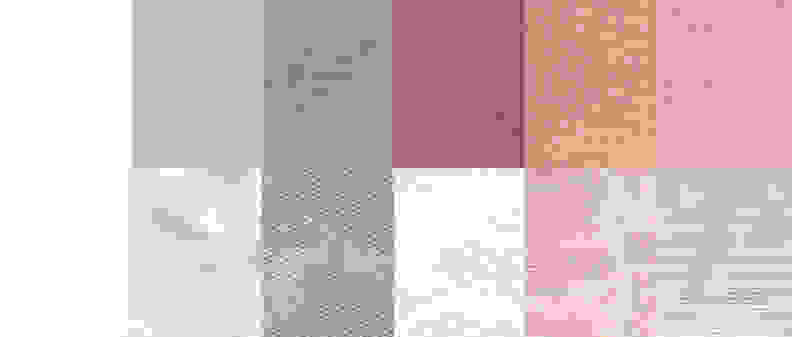 Most of the 29133's noteworthy extra features are ones that you'll never interact with. For example, Accela Soak allows the 29133 to draw water from the bottom of the drum. Detergent tends to sink, so by drawing water from the bottom of the drum and dumping it back on top of your clothes, you're getting the most of your detergent. We found that items we placed at both the bottom and top of the load were evenly cleaned, which shows the system does work.
For in-depth performance information, please visit the Science Page.
Warranty
As with most Kenmore appliances, the 29133 washer has a one-year warranty. From date of purchase, you'll be covered for parts and labor on manufacturer defects. Like most home appliance warranties, it does not include repairs for wear-and-tear failures.
Why We Like It
A solid choice at Sears
If you're looking for a solid top-loading washer and think the latest Maytag is too spartan and the new lineup from Whirlpool is too high-tech, then it's worth checking out the Kenmore 29133. It comes with strong stain removal for its price point and the extra large, 5.3-cu.-ft. drum will serve most families well.
However, don't count out the Samsung WA52J8700AP. It sells for only $50 more than the Kenmore, but features the innovative ActiveWash system—which puts a sink on the top of your washing machine.