Laundry
Kenmore Elite 81583 Dryer Review
Take control of your laundry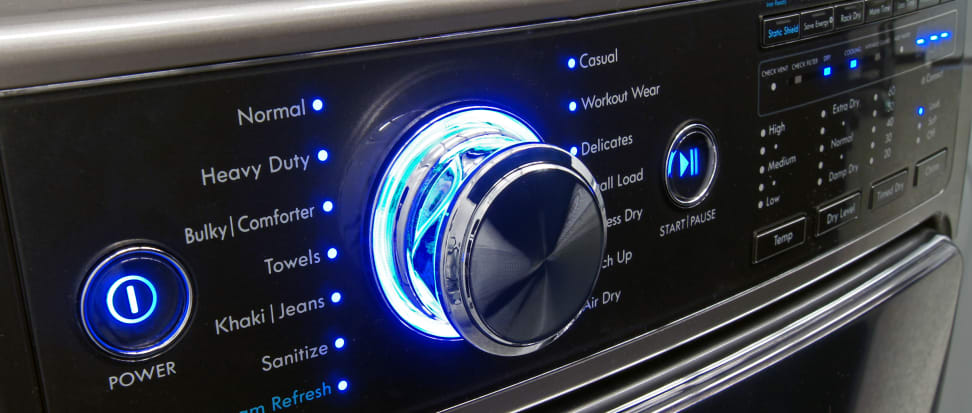 Credit:
The Kenmore Elite 81583 (MSRP $1,409.99) is one of the most versatile dryers we've tested. With tons of features, a slew of extra options, and more cycles than you could shake a damp sock at, this dryer is ideal for tinkerers and micromanagers who like to have complete control over their laundry.
As versatile as this machine is, however, it can't quite unseat the best dryers out there. High temperatures mean it's not quite as gentle as we'd like, and it costs more than other dryers with similar sets of features. Plus, Kenmore's exclusive availability at Sears and KMart might make sales harder to come by. That said, this is still a great dryer that's worth keeping an eye out for.
By the Numbers
When it came to our tests, the Kenmore Elite 81583 (MSRP $1,409.99) almost always ran hot. Fortunately, this model has a Save Energy mode that reduces temperatures at the cost of longer cycles. If you've got the extra time for doing laundry, that option will help make this dryer a superior machine.
Normal & Delicate
After a 54 minute average run time, the Kenmore's Normal cycle got clothes 99% dry. Unfortunately, this came with peak temperatures of 160.1°F—too hot for all but the hardiest of fabrics. This cycle should almost always be run with the Save Energy mode turned on.
Delicates fared a bit better, with temperatures creeping up to 120.2°F. While warmer than ideal, it's not a necessarily deal breaker. Cycle times were shorter than average by about 20-30 minutes, averaging just under an hour. Clothes also came out just 90% dry. We like a little extra moisture for ironing or rack drying, but 90% might require more than a post-cycle touchup.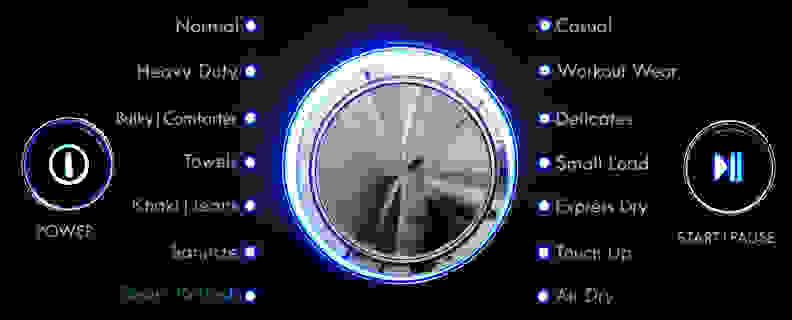 Design & Usability
Cool and sleek, with some fancy lighting effects
If a dryer could ever claim to be tall, dark, and handsome, it would be this Kenmore. In the right lighting, the metallic silver finish makes the dryer look elegant... though under the wrong lighting, the grey-tinted finish can start to look more brown than silver. A white version—the 81582—is available for about $110 less.
As you'd expect from a high-end dryer, the bright blue indicator lights on the controls make everything easy to read. What really catches the eye is a swirling blue light circling the edge of the control knob, an aesthetic touch that gives the dryer some futuristic flair.
On the inside, you'll find another feature common to expensive dryers: a stainless steel drum. Getting to the drum is easy, as the dryer's door opens without any fuss, while the rubberized handle grip is comfortable. Shutting the door, however, is a bit of a pain. We had to repeatedly slam it shut for the latch to catch.
Quick Dry & Bulky
Express Dry turned out to be just that. Defaulting to 25 minutes, this manual cycle delivered clothes that were 94% dry. With temperatures peaking at 162.5°F—our hottest tested cycle—this could be a great alternative to Normal for when you have less than a full load.
Even the high heat of this Kenmore couldn't ace our Bulky test, but it came close. After about an hour, the Bulky/Comforter cycle got a large comforter 83% dry—much better than most models. With temperatures as high as 155.3°F, we're not surprised it did so well.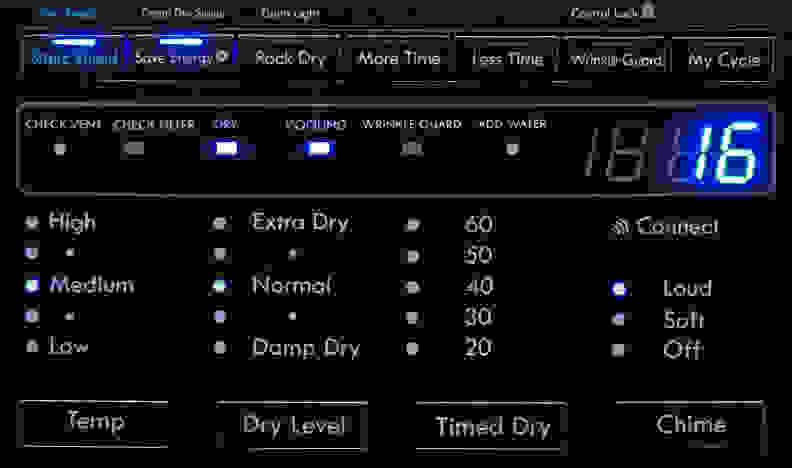 Performance & Features
Turn on the option to Save Energy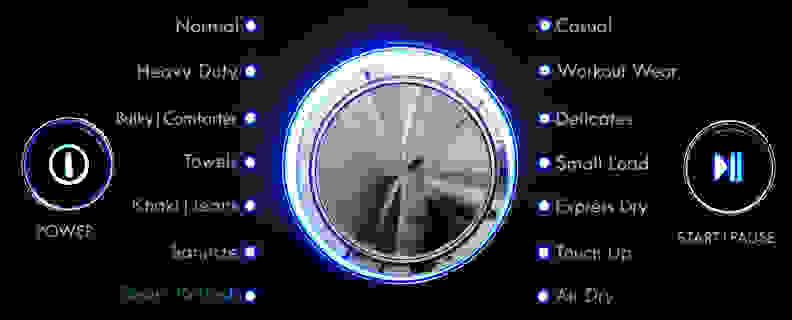 Most of the standard cycles we tested resulted in almost perfectly dry clothing. Most cycles also ran quite hot. We're not talking a couple degrees, either—both Normal and Express Dry exceeded 160°F. Over time, that kind of heat can shorten the lifespan of your clothes. Even Delicate, while much cooler, was still a bit warmer than we like.
Folks who want to dry anything other than the thickest of denims shouldn't fret, though. Kenmore has provided a solution: The Save Energy mode. This option increases dryer efficiency by lowering temperatures and lengthening cycle times. Using this option should also help minimize overheating.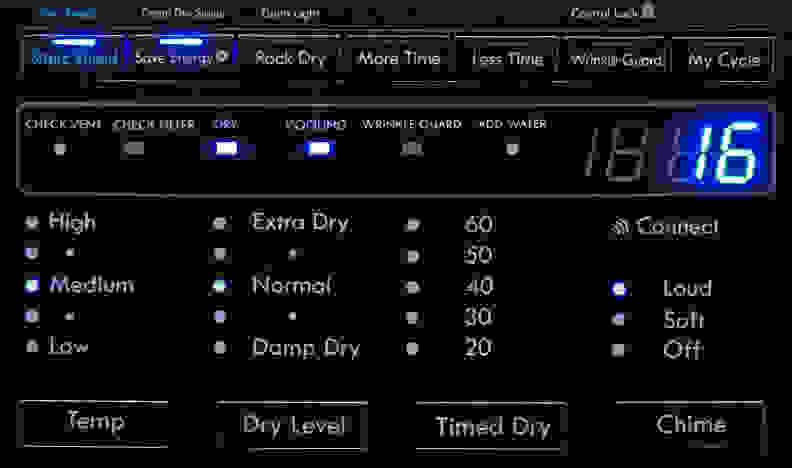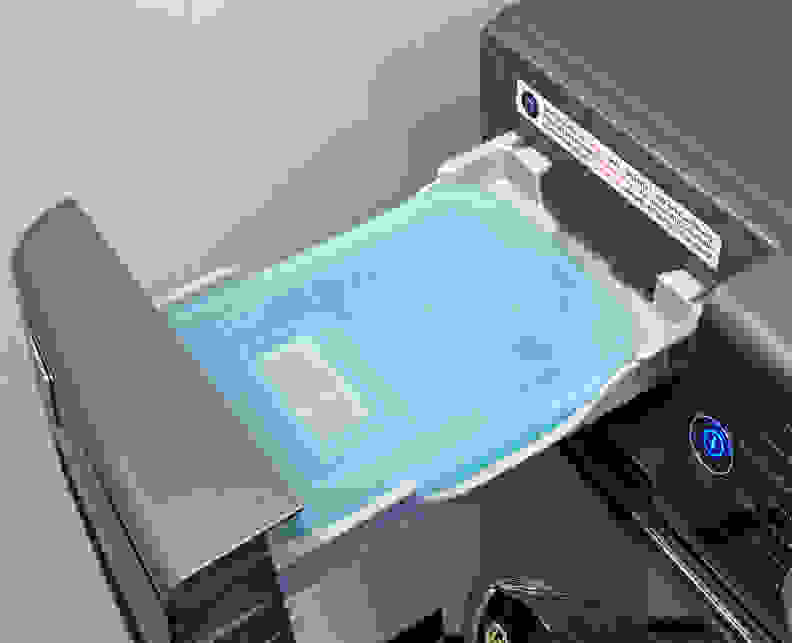 In terms of versatility, this Kenmore is second only to the more expensive Electrolux EWMED70JIW. 14 cycles surround the control knob, complicated even further by a manual timed dry and user-customized cycle on the control panel.
A few cycles seem excessive—Express Dry and Small Load will likely seem redundant to most users—but options like Khaki/Jeans and Workout Wear are a bit more sensible, adding a level of practical versatility to the machine.
Despite the broad cycle selection, the feature list isn't the longest we've seen. What's there is useful, however: Wrinkle Guard is fairly common on all but the most basic dryers, while Static Shield takes advantage of the 81583's steam functionality. You also get a removable rack for drying clothes that shouldn't be tumbled, and a pull-out water tray in front (as opposed to a rear hookup) for steam-based options.
For in-depth performance information, please visit the Science Page.
Just Shy of the Best
A decent dryer on its own, a great one if it's on sale
The Kenmore Elite 81583 may not be an amazing dryer right out of the box, but it has the ability to become one if you're willing to play around with the settings. This isn't a set-it-and-forget-it kind of appliance. Rather, it's a dryer that will benefit from detailed consumer management. If you like to tinker with the latest gadgets, this dryer could be for you.
The catch is, there are other equally versatile dryers available that manage to perform better and cost less. For instance, the Electrolux EIED50LIW has almost as many cycles and costs several hundred dollars less.