Laundry
LG DLE3050W Dryer Review
Come for the price, stay for the washer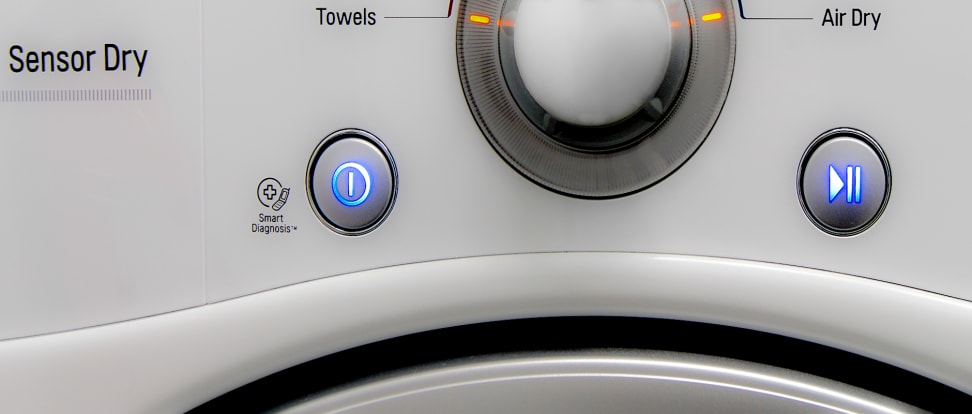 Credit:
By the Numbers
The best way to determine how well a dryer works is to collect data on temperature and water removal. The LG DLE3050W got gold stars on the Normal and Delicates cycle. However, the Bulky and Quick Dry cycles did not pass muster.
The LG DLE3050W (MSRP $799) is the quintessential stackable budget dryer. The best thing it has going for it is its matching washer, the LG WM3050CW, which won our Editors' Choice badge.
Alone, the DLE3050W is an unremarkable—if affordable—stackable dryer. If you're the type of person who throws wet laundry in the dryer, selects Normal, and walks away, this dryer will serve you well. Unlike cheaper machines, it comes with a drying sensor that helps the machine decide when clothes are ready to wear. There's also an NSF-approved Antibacterial function, which is a rare bonus in a dryer at this price point and good for families with kids who get really dirty.
However, we found that the DLE3050W's other cycles offered uneven performance, and the results of our Quick Dry and Bulky tests were particularly disappointing. For day-to-day usage, the DLE3050W will still suffice, but this budget dryer is outshined by its accompanying washer.
To read our full review of this dryers's matching washer, the LG WM3050CW, click here.
Design & Usability
Utility over design
The LG DLE3050CW is a rather plain machine, but that's OK. If you're looking for a basic stackable dryer, you don't need features and flourishes. You just need an easy way to get your clothes dry.
And that's exactly what this LG offers. Nothing feels cluttered, and the order of operations is simple: Push the power button on the left, turn the knob in the middle to Normal, and then hit start on the left. That's the strength of this dryer. The only real feature is a drum light, which is perfect for dark basements and laundry closets.
If you want to read more on the design check out our review of the LG DLE2050W, this machine's predecessor. The layout has remained completely unchanged from the previous model.

Normal & Delicate
For the Normal cycle test, we take about eight-pounds of laundry and wet it to 1.7 times its weight. We place this test load into a dryer along with humidity and temperature sensors, and then we analyze the results.
On the LG DLE3050W, the cycle took on average an hour to finish. The test laundry came out completely dry, and the peak temperature was 153°F. At that temperature, more fragile fabrics might get some damage after multiple loads.
For the Delicate cycle, we use the same test load as the Normal cycle test. This cycle ran for 57 minutes, on average. It removed 86% of moisture and reached a mild maximum temperature of 117°F.
Performance & Features
Has what you need
This is a no-nonsense appliance, and most of its strength lies in its superb Cotton/Normal cycle. On average, this cycle finished in about an hour and consistently got our test loads dry. That's what you want to see in a dryer: Reliable timing and drying.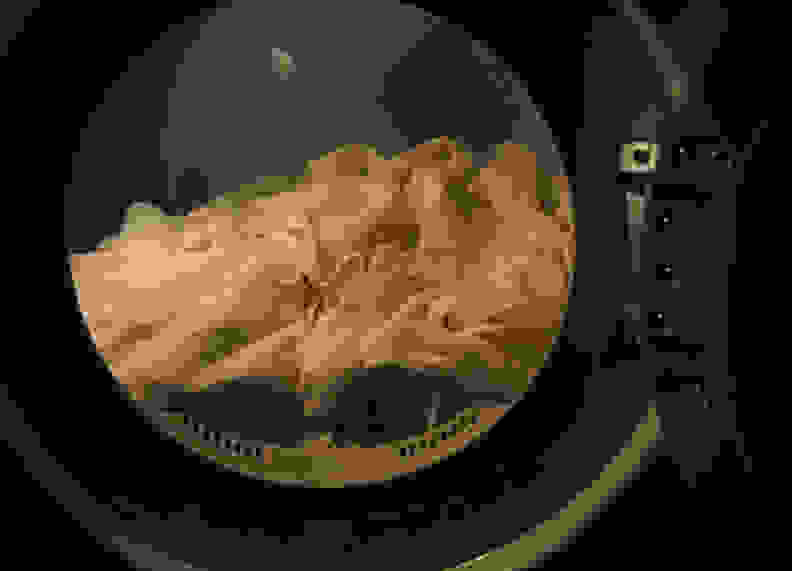 The Delicates cycle also showed good consistency. It also had the added bonus of not getting too hot. The highest temperature we recorded was around 117°F which won't damage your clothes. Although the Delicates cycle didn't get test laundry completely dry, we consider it passable because a little moisture is needed for proper ironing, and it's not a bad idea to let damp delicate fabrics line dry.
The Towels cycle is probably the weakest of the DLE3050W's repertoire. When we used it for a bulky item—a comforter—it showed inconsistent drying. Cycles varied in length from 27 minutes to 47 minutes. Regardless of the time, test laundry did not come out dry. That being said, Towels is more of a specialty cycle, and few dryers can take on the challenge that is a comforter. The LG DLE3050W remains a solid dryer at its core.
Besides the drum light, the Antibacterial option is worth noting. It is NSF certified and will help sanitize select items. This is especially helpful for people who need to clean things like stuffed animals that won't survive a harsh tumble in a washer.
For in-depth performance information, please visit the Science Page.
Quick Dry & Towels
The Quick Dry test uses a four-pound load. The cycle lasted 25 minutes. We were disappointed to see that it only removed 45% of moisture. Our sensors picked up a max temperature of 151°F.
After reading the owner's manual, we used the Towels cycle to try and dry a test comforter. This cycle reached a maximum temperature of 167°F. It removed 65% of moisture, which isn't that bad considering that most dryers fail this test. This cycle had a problem with time consistency, though, with times ranging from 27 to 47 minutes.
Conclusion
Half of a solid pair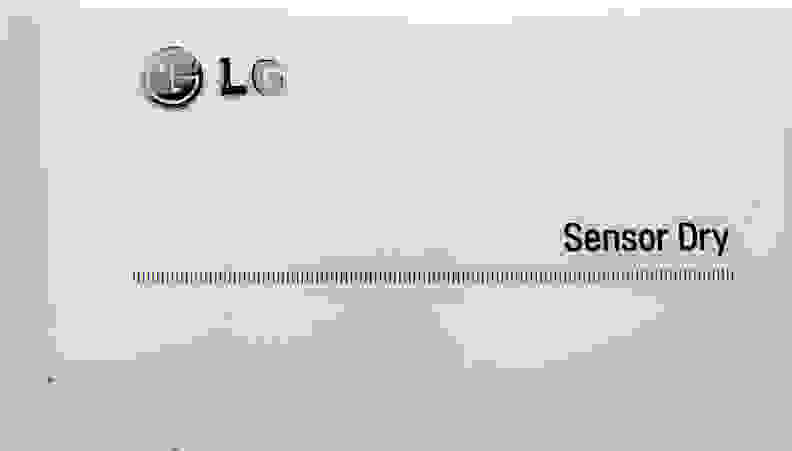 The LG WM3050CW washer is a good budget machine. That's one of the strongest reasons to purchase the matching DLE3050W dryer.
It's not the greatest budget dryer we've ever tested, but it's solid. For a street price of around $700-750, this LG has a good price-to-performance ratio, and a Cotton/Normal that dries quickly and reliably. For most users, that's enough.