Laundry
LG DLEX3700W Dryer Review
This dryer does everything but fold the clothes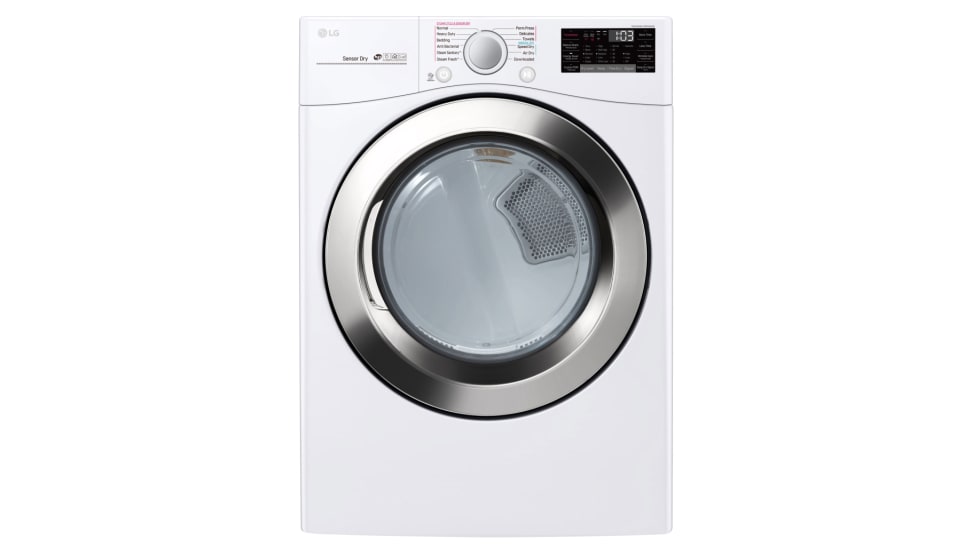 Credit: LG
The right dryer can make a big difference in the way you feel about doing laundry. When you need a new dryer, one that will take out every bit of moisture in every cycle and give you the luxury of steam, consider the LG DLEX3700W (available at AppliancesConnection for $985.10). After spending a week testing it in our laundry labs, we find that if you buy it, you won't have to waste time and energy running the same load over and over.
About this dryer
Are you comparing the LG DLEX3700W dryer to similar models? This list may help.
• Capacity: 7.4 cu. ft., which allows for large loads
• Dimensions: 27" x 38 11/ 16" x 30" (W x H x D)
• Cycles: Normal, Heavy Duty, Bedding, Anti Bacterial, Permanent Press, Delicates, Towels, Speed Dry, Air Dry. Also, there's an option to download a cycle to further customize your laundry.
• Steam: The Steam Sanitary and Steam Fresh cycles use steam to disinfect and unwrinkle, respectively.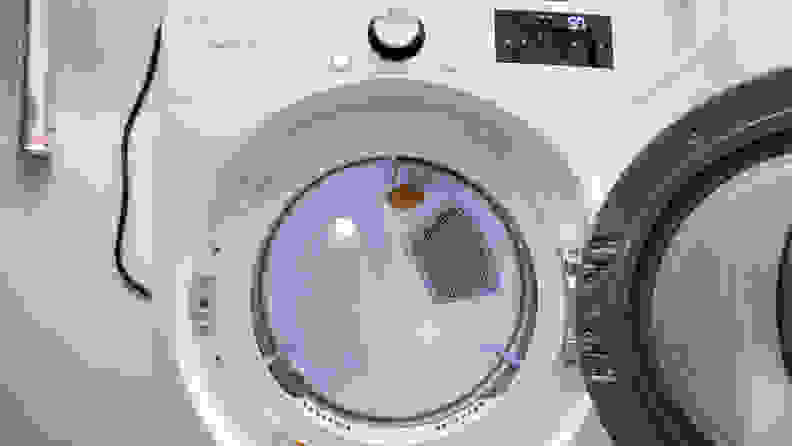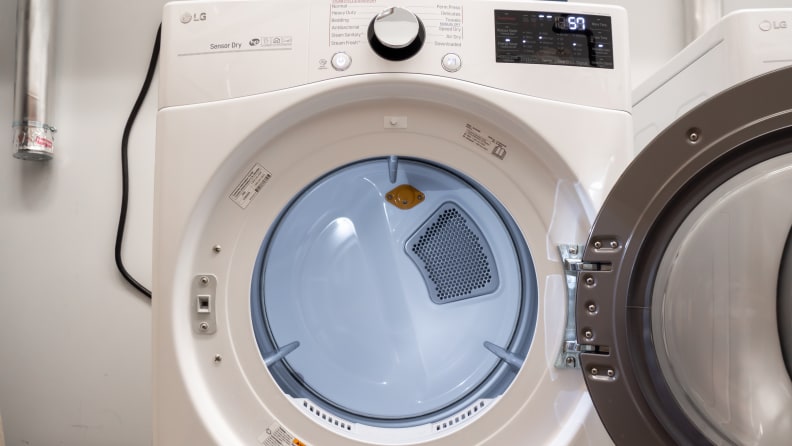 What we like best
There's plenty to like about the LG DLEX3700W. Here's what we appreciate most:
• Clean lines and attractive fit and finish provide an updated look to any laundry room.
• Does a good job drying since the test loads we put in the Normal cycle came out 100 percent dry.
• Steam Fresh cycle, which unwrinkled a cotton shirt in only five minutes.
• Speed Dry, which completes in 25 minutes.
• Wrinkle Care, which tumbles the clothes periodically to prevent creases from forming.
• A bright drum light that makes it easy to spot every last sock.
• An easy-to-remove lint filter that is simple to clean.
• The app that lets you select, start, or stop a cycle remotely.
• A 10-year warranty on the drum, suggesting that LG has lots of confidence in it!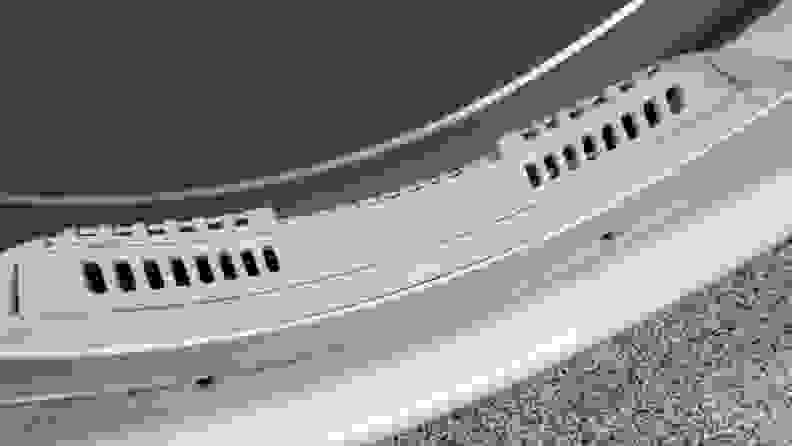 What we don't like
After testing, we have only a couple of concerns:
• High temperatures: Our biggest concern is that this can dryer run very hot. With our temperature sensors, the Normal cycle on the LG DLEX3700W reached a maximum temperature of 170°F, which is substantially hotter than our ideal maximum temperature of 150°F. But don't worry—it's easy to use the control panel to turn down the heat. Alternatively, you can use the much cooler (maximum of 108°F) Delicates cycle. Many of the clothes you own probably call for "tumble dry low" anyway. Check the label and you'll see.
• A long Normal cycle: The Normal cycle takes just under an hour and a half, which is a good deal longer than the 60-minute Normal cycles we've seen on many other dryers.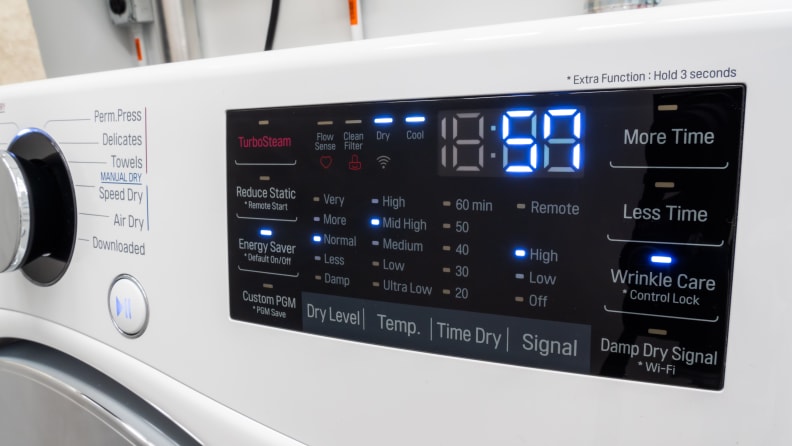 What owners say
Most online reviewers are very satisfied with the job the LG DLEX3700W dryer does. Many owners praise the quiet operation and numerous features it offers, with the steam settings especially popular. The main issue that a few users report is that the control panel is hard to read from some angles.
The Bottom Line
If you want a great-performing dryer that will stand proudly next to a white washing machine like the LG WM3770HWA, you should buy the LG DLEX3700W. Almost everything you load will come out fully dry and the Steam Fresh cycle could make ironing a thing of the past. The steam makes this dryer a good value since this model costs only about $50 more than its steam-free sibling, the LG DLE7100.
If you worry about high temperatures scorching your clothes and linens, it's easy enough to lower the temperature setting using the control panel. Though the Normal cycle takes a little longer to finish than you might prefer, when you're pressed for time, you can use the 25-minute Speed Dry cycle, which actually runs a little cooler and gets clothes just as dry.
The most notable thing about this dryer: It will get every basket of clothes dry in a single cycle and ease the wrinkles if you like. The only thing you'll have to do is fold.