Laundry
LG DLEX5000V Electric Dryer Review
An intriguing dryer, but only worth buying as part of a set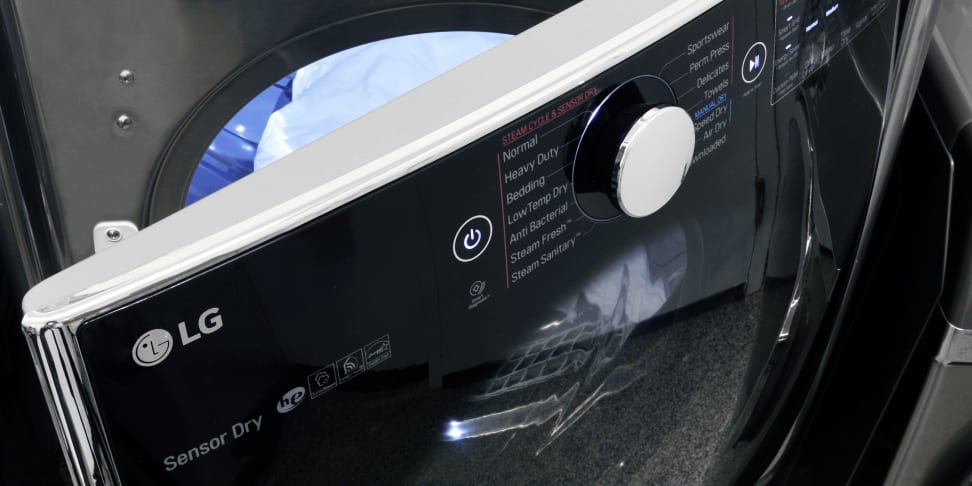 Credit: Reviewed.com / Matthew Zahnzinger
There really is no other dryer out there quite like the 7.4-cu.-ft LG DLEX5000V (MSRP $1,499.99)—and after testing most of this year's new models, we'd know.
This electric dryer's high-tech design positively oozes style, and might make you detour houseguests through the laundry room. Plus, stellar drying and a broad set of cycles and features make this a versatile machine capable of handling just about any load of laundry.
That said, some issues with our user experience left us questioning the expense—especially since there are in fact better and bigger dryers available for less. The unusual design also means this dryer isn't stackable, a rarity for front-load laundry.
The price may be a turnoff as well, especially if you're going for the matching washer: Each half of the pair currently costs about $1,145 in stores. If you're buying the whole package—including the Twin Wash pedestal and a matching pedestal for the dryer—that bumps it up to roughly $3,200. All of this comes in cheaper white, but it'll only save about $200 to $300.
But hey, if you've got the money to buy a Ferrari and want a Ferrari, buy a Ferrari. And if you're renovating your laundry room and want something state of the art, go ahead and buy this LG.
Read our full review of this dryer's matching washer, the LG WM5000HVA.
By the Numbers
It may look unusual, but at the end of the day the LG DLEX5000V (MSRP $1,149.99) is a dependable dryer. Every cycle we threw at it dried well, so on the merits of drying alone, we call this LG a winner.
Design & Usability
Trouble with the curve
Both the DLEX5000V and its matching washer, the WM5000HVA have wide, curved doors. But in the case of the dryer, the door had trouble sticking closed unless we slammed it at a specific point midway up the side—another reason to question the whole design, and the price.
Like the matching washer, controls are actually located on the door, not above it. That location doesn't change much functionally, you just can't see or change settings with the door open, and the interface is still responsive and easy to read.
Above the door is a sliding lid that hides some small trays. On the washer, this is a detergent dispenser, but here it's just storage. Sadly the lid is too stiff and the trays are too small to be useful: too shallow to fit a box of dryer sheets, and too short for dryer balls. If you tend to store loose change from pants pockets, however, or maybe some clothespins for line drying at the end of a cycle, you might appreciate the compartments.
Normal & Delicate
The workhorse Normal cycle left nothing to be desired: After an average of 56 minutes, 100% of the excess moisture was removed from our 8-lb. test load. Temperatures peaked at 149.2°F, which is ideal for this kind of cycle.
The Delicates cycle proved the LG isn't a one-trick pony: With temperatures peaking at a gentler 114.7°F, it still removed 96% excess moisture. That's perfect for more sensitive fabrics that you might want to finish cleaning with a warm iron or on a clothesline.

Quick Dry & Bulky
At 25 minutes, Speed Dry isn't all that quick, but you can't argue with the results. Our load came out 97% dry, which is much better than the 15-minute options found on other dryers. Temperatures peaked at 146.6°F, putting this option in the same ballpark as the Normal cycle.
The Bedding cycle, while not perfect, did a commendable job with out bulky comforter. After about an hour, and with temperatures peaking at 156.9°F, this LG had removed 70% excess moisture. That's still too damp to use, but a quick fluff mid-cycle should take care of it.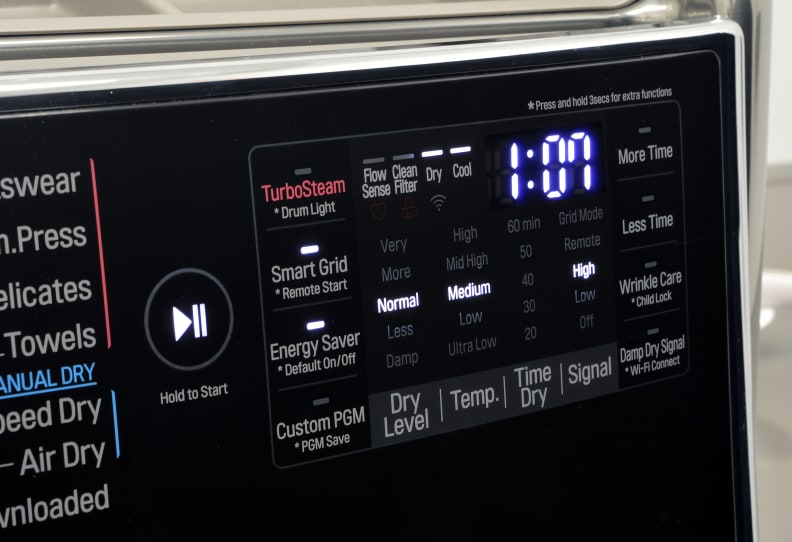 Performance & Features
With all this tech, the laundry better be dry
We have no complaints about the LG's drying. It has no trouble removing excess moisture, and does so at appropriately gentle temperatures for each cycle. In our lab tests, even the 25-minute Speed Dry got rid of 96% excess moisture from our 4-lb. load, a very impressive feat.
If you're doing a large quilt or blanket, you'll still want to fluff it mid-cycle. The Bedding cycle only removed 70% moisture from our large comforter. Compared to most dryers, that's excellent—but it's still too damp for immediate use.

With 14 cycles to choose from—including Anti Bacterial and two cycles that use steam—this dryer has a mode for every batch of laundry. You also have the option to download more cycles using a smartphone app, while Custom Program really lets you tailor (get it?) your own laundry experience.
Conservationists—and those that like to save money—will be pleased to know this Energy Star-qualified dryer has an Energy Saver mode, as well as a Smart Grid feature that connects the dryer to that aforementioned smartphone app and sets it to run when electricity is cheapest.
For in-depth performance information, please visit the Science Page.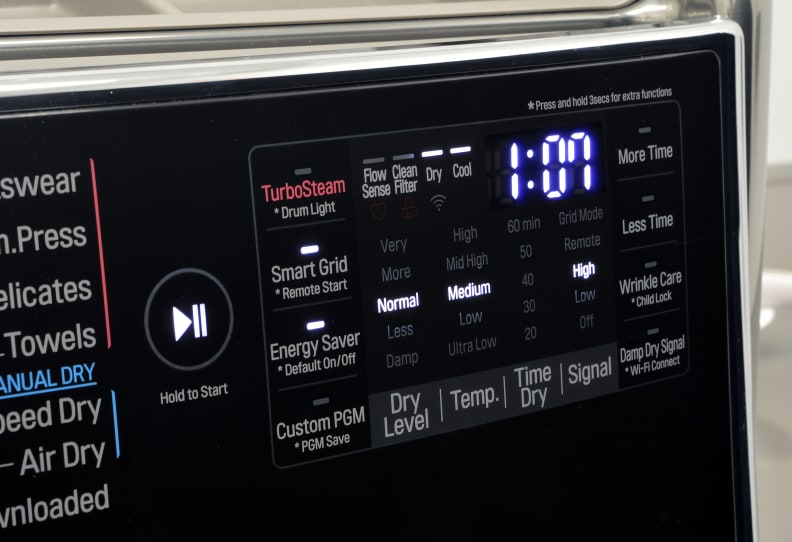 Warranty
LG has a standard one year warranty that covers parts and labor. You can read more about the company's policies on the DLEX5000V product page.
All or Nothing
For the laundry room of the future
The LG DLEX5000V feels right in so many ways: It's a great dryer, has lots of cycles and plenty of useful features, and looks awesome. But unlike its matching washer, which features design choices that make a tangible and positive impact on how you can do laundry, those same changes feel superficial on this machine. In many cases—like the imperfect door or too-shallow hidden compartment—they don't add any value at all.
Should you be in the market for a full laundry room overhaul, the complete set makes a very compelling case.
If you're looking for a standalone dryer, we've reviewed a ton of cheaper alternatives that are just as good. But should you be in the market for a full laundry room overhaul, this expensive set—washer, dryer, Twin Wash, and dryer pedestal—makes a compelling case.