Laundry
LG DLEX8000W Dryer Review
This LG is impressively broad, but big bones don't weigh it down on the job.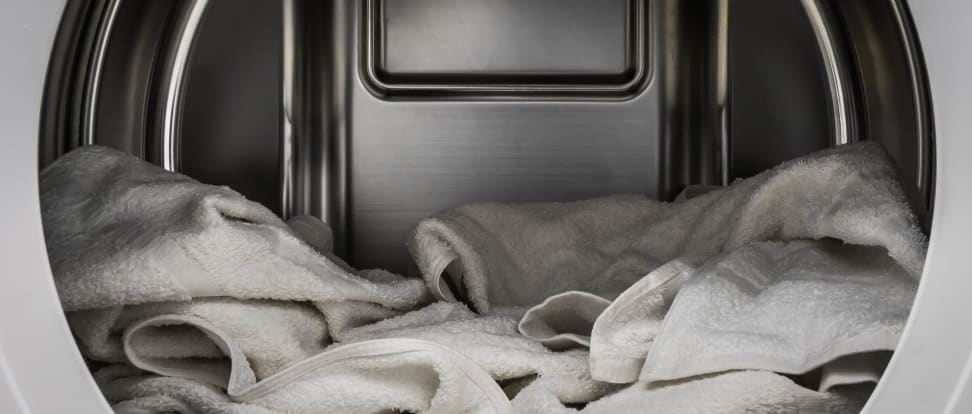 Credit:
Back in the old musclecar days, gearheads would often say, there's "no replacement for displacement." Whether it was a Camaro or a Charger, the car with the biggest engine would win the stoplight drag race.
A similar adage remains true for dryers: there's no replacement for interior drum space. Clothes need room to tumble, floating around with carefree abandon as the moisture disappears. Anyone who has jammed a wet king-size comforter in their too-small dryer without repositioning it mid-cycle knows it'll only end up half-dry. That's why the compact dryers we've tested all fare so poorly: they just don't have enough space to move large items around.
The LG DLEX8000W (MSRP $1,399) has an interior space that's a whopping nine cubic feet. In dryer terms, that's absolutely huge. Unfortunately, an overeager sensor blunts the dryer's capaciousness when it comes to extra large items, though it performed quite well otherwise.
Some good news: This model has been on the market since 2012, and the price has dropped precipitously. We've found the DLEX8000W (in white) on sale for just $949, and the DLEX8000V (in graphite) for $999. Paired with the Best-of-Year—winning LG WM8000HVA washer, it's a great choice.
Science Introduction
Behind every dryer review is a whole lot of testing. Don't take our word for it, though—see for yourself! We've put together all the data from testing the LG DLEX8000W, so you can see just how we reached our conclusion.
Normal Cycle
Steady performance, rising temperatures
We like to see a Normal cycle that can get clothes bone dry in around an hour, which is just what the LG ordered. Unfortunately, it reached that goal by peaking at over 150 degrees—a little too warm for some delicate fabrics. Keep that in mind when sorting your laundry.
Design & Usability
A supersized version of a familiar theme
The looks like any other front-loading LG dryer, with one exception: its HUGE front door. Open it, however, and you'll see a maw that isn't so gaping. The door's smoked black plastic exterior hides an average-size opening to a very large stainless steel drum.
A drawer slides out of the front of the machine which users can fill with water for steam cycles.
Up top, the control panel follows LG's cluttered yet spare design language, with cycle names crammed onto the top three quarters of the selector knob, but with plenty of clean lines. A drawer slides out of the front of the machine which users can fill with water for steam cycles. Other dryers use a constant feed from a water line, which is a little more convenient if you have the resources.
Options are selected on a touchscreen next to the cycle selector knob, and it's possible to save a custom cycle. One pet peeve: you can't change the time of a sensor-based cycle, only timer-based ones.
Performance & Features
Like Brandy said, "Almost Doesn't Count."
The 25-minute Quick cycle was exceptional.
On nearly all cycles, this LG did a great job getting water out of clothes—almost. The main exception was the Normal cycle, which ran a bit hot but still got all moisture out of our test loads in around an hour. The 25-minute Quick cycle was exceptional, though we weren't impressed with the Heavy Duty cycle at all. Though the nine cubic feet of this dryer's interior gave our test comforter ample room to tumble, the dryer quit after just 26 minutes, leaving our load barely three quarters dry.
At least there are plenty of cool features, including steam and sanitary cycles. Also of note is the Spot Clean feature, which uses steam and a very hot temperature on items with fresh stains.
Specialty Cycles
This dryer does well on special cycles, too.
Though the LG didn't dry clothes to 100 percent on the specialty cycles we tested, it did so in order to get moisture out of clothes quickly and safely. On the Quick cycle, a four pound load of laundry got hot and 94 percent dry in just 25 minutes. Likely, that extra six percent water won't make a huge difference if you're trying to rush out the door or pack a suitcase. On the Delicates cycle, the LG sacrificed bone dry weight to keep clothes from getting damaged by spending extra time tumbling. On both accounts, this dryer did a great job compromising.
Why We Like It
Big drum, big price, medium performance
If you're willing to spend at least $1,250 on a dryer and your household is responsible for more dirty laundry than a small-town scandal, the LG DLEX8000W is a solid choice. Its nine cubic foot interior is more of a canyon than a drum, and it has plenty of specialty cycles for getting out wrinkles and even stains. It even did a good job on the Normal cycle, albeit getting pretty toasty in the process.
Our only qualms lie with a drying sensor that doesn't take full advantage of the 8000's extreme interior. Yes, it was large enough for comforters to get an adequate tumble, but the heat didn't stay on long enough to finish the job.
Bulky Cycles
Bigger doesn't mean better when it comes to bulkier.
We set the dryer to Heavy Duty and put in a comforter. We watched it tumble around like it was doing an interpretive dance to an Annie Lennox song, but unfortunately the dryer quit after just 26 minutes. That's not nearly long enough to get a comforter dry, and it emerged 38 percent damp.
Another cycle—named Jumbo Dry—may be a better choice for getting big items dry. It took nearly an hour and a half, but it got the job done.