Laundry
LG DLHX4072W Heat Pump Dryer Review
New technology saves energy, old technology remains familiar.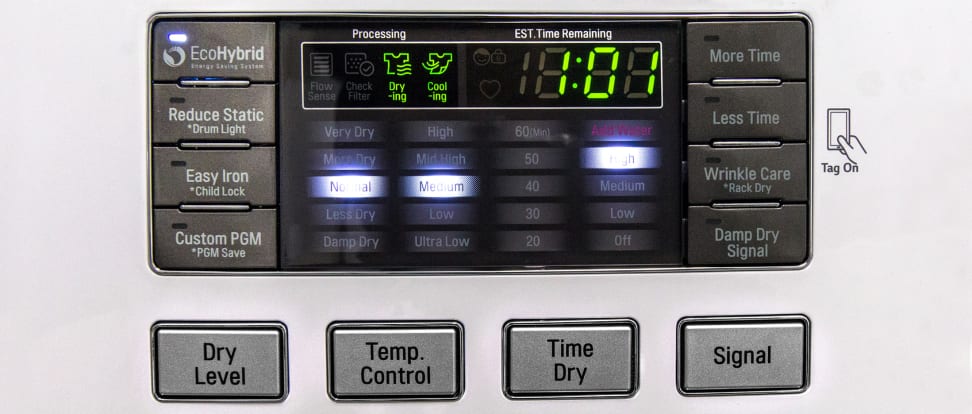 Credit:
The LG DLHX4072W (MSRP $1,599 in white or $1,699 in gray) is LG's first attempt at a heat pump dryer for the American market. It promises major energy savings, plus less wear and tear on clothes.
Heat pumps work somewhat like air conditioners, but in reverse. Traditional dryers vent outdoors, wasting the hot, moist air used for drying. Heat pumps extract moisture from that air and recycle it, which cuts energy use by up to 60 percent.
This LG lets users choose between drying with a heat pump or engaging one or both 1,500 watt heaters. The heat pump is more efficient, but the traditional drying method is faster. Design-wise, that's the main difference between this LG and its chief competitor, the ventless Whirlpool WED99HEDW.
While the Whirlpool only has a single 1,300 watt element and lacks a vent, we found it to be faster than the LG on nearly every cycle. For instance, the LG's Normal cycle took upwards of two hours when we used the heat pump, while the Whirlpool's took just under an hour and a half. The tradeoff? The Whirlpool's fastest cycle was around 45 minutes, while the LG's Quick cycle took only 25.
By the Numbers
We form our opinions of new products based on facts. For dryers, that means collecting data on temperature and water removal. The LG DLHX4072W leverages new technology to attack our tests.
Design & Usability
For Luddites and techies alike
While this dryer showcases a particular new technology, it's up to you whether you take advantage of it. By default, the heat pump is turned off for all cycles, so you get to decide whether or not energy efficiency is worth the extra time.
Aside from the heat pump setting, all the controls for ancillary settings are shoved way off to the left-hand side of the control panel. There are a lot of them: You can adjust everything from temperature to static reduction, or just select a cycle and go–all options will default to appropriate settings if you leave them alone.
Bottom line: This dryer can be as complicated or as simple as you want it to be.
Normal & Delicate
To test the Normal and Delicates cycles, we wet 8lb. laundry loads to 1.7 times their weight. We add waterproof sensors to the load to gather temperature and humidity data.
With the heat pump activated, the Normal cycle took two hours and twelve minutes to complete. It removed 100% of all moisture while reaching a high temperature of 143.9°F. When we switched the DLHX4072W to the conventional setting, the Normal cycle took an hour and fifty-two minutes. That's still pretty long for a dryer.
The Delicates cycle took an hour and fifteen minutes to finish. It achieved a maximum temperature of 128°F. Such low temperatures will help preserve the integrity of your clothes.
Performance & Features
It's all in how you use it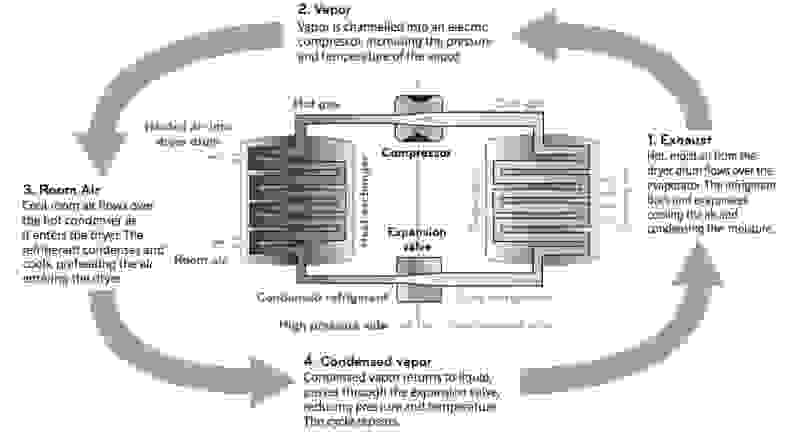 The LG DLHX4072W can be slow, but it gets clothes dry. With the heat pump activated, the Normal cycle got all excess moisture out of our test laundry, but only after two hours and twelve minutes. That's a long time, but this dryer did it consistently. With the heat pump off, you'll only save around twenty minutes for the same results.
Although you'll probably use Normal the most, the Delicates and Bulky cycles shouldn't be ignored. The Bulky cycle removed 75 percent of moisture from a test comforter in only an hour and ten minutes. That's impressive, since most dryers struggle to reach the 50 percent mark on their first go. The Delicates cycle took an hour and fifteen minutes and, while maintaing a temperature under 128°F, removed 99 percent of added moisture. A low temperature means less damage to your clothes, and a tiny bit of moisture left at the end helps with ironing.
The wide range of cycles on this LG give users a lot of flexibility. And if the thirteen pre-programmed cycles don't suffice, you can also download more with your smart phone. That's right, the DLHX4072W is NFC enabled. As with all the other special features, this functionality can also be safely ignored if you want.
The impressive technology on this heat pump dryer is subtle. It stays in the background until you want it to come to the forefront. Performance always comes first.
For in-depth performance information, please visit the Science Page.
Quick Dry & Bedding
The Quick Cycle consists of a truncated half load. The name of the game here is speed and moisture removal. In that regard, the LG DLHX4072W did alright. A twenty-five minute Speed Dry is quick, and it did remove 81% of all moisture.
The Bedding cycle test requires us to wet a test comforter to 1.5 times its weight. Typically this is a tough test, since most Bulky cycles assume you'll flip the comforter and run the cycle again. That being said, this LG aced this test. It got our comforter 75% dry in an hour and ten minutes. If you flipped the comforter, it would likely get 100 percent dry.
Conclusion
For the early adopter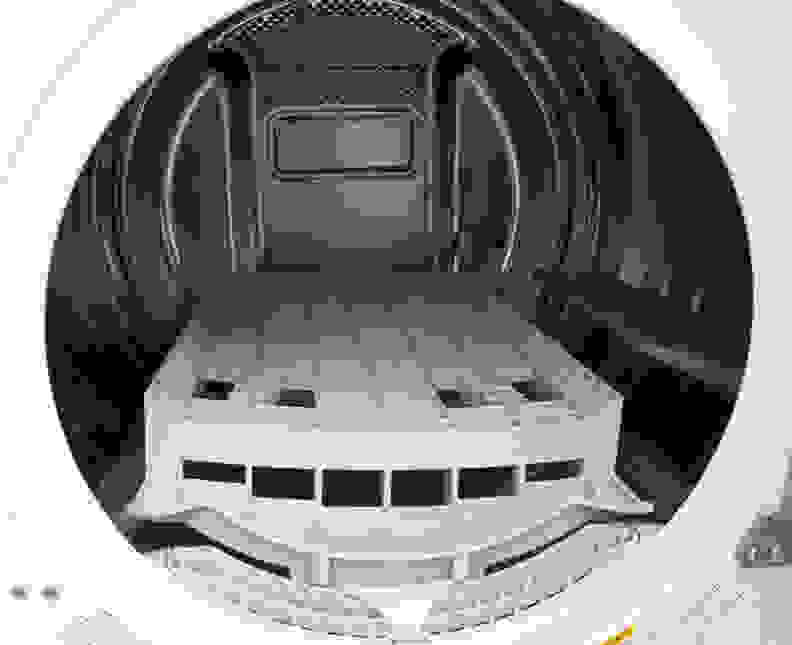 Heat pumps have found a lot of success in Europe where energy costs are higher, but they've yet to make a dent in the American market. It seems like LG is hedging its bets with this multifunctional machine.
In fact, the LG DLHX4072W lives in two worlds: It has the technology of an efficient heat pump dryer, but it can be as simple as the dryer your mother used. You can download new cycles from a paired smartphone, or you can just turn the dial and press start.
It may not always be very fast, but it is efficient, consistent, and powerful. You can't ignore that high price tag, though we'd expect to see utility companies offer rebates.
If energy efficiency is important to you, this heat pump dryer lets you test the waters before fully committing to a dryer that's unlike any other.