Laundry
LG WM2250CW Washing Machine Review
The savings just keep on coming
Credit:
In general, front-loading washing machines tend to be more water and energy efficient than their top-loading counterparts. Front loaders may cost less to run, but they also can cost more money up front.
The LG WM2250CW (MSRP $799.99) is one of the least-expensive front loaders on the market, so the savings start right away. Not only is it cost effective, but it does a good job cleaning clothes. Though it's short on features, we're fans of the simple user interface. If you want a front loader but don't want to spend more than $1,000, the WM2250CW should be on your shopping list.
To read our full review of this washer's matching dryer, the LG DLE2250W, click here.
Design & Usability
Back to basics
The 27-inch WM2250CW has an extremely straightforward control panel. There's a knob for choosing among six cycles and a tub-cleaning function, pushbuttons for adding options to those cycles, and a small timer. It lacks the capacity of larger machines, but matches others in the same price range. It's stackable, and the door is easy to open. Fit and finish proved to be on par with washers that cost hundreds more.
Performance & Features
Cleans clothes and saves money
We were pleased with the WM2250CW's stain removal. Yes, pricier machines did a better job cleaning clothes, but this LG certainly held its own across all cycles. We weren't happy that the WM2250CW subjected clothes to above-average wear.
We estimated that the WM2250CW should cost the average consumer just a little more than $30 per year to run, accounting for water and electricity. That puts it among the most efficient machines we've tested. Consider that similarly-priced top-loaders cost as much as $50 a year, and you'll see the savings add up—$100 after five years of ownership. If utilities are pricey where you live, that number will be even higher.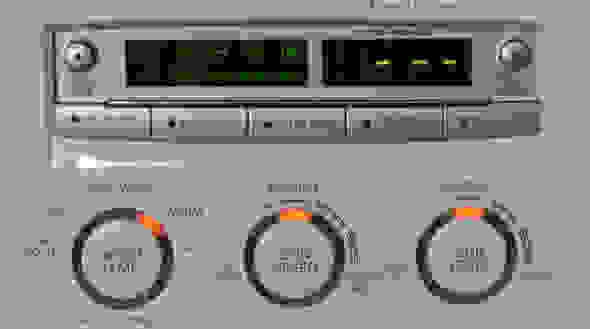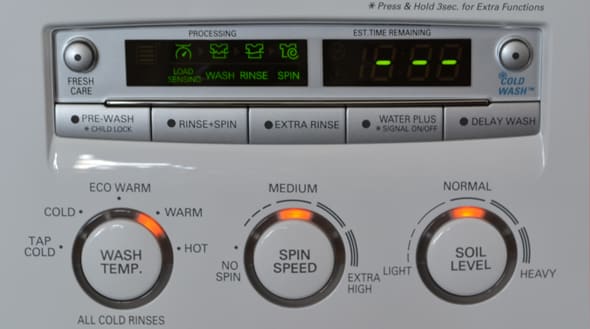 Features-wise, there's not much going on here. We were able to adjust things like temperature and spin speed, but that's expected. The only feature of note was the Fresh Care option, which will tumble finished loads of wet laundry for up to 19 hours to keep it from getting musty. The WM2250CW has no internal water heater, so there's no sanitize cycle, and steam is out of the question. You're looking to spend at least another $300 to get those options.
For in-depth performance information, please visit the Science Page.
Conclusion
One for the money
The LG WM2250CW isn't just one of the least expensive front-loading washers on the market. It's a solid choice for cleaning performance and energy efficiency, too. Laundry micromanagers may want more features or better handling of fragile fabrics, but despite its low price the WM2250CW is far from entry level. If you're looking for a front-loading machine but aren't looking to spend a ton of money, this machine is a good bet.
By the Numbers
At Reviewed.com, we come to our conclusions thanks to rigorous lab testing. We put the LG WM2250CW through the same battery of tests that we do every washer, and that's how we determined it's such a good value for the money.
Cleaning Performance
We measure stain removal by washing standardized strips of fabric coated in a variety of common household stains. By using a photospectrometer to measure those stains before and after a wash, we can determine how much of each stain the WM2250CW removed.
Across all cycles, we determined that the WM2250CW was around average when it came to stain removal. Machines that did a marginally better job cost a lot more, however, so you'll have to determine whether the extra money is worth spending. Our biggest complaint involved clothes wear, which was above average. If you repeatedly wash fragile fabrics in this machine, you may notice that they start to wear prematurely.
Efficiency
This LG uses only cold water for rinses, which helps to save money—heating water up is expensive. Using the national averages for the cost of power and water, we have concluded that the Normal cycle will cost around 6 cents to complete. The most expensive cycle is the Heavy Duty, which will run you about 12 cents. Amongst its cycles, the Hand Wash cycle was the wettest, using around 19 gallons of cold water.