Introduction
A washer with an LCD screen sounds like a gimmick drawn up in the marketing department, and the 's $1599 MSRP seems to support that theory. But behind the smoke, mirrors and steam, this washer actually does quite a good job removing stains.
Front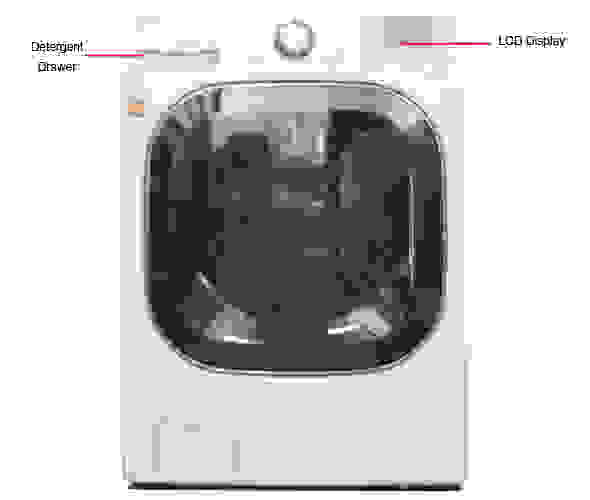 Controls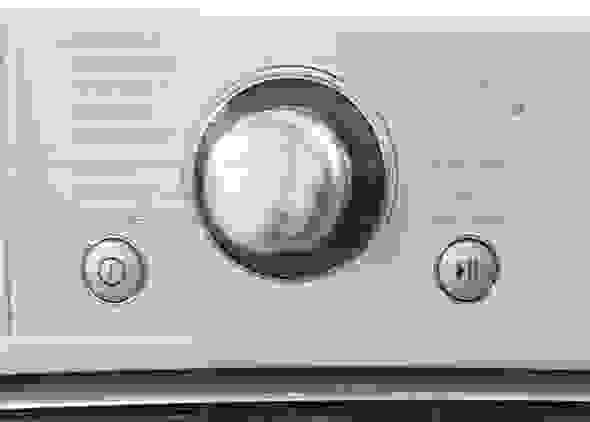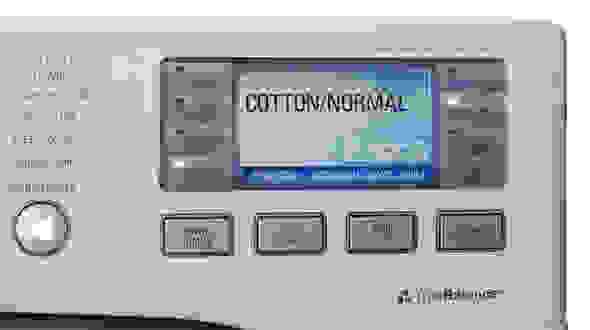 Drawer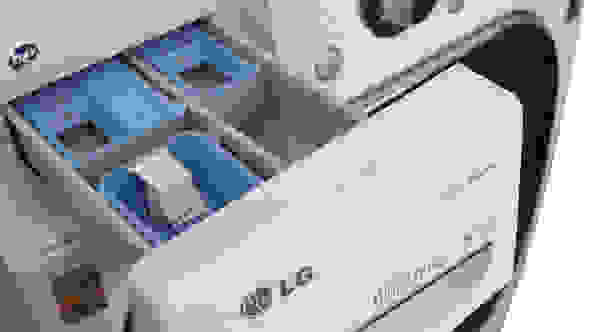 Interior
Sides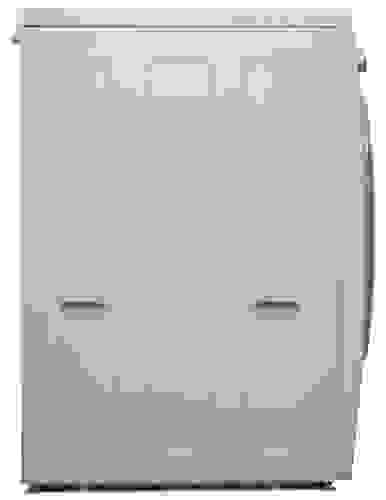 Back
Electricity Use
Washers use very little electric power, which explains why the will use less than 60 cents worth of electricity in an average year.
Water Use
In an average year, the will use about 5960 gallons of cold water and 517 gallons of hot water. This adds up to a yearly water bill of around $30.
Cost Per Wash
Individual wash cycle costs range from five cents for a quick wash to eleven cents for a bulky cycle wash. That's on par with most front load washers.
Yearly Running Cost
In an average year, accounting for all costs, the will cost $31.12 to run.
Washing Speed
Washing Cycles
Included in the LG's complement of cycles are the usual normal, cotton and delicates washes. Additionally, this washer has an anti-allergy wash, a sanitizing wash and steam refresh cycles.
Customization
Each cycle can be customized based on temperature and spin speed, though not every speed and temperature combination is available for every wash.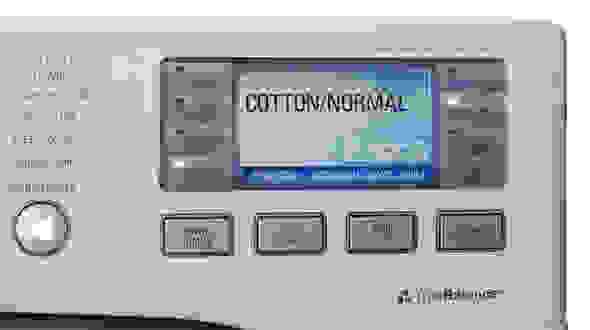 Additional Wash Options
Additional rinses and spin cycles can be added to most wash cycles. It's also possible to program a custom wash cycle based on your own temperature and spin speed.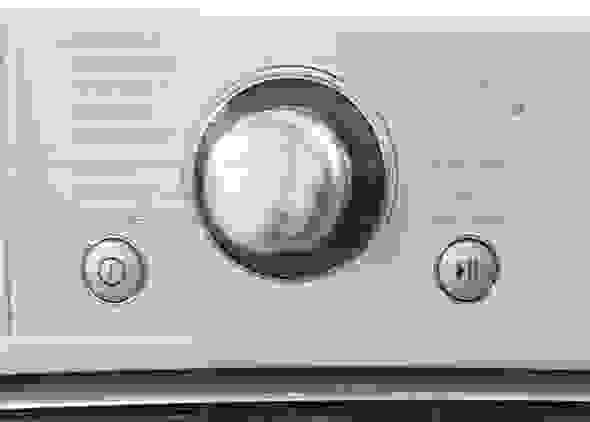 Washing Options
Detergent Dispenser
Detergent, softener and bleach can be added through a slide-out drawer. We found it easy to use and had no problems adding detergent for our test loads.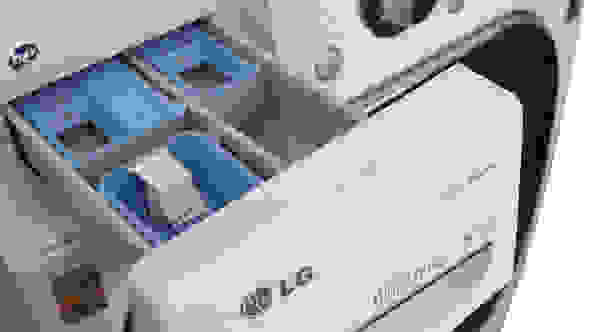 Washer Door
A large, heavy door tends to twist on its hinges, which easily puts it out of alignment with its latching mechanism. You need to have perfect aim, or you'll need more than one try to close the door.
Ease of Use
Technophobes may find the 's LCD screen intimidating and Luddites will certainly find it useless. Most people will buy a lesser model sans screen in order to save money. That's a matter of personal preference. However, that door sure is a pain to close.
Controls
A large knob, front and center, is used to select wash cycles. Unfortunately, in characteristic LG style, the cycle names are somewhat offset from the knob itself. Thankfully, the cycle names appear on the LCD screen.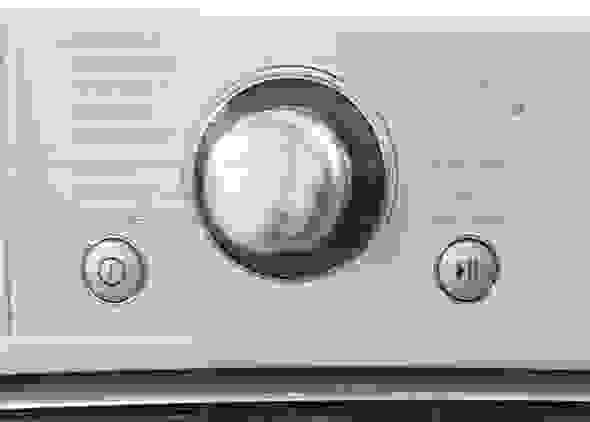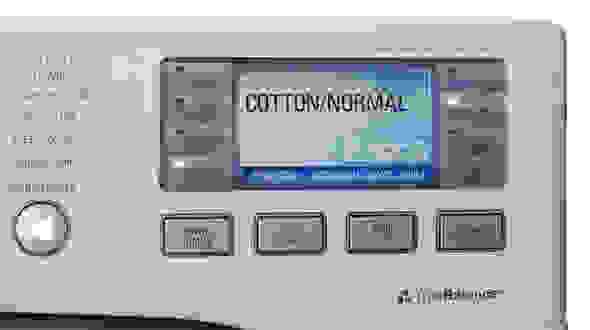 Comparison
Both LG washers do a good job cleaning, but the LG top loader costs about $300 less upfront and twice as much more to run each year. The top loader may not have an LCD screen, but its control panel is slightly more confusing than the front-loader's. Neither did a great job at removing debris from test loads.
Normal Stain Performance
Comparison
Though it doesn't have nearly as many custom wash cycles , the GE costs around half as much as the . Both washers showed comparable results in our tests, and the GE did a better job displacing dirt.
Normal Stain Performance
Comparison
Both LG and Samsung have built attractive, high-tech, front-loading washers. LG's does a better job at getting clothes stain-free, though Samsung's is better at protecting delicate fabrics and removing debris.
Normal Stain Performance
Efficiency
Despite its high initial purchase price, the should be easy on the wallet once it's installed, with an annual total operating cost estimated under $32.
Performance
Though it may maul delicate fabrics and fail to remove debris, the does a number on stains. That's what's most important to many consumers. If you're not planning on washing gardening overalls or antique lace tablecloths, this may be the washer for you.
Features
The has a cycle for every load, and those cycles can be further customized for true laundry perfection. The LCD screen was a little flaky, and the door was hard to close. Aside from those complaints, it was easy to use. If you can figure out the menus on your cable TV box, the won't be too hard to understand.