Laundry
Maytag 5500 Series Dryer Review
Performance, perks, price—and Power Dry.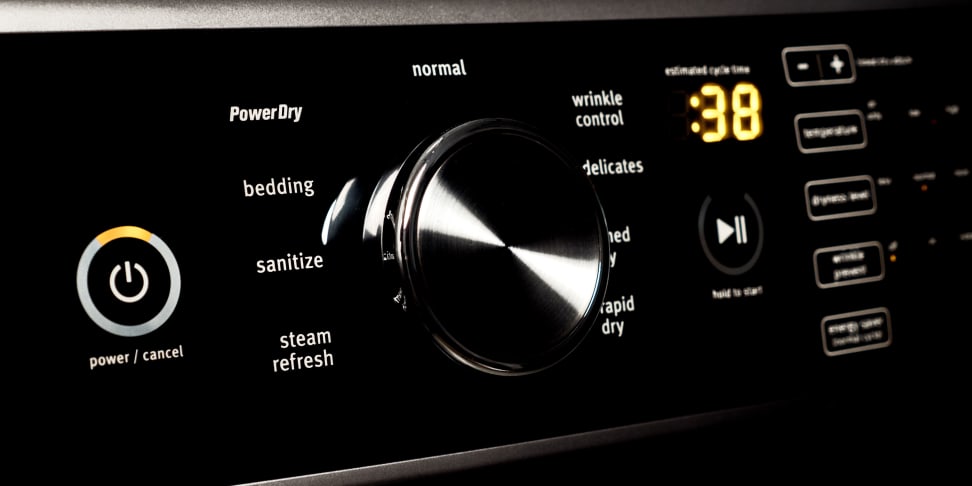 Credit: Reviewed.com / Kyle Looney
Normal & Delicate
This Maytag's Normal cycle averaged about 51 minutes in length, with peak temperatures of roughly 147.1°F. That's par for the course when it comes to a workhorse cycle that removes 100% excess moisture, as was the case here.
The Delicate cycle, too, did a good job with much cooler temperatures. After about an hour and a half, and with temperatures that never got higher than about 107°F, our clothes were again 100% dry.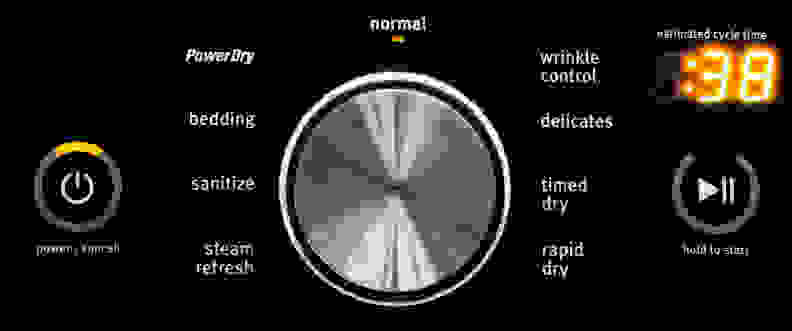 When we tested the Maytag 5500 series dryer (MSRP $1,099–$1,299), it felt oddly familiar. That's because, in almost every way, it's the exact same machine as the 8200 series, Maytag's newest flagship dryer.
There are a few superficial differences: the door trim is black instead of silver, you don't get a drying rack, and the drum is powdered white metal instead of stainless steel. Plus, Maytag has cut the Casual cycle, as well as the customizable My Cycle and Steam Refresh features.
But the drying itself is exactly the same, the 7.4-cu.-ft. drum size is the same, and you still get the biggest selling point in Maytag's new dryer lineup: the Power Dry cycle, which is essentially the Quick Dry equivalent for heavy duty clothes. We tried out both Power Dry and the more conventional Bedding cycle on our large comforter. The end result was the same, but Power Dry used higher temperatures to do in about 38 minutes what Bedding did in an hour.
And the best part is, retail costs—which range from about $750 to $945 on sale, depending on color and your choice of gas or electric—are roughly $400 less than the 8200. It still feels a little high to us, but we can't deny the huge price cut makes the 5500 a lot more attractive.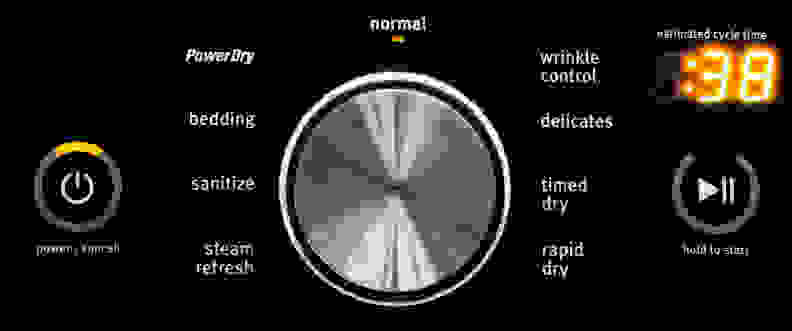 Quick Dry & Bulky
The Rapid Dry option was a bit underwhelming when tasked to dry our 4-lb. test load: After 18 minutes and with temperatures reaching 146°F, it only removed 61% excess moisture. It should do a better job when used as intended—only 2-4 garments at a time—but we've seen better.
We tried drying our large downy comforter on both the Bedding and Power Dry cycles. Both options got roughly the same result: about 72% excess moisture was removed. However, the Bedding cycle took about an hour; Power Dry only took 38 minutes. Bear in mind that this was done using higher levels of heat; Bedding only got up to 147.5°F, while Power Dry definitely went beyond that point.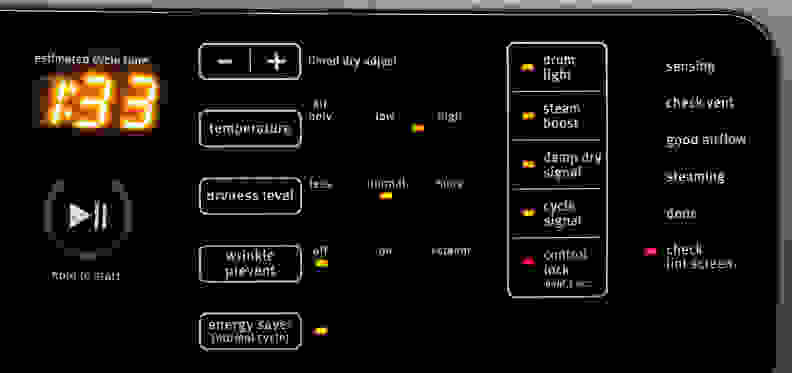 Warranty
Maytag offers 10 years of parts-only coverage for the drive motor and drum, in addition to the industry-standard 1-year limited parts and labor warranty. You can read more about the coverage on Maytag's website.
Why We Like It
Unless you're a diehard fan of stainless steel dryer drums and silver door trims, we think the Maytag 5500 dryer is a better deal than the more expensive 8200. Even though you save $400, both machines have the same capacity, same drying performance, and almost exactly the same cycle and feature set. And with retail prices hovering between $750 and $945, it's not a bad buy in general.
Yes, there are better dryers out there that cost roughly the same. But if you're looking for a feature-rich dryer that will match your new Maytag front loader, the 5500 is the way to go.