Laundry
Maytag 8200 Series Dryer Review
A versatile dryer with a prohibitive price tag.
Credit: Reviewed.com / Matthew Zahnzinger
The Maytag 8200 series (MSRP $1,149-$1,349) sits at the top of Maytag's updated dryer lineup. Like all of the many Maytags we've tested, this 7.4-cu.-ft. model looks and feels great, and dries clothes exceptionally well. As a flagship, it comes with extra features—like a removable rack for items that can't tumble.
New for 2016 is the Power Dry cycle, which is the closest we've seen to a quick-dry equivalent for heavy-duty clothes. Indeed, our tests show that it lives up to its name.
Unfortunately, the 8200 series may not be a great value for most consumers. Depending on the color you choose and whether you pick gas or electric, Maytag's flagship dryer has a sale price of between $1,140 and $1,350—which is a lot of money for a dryer. Unless you're frequently drying heavy work clothes, other dryers do just as good a job as this Maytag, but cost less. If you really want Power Dry, you can get a much more affordable Maytag—like the $719 MED3500FW—that still sports this feature.
Read our full review of this dryer's matching washer, the Maytag MHW8200.
Normal & Delicate
The Maytag 8200's Normal option did everything you'd expect a workhorse cycle to do, even if it got a little too hot for our taste. After about 50 minutes, and with temperatures peaking at 154°F, our test load was 100% dry.
Fortunately, the Delicate cycle proved that the 8200 does have the ability to dry clothes with... well, a delicate touch. This cycle took about 1 hour and 26 minutes on average, but temperatures peaked at only 107°F. That's much cooler, and was still enough to get our clothes 100% dry.
Design & Usability
The 8200 series feels high-end and sturdy—which is just what Maytag is aiming for. The console uses bright, orange indicator lights that are easy to see. However, because of their placement around the cycle selector knob, it can be hard to tell which cycle you've chosen if you're looking at it from an angle.
The 8200 comes with five temperature settings and five dryness levels, including Sanitize and steam-based anti-wrinkle functions, so customization is on par with the rest of the market. An Energy Saver mode is available, but it only works with the Normal cycle.
Another perk is the removable drying rack. You can use this for items that can be heated but not tumbled— like shoes, stuffed animals, or baseball caps. It's easy to put in or take out, though you'll have to find a place for it when it's not in use.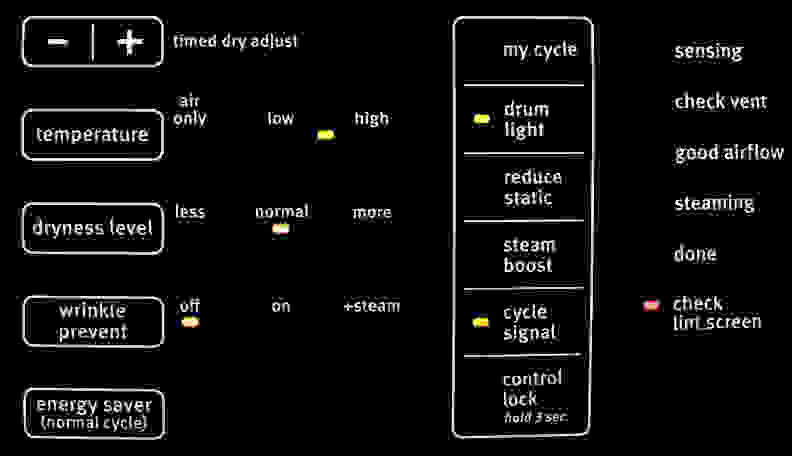 Quick Dry & Bulky
For our Quick Dry test, we used the Rapid Dry cycle on the 8200. It's a time-adjust option, but we stuck to the default setting of 18 minutes. That amount of time, paired with peak temperatures of 145°F, was only enough to get our clothes 61% dry. To be fair, an 18 minutes cycle is designed to handle two to four garments at a time, not a 4-lb. load. This cycle should be fine for small enough loads, but make sure you don't overload it.
In order to maintain a level playing field in our scores, we formally tested the Bedding cycle for our Bulky test. After about one hour, and with temperatures capping at 147.5°F, our comforter was about 72% dry. That's on par with most other machines, including models that cost less.
We did run a Power Dry to see how well it did. After just 38 minutes and with higher temperatures, it achieved the same results as the Bedding cycle. It may not be the best option for large blankets and comforters, but it should work well if you need jeans, towels, or work clothes (fairly) quickly.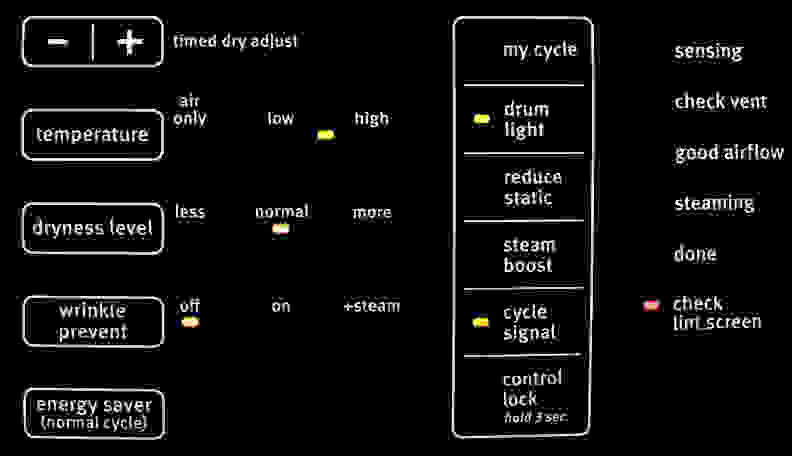 Performance & Features
We weren't thrilled that this Maytag's Normal cycle peaked at 154°F. Drying above 150ºF can cause fabric to tear prematurely. The 8200 does know when to turn down the heat, though, and the Delicates cycle only got up to 107°F. Make sure you sort your laundry and pay attention to which cycle you choose.
We tried drying our bulky comforter on both the Bedding cycle and Maytag's new Power Dry option. The results were actually the same in terms of moisture removal, but the Power Dry option saved 20 minutes through the use of higher heat. If you frequently dry heavy-duty fabrics—say, work clothes or uniforms—and are short on time, Power Dry does exactly what its name suggests.
For in-depth performance information, please visit the Science Page.
Warranty
Maytag not only offers a conventional 1-year limited parts and labor warranty, it also throws in 10 years of parts coverage for the drive motor and drum. You can read more about the coverage on the Maytag website.
A Hard Sell
The Maytag 8200 Series is pretty darn good at getting clothes dry, and has neat features like an innovative Power Dry cycle, steam, and a rack for drying delicates.
Still, a sale price north of $1,100 seems very steep for a dryer—especially when other Power Dry-equipped Maytags sell for around $715 on sale. If you just want Power Dry, skip the flagship and stick with the basic 3500 Series. If you want to add steam, the 5500 Series will do the trick.