Laundry
Maytag Bravos MEDB755DW Steam Dryer Review
An affordable, effective dryer with steam? Yes, please.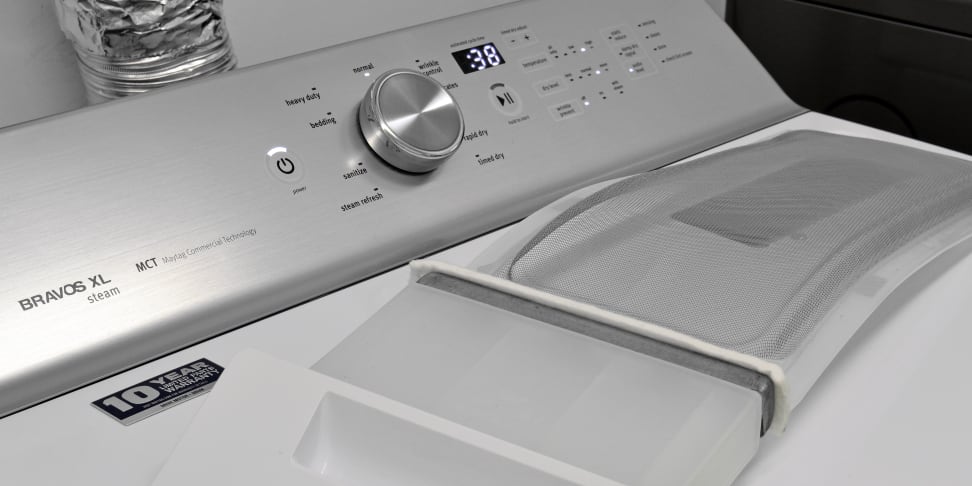 Credit: Reviewed.com / Matthew Zahnzinger
Sometimes, a mid-range product is the best value. Take the Maytag Bravos MEDB755DW (MSRP $849), for instance. Despite its plain appearance, this 7-cu.-ft. electric dryer is actually a very sensible addition to your laundry room. Yes, it's smaller than the 8.8 cu. ft. Maytag Bravos MEDB855DW, but it's also about $300 less expensive.
Dependable drying and an array of cycles—plus a water hookup for steam—make it a great choice for folks who take an interest in their laundry but don't want to break the bank.
The only reason we don't give it our highest recommendation is some internal competition. The Whirlpool Cabrio WED7300DW is essentially the same machine with a different control panel, and it tends to sell for about $30 less on sale. If you prefer the Maytag's more straightforward controls, however, the MEDB755DW is a great choice.
By the Numbers
The Maytag Bravos MEDB755DW (MSRP $849) is a 7-cu.-ft. dryer that can hold its own against pricier and larger machines. Our tests show every cycle is more than capable of drying your laundry effectively, as long as you use it as intended.
Normal & Delicate
Both the Normal and Delicates cycles dried clothes entirely. Compared to the MEDB855DW and 835DW, though, the 755DW does run about 10°F to 30°F warmer—hot enough to take notice.
The Normal cycle took about 54 minutes and peaked at 156.8°F, while the Delicates cycle ran for roughly 50 minutes and got up to 146.3°F. Compare that to the ideal Delicates temperature of around 110-115°F and you'll see why it got our attention. The Delicates cycle is easily the bigger concern of the two, but at under an hour, it runs slightly faster than average. While your more fragile fabrics are getting exposed to higher-than-ideal heat, they're tumbling for less time.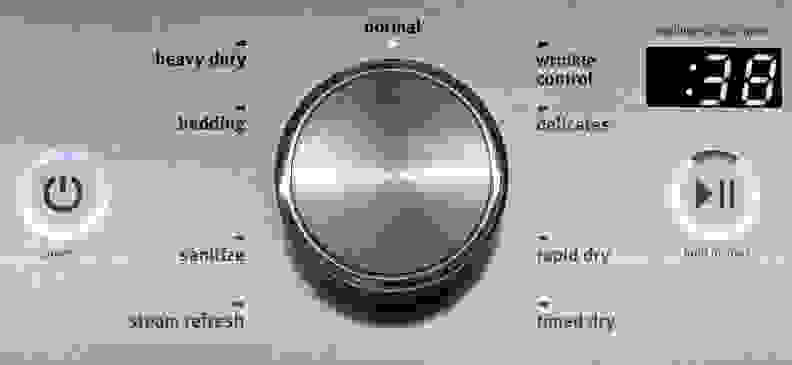 Design & Usability
Simple and functional
Like all new Bravos dyers, the MEDB755DW combines traditional controls with a faux-stainless touch panel. Overall, the package doesn't look or feel too cheap.
Those controls are both highly responsive and easy to read, although we found it a bit difficult to tell whether the dryer registered our press of the pause/restart button. The rest of the white box, with its pullout lint trap and incandescent internal bulb, is usable—but not exactly stylish.
Performance & Features
Just a little too warm
When we tested the Maytag Bravos MEDB855DW and 835DW, we were pleased by how their nuanced cycles got clothes totally dry while, paradoxically, temperatures stayed fairly mild. The cheaper 755DW, by contrast, is just as effective, but its overall temperatures were slightly higher.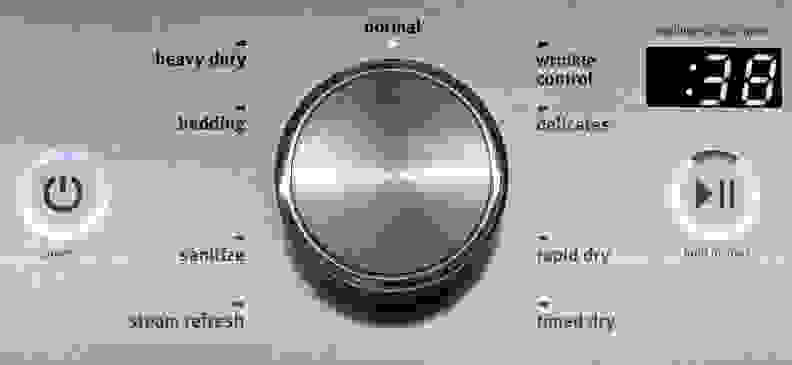 Still, the end results are the same: clothes came out completely dry almost every time. Despite its smaller 7-cu.-ft. drum, the 755DW even got our bulky comforter almost fully dry.
Even though it's one of the most affordable entries in the latest Bravos lineup, the 755 doesn't skimp on features. Nine cycles—including Sanitize and Steam Refresh options—make a versatile machine, while five different temperature settings and dryness levels add flexibility.
It's also worth noting that models in this price range don't often have water hookups, so the inclusion of Static Reduce and Wrinkle Prevent with Steam are most welcome. The only missing feature that's found on more expensive models is an Energy Saver mode.
For in-depth performance information, please visit the Science Page.
Quick Dry & Bulky
The Bravos line, including the 755DW, has a cycle called Rapid Dry that we use for our Quick Dry test. A manual cycle, it lasts 15 minutes no matter how many items are put in the dryer, or how damp they are. It's designed for two or three items at a time, but our standard 4-lb. test load consists of about 10 items. As such, peak temps of 113.2°F only removed 68% of the excess moisture. That's not bad, but you'll get the best results out of this cycle if you use it as described in the manual. Other than crafting a high-heat, manually-timed cycle, there's no other "quick" option for larger loads.
Despite the 7-cu.-ft. drum capacity, the 755DW did a fine job tackling our large comforter. The Bedding setting ran on average for just 1 hour, with temperatures peaking at 142.8°F, and got our comforter 93% dry. That's highly commendable, and even better than larger machines currently on the market.


Warranty
As is the industry standard, Maytag covers each new unit with a traditional one-year parts and labor warranty. If it breaks—through no fault of your own—a technician will come out and fix your unit, or replace it with a new one. What's more, Maytag also includes 10-year part only coverage for the dryer drum and drive motor. If those break, they'll send you a new one... but you've got to pay someone to install it or do it yourself.
Why We Love It
Almost as good, just a bit smaller
If you're as big a fan of the Maytag Bravos MEDB855DW as we are but simply can't justify spending close to $1,000 on a dryer, don't worry: The 7-cu.-ft. MEDB755DW is almost as good, and the differences between the two are minimal.
Well, except one big difference: The '755 sells for around $670, which makes it one of the most affordable dryers on the market to feature steam. That makes it a great dryer and a great deal.


If you prefer Whirlpool's new control layout to Maytag's more traditional offering, the Whirlpool Cabrio WED7300DW is essentially the same dryer, but we found it on sale for about $30 less than the Maytag. Either one is a great pick, especially if you want steam.