Laundry
Maytag Bravos MEDB855DW Dryer Review
Top-notch drying, plus steam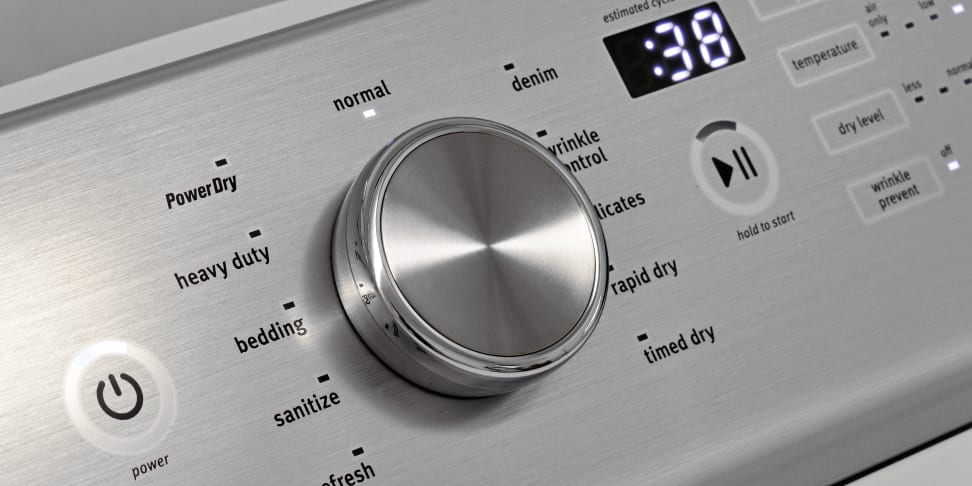 Credit: Reviewed.com / Matthew Zahnzinger
By the Numbers
The Maytag Bravos MEDB855DW (MSRP $1,199) is easily one of the top dryers we've tested. After analyzing our test results, it's clear this machine is almost perfect when it comes to actual drying performance.
The Maytag Bravos MEDB855DW (MSRP $1,199) is the company's flagship Bravos dryer. With a lengthy cycle list, top-notch fit and finish, steam, a huge 8.8-cu.-ft. interior, and excellent drying performance, the MEDB855DW really impressed us.
Yes, a $990 sale price means it's pricier than dryers with fewer features, but this Maytag promises to be gentle on your clothes. Our tests confirmed precise temperature regulation that removes excess moisture without slamming your clothes with unrelenting heat.
If you're the kind of consumer that prefers to sort your laundry and choose just the right cycle for optimum performance, then this dryer—complete with a giant drum and removable rack for drying items that can't be tumbled—has you covered.
Design & Usability
Elegance in white and silver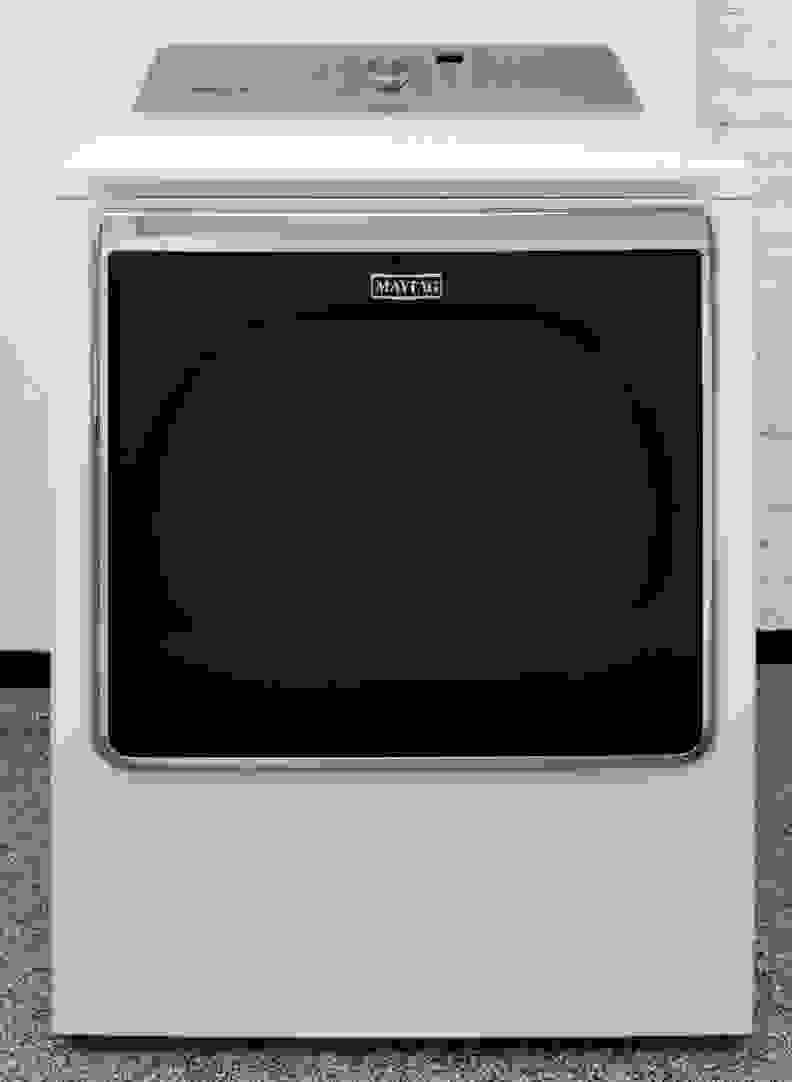 It's hard to sell a dryer on looks alone, but we dig the MEDB855DW's classy appearance. The translucent door with stainless border gives the dryer a high-end vibe, enhanced by the brushed silver control panel.
Inside, the 8.8-cu.-ft. interior is illuminated by bright LED lights that should keep even the most easily camouflaged socks in clear sight. A wire rack can be placed inside the drum for drying both delicate items that like stuffed animals that might not take well to tumbling, or heavier objects like sneakers that can take the heat but could potentially damage the drum.
The lint trap takes its cue from what we normally find on compact models: Instead of a lint screen, it's an actual trap that you have to flip open to clean. Sure, it adds an extra step, but it's designed to get the lint from your dryer to your trash without littering your laundry room.
Normal & Delicate
The workhorse Normal cycle hits all the right notes and leaves very little room for improvement. Averaging 50 minutes with peak temperatures of 145.7°F, it got our clothes 100% dry.
The Maytag's Delicates cycle was almost as good: It, too, got clothes 100% dry using appropriately gentle temperatures that peaked at 113.3°F. However, there was some inconsistency in drying times: Our first test lasted 1 hour and 29 minutes, while the second test only took 1 hour and 9 minutes—closer to what we prefer for an average cycle length.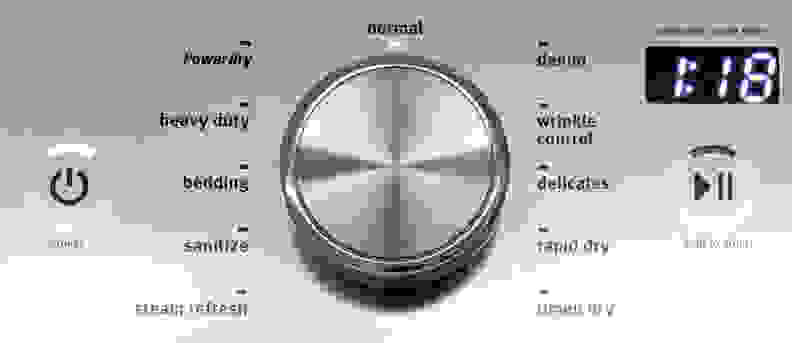 Quick Dry & Bulky
For our Quick Dry test, we used the Rapid Dry cycle, a 15-minutes manual option that doesn't utilize the machine's sensors. Our 4-lb. load was only 77% dry at the end of the 15 minutes, which isn't surprising—the cycle is designed for touching up two or three damp garments as opposed to our ten, and only heated up to 111°F. If you use the cycle properly, it should be able to handle appropriately sized loads without any trouble.
And for the icing on the cake, the Bulky test: We pit our fluffy down comforter against the Maytag's Bedding cycle. Now, almost no dryer does well in this test, but this machine managed to get it 98% dry after about 1 hour and 5 minutes using temperatures that peaked at just 136.4°F. We didn't even have to take the comforter out and fluff it—the Maytag didn't roll it up in a ball or leave any wet spots. If that's not impressive, we don't know what is.
Performance & Features
Dried to near-perfection
The few hiccups we tracked in our tests of the MEDB855DW were so minor they're barely worth mentioning. For instance, one of our Delicates test loads took about an hour and a half to finish, which is a bit longer than normal.
And... that's it. Everything else was great. All other cycles, including the second Delicates test load, finished after a reasonable length of time and used appropriately gentle heats. Each 8-lb. load came out 100% dry, and even our bulky comforter—the bane of nearly every dryer we test—got 98% of the way there. We didn't even have to take it out and fluff it.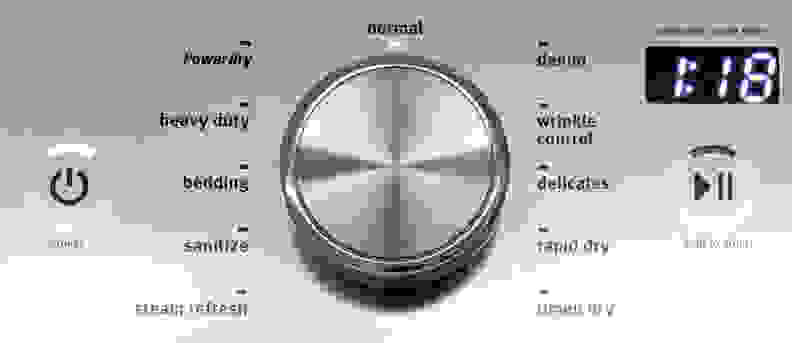 For our Quick Dry test, we ran a 4-lb. load through the 15-minute Rapid Dry cycle. This was the only test that didn't produce wearable dry clothes... but then again, Maytag's Rapid Dry cycle claims to work best with only two or three damp items at a time. Use each cycle according to the manufacturer's guide and this dryer should take excellent care of your clothes.
Speaking of cycles, each option—from Heavy Duty and Bedding to Denim and Sanitize—is clearly labeled and quite practical. Perhaps the only unconventional mode is Power Dry, which is a high heat cycle designed for large loads of heavy cotton items like towels.
In addition to the ample cycle list, the Maytag also sports a few key features: A water hookup feeds a Steam Refresh cycle and a Static Reduce option. You also get five temperature and dryness levels to choose from, a Wrinkle Prevent (both with and without steam) option, and an Energy Saver mode that reduces heat.
For in-depth performance information, please visit the Science Page.
Warranty
Maytag will cover parts and labor for manufacturer defects that appear during your first year of dryer ownership, which is no surprise. Where Maytag differs from the competition, however, is that it doesn't stop there: For the dryer's first 10 years in your home, the manufacturer will also cover replacement parts if anything should happen to the drum or drive motor. Don't get too excited, though—the cost of labor is on you.
Why We Love It
The best of the best of the affordable
The Maytag Bravos MEDB855DW is one of the best dryers we've tested. Its ability to dry clothes is specific and effective, making it a great choice for folks interested in getting the most out of their clothes, and their clothes dryer.
Of course, it doesn't hurt that this Maytag also features has tons of cycles, a stylish design, and plenty of room for customization. It even comes with a removable internal drying rack. Sure, it may not have a stainless interior, and $989 is more than most dryers cost. But for how well it treated our clothes, we have to give this Maytag Bravos a hearty "Bravo!"