Laundry
Maytag Bravos XL MEDB980BW Dryer Review
Sibling rivalry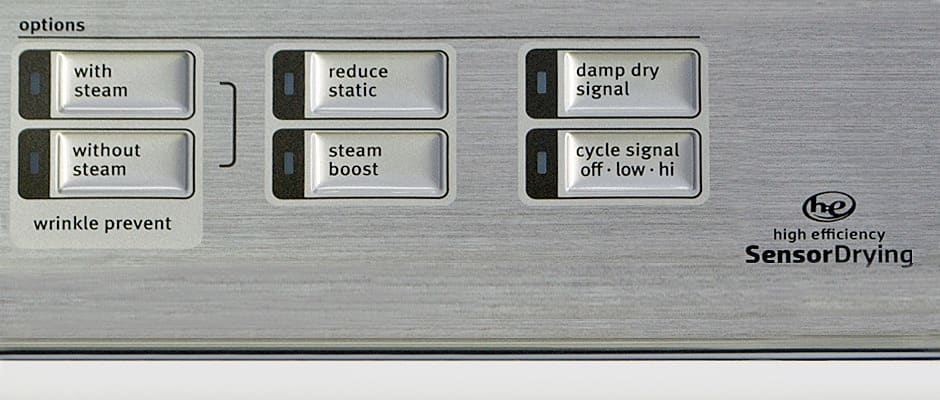 Credit:
The Maytag Bravos XL dryer lineup is a clear hierarchy that adds features as model numbers (and prices) rise. The mid-range MEDB725BW is a competent dryer that sells for $725. Move up to the MEDB880BW, and you'll get a Sanitize cycle and steam, and pay $999.
When you get to the top, you'll find the Maytag Bravos XL MEDB980BW (MSRP $1,099). It's an attractive dryer, with the same black door and silver trim as the MED880BW. The major difference is the addition of three cycles: Active Wear, Denim, and Custom Refresh. The latter is a steam-enhanced cycle that tailors a refresh cycle to the number of clothes you're laundering.
The problem with the '980 is that Maytag didn't reserve enough features for its flagship. The '880 has steam and nearly all the same functions, but costs $100 less. Still, if you've got to have the top of the line, you could do worse than the MEDB980BW, even if other Maytag dryers are a better value.
To read our full review of this dryer's matching washer, the MVWB980BW, click HERE.
By the Numbers
Every dryer that enters our lab should know what it's getting into, as we have a rigorously standardized protocol that we follow for all products. In the case of dryers, we look at how long they take, how much water they remove from a test load of laundry, and how hot they get. The Maytag MEDB980BW passed all our tests with average scores.
Design & Usability
Steamier than other Maytags
Like the MEDB880BW, the Maytag MEDB980BW is a study in functional simplicity. A traditional top-mount control panel and white exterior look appropriate in a laundry room. You can't get much simpler than an easy-to-turn cycle selector knob with a bright orange countdown timer. Big buttons rise from the control panel, and a large door reveals an equally-large 7.3 cu. ft. drum. That drum isn't stainless, by the way, which may lead to staining issues over time if you're the sort of person who accidentally washes pens.
You can customize a cycle as much or as little as you want. Unique to the MEDB980BW, there's a whole row of buttons dedicated to the Custom Refresh cycle that allow the user to select how many items of clothing are being refreshed. All those cycles involve steam, making this one of the steamiest dryers we've ever reviewed.
Normal & Delicate
A bit warm, but effective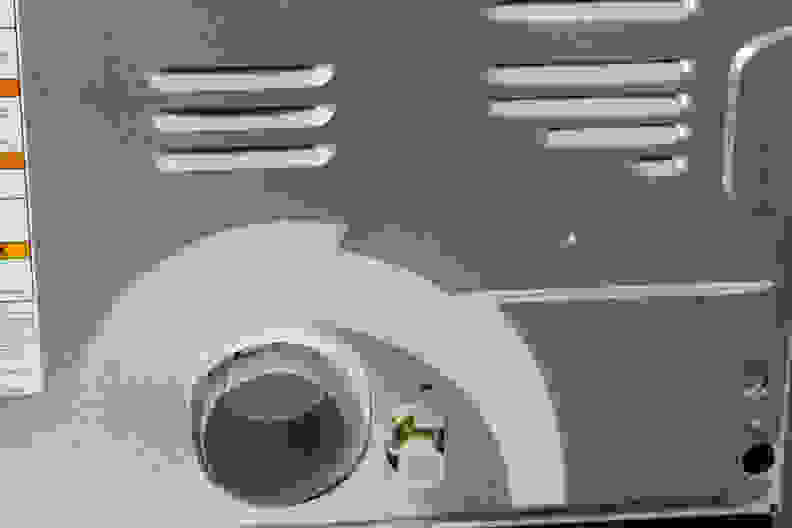 To test Normal and Delicate cycles, we add a standard amount of water to a standardized, eight pound load of towels, sheets, and pillowcases that simulates the makeup of a normal load of laundry. The Normal cycle took between and hour and an hour and fifteen minutes, and reliably got clothes 100 percent dry. A peak temperature of 154.1ºF was about 20 degrees warmer than how hot the best dryers we've tested get.
The Delicates cycle also ran warm, peaking at 131.7ºF, and took about an hour and a half. An ideal delicate cycle would involve less time and a cooler temperature, as it's heat and tumbling that damage fragile fabrics.
Quick Dry & Bulky
Follow the directions and you should be fine
The Quick Dry cycle was indeed quick, at just 18 minutes long. It even got clothes generally dry—70 percent dry, to be specific. We bet a lighter load than the four pound standard Quick Dry test would be very close to wearable.
As so often is the case, Bulky was a disappointment. Our test comforter only got 68 percent dry, leaving a knot of wet blanket. Keep this in mind: Because most users ignore owners manuals that tell them to flip a comforter halfway through a dry cycle, we do the same as standard practice. You may get better results if you follow manufacturer instructions.
Performance & Features
A bit warm, but generally effective
In our tests, the Normal and Delicates cycles were excellent at moisture removal, though both ran about 20ºF warmer and 15 minutes longer than we'd like to see. Dryers that manage a cooler, quicker cycle are easier on more delicate fabrics.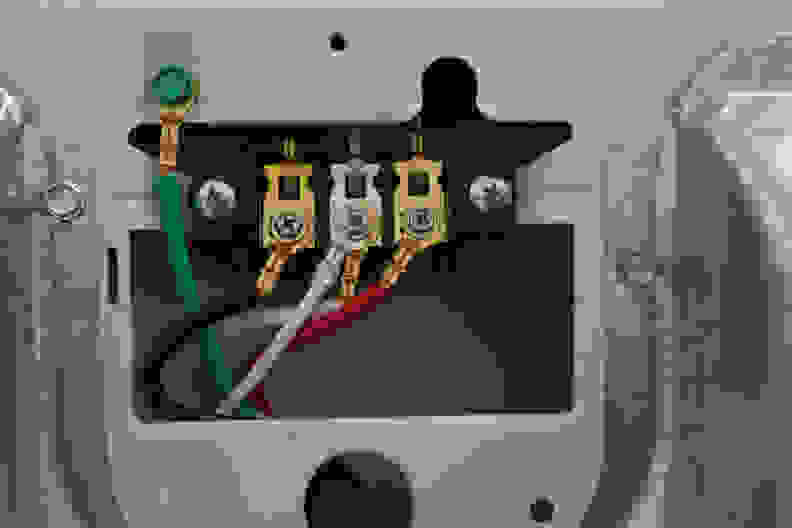 We test all our dryers' Quick cycles with a standard, four pound load, but this Maytag is designed for a slightly smaller load. That's why we weren't surprised to see some moisture left behind. In fact, 70 percent dry in 18 minutes is pretty darn impressive. The Bulky cycle, on the other hand, was only average when it came to removing moisture from a comforter.
For in-depth performance information, please visit the Science Page.
Conclusion
Diminishing returns for this flagship
We're not marketers, which is why we're not sure why Maytag put a steam cycle and so many features on the lower-priced MEDB880BW instead of saving them for the flagship '980. If the midrange '880 lacked steam but the flagship '980 had it, we'd clearly see a good reason to step up to the pricier MEDB980BW. Instead, we only get more custom cycles and more advanced clothing refresh options—cool, but not make-or-break features for most consumers.
If you demand only the very best, you can find better dryers than the MEDB980BW. If you demand a great value, you can stay in the Maytag family and get the MEDB880BW instead.